We use affiliate links. If you buy something through the links on this page, we may earn a commission at no cost to you. Learn more.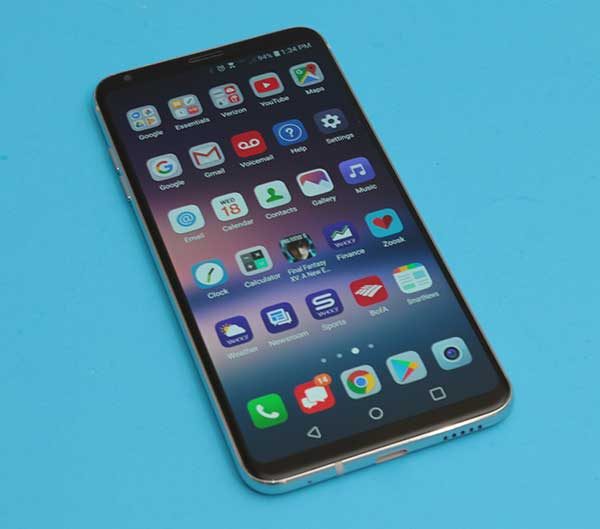 When I made the decision to go back to an Android smartphone after a brief vacation to Apple land this summer, my choices for a new phone were between the Samsung Galaxy S8, Samsung Galaxy Note8, Pixel 2 XL, and the LG V30. I ruled out the Samsung devices because I'm not a fan of the curved sides or the fingerprint sensor location. That meant that my choice was narrowed down to the new Pixel 2 XL and the LG V30. Fortunately for me, Verizon Wireless sent me a loaner unit of the LG V30 which I've been using on and off for the last couple of weeks. Let's take a look to see if I end up choosing to buy the LG V30 or the Google Pixel 2 XL. 
What is it?
The LG V30 is LG's latest flagship Android smartphone running Android OS version 7.1.2.
What's in the box?
LG V30
USB (Type-C to Type-C) Cable
USB (Type-C to Type-A) Cable
SIM Eject Pin
Quick Reference Guide
Hardware specs
Processor: Qualcomm Snapdragon™ 835 2.45 GHz x 4 + 1.9 GHz x 4 Octa-Core MSM8998
Display: POLED 6.0″ QHD Plus FullVision™ Display (2880 x 1440) with 538 ppi, Corning Gorilla Glass 5
Operating System: Android 7.1.2 Nougat
Memory: Flash: 64GB RAM: 4GB
Expandable Memory: Removable microSD up to 2TB (sold separately)
Network: CDMA, GSM, UMTS, LTE frequencies: 1.9 GHz CDMA PCS, 800 MHz CDMA; GSM 850/900/1800/1900 MHz; UMTS 850/900/1900/2100 MHz; LTE Bands 2/3/4/5/7/13/20/46/66 Data Transmission: EVDO, EVDO Rev A, 1xRTT, LTE, GPRS, EDGE, UMTS, GSM, HSPA+, HSPA
Camera (rear): 16 MP Standard-Angle Lens f/1.6
Camera (front): 5 MP Wide-Angle Lens f/2.2
Bluetooth: 5.0, Wi-Fi, NFC
Battery: 3,300mAH, Non-removable
Dimensions: 5.97 in x 2.97 in
Weight: 5.57 oz
Design and features
The LG V30 looks a lot like the Samsung Galaxy S8 with polished metal rails around all sides and rounded edges which thankfully, aren't curved like the S8's edges. The LG V30 also has a glass back which allows for Qi wireless charging.
Like the S8, the LG V30 has a buttonless front with a very nice 6-inch display that has minimal top and bottom bezels.
The back of the phone has a dual camera lens and an LED flash at the top with the perfectly placed combination fingerprint sensor/power button in the upper center exactly where your index finger rests when you pick up the phone.

On the left side of the V30 are separate volume buttons that have very good tactile feedback and are raised far enough that it's easy to find each button with your finger without looking.

On the opposite side of the phone, you'll find the combination SIM/microSD card tray.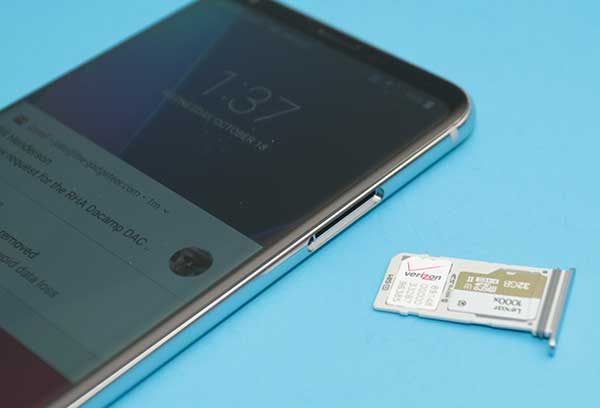 Correct me if I'm wrong, but I think LG and Samsung are the only high-end smartphones that still offer a microSD card slot. I used to demand this feature in any new phone that I would purchase because I wanted the security of backing up my photos to a card. But in this day and age, I find that I don't care about this feature quite so much due Google Photos automated image back up to the cloud. It's still a nice feature to have though.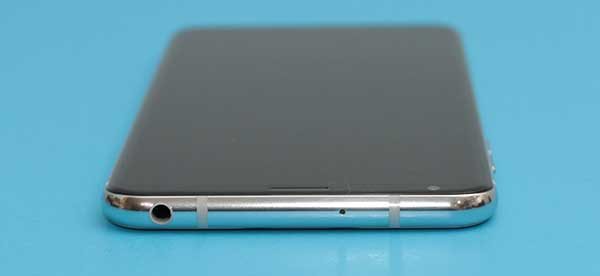 The top edge of the LG V30 has a microphone and what's swiftly becoming an endangered port: a 3.5mm headphone jack.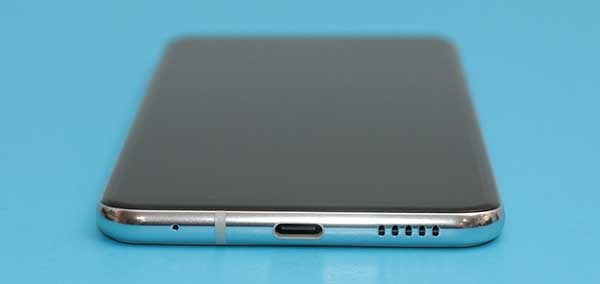 If we examine the bottom edge of the V30, we find another microphone, a USB Type-C port, and a speaker. The location of the speaker is a little unfortunate if you like to hold the phone in your right hand like I do which ends up covering the speaker and muffling the sound.
The fit and finish of this phone get a thumbs up from me. It looks nice, feels solid, and is comfortable in hand. Speaking of in hand, the LG V30 passes the Gadgeteer squeeze test with no complaints, but if I give it a really strong shake, I can hear the volume buttons rattling ever so slightly. Yes, I know I am crazy to still be doing the Gadgeteer squeeze test after 20 years 😉
Display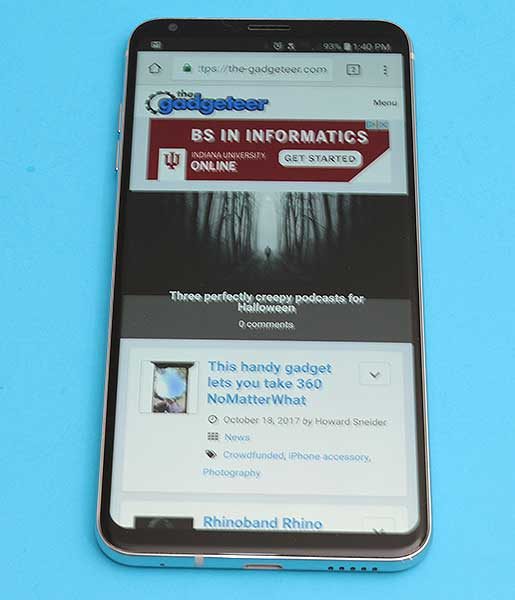 This phone sports a 6 inch POLED display. If the addition of a P in front of OLED is confusing you, you're not alone. The P stands for the plastic base layer that is used instead of a glass base layer which is used in most OLED displays.
The display has thin bezels and virtual navigation buttons that can disappear automatically in some apps like Chrome shown above.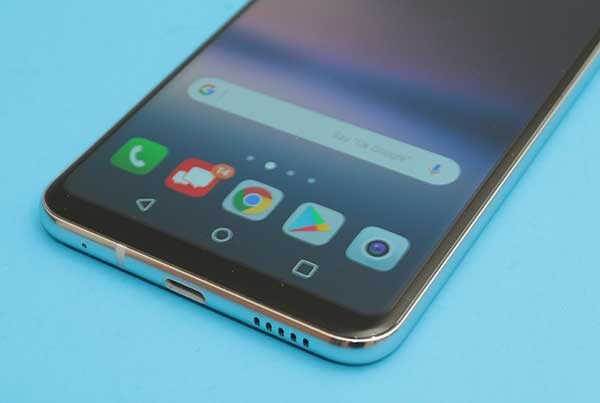 The nav buttons reappear if you swipe up from the bottom edge of the phone.
In some apps, you can close the nav bar with the small arrow on the left side of the nav bar.
Sometimes you'll see a double arrow next to the nav bar that will prompt you to switch to the 18:9 display mode.
If you've been following the Pixel 2 XL displaygate bruhaha, you've heard about the blue tint issue that the Pixel 2 XL has when you tilt the screen. The LG V30 has the same "issue" which is not a surprise since LG makes the Pixel 2 XL and they both share the same POLED display technology.
I wasn't able to photograph the display well enough to demonstrate the blue tint issue, but suffice to say, that I personally do not find it to be the huge catastrophe that some people feel it to be. I didn't even notice the problem on the V30 or my Pixel 2 XL until after people started talking about it and then I could see it. But the thing is, I don't care because I'm not using my phone with it tilted away from me. I use my phones facing my eyes straight on and at that angle, there's no blue tint.
Then there's the burn-in issue that some people are seeing on the Pixel 2 XL. This can be an issue with OLED displays, but again, I've yet to see it on my loaner LG V30 or my Pixel 2 XL. That said, I'm more anxious about the potential for burn-in than the blue tint issue so I plan to keep an eye on my Pixel 2 XL's display. Now back to the LG V30 review…
When it's all said and done, I find the LG V30's display to have sharp crisp text and bright vivid colors. It's enjoyable to read, surf and watch videos on it and I have no complaints about the display at this time.
Camera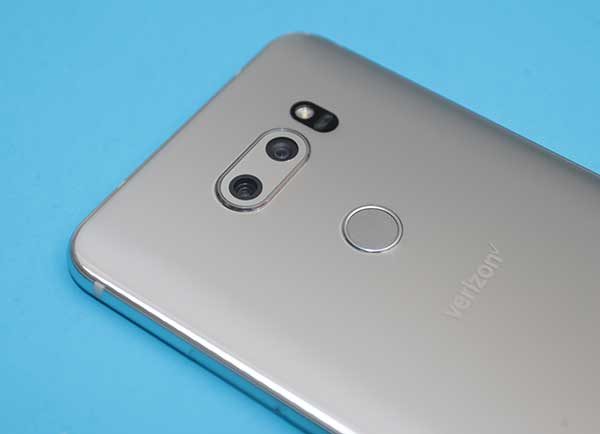 LG phones usually have decent cameras, but they aren't known for their cameras like the iPhone and last year's Pixel XL.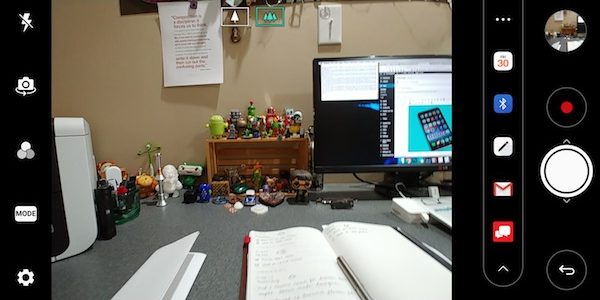 The stock camera app is pretty basic except for the handy built-in sharing bar that you can use to send images to a calendar event, Bluetooth, the LG Memo app, email, and the Verizon messaging app.
The also has a selection of modes that you can use to spice up your shots. But missing is a portrait mode which has becoming a big selling point for the iPhone and the Pixel 2.
The LG V30's dual camera lens does offer a really nice wide angle mode that will allow you to fit in a lot more "stuff" in your images. Both images above were taken from the same distance, but the only difference was toggling the wide angle mode in the image on the right.
I was impressed with the images that I shot with the V30. Click any of these example images to view the full sized shot.
All my shots came out great if a bit oversaturated… but I personally like that look when it's not overdone.
Audio quality
I already touched on the fact that I don't like the placement of the speaker on the bottom right of the phone. There's also the fact that it's just a mono speaker. While most people probably won't be listening to a lot of audio/music through that speaker, it is a little disappointing that LG didn't put more effort in that area. My guess is that the decision to go with the placement was to keep the phone as small as possible and the screen's bezels equally small.
But plug in a pair of headphones and your ears will be happy. Audio through headphones wired and unwired sounds very very nice.
Software and user interface
The LG V30's user interface is pretty basic even with LG's layer on top of stock Android. LG offers a few extras like the pop out shortcut bar that harkens to Samsung's edge display. The difference is that you can't swipe the edge of the screen to pop out the bar, you have to tap on the little tab. Since the tab is quite small, it makes the effort a little frustrating at times. I don't know about you, but I rarely use these extra nav bars since it's just as easy to put my most used app shortcuts and widgets right there on the first home screen.
Speaking of home screens, that's where all your apps icons will live because LG's custom skin over Android does not include an app drawer.
Another special LG feature allows you to shrink the screen for easier one-handed use. I don't use this either.
One complaint that I do have about software and the V30 is that the phone doesn't ship with Oreo. It has Android v7.1 Nougat.
Using the LG V30 for phone calls
I didn't have any complaints from people I talked to while testing the LG V30. Conversations on both sides of my calls were clear and with decent volume. I also did not have any issues with dropped calls while testing this phone. Signal strength seemed to be no better or worse than other phones that I use and test on the Verizon network in my area.
Overall performance and battery life using the LG V30 for day to day tasks
When it comes to overall system speed, I have no complaints about the V30. Apps launch quickly, screens scroll smoothly, and I didn't notice any sluggishness or problems navigating between apps.
I didn't do any special battery life testing, but it felt better than other phones I've recently tested. You should have little trouble getting through a day on a full charge and if you barely use your phone, it might last for up to a week on a charge if you turn off apps that constantly ping for new info.
Final thoughts
After spending a few weeks with the LG V30 and the Pixel 2 XL at the same time, I ultimately decided to buy a Pixel 2 XL instead of an LG V30. The V30 is a really nice phone and I'll be sad to send it back to Verizon because it has wireless charging and a microSD card slot, which I like. It also has the volume buttons on the left side of the phone instead of the right side, which I prefer.
But when it came down to it, my main reasons for going with the Pixel 2 XL instead of the V30 are stock Android, faster OS updates, and full resolution automatic image backup to the cloud. Those benefits tipped the scale for me.
Source: The sample for this review was provided by Verizon Wireless. Please visit their site for more info.

Product Information
Price:
$840.00
Manufacturer:
LG
Retailer:
Verizon Wireless
Pros:

Thin bezels
Wireless charging
microSD card slot
Extra 1yr warranty through Verizon

Cons:

Some people may complain about the slight blue tint on the display when not viewed straight on