We use affiliate links. If you buy something through the links on this page, we may earn a commission at no cost to you. Learn more.
Huawei's flagship phone has landed in the form of the Mate 10 and Mate 10 PRO. The new Mate 10 series not only brings an all new glass body to the series, but it's also the first of Huawei's phones to come with the AI powered NPU (Neural Processing Unit) that Huawei announced at IFA last month. What does that mean exactly? It means that the Mate 10 and Mate 10 Pro are a lot more intelligent than your average smartphone because they are able to learn about your behavior and adjust to it. But more on that later. 
On the design front, the Mate 10 and Mate 10 PRO sport an all new glass body that is curved on all four sides. That means that there are no sharp edges, so they are comfortable to hold. But there are significant differences between the Mate 10 and the even more premium Mate 10 PRO. For starters, the Mate 10 packs in a 5.9" FullView display with a 16:9 aspect ratio and a barely-there-bezel, while the Mate 10 Pro packs in a 6" OLED FullView Display with an 18:9 aspect ratio and a high screen-to-body ratio. The 6" display on the PRO is packed into the body of a 5.5" device, and its 18:9 aspect ratio allows for a neat smart split screen multi-tasking mode on the PRO. Both phones are also powered by a Kirin 970 processor that offers 20% better performance over the 960.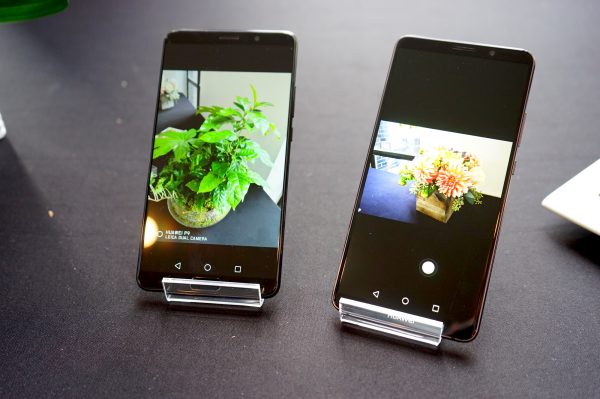 Both devices pack in a large 4,000 mAh battery, but neither of the phones come with wireless charging. Huawei explained to us that between the large capacity battery and SuperCharge, there isn't much need for it. To that effect, SuperCharge provides a full day's charge in just 20 minutes, and it's also 4x faster than wireless charging. Huawei is also proud to show off that the Mate 10 series phones are the first phones to meet qualifications for the TÜV Safety certification, so you can be sure the phone won't explode on you. And for those who are still paying attention to headphone jacks, the Mate 10 has a 3.5mm jack on top, while the PRO has a type c jack only, but it does come with a 3.5mm adapter.
Aside from sporting the larger display of the two, the Mate 10 PRO is IP67 certified for water and dust resistance, which is something the Mate 10 lacks. Another significant difference between the two models is that the Mate 10 PRO houses its fingerprint reader on its back side, while the Mate 10's fingerprint sensor is located on its front side.
Both Mate 10s' dual-lens cameras were co-engineered with Leica to produce 12-megapixel RGB + 20-megapixel monochrome sensors, optical image stabilization, an aperture of f/1.6, an AI-powered bokeh effect and AI-powered digital zoom.
The Mate 10 will be available in several colors including mocha brown, champagne gold, pink gold, and black, while the PRO will be available in midnight blue, gray, pink and mocha brown, and there will also be a Porsche Design version of the Mate 10 PRO.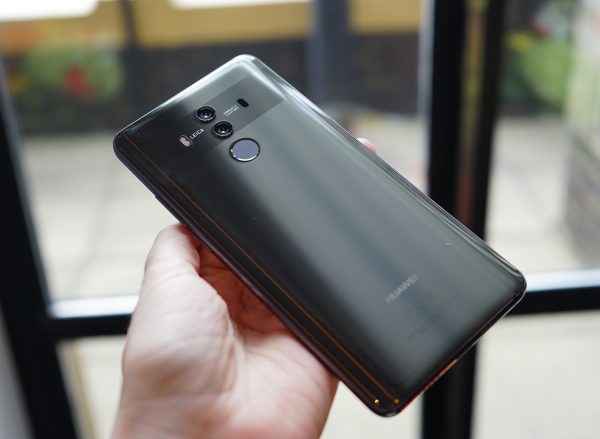 But enough about the hardware – the Mate 10 series also represents a major leap forward for phones thanks to its NPU. This starts with EMUI 8.0 (Huawei jumped from EMUI 5.1 to EMUI 8.0 so they could align better with Android 8.0). EMUI 8.0 unlocks machine learning and artificial intelligence from the NPU. This brings everything to the table from better performance to improved battery optimization. You know how most Android phones slow down with age? Even a year old phone can get quite sluggish. Fortunately, when it comes to performance, EMU 8.0 helps make sure that your phone is "born fast, stays fast". The NPU helps make that possible through its performance engine. Battery life is also improved thanks to the AI which learns about how you're using your phone and optimizes for the best possible battery life.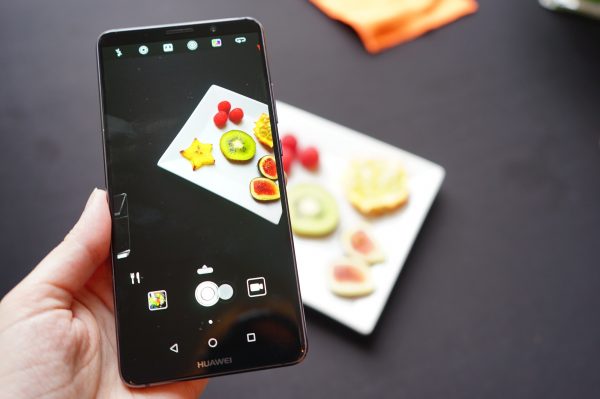 The AI even helps improve the experience of taking photos. To that effect, the phone understands what the camera is looking at, and does real time scene and object detection all powered by AI. Essentially, the phone processes what it's looking at – as if it were a human brain, and it will set the best camera parameters based on what it recognizes. For example, the Mate 10 recognizes when it's taking a photo of a sunset vs a plate of food, and it will automatically optimize the camera settings for the object it's taking a photo of in that scene. It can even recognize when you're taking cat photos and optimize accordingly! We briefly got to try this feature and were impressed with how quickly the Mate 10 recognized flowers in a scene and automatically optimized the camera for the flowers to create a beautiful photo. In addition to cats and flowers, there are scenes for food, stages (if you're watching a show), outdoor landscapes, snow, water, low-light, sunsets, plants, portraits, and dogs, and Huawei says that future updates will bring additional scenes.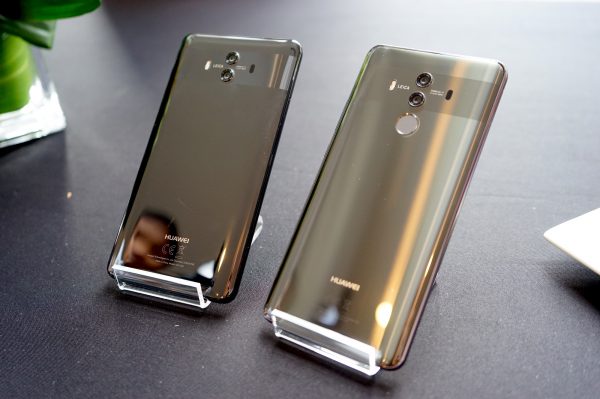 But this is just the beginning. Huawei has built out a 3rd party app engine with APIs so that app developers can further take advantage of the NPU. With the Mate 10 series, Huawei has become a pioneer in the AI space, and we expect other phone manufacturers to try and play catch up soon.
Last but not least, the Mate 10 has the ability to transform into a mobile PC. That might not sound so unique right off bat, but it actually is. That is because unlike the competition which offers similar functionality, Huawei doesn't require you to invest in a pricey dock. Instead, you can use just about any inexpensive USB-C to HDMI or USB-C to DisplayPort cable to connect your Mate 10 to a monitor and keyboard for a full desktop-like experience.
Pricing and availability for the Huawei Mate 10 and Mate 10 PRO are not available yet, but we'll update this story once we have it.
Update: The Mate 10 is being priced at at 699 euros ($825) and the Mate 10 Pro at 799 euros ($943). There is no word on a U.S. release date yet.