We use affiliate links. If you buy something through the links on this page, we may earn a commission at no cost to you. Learn more.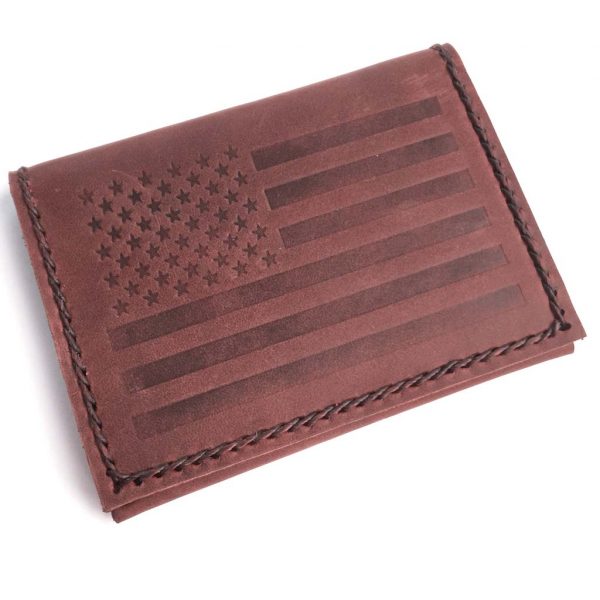 I'll be honest, I'm not much of a leather wallet guy these days.  I typically find them to be a bit on the thicker and bulkier side, and I've become more of a minimalist wallet EDCer.  But something about this JooJoobs American Flag Wallet drew me in.  America may not be perfect, but I love it dearly and to me our flag not only symbolized what is great about our nation, it reminds me of those who have served (including my grandfather) and died to protect us.  So this wallet automatically had a very special appearance to me. But beyond the Stars and Bars Stars and Stripes, what was it like?  Let's find out.  Gadget on! [EDIT: "Stars and Bars" refers to the Confederate flag; "Stars and Stripes" refers to the American flag. Apologies.]
Specs
Size: 3″ by 4.25″ by 1/2″
Holds 8 – 10 cards + folded cash
Made from distressed, full-grain cowhide leather
Our signature hand-stitching
All products are handmade, made to order
Options
Stitching: Dark Brown (reviewed here) or Natural Tan
Personalization (initials or logo) can be added to the inside for an additional $6
Packaging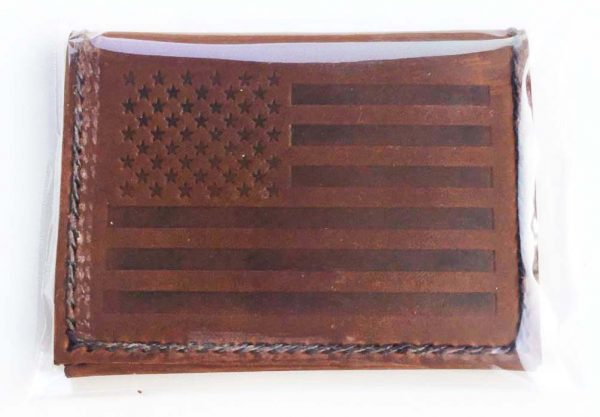 The JooJoobs American Flag Wallet arrived in a simple plastic envelope with a JooJoobs decal sealing the flap.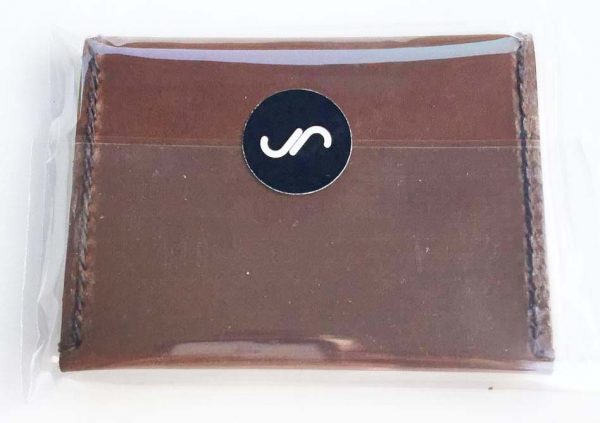 Features, Functions and Performance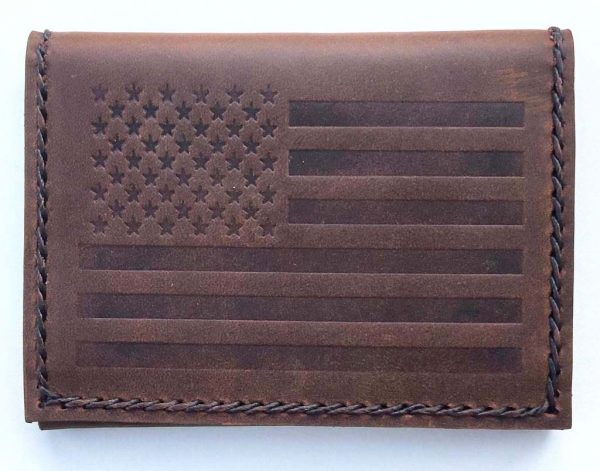 First impressions: High quality, great leather.  You know how you can pick up and handle something and you can feel the quality in it?  This wallet did that for me.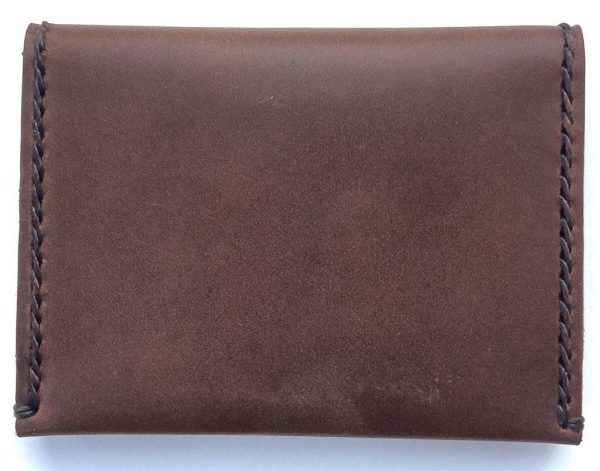 Clean design, both front and back.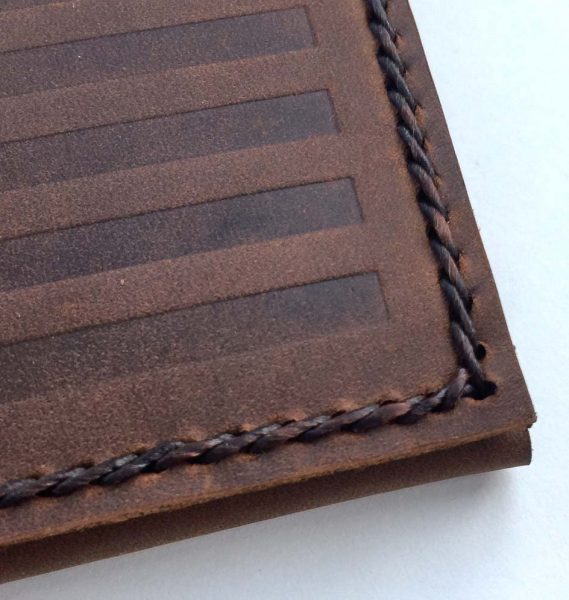 The stitching around the perimeter was flawless and secure.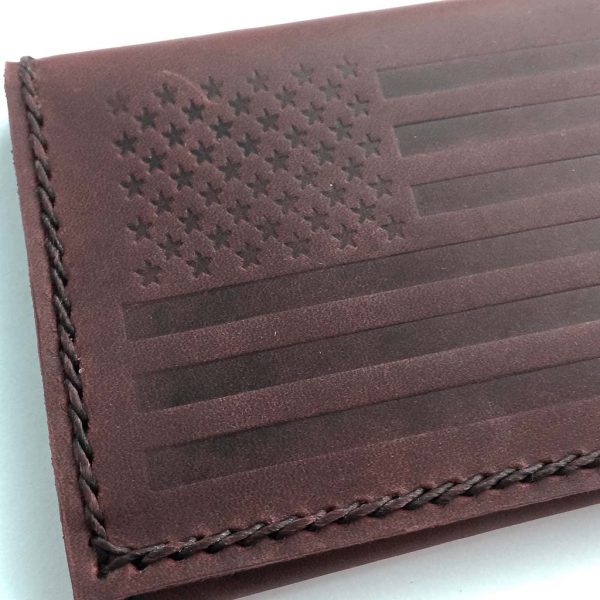 The embossed American Flag looked great.  Very understated yet dignified, fitting of Old Glory.  .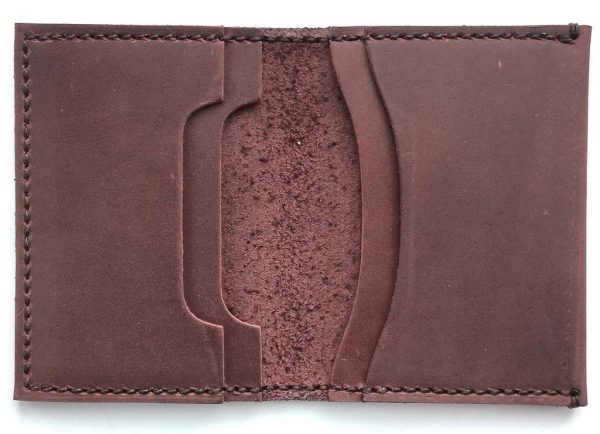 Inside, there are two pockets on either side.  I found it interesting that the pockets have slightly different shapes.  On the left the pockets have cutout notches to aid in removing cards.  On the right, the pockets have more of a curved shape.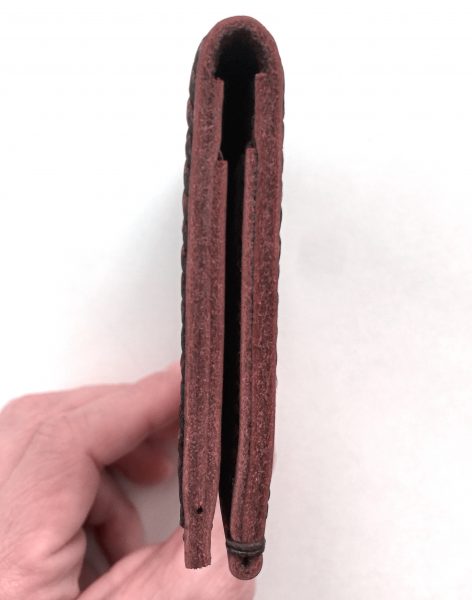 Closed and unloaded, the wallet is fairly thin, though with a total of six layovers of leather stacked up, its a bit too thick for me to call it a "minimal" wallet.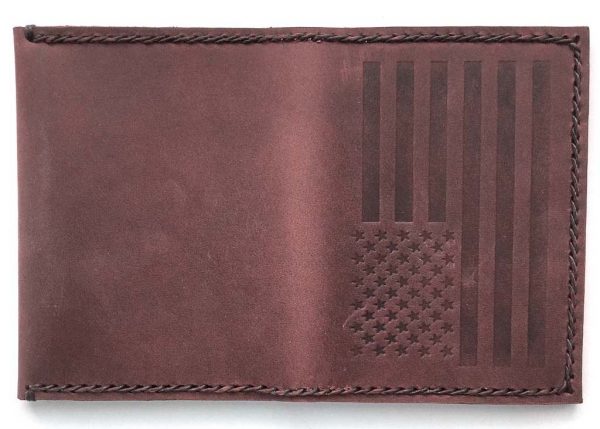 While the thickness of the wallet doesn't necessarily lend itself to being called minimal, its footprint is fairly small, which lends itself a bit to being used as a front-pocket-carry wallet.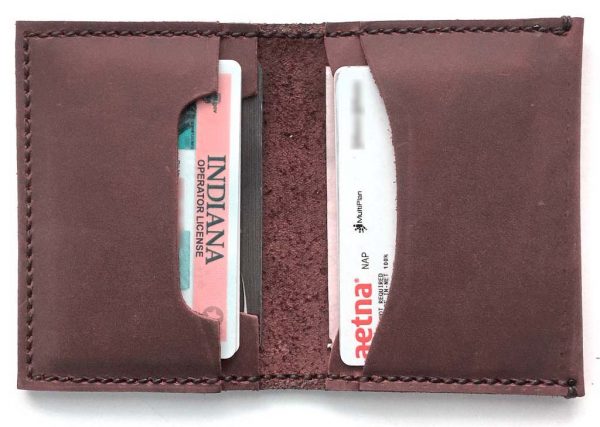 Above, I've loaded the wallet with a total of 6 cards and three once-folded bills.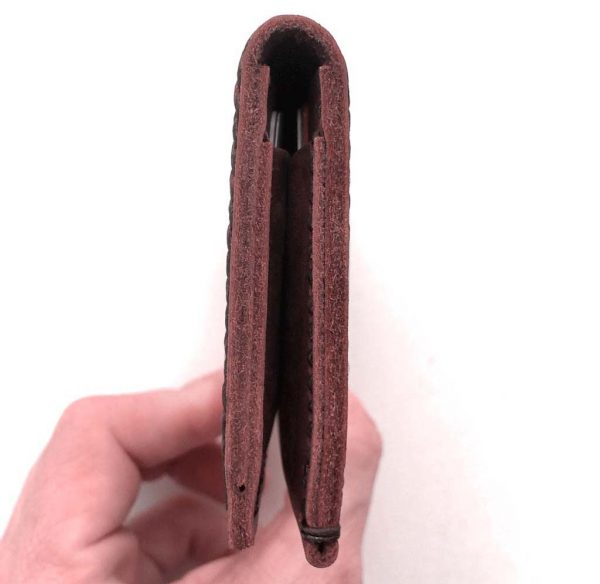 Above, you can see that the loaded wallet does grow a bit in thickness, expanding to almost 2x its unloaded thickness.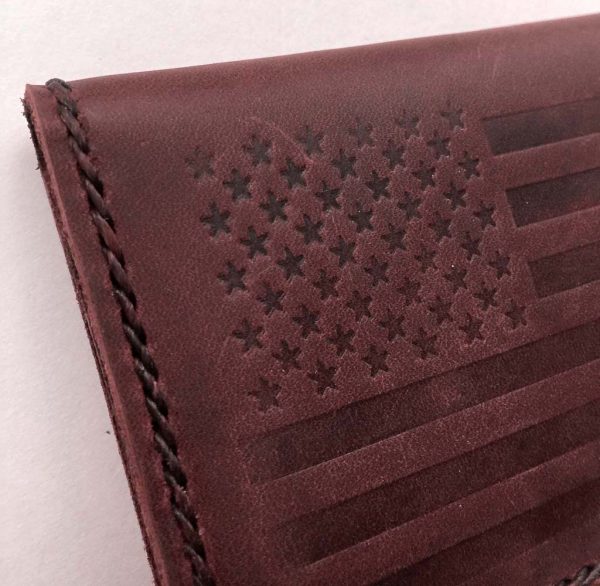 As mentioned above, this Dark Brown stitching looks great all around, and I found myself wondering what the Natural Tan thread would look like on this wallet.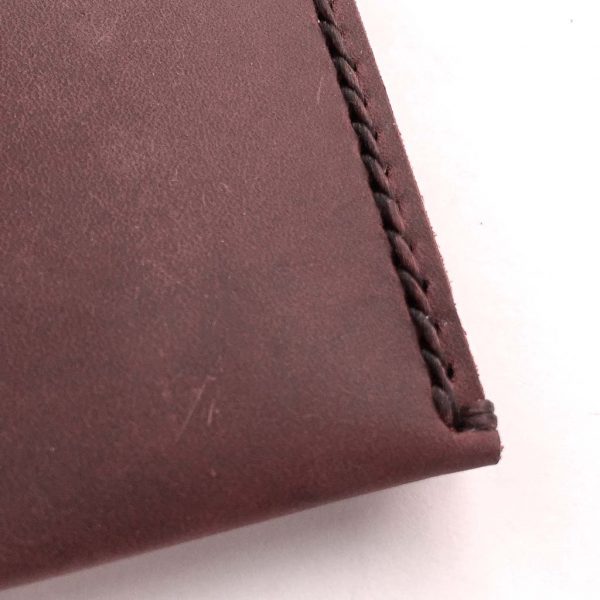 Above, the stitching along the back.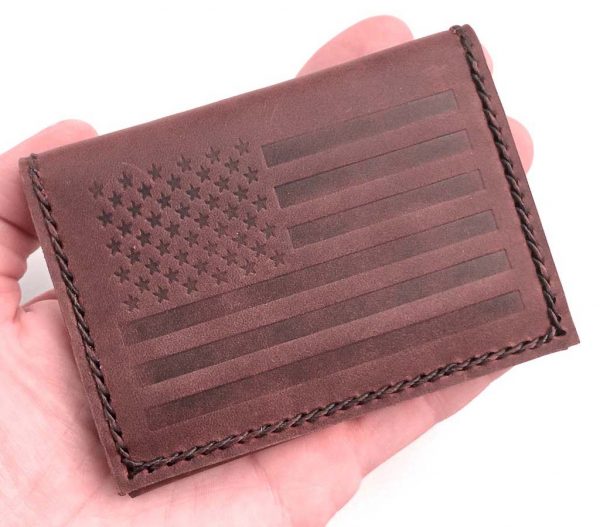 As mentioned above, this wallet has a fairly slim footprint, which helps keep its overall size down.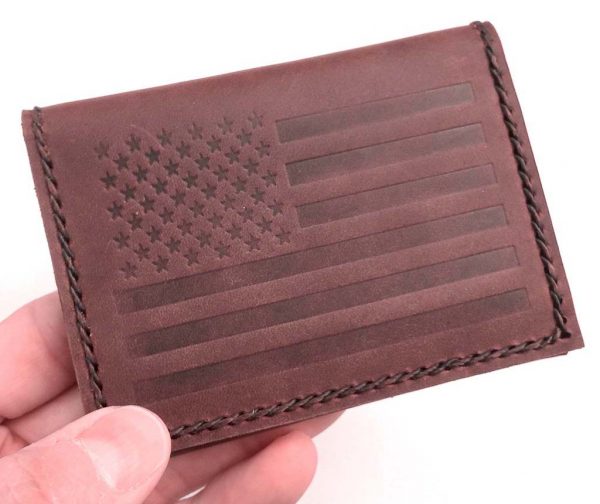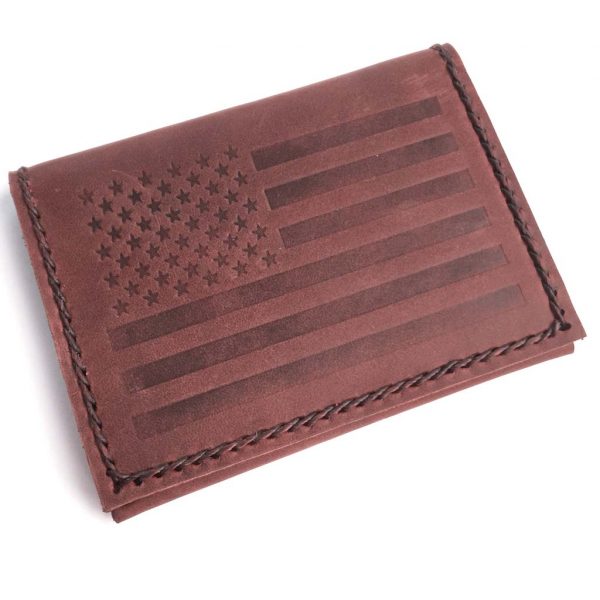 Conclusion
I really like the JooJoos American Flag Wallet.  The distressed, full-grain cowhide leather is excellent: durable, rich color and that glorious leather smell.  The stitching is impeccable as well, and I think it should last for years.  The design inside is simple, with four pockets that allow up to 8 – 10 cards + folded cash.  Finally, the embossed American Flag design is very classy and well done, worthy of the dignity of our nation's symbol.  It also has a very affordable price: Just $39 for a leather wallet of this quality is a bit of a steal.
Update 5/13/20
After doing the initial review of the JooJoobs American Flag Wallet, I gave it to my teenage son as a birthday present. After using it for some time, his feedback was that the wallet was fine for a few cards, but very unweildy for cash, which has to be folded in half once (and it doesn't fit in the wallet this way), or twice (and this makes the wallet too thick). Also, the flag on the front had nearly disappeared after just a few months of use.
Source: The sample for this review was provided by JooJoobs. Visit their site for more info or to order.
Product Information
Price:
$37.00 (add $6 for personalization)
Manufacturer:
JooJoobs
Requirements:

None (well, maybe some cash and/or credit cards to put in it)

Pros:

Excellent leather quality: rugged, durable and that glorious leather smell
Slim thickness for a leather wallet
Reasonable price
American Flag design is understated yet classic

Cons: