We use affiliate links. If you buy something through the links on this page, we may earn a commission at no cost to you. Learn more.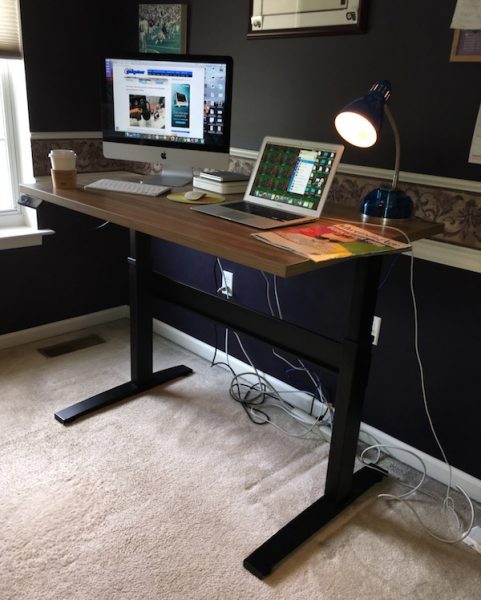 Those of us who spend a lot of time plugging away on the computer are learning more and more about the health benefits of standing desks. While there are lots of options out there to get up off of your chair, electric desks provide the added benefit of being adjustable at the push of a button to your desired height. They can get expensive, however, and not all electric desks are created equal. It's an investment that requires some serious consideration
The VertDesk V3 Electric Desk, as the name implies, is a third-generation design that seeks to continually improve in the areas of stability, function, and overall good looks. It also comes in at the lower end of the price point for this style of desk. Is it worth the investment? How does it perform? Let's stand up to review and find out!
Unboxing and Assembly
The VertDesk is a beast and requires assembly on delivery. It's a big factor in the decision making process, so we'll walk through the unboxing and assembly before we get into reviewing the details of the finished product.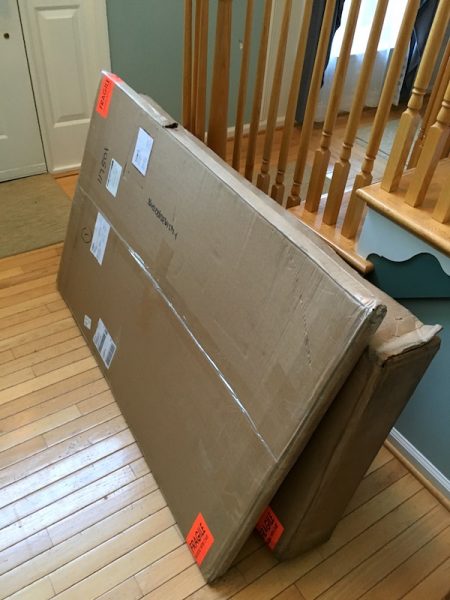 Solid construction makes for a heavy product, so prepare for a bit of a workout when the VertDesk arrives at your doorstep. There are two large, narrow boxes: one for the desktop, and one for all the components. These boxes weigh in at a combined total of about 115 pounds. Everything is well-packed and protected for shipping, but I'd recommend getting some help to lug 'em to their ultimate destination in the house or office.
You'll also need some tools to get started. A power driver is required, along with #2 Phillips head and #2 square head driver bits. An adjustable wrench, a tape measure, and two Allen wrenches (4 mm and 5 mm) round out your arsenal. Given that the desktop and leg assemblies are heavy, I'd also recommend keeping that friend who helped you move the boxes around to help with assembly. Have some pizza ready when the job is complete. Bribes always help.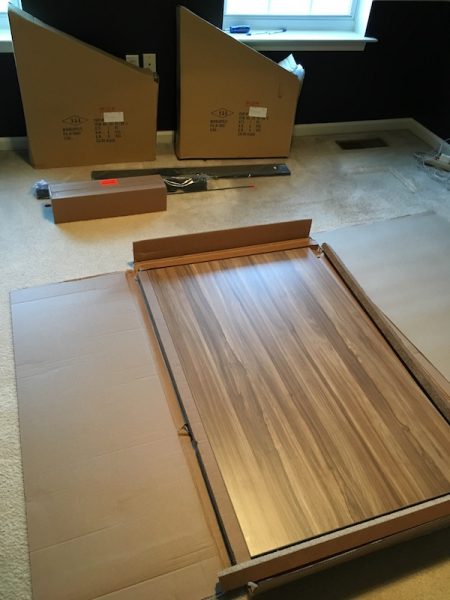 Once you've got things unpacked, you'll be happy to know that all the major components are preassembled. The leg units, motor, control module, power unit, and control panel are all ready for installation. The underside of the desk has most of the installation points pre-drilled so that you can grab your tools and get down to business. Depending on the options you may have selected, there are about a dozen parts including the attachment hardware.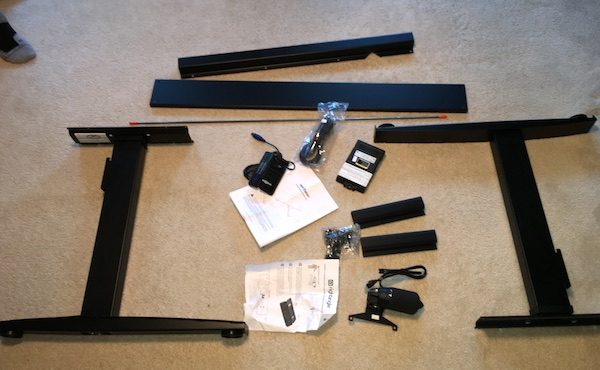 Here's where things get a little tricky. You'll assemble the desk upside-down, attaching all of the parts to the underside of the desktop. There's a drive rod that runs through the drive motor and both legs; this takes some adjustment to make sure it is threaded properly. You'll also install a cross-bar that stabilizes the legs. These components must be secured properly before you start screwing everything into the underside of the desktop. Once you have that in place, you'll install the rest of the components which include the control unit, the power unit, the control panel, and a U-channel cover that protects the drive rod. You may also have other accessories to install before you flip the desk over and start connecting all the cables.
Got all that?
It's actually not as bad as it sounds, if you proceed carefully. The key is to make sure all of the components are in the proper place before you start locking things down and tightening everything up. I'd HIGHLY recommend that you not only pre-read the instructions carefully, but also check out the handy installation videos on the VertDesk web site before you get started.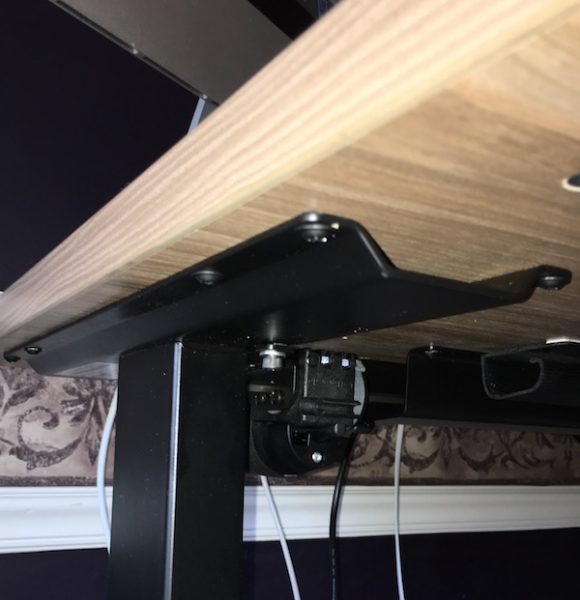 All in all, it took my son and I about an hour to assemble everything. There are some elements of the instructions that are a bit confusing, but we took our time and referred to the video several times during the process to fill in the gaps. Being handy with tools helps, and there is some measuring involved depending on what accessories you added to your purchase. There is also phone and e-mail support available through the web site if you get stuck. In my case, a teenager and YouTube were more than adequate support to get the job done. Honestly, I'be wrestled with some IKEA builds that were worse than this. If you can handle those, you'll be good to go here.
If there was one area that was a gap in the installation, it was in positioning the control panel. My test unit came with the upgraded programmable switch, so there was a bit of extra measuring and positioning involved that wasn't completely clear in the instructions.
The good news is that all that work pays off in a beautiful product. Let's get into the details!
Design and Construction
As I mentioned above, the VertDesk is a beast. Materials and components are all solid, beefy, and built to last. There's no skimping on components to be found. It's also a simple, beautiful piece of furniture. 
There's really no other way to put this: the desktop is marvelous. At 48" wide by 30" deep, the 1-1/8" top is burly and feels substantial. The material is a composite, finished in what VertDesk calls a Wood Essence laminate. It's powder coated, scratch proof and water resistant. All the corners are nicely beveled and the seams are bonded to ensure that they won't peel or pull up to create sharp edges over time. There are 10 desktop options available including the Wood Essence, bamboo and real wood. My test model came with the Macchiatto Wood Essence, and it's a beautiful color and finish. You can also choose from a variety of sizes ranging from 24" by 36" up to 30" by 72".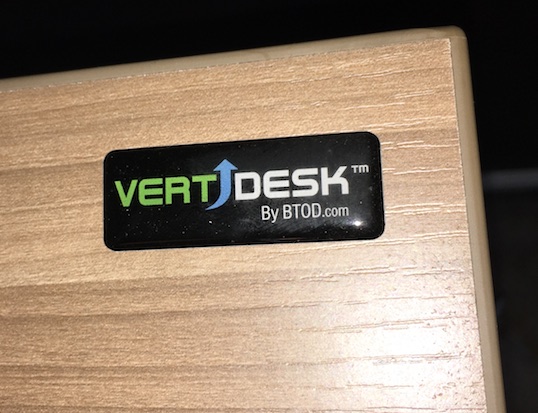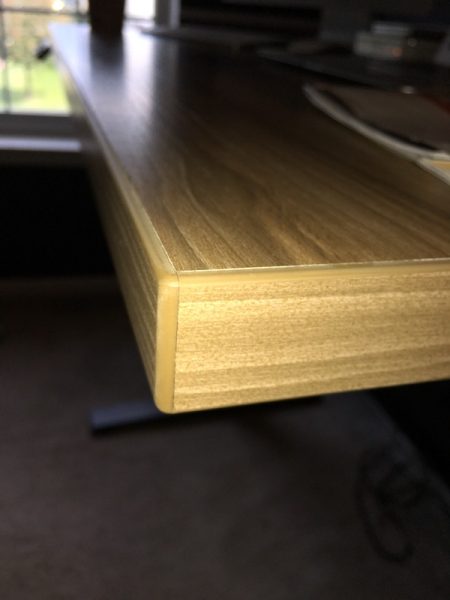 The base for the desk is made from heavy-duty recycled steel, and is built for strength and stability. Each leg is 3-1/2" by 2", and is anchored to a base that is 3" wide and 27-1/2" long (the base is 22-1/2" long if you choose the 24" deep desktop). Coupled with a 4-1/2" steel cross beam, you've got excellent stability even at maximum height. VertDesk has done a really nice job with the finishing on these components as well. All the edges are rounded, welding is tight, and all the mechanicals and attachment points are capped or sealed in such a way that there are contained in the leg housings. There are also two wide, adjustable rubber feet under each base to protect your floor and to provide additional adjustments for leveling if needed. It's a nice piece of engineering.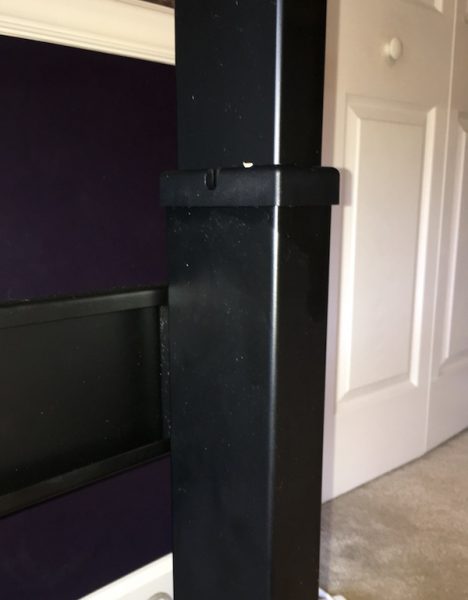 The motor, gear, and spindle systems are all German engineered; the electronic components are ISO 9001 certified and made by Logicdata. There's a lot of detail on these components available on the web site that speak to the quality of the manufacturing that you can read at your leisure. I am not a mechanical engineer, but I can tell you that all these components look and feel substantial and in alignment with the overall design and durability of the product. They are also finished in black to match the base, so they don't look out of place in the overall design. There are also some nice finishing features here including a black steel u-channel to protect and cover the drive shaft, and a pair of black self-adhesive j-channel covers to tidy up all the cables.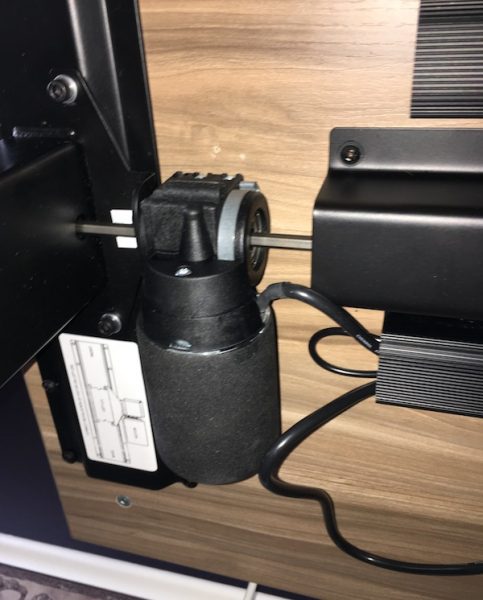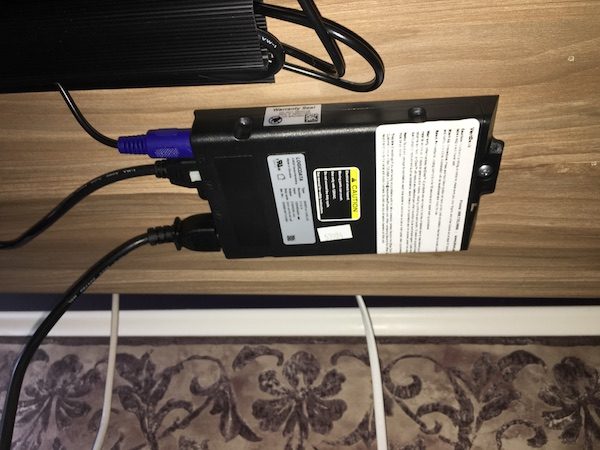 Finally, we turn our attention to the control pad itself. It's a touch-pad style control element that, in my test model, includes the ability to pre-set up to four standard heights. You'll find a simple up and down button, a digital readout that indicates the height of the desk, and four preset buttons that you can customize. The touch pads are wide enough that they make for easy operation, and it tucks away nicely under the corner of the desk. We'll discuss this more in the next section.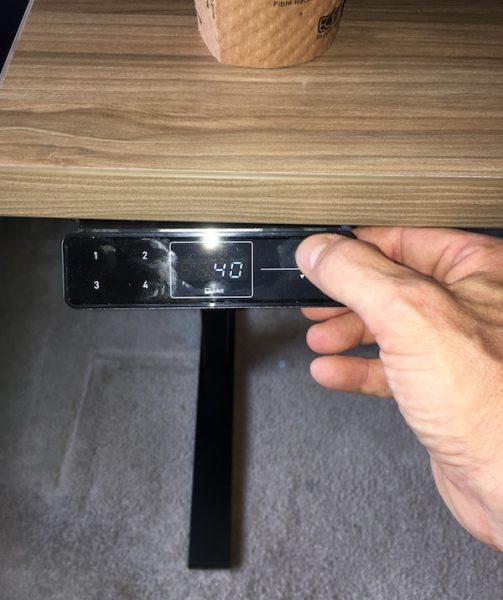 The bottom line on all of this is that VertDesk hasn't skipped any steps in quality. The company claims that the hardware rivals that found in competitors that cost over $1000. It's substantial and beautifully engineered, without being so burly-looking that it dominates the workspace. It also looks great in either the home office or your professional lair.
In Use
I'm relatively new to the whole standing desk thing. When I am at the office I tend to be in constant motion. Between formal and informal meetings, I'm rarely sitting at my desk for more than an hour at a time. The need for a standing desk was never an issue. Over the past year, however, I started incorporating a work from home day into my schedule every week so that I can focus on issues that require deep concentration. This means extended time sitting at the desk, plunking away on the computer(s). And that has been playing havoc with my back.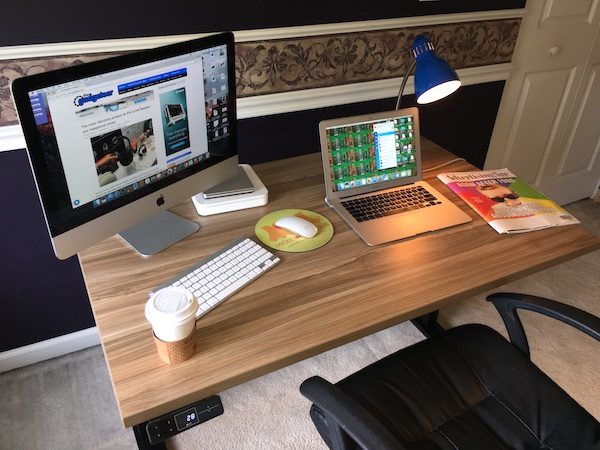 I'm fast becoming a fan of the standing desk. I'm a believer in the health and productivity benefits based on first-hand experience. And the VertDesk makes the transition to this new work style a pleasure.
When considering a desk, size matters… especially if you like to spread out your workspace. While my iMac and its peripherals occupy a permanent place on the desk, working from home requires access to my laptop, my iPad, notebooks, papers, and all the trimmings (including the mandatory cup of coffee). At 30" by 48", the VertDesk model I tested puts everything within easy reach without playing "desktop Jenga" to switch between devices.
You don't want your precious electronics to be balanced on an unstable surface for obvious reasons, and stability is often a problem with standing desks. The designers of the VertDesk have clearly put a lot of time into solving for this problem, and it shows. There's no lateral motion under any circumstances, and just a hint of front-to-back waggle at maximum height. This also may be the result of my desk sitting on carpet, and I suspect that adjusting the feet would eliminate this issue. It's solid, and inspires confidence in the safety of your gear.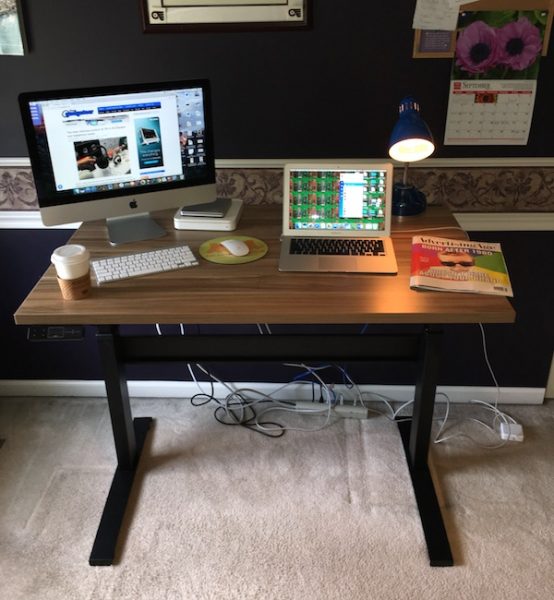 The VertDesk is motorized, and adjusts from 27" to 47.5" to accommodate your desired working height. Basic operation is simple. Press and hold the up or down button on the control pad raise or lower the desk at a rate of 1.55" per second, while a digital readout indicates the current height. Operation is smooth and controlled; you can sit a full cup of coffee on the desk during operation and not spill a drop. VertDesk has a load capacity of up to 275 pounds. I don't know why you would ever get close to that in actual use unless you really load up with peripherals, but their web site does have some entertaining videos of stress-testing the desk that include a tester sitting on it during operation. It goes to show the quality of the overall construction.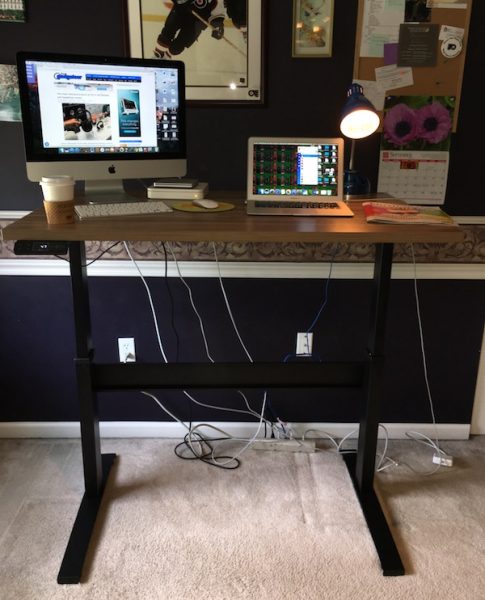 My test sample also came with the ability to pre-set up to four heights on the control panel. Use the standard controls to set your desired height, press the "save" button, and select with position you want in one of four standard slots. When you press and hold the pre-set, the desk will then move up or down to the saved setting and stop when the saved position is reached. Automatic operation would be nicer, but it's handy if you switch between sitting and standing heights (like I do) or have multiple office-mates using the desk.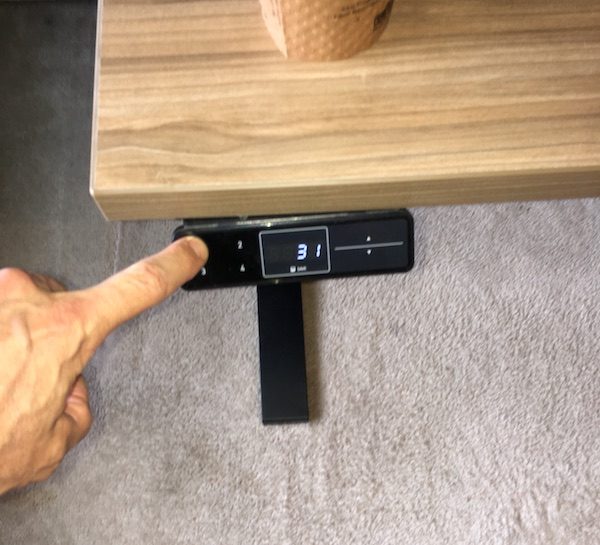 The VertDesk also has some additional safety and protection features, in addition to an excellent warranty. Overload protection automatically stops operation if the weight on the desk exceeds the designed limits. An automatic collision avoidance system stops operation if the unit comes in contact with a solid object during operation. The frame and desktop have 10 year warranties, while the electronics have a 5 year warranty. This all leads to confidence in your investment for extended years of use.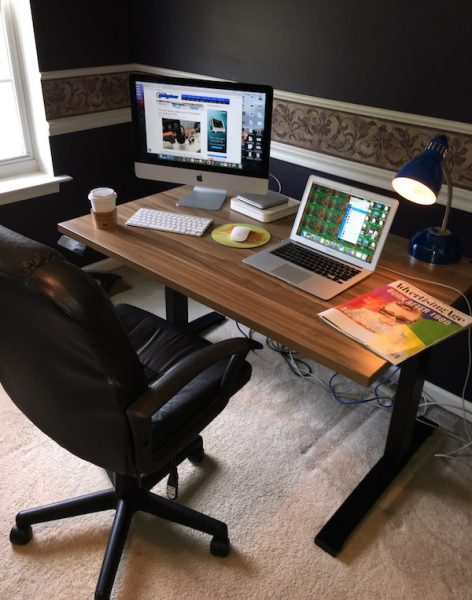 With all of the focus on the construction and mechanics, I don't want to overlook one of the most important aspects of the VertDesk: it's great desk, either in standing or sitting position. It's streamlined and elegant, has a beautiful and durable surface, and regular operation does not interfere with it's primary purpose as a solid, functional piece of office furniture. The VertDesk folks have dialed in all aspects of this design nicely, and it performs exceptionally well without letting all of that fancy engineering interfere with day-to-day operation.
Pricing, Qualifiers, and Caveats
After doing some digging into reviews for motorized standing desks, I've found quite a range of opinions on the VertDesk. It seems that some of the competitive reviews were based on earlier models, which did not compare favorably to the competition. The latest version that I tested (called the VertDesk V3) seems to address a lot of concerns found in the older models and receives high marks in most reviews. It does not have the height range or weight capacity of some competitors but the overall stability, lower price point, and longer warranty gain high marks.
The major knocks on the current version of this product when compared to the competition deal specifically with the height range and weight capacity. Some competitors offer a wider range of height adjustments by a few inches. The VertDesk is designed for users up to 6'5″ tall when standing, but you may need to look at competitive products if you have to duck when you walk through door frames. Some competitors also offer desks with a weight capacity higher than 275 pounds. I honestly don't know how one would come close to loading up a desk to that kind of weight unless you're dealing with specialized equipment, but it may be a consideration for you.
VertDesk also makes a whole range of accessories including single and dual monitor arms, keyboard trays, and undercarriage CPU holders. These were not tested for this review.
Finally, you have to really consider your work needs before investing in a vertical desk. The basic VertDesk V3 model starts at about $520, but prices can jump quickly when you start adding options or go for natural desktop materials. The model I tested prices out at about $650 with the larger desktop and programmable control. While these prices look to be good compared to the competition, there are lots of alternative options available: fixed-height vertical desks, add-on stands to your current desk, or home-made solutions will also do the job if you're the handy type. It's something to consider if you're shopping around.
Conclusion
Let's not mince words here: an electric desk is a significant investment. At the end of the day, you have to decide if shelling out $500 or more is worth the return with a purchase like this.
I'm a firm believer in paying for long-term quality, especially for those items that you use every day. Starting at just over $500, it's priced very favorably compared to the competition. It's impeccably engineered for function and durability and carries warranties that speak to the manufacturer's confidence in its long-term use. Not only does it look great in both professional and home office settings, but it functions equally well as a standing or sitting desk. If you're in the market for this kind of item, I think the VertDesk V3 Electric Desk is well worth your consideration. Check out their web site for all the details.
Source: the test sample for this review was provided by BTOD.com. Please visit their web site for more information.
Product Information
Price:
$517.99
Manufacturer:
VertDesk
Retailer:
BTOD
Pros:

High quality engineering, materials, and construction.
Beautiful and durable desk surface.
Wide range of purchase options.
Looks great in professional and home office environment.
Competitive pricing against the competition.
Excellent warranties.

Cons:

It's heavy -- get a friend to help put it together.
Some aspects of the assembly can be tricky.
May not meet everyone's requirements for size & weight capacity.