We use affiliate links. If you buy something through the links on this page, we may earn a commission at no cost to you. Learn more.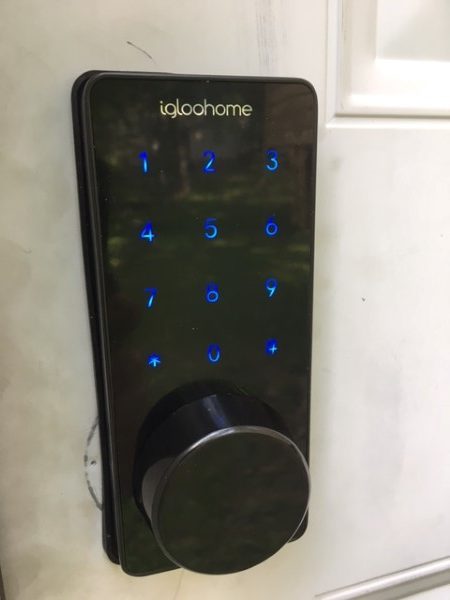 My home is located at the very end of the power company's circuit. As a result, if anything anomalous happens upstream, our power goes out. Frustratingly, the houses across the street are on another substation circuit and we can see their lights and flickering television screens while we sit by flashlight or candle light, hoping our smartphone batteries outlast the blackout.  If the power isn't out for long, I generally don't feel the need to fire up the generator, but nonetheless, it's almost always inconvenient. 
I arrived home during the last power outage. I usually enter my home through my garage door, but that wasn't going to happen this time. I pulled the keys from my ignition and… realized I had given my house key to a friend who was watching our cat during an extended overseas vacation.  Naturally, I had neglected to collect it after returning. Rats! I have other keys, attached to my other keychains… of course, all locked in the house or the garage… crap! I had to go to a friendly neighbor and get the key we leave with him in case of emergencies.
Then I had a sickening thought: What if my neighbor wasn't home? What if my kids had been dropped off in the same situation and the neighbor wasn't home? What would they do? Sure, they could call for help, if they haven't exhausted their phone battery during a day of fun, but it's certainly an uneasy feeling.
I've never been a big fan of "hiding a key under the welcome mat," because it's just too obvious. How about under a rock or in a planter? Nope, rusty keys mess up locks. I thought about one of those combination key lockers, but I always thought they were kind of unsightly and I don't really have a convenient place to locate one.
Over the past few years, various manufacturers have marketed electronic door locks, allowing occupants to access their homes. Long-life batteries mean access to one's abode would be possible even during power outages and without keys. To make things more convenient, these locks can be programmed to allow temporary access for cat-sitters, AirBNB renters, the meter reader, or even someone coming in to perform repairs, all with the peace of mind that no one would be tempted to make a copy of that precious key.  After all, my dad always said, "Locks keep honest people honest."  I think he's right.
igloohome's Smart Deadbolt 02 such a beast. It's a Bluetooth lock that can be programmed with up to 285 entry codes to allow single entry, duration or permanent access with different codes for each.  It operates for up to 5000 cycles on four AA batteries has a low-battery warning and can even be "jump started" from outside using a 9-volt battery if the batteries die and the key isn't available. In a pinch, I would be able to borrow the 9-volt battery from one of the garage door openers and be back in business… um,… in-side in a jiffy.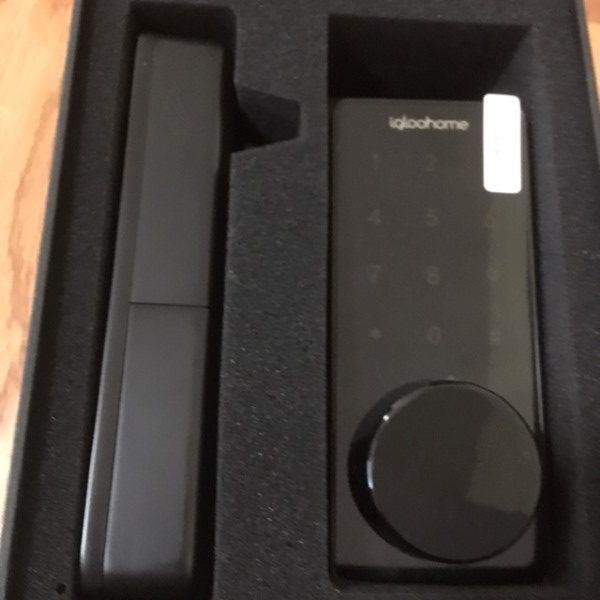 The smart deadbolt arrived securely packaged in a sturdy box. All the parts needed for installation, including a template to cut holes in the door, were included. Interestingly, the included manual provides the specifications, parts descriptions, features, pairing instructions, and app instructions, but do not have instructions for installation. For these, you'll need to install the app and access the FAQs from igloohome's on-line database. Once there, the instructions are comprehensive with lots of illustrations. I decided to install the deadbolt on a rear garage entry door – one I almost never carry a key for, meaning I have to walk around to the front of the house, open the main door, and unlock it from inside, which is sometimes a frustrating stroll.
The body of the deadbolt is made of a zinc alloy and should resist the elements well.  Installation is very similar to a conventional deadbolt, but with an additional mounting plate and wire joining the inside and outside panels. All the parts fit properly, with no fit or finish issues.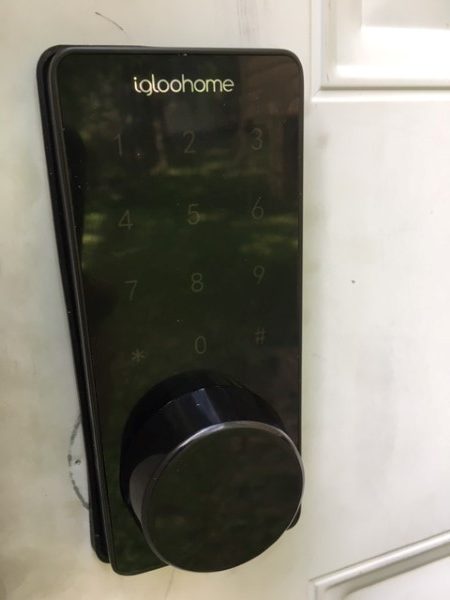 I installed the app and was able to easily pair the deadbolt and add a master password. The app isn't the most elegant but gets the job done.  Access codes can be added to allow someone to enter on once, over a preset duration based on date and time, or permanently. I think this could be really useful to allow a repair person or meter reader into the house once, or an AirBNB resident access only during their rental period.  The app even keeps a record of when the deadbolt has been used.  One-time lock codes can be set to expire within a specific time, meaning if the repair person is late, they're not getting in. The app permits removal of individual unlock codes from the list of created codes, but they are retained until the entire list is deleted using the "Clear PIN List" function.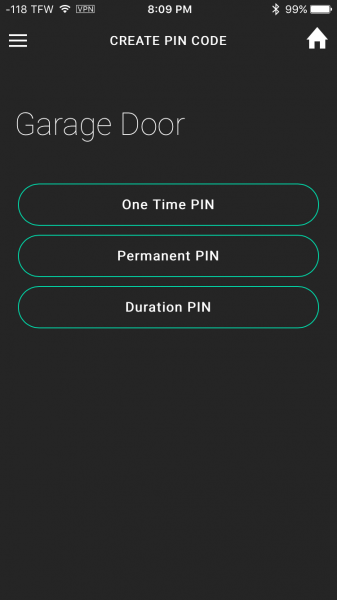 Opening the deadbolt from the keypad is simple. Touch the keypad to "wake up" the lock. The keypad illuminates a pleasant blue, enter the code, and press the # key. From the apps main screen, touching the padlock icon does the same thing. There is a feature called ""Easy Unlock," that will unlock the deadbolt touching any single key, but only if the app is open and paired with the lock. Multiple Bluetooth "keys" can be made to the lock, allowing other family members to use this feature by scanning a QR code or via text message invitation and installing the app.  Of course, a pair of conventional keys are included but requires removal of the outside dust cover with a pointed object. I doubt I'll ever use them.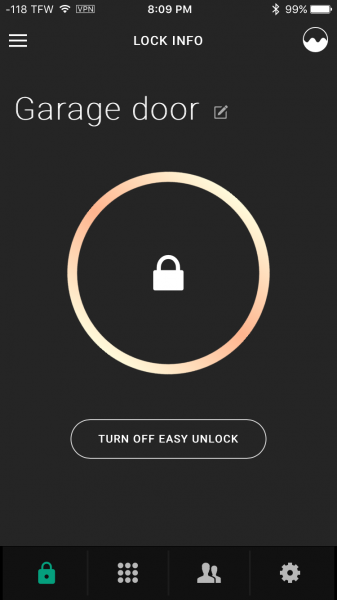 Locking the deadbolt from the inside is by manually turning the latch. From the outside, press and hold the # button for two seconds. It should be noted that the app cannot be used to lock the deadbolt – only unlock. This is unfortunate because checking the status of an entry door without having to go directly to the door would be a great feature.  It would have been welcomed if the lock also had IP connectivity to remotely open, close or check status, but only Bluetooth is supported.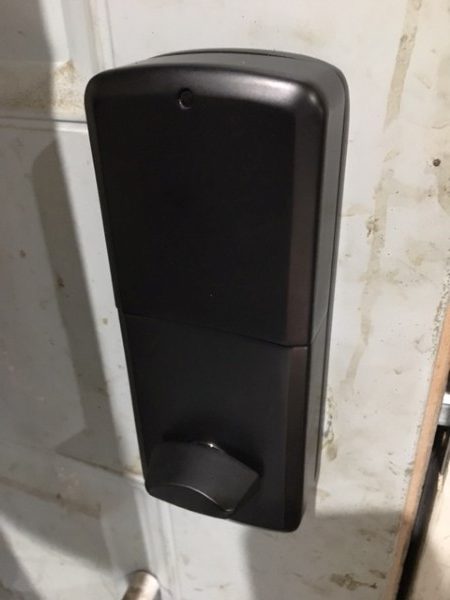 Overall, I'm pleased with this innovative product, but would welcome the ability to lock the deadbolt via the app. Internet IP connectivity would also have been a plus.  Installing the igloohome Smart Deadbolt has given me a little additional peace of mind. I don't have to worry about my family being locked out of our home should the power go out. I don't have to worry if my friendly neighbor is home or bother him. I can let people in (if I know they are coming in advance) and I can get into my garage without tromping around the house.
Updates 11/16/17
Well, it happened. Power was off in my neighborhood due to a wind storm. My daughter arrived home and couldn't get into the house through the garage and had no key for the front door. Now it was not a problem – she just went through the door with the Igloohome Smart Lock. She was happy to be inside but complained that the Wi-Fi wasn't working. Go figure.
Source: The sample for this review was provided by igloohome. Please visit their site for more info and Amazon to order.