We use affiliate links. If you buy something through the links on this page, we may earn a commission at no cost to you. Learn more.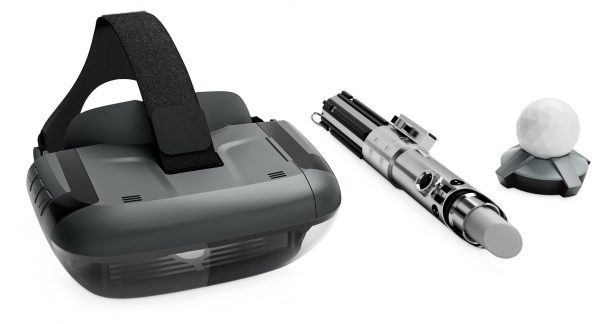 Every kid dreams of being a Jedi, but Lenovo has figured out that swinging a lightsaber alone isn't enough to satisfy kids in 2017. That's why they've partnered with Disney to come out with Star Wars Jedi Challenges. Star Wars Jedi Challenges uses augmented reality to simulate the experience of being Jedi. The system, which requires a smartphone to work, includes a Lenovo Mirage AR headset, Tracking Beacon, and a Lightsaber controller. 
The lightsaber itself is modeled after Anakin Skywalker's own lightsaber, while the headset is where the smartphone is anchored, and the beacon allows players to freely move with natural motion as they duel or direct their pieces across the battlefield.
Jedi Challenges will come with plenty of games entrenched in the Star Wars universe. Gameplay includes everything from training to lightsaber battles against villains like Darth Vader and Kylo Red, combat games and Holochess. In addition, Jedi Challenges introduces a new Star Wars character, the Archivist, whose jobs is to teach players how to properly use the Force.
"With Star Wars: Jedi Challenges, Lenovo and Disney are bringing Star Wars to fans in ways they could previously only imagine," said Jeff Meredith, Senior Vice President and General Manager of Lenovo Consumer PCs & Smart Devices.
Star Wars Jedi Challenges is compatible with Android and iPhone and is available for pre-order at Best Buy and Lenovo for $199.99. It will be available in November, and we're sure it will be a hot holiday item for kids, and probably some adults too.