We use affiliate links. If you buy something through the links on this page, we may earn a commission at no cost to you. Learn more.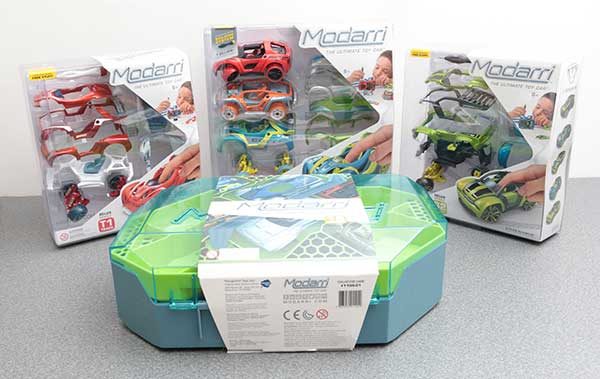 If you think back to your favorite toys when you were a kid, were they video games or were they toys that let you use your imagination like construction sets and other building toys? I'm going to show my age here, but some of my favorite toys when I was a budding gadgeteerling were Lincoln Logs, Tinker Toys, and an Etch A Sketch. I spent hours playing with these toys because each time I built or drew something, it was new. You can still buy those classic toys today, but if you're looking for a new toy for your kids that promotes creativity and open-ended play, check out Modarri. They call it the Ultimate Toy Car. Let's see if that's true. 
What is it?
Modarri are car building sets designed for kids and those who are still young at heart. Each car building set comes with at least one car and individual parts that you can mix and match to create different looks.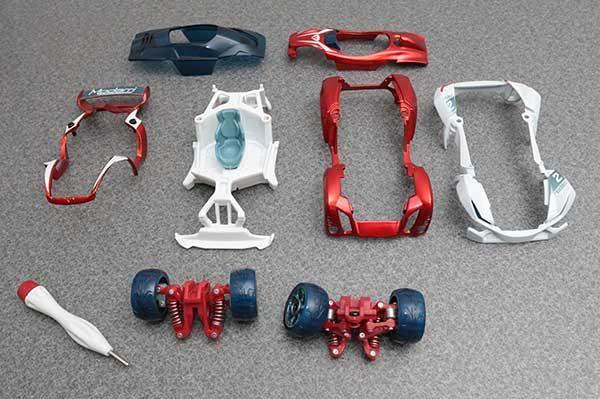 In the image above, you can see what is included in a single car set. The single car set includes 6 frame pieces, a set of wheels, and a hex screwdriver.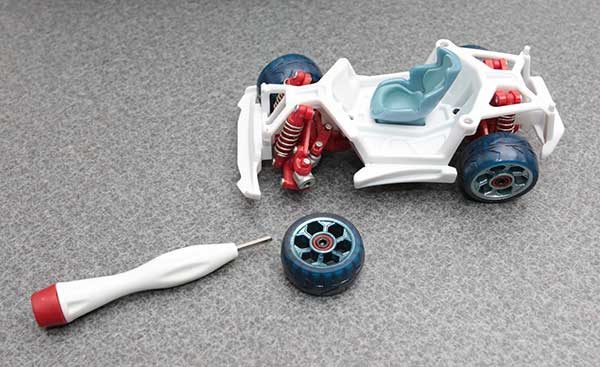 Although it's not obvious, you can even mix and match tires and seats if you have more than one car.
The wheels feature real suspension and shock absorbers.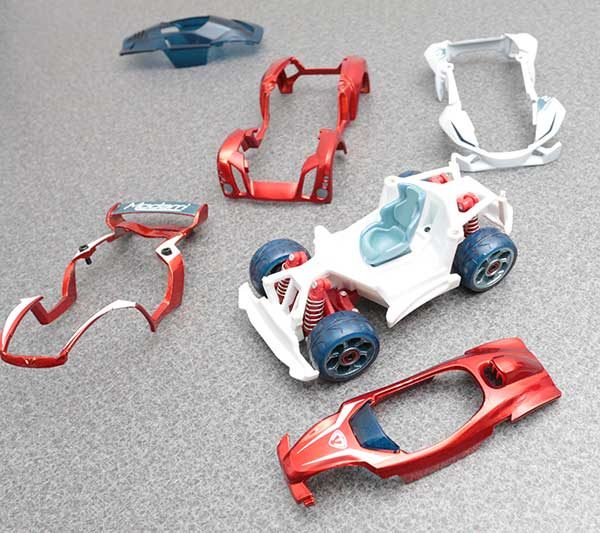 The Modarri car frame parts stack on top of each other and are held in place with two screws.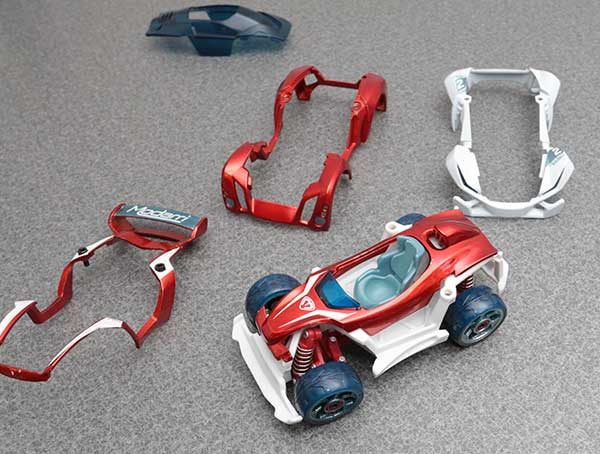 The hood goes on first.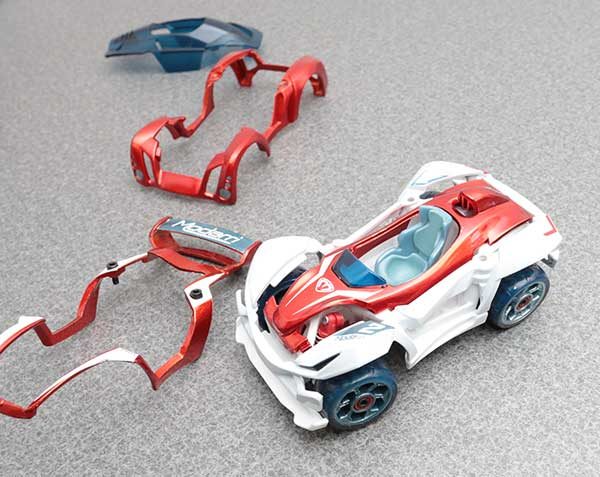 Then the fenders.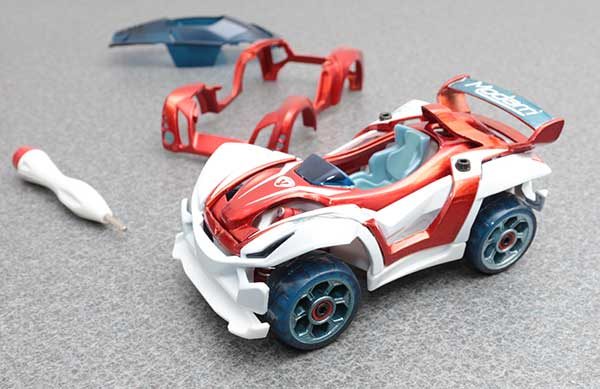 And then the metal frame that has the screws which are retained in the frame so that they won't fall out and get lost.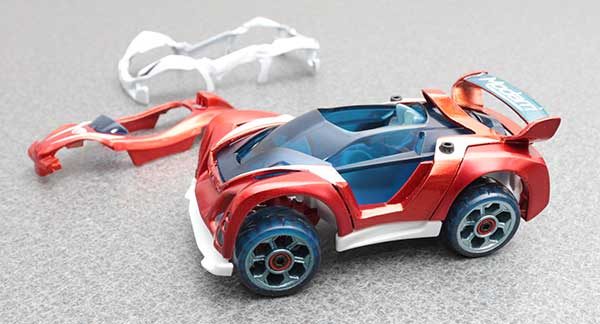 The whole idea of the Modarri car building system is that you can mix and match the parts to create new cars.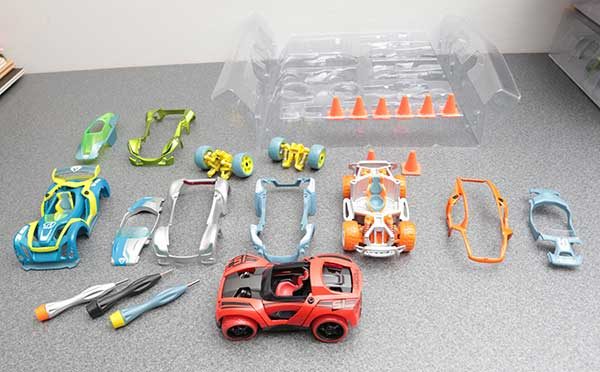 Three car sets like the one shown above contain extra parts like the traffic cones and additional screwdrivers. And of course, the more pieces you have, the more variations of cars you can build.
All of the car parts except the metal frame with the screws and some of the wheel mechanism are made of plastic. The parts feel rugged enough though, so they should be able to stand up to some rough play.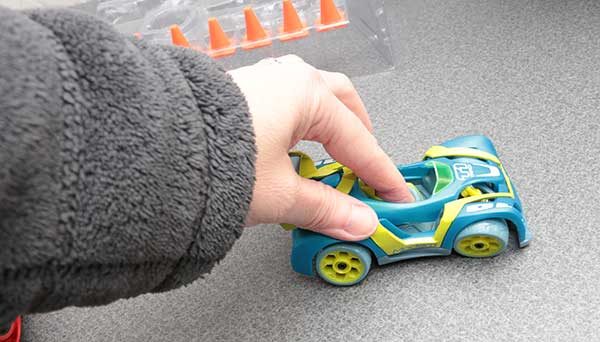 Building the cars isn't the only fun kids can have. You can also "drive" the cars by putting your finger in the seat. Since the wheels have built-in suspension, you can actually steer the cars, which is fun.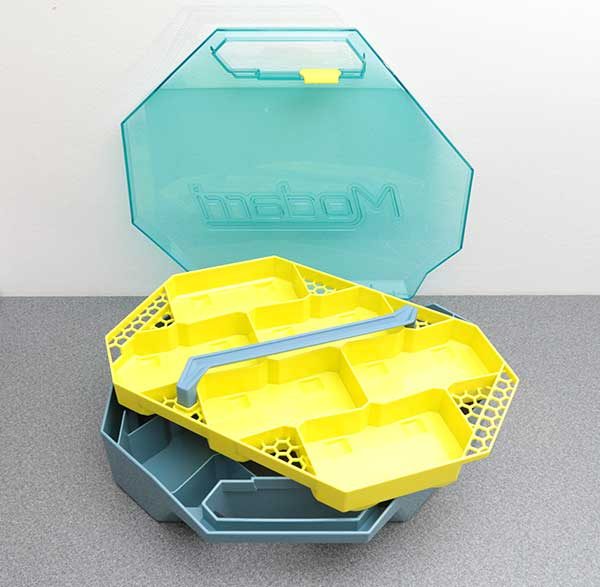 Modarri also offers a carrying case so you (I mean your child) can keep the cars, parts and tools organized and tidy.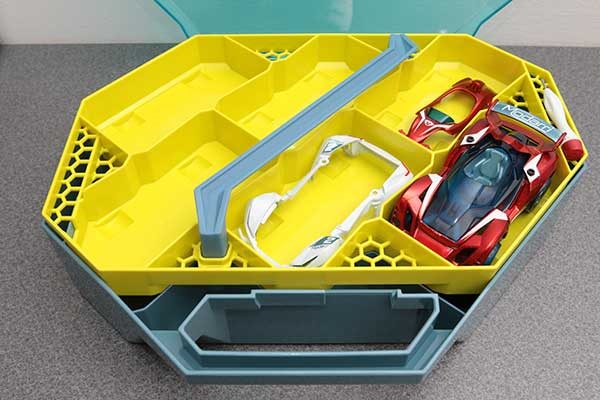 The case can hold a dozen cars and has a removable tray and a handle for easy transport.

Final thoughts
So is Modarri the ultimate toy car building set? Yes, it is. These cars are a lot of fun to assemble, disassemble and "drive". The system is very LEGO-like, but the Modarri cars look a lot more like a real car than any LEGO car does.
If your child likes to build things and likes race cars, Modarri car building sets are sure to keep them (and you) entertained for hours.
Source: The sample for this review was provided by Modarri. Please visit their site for more info and Amazon to order.