We use affiliate links. If you buy something through the links on this page, we may earn a commission at no cost to you. Learn more.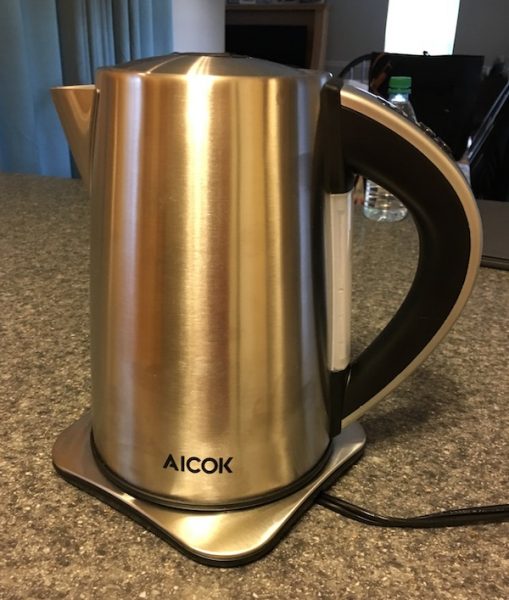 An electric kettle is a really useful appliance to have around the kitchen. The AICOK Electric Kettle not only promises some new design & safety features but gives you a set of 6 preset temperatures for more refined control of your hot water for teas and coffees (in addition to a boil). How does it work in practice, and is it worth considering as a replacement for your old electric kettle? Let's turn up the heat! 
Design and Construction
Out of the box, the AICOK Electric Kettle is a nice looking appliance. It has a brushed metal finish, accented with black in the handle and base. At XX inches tall, it fits nicely under most overhead kitchen cabinets, and the overall streamlined look of the kettle is attractive enough that you won't mind keeping it on display on your kitchen counter.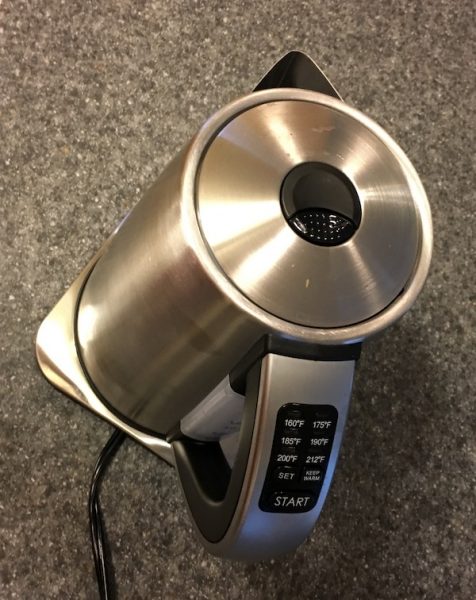 The design of the kettle has some nice features for safety and confident handling. The kettle itself is placed on a base to provide power to the heating unit. There's a wide peg that the kettle slides onto to attach to the base, so it's easy to place and lift free as needed with 360-degree rotation when in position. Because the power chord is attached to the base, it doesn't get in the way when serving; you can heat up your water in the kitchen, for example, and take the kettle out to the dining room for your guests. The base is wide and stable, so it will take an accidental hit and not tip over. It's also got a burly cool-touch handle, which enables safe management of a full pot of boiling water when carrying and dispensing.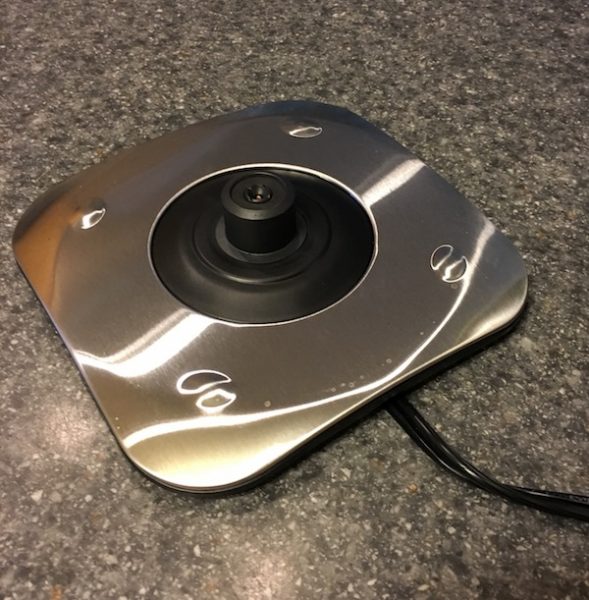 Construction overall on the kettle is solid and substantial. It's built from stainless steel and BPA-free plastics, which are both pluses for safety and durability. The water meter, tucked behind the handle, is wide and easy to read from multiple angles while filling. The lid is solidly constructed, sports extra seals to promote insulation, and unlocks with a spring-activated mechanism by pushing a button. It's a good build and feels like it will stand up to long-term regular use.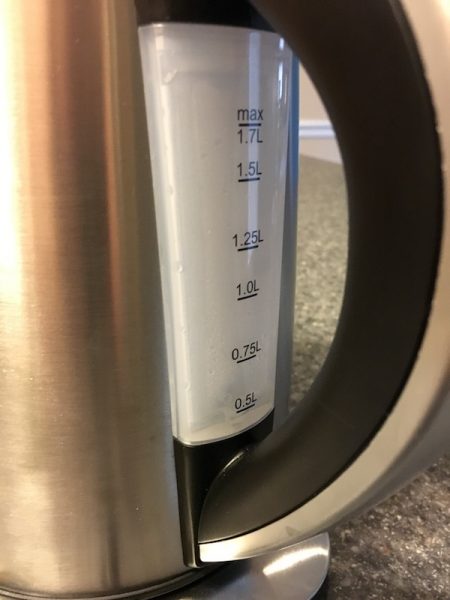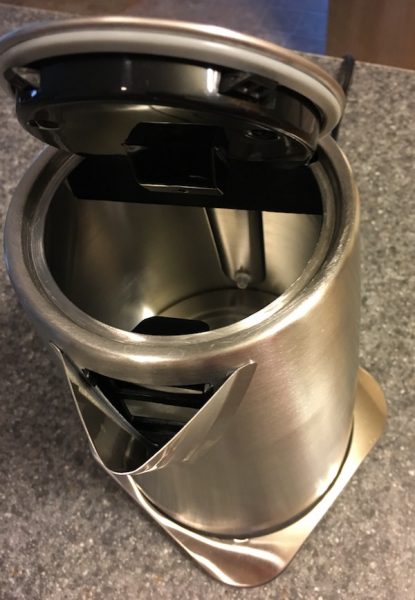 Never miss one of our posts again. Sent MON, WED, and FRI with the latest gadget reviews and news!
Operation
The water heating options on the AICOK Electric Kettle are where things start to get really interesting. Many teas and coffees require more precise heat control to get the most out of your brew. This kettle has 6 preset temperature options, enabling you to dial in the right temperature for your application. Recommended temperature settings are as follows:
160°F For Delicate Teas

175°F For Green Tea

185°F For White Tea

190°F For Oolong Tea

200°F For French Press Coffee

212°F (boil) For Black Tea Or Instant Cocoa, Oatmeal, Noodles, etc.
Once you fill the kettle to the desired capacity (0.5 liters to 1.7 liters), the kettle will heat to the selected temperature. The warming option keeps the water at that temperature for up to two hours. Should the water level get too low, the unit will automatically shut off to prevent burning. Both of these are great safety and convenience features because you don't have to babysit the kettle as you go about your business.
The controls on the AICOK Electric Kettle are all found on a small panel on the handle. You have 6 LEDs (one for each temperature setting), and three buttons. After filling the kettle to the desired level and placing it on the base, you press "Start" and use the "Set" button to toggle to the desired temperature setting. Press the "Keep Warm" button to activate this feature, and that button will light up to indicate that it is active. The "Start" and "Keep Warm" button remain lit until the kettle reaches the desired temperature, at which point the "Start" button light shuts off and the "Keep Warm" button begins to blink to let you know that it's active if it's been toggled. If you remove/replace the kettle on the base, the unit has a 90-second memory that will activate your last setting.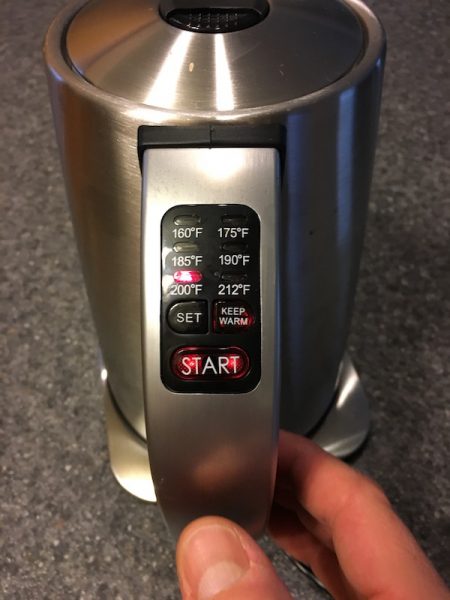 If you think that this setup sounds a little confusing, you're right. At first, I kept trying to set temperatures and warming preferences before I hit "Start," which would yield no result. There's also no indicator when the water has reached temperature if you're not using the warm feature; everything just shuts off. I don't think that either of these are deal breakers that you won't get used to, but they are little design "gotchas" that could have been thought through better to make the interface completely intuitive. It would also be nice to have some additional piece of feedback to indicate when heating is complete, like an audio tone or a "done" indicator light. This isn't a big deal if you are in "Keep Warm" mode since the button blinks, but there's no such indicator if you're not using that feature.
Pricing and Conclusion
The electric kettle isn't the most glamorous appliance in your kitchen, but it's a very useful tool to have around. I think the added utility the AICOK make it even better, essential if you or your guests are tea drinkers (or you brew your own coffee like I do). I have found myself using it more and more, and the combination of fixed temperature controls and extended warming add an unexpected bit of convenience as part of the morning routine. The safety features are great, especially if you have a houseful of kids and/or guests. On top of all of that, it actually looks good if it takes up a permanent position on your countertop. And there's nothing wrong with that!
The list price for the AICOK is under $50, which seems pretty good based on what I have seen in pricing for electric kettles that start adding additional features like this.
Positives:
Solid build for safe handling
6 temperature presets for teas and coffees
Extended warming feature keeps the water at temperature for up to 2 hours
BPA-free construction
Negatives:
Controls could be more intuitive, but are easy to learn
Price: $40.49
Where to buy: Amazon
Source: The sample for this review was provided by AICOK.