We use affiliate links. If you buy something through the links on this page, we may earn a commission at no cost to you. Learn more.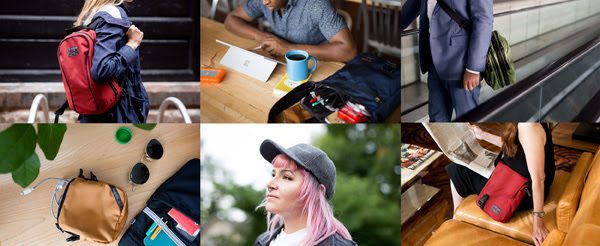 Among travel & carry enthusiasts Tom Bihn is a legend, producing some of the best bags & accessories in the business from their shop located in Seattle, WA. But one thing that Tom Bihn is not known for is rushing things to market. He takes his time, only releasing new products and material choices when he feels that they have realized the company's high standards of excellence. 
That's why this news is a bit of a surprise. The Summer 2017 Debut for Tom Bihn includes two completely new bag designs, 4 new accessories, and 2 new fabric choices. The lineup includes:
The Stowaway, a completely new convertible briefcase/backpack bag designed for travel;
The Luminary, a completely new small daypack design;
Packing cubes for the Stowaway and the previously-released Yeoman duffle;
The Cubelet, a 5″ by 5″ by 2″ organizer pouch;
A new baseball cap sporting the Tom Bihn logo; and
2 new fabric choices: 525d HT ballistic nylon and 210 HT ballistic nylon (both available in multiple colors).
I would expect nothing less than Tom's usual excellence in these new offerings. I may need to pick up one of the ball caps! I have always loved that logo and the story behind it. For more information on the whole story, hop over to the Tom Bihn Summer 2017 Debut Page on their blog!