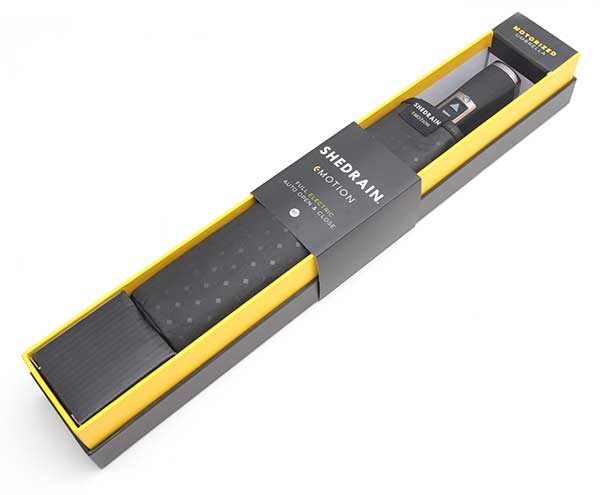 Do you carry a compact umbrella with you for rainy days? I have one in my drawer at my day job and one in the glove compartment of my car just so I have all my bases covered. The overall design of compact umbrellas hasn't changed much over the years unless you include the button on the handle that automatically extends the canopy over your head when you press it. Yes, that's a very handy feature, there hasn't been a button to automatically close the umbrella until now. Let's go singing in the rain with the ShedRain e-Motion motorized compact umbrella.
What is it?
The ShedRain e-Motion motorized compact umbrella is a 14″ long umbrella that fully opens and closes with the press of a button.
What's in the box?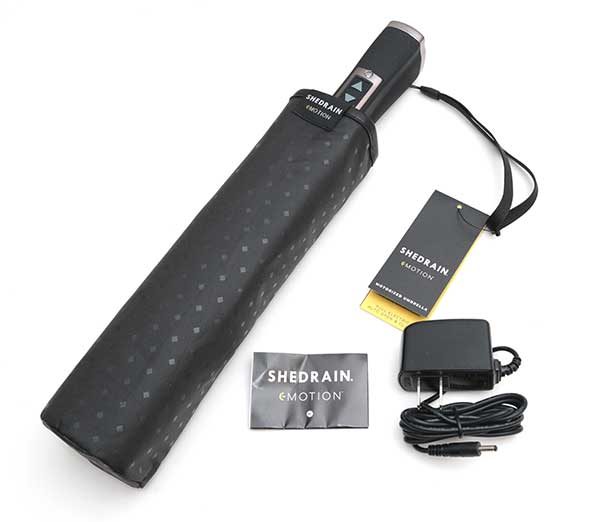 ShedRain e-Motion motorized compact umbrella
Protective sleeve
AC adapter
Instructions
Design and features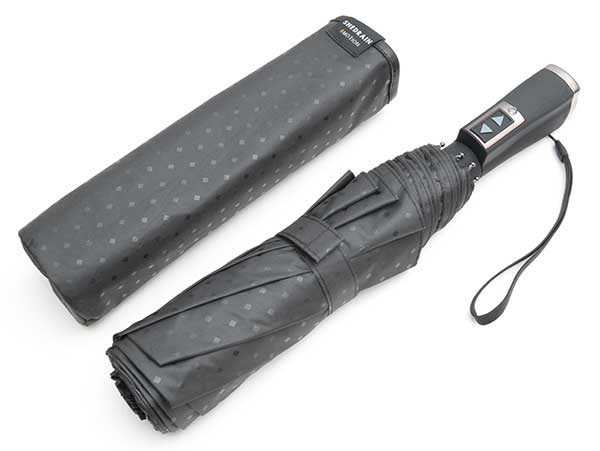 At first glance, the ShedRain e-Motion motorized compact umbrella looks like an ordinary black umbrella that you probably already own.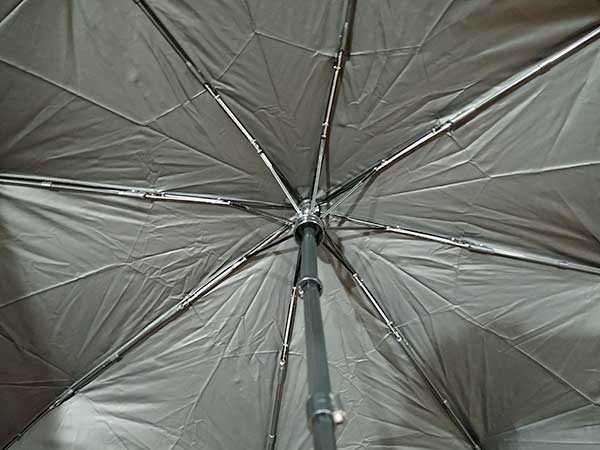 The umbrella is 14″ long when closed and features an 8-panel design that is made of a black polka dotted polyester material that has a rain repellent Teflon coating, sturdy fiberglass ribs, and a steel shaft.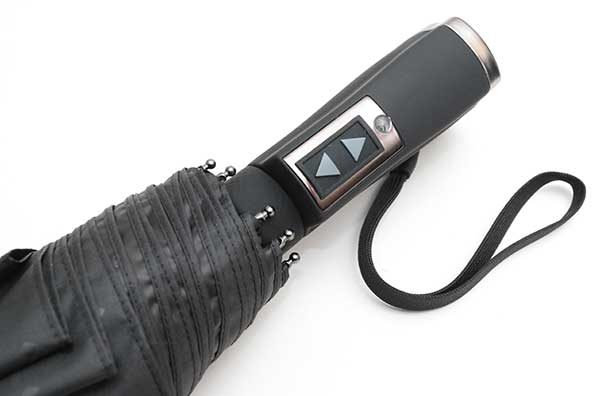 The e-Motion has a comfortable rubberized handle with a wrist strap. But when you look a little closer you'll notice two arrow buttons and a battery status LED below them.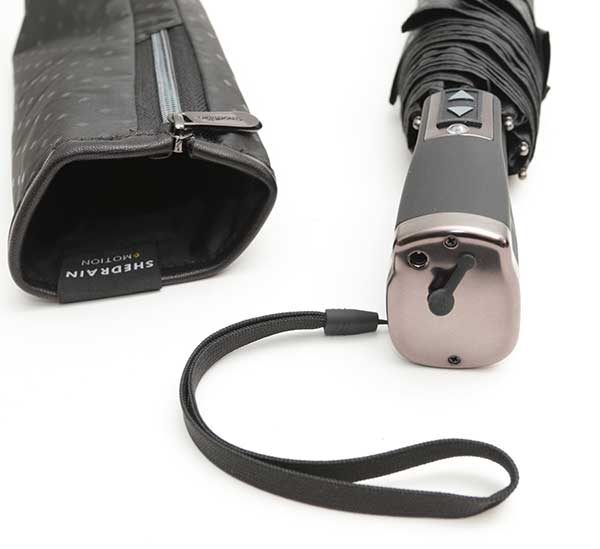 The ShedRain is powered by a built-in rechargeable battery that can last for months on a charge which is done using the included AC adapter. The adapter plugs into a socket on the bottom of the umbrella handle and a small rubber cover protects the socket when it's not being used.
Charging the umbrella is as easy as plugging the cable into the umbrella, plugging the adapter into a wall outlet, and then waiting for the LED on the AC adapter to turn from red to green.
There's also a status LED on the umbrella handle, which turns red when the battery needs to be recharged. I've yet to see it light up because one charge provides enough power for up to 150 openings and closings.
How does it work?
It really couldn't be any easier. You unwrap the velcro strap around the closed umbrella and press and hold the up arrow on the handle. That's it. To close you press and hold the down button. Like I said, easy.
See it in action
As you can see from the video, using the ShedRain is easy and it's fun too. I love it!
Final thoughts
Most standard umbrellas offer a one-button open of the umbrella, but they still have to manually push the folded canopy down the handle. I bet some of you thinking that people are lazy if they can't even close an umbrella without needing a button or a motor to do it. But think about it for a minute. Closing an umbrella is awkward when your other hand is holding something, you have dexterity problems or you only have one arm in the first place.
The only criticism of the ShedRain that I can think of is that it uses a proprietary AC adapter. I wish it used a microUSB or USB Type-C connector instead so I could charge it at the office, in my car, etc. As is, you have to to make sure not to lose the AC adapter that ships with the umbrella.
Note: If the battery in the umbrella completely dies, the ShedRain can still open and close manually.
The ShedRain e-Motion motorized compact umbrella makes using an umbrella fast and easy by completely opening and closing it with the simple hold of a button. Now I look forward to rainy days!
Source: The sample for this review was provided by ShedRain. Please visit their site for more info.
Some of our links in posts like this one are affiliate links, which means that we may receive a small commission on purchases at no cost to you.
Product Information
Price:
$99.00
Manufacturer:
ShedRain
Pros:

Very easy to use
Opens and closes with the press of a button
Compact
Rechargeable

Cons:

Uses a proprietary charger