We use affiliate links. If you buy something through the links on this page, we may earn a commission at no cost to you. Learn more.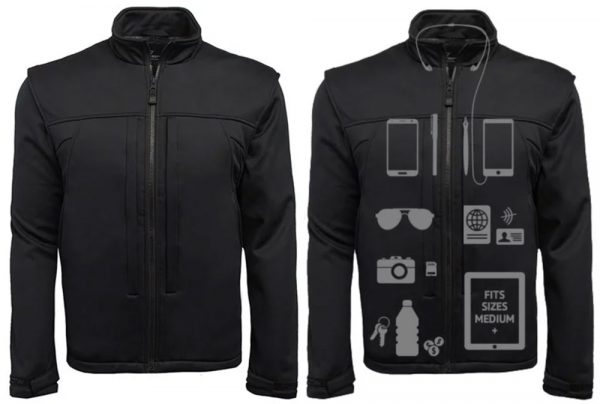 Since 2000, the SCOTTeVEST (SeV) designers have been producing their patented TEC (Technology Enabled Clothing) for those tech-heads who want to inconspicuously transport their EDC gear without the need for a bag, backpack, or briefcase. For this review, SeV has sent me their new 30-pocketed Enforcer jacket designed specifically with law enforcement, military, and gun enthusiasts in mind. While I am none of those things (at least anymore), I do like the sleek, stealthy look of the jacket…it's all blacked-out style is definitely me. It will be interesting to see how well it fairs against a wet and damp spring here in the Pacific Northwest. 
Note: Click the images to see a larger view.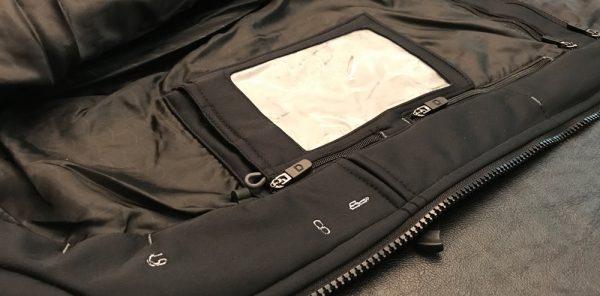 According to their website, the SeV Enforcer jacket is a new, improved version of the popular Alpha jacket. As I mentioned above, it is designed with law enforcement, military, and gun enthusiasts in mind. That said, the Enforcer still has all of the functional engineering of other SCOTTeVEST garments, including a wide assortment of pockets of all different shapes and sizes to securely store/transport all your gear. 
Features:
30 Pockets are perfect for transporting your EDC gear
Insulation quilted to the lining
Removable sleeves
Water-resistant and breathable material
100% polyester shell and lining
Patented Personal Area Network (PAN) for wire management
Ergonomic zippers
Includes the Travel Smart System™, Weight Management System™, NoBulge™, clear touch pockets, etc.
Can hold iPad/small laptop/firearm
Machine Washable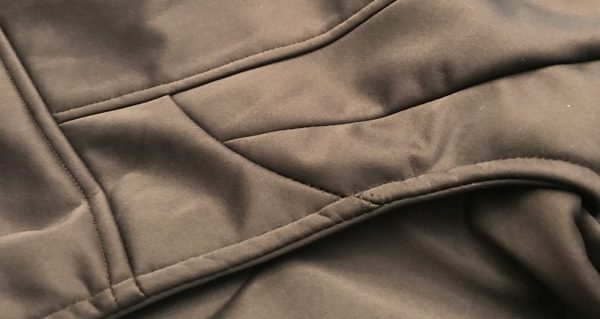 The SeV Enforcer jacket is very well made with high-quality materials, excellent construction/workmanship, and capacity to carry a ton of stuff.  The zippers, seams, and stitching are all precise and nicely done. The 100% polyester exterior is finely woven and looks like a stylish softshell jacket on the outside. Functionally, the shell does a good job of beading off water though I have not had the opportunity to use it in the dumping Seattle rain yet. Even though it's black, the shell does not pick up/show dirt much at all. The jacket is machine washable.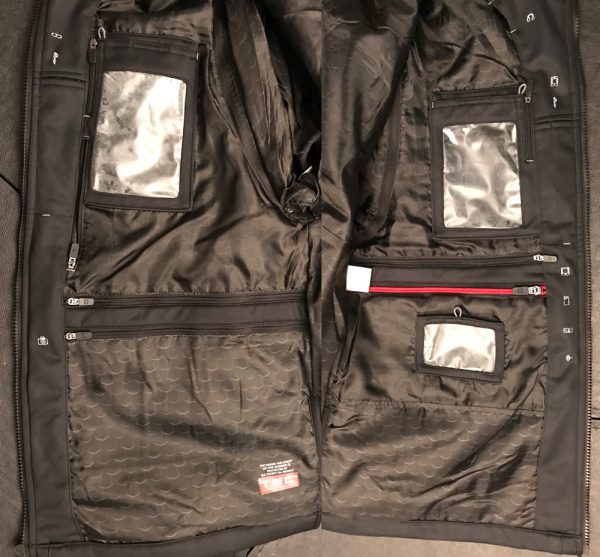 Many of the 30 pockets are sized and engineered for a specific type of function like a sidearm, holding keys, sunglasses, tablet, pens or even small laptop (as shown below).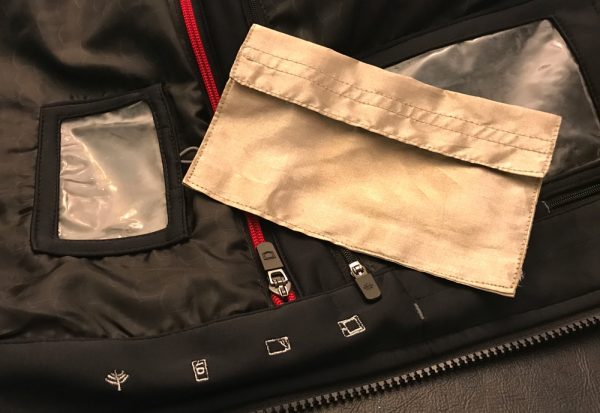 There are also other niceties hidden within the jacket like bungee clip for keys, soft cleaning cloth for cleaning your sunglasses, and RFID blocking pocket (red zippered pocket, inner lining shown above) to protect your electronic footprint from snoopers. As I have mentioned in other SeV reviews, the most challenging part of owning a TEC garment is remembering/finding where you stashed a particular item.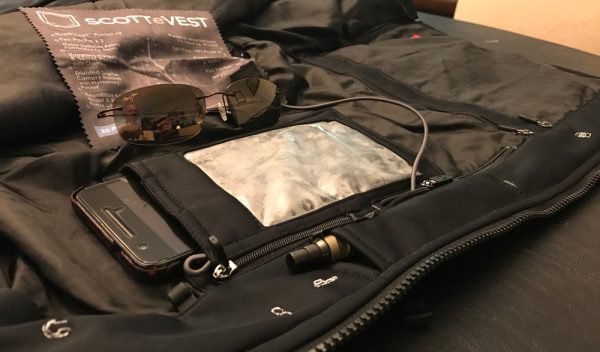 Though SeV helps you keep track of everything by embroidering icons that tell you what each of the pockets has been designed to hold.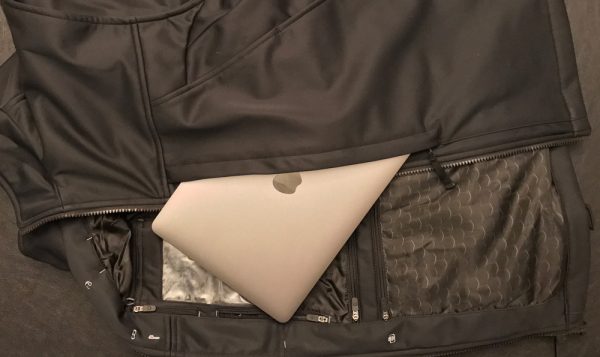 The two front-positioned "Rapid Access panels"  are huge and contain built-in sub-pockets for extra magazine clips or anything really. The main front pockets are so big they easily accommodate my 12″ MacBook or full sized tablet. When fully loaded down with all my gear the jacket does get relatively heavy. I doubt in a real-world scenario I would carry my laptop in the jacket…maybe an iPad but that is about as heavy/bulky as I'd go.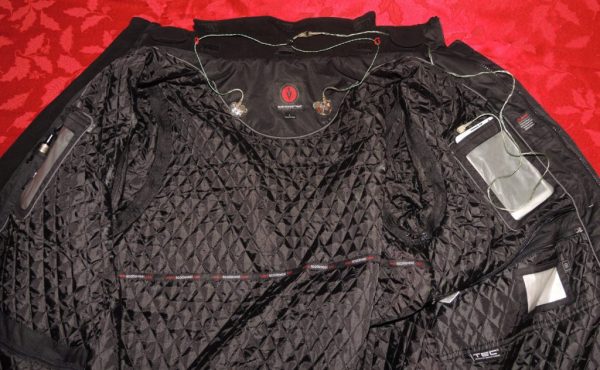 Since I got the iPhone 7+, I use wireless earbuds 99% of the time. But thought it worth mentioning that the Enforcer has SCOTTeVEST's patented Personal Area Network (PAN) for wire management. Here you can see my pair of JHAudio JH|5 Pro earphones I reviewed years ago installed in the Revolution Plus jacket (for illustration). As I mentioned in that review: "It took me just a few minutes to figure out the system and string the wires throughout the interior of the jacket. I would suggest to those who have a spare pair of earbuds laying around, to dedicate a pair to the jacket so you do not have to take the time installing and removing them". The SeV wire management system is excellent for keeping your earbuds in order and always dialed in.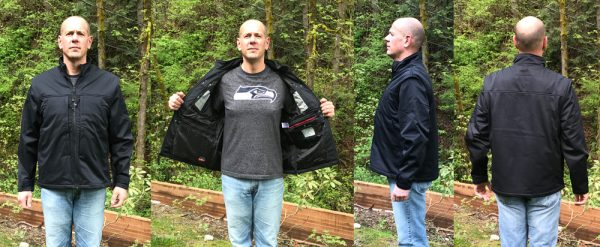 I'm 6'1″ and 180 lbs — the large Enforcer SCOTTeVEST sent me fits well and even when fully loaded the jacket rides nicely on my shoulders/frame.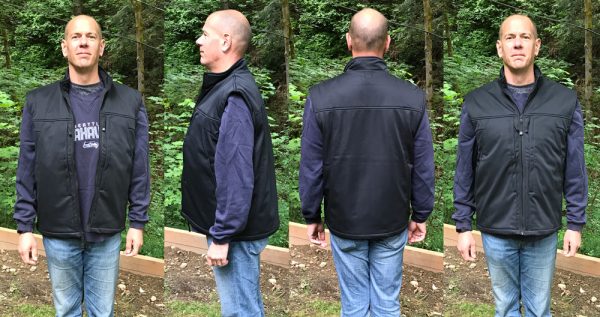 Like many of their other jackets, SeV designers engineer removable, zip-off sleeves to transform the Enforcer into a vest. The Gadgeteer Kid said it reminded him of Marty McFly in Back to the Future.
The SeV Enforcer Jacket is available in 8 sizes: S, M, L, XL, XXL, XXXL, XXL-tall, XXXL-tall. And any color you want as long as that color is black…
I have been wearing the SCOTTeVEST Enforcer jacket for nearly two months. During that time, we have had all types of weather conditions transitioning from late winter to early summer. I really like the jacket both in terms of looks/style and TEC functionality. The Enforcer is a very well made tech-enabled jacket, designed specifically for law enforcement, military, and gun enthusiasts. Like all their garments, SeV has invested much thought and excellent engineering into its design. With 30 pockets of all shapes and sizes, the Enforcer is able to carry your firearm, tech, and misc gear from your smartphone to laptop, potentially eliminating the near to bring an EDC gear bag.
Source: The sample for this review was provided by SCOTTeVEST. Please visit their site for more info and you can find them on Amazon too.
Product Information
Price:
$200
Manufacturer:
SCOTTeVest
Retailer:
Amazon
Pros:

Well made
Quality materials
Stylish
Comfortable
30 pockets to carry your gear
Excellent design
PAN system works well
Conceal carry

Cons: