We use affiliate links. If you buy something through the links on this page, we may earn a commission at no cost to you. Learn more.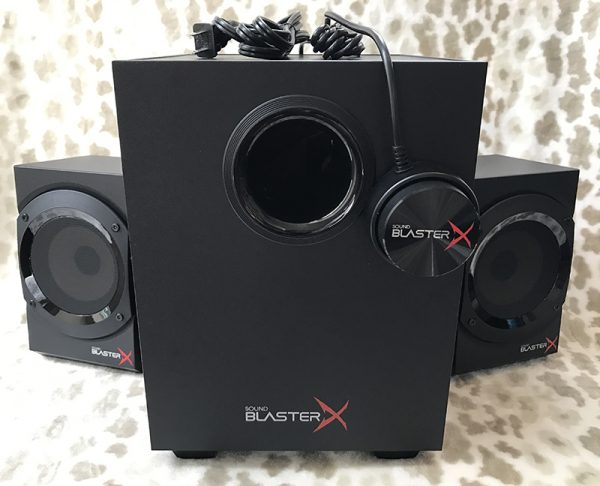 I've been playing games for years, yet I've always used a pair of cheap Dell speakers for my PC. I never thought much of PC speakers for gaming, instead always using headsets, but when Creative offered their Sound BlasterX Kratos S5 gaming speakers to be reviewed, it piqued my curiosity, and I had to try them out. Would I enjoy gaming with speakers versus a headset? Let's find out.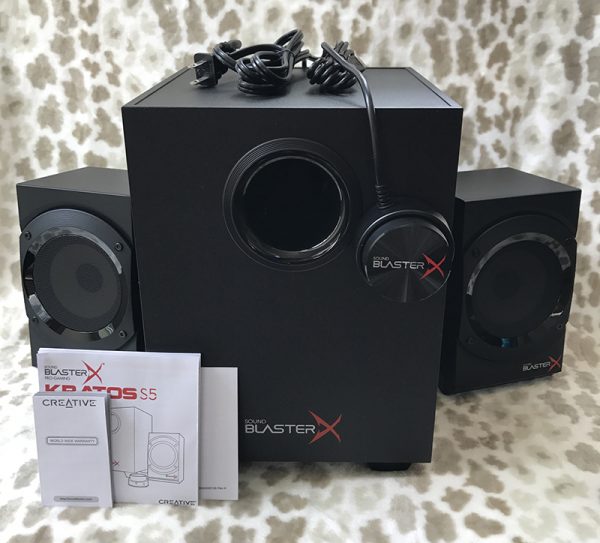 In the box you'll find:
2 x Sound BlasterX Kratos S5 satellites
1 x Sound BlasterX Kratos S5 subwoofer
1 x Micro USB Cable (1.8M)
1 x power cord
1 Warranty and Technical Support Booklet
1 Quick Start Guide
1 Safety and regulatory leaflet
I had one hiccup when it came to setting up these speakers. My desk simply wasn't built for them! My previous set of speakers sat above my head on the top of my hutch, but that's not the optimum place for gaming. With the hutch, my monitors have to be smaller to accommodate, and therefore I have two monitors side by side, forcing me to use the top for my speakers. For game testing, I placed them surrounding a single monitor, but for day to day use, I had to set them behind each monitor.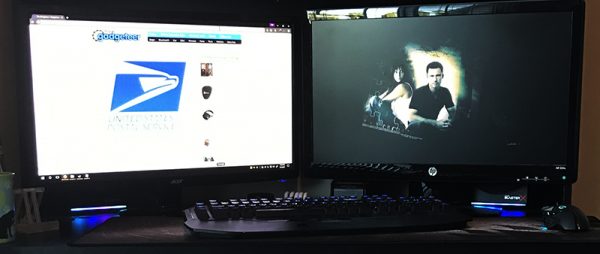 The light from the Aurora Reactive Lighting system looked really nice under the monitors, but of course, the sound suffered a bit by having them there. It wasn't enough that I had to reconfigure my desk, however.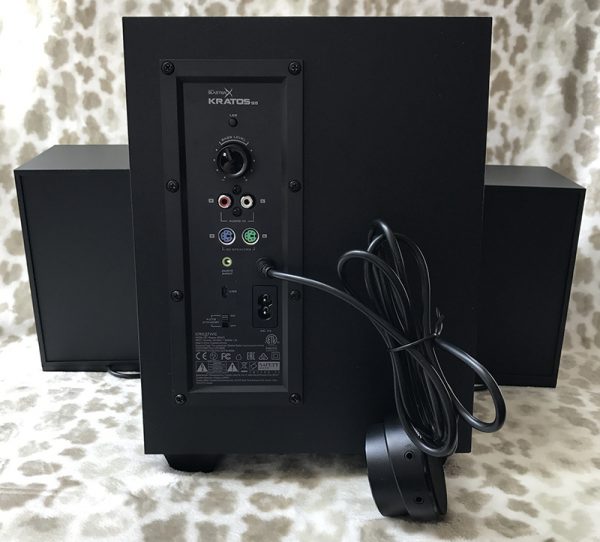 On the back of the subwoofer, you'll find most of the ports, switches, and buttons for the speaker system. Starting from the top, there is an LED button that switches between five preset lighting combinations, a dial for the bass level, red and white audio in ports, ports for the satellite speakers, a 3.5 mm audio in port, the cord for the external audio control dial, Micro-USB port, auto standby switch, which when on, will turn off the lighting after 20 minutes of inactivity, and lastly, the AC port. Whew, that's quite a bit!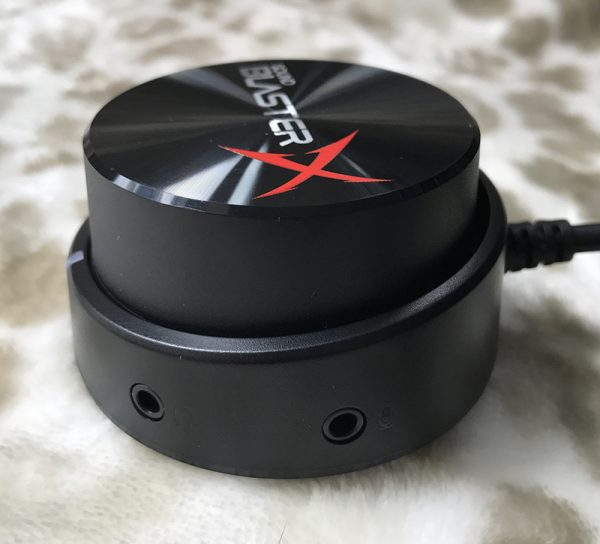 The external audio dial has a 3.5 mm audio out port for your headset, a microphone in port, and the whole top is one big dial for adjusting the volume. I loved how smooth it was to adjust the volume controls, including the bass controls on the subwoofer.
So, let's get down to the audio specs on these speakers:
Total Watts: 60 Watts(RMS)
Satellites: 2 x 12 Watts
Subwoofer: 36 Watts
Frequency Response: 55Hz – 20 kHz
Input Rating: 100-240V ~ 50/60Hz 1.3A
You can choose to just use hardware settings, or choose to install the Creative Sound Blaster Connect software to tweak and perfect the settings.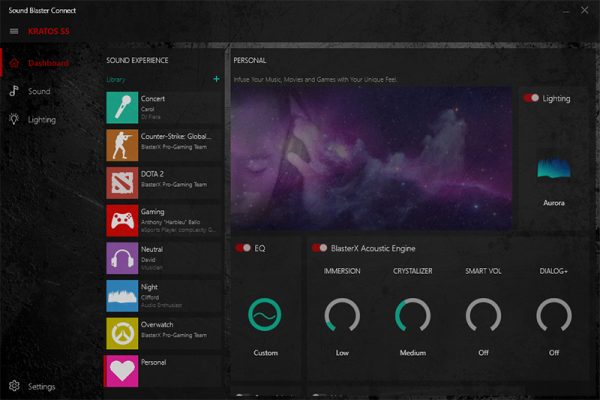 The Dashboard has general information about your settings and makes it easy to turn settings on or off. It also shows the sound experience settings, which can be a preset or user customized.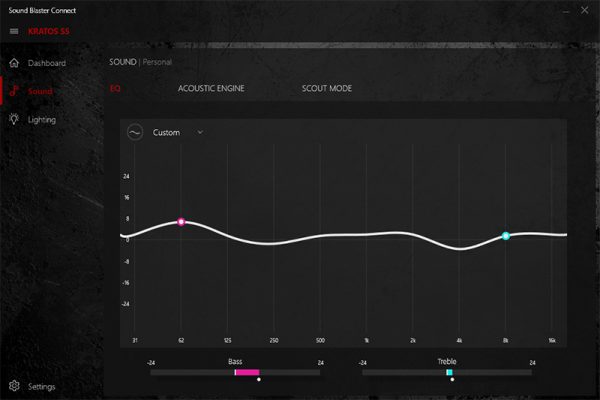 Under the Sound tab you'll find the Equalizer, Acoustic Engine, and Scout Mode, which allows you to pick up footsteps and speech a little easier. I only used this mode in the game, and while I could pick up footsteps a tiny bit better than without it, a solid pair of headphones still worked better for the very detailed sounds.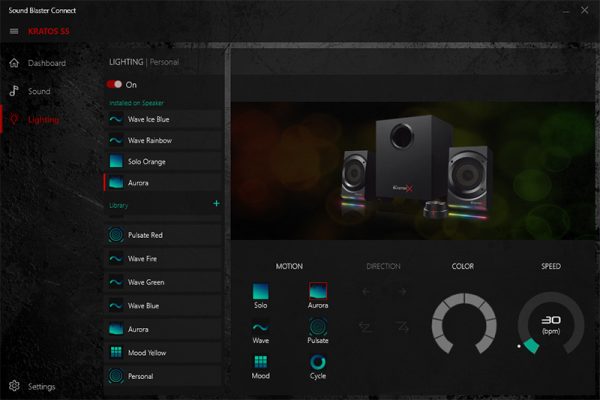 Lastly, the Lighting tab allows you to customize the lights on the speakers to whatever color set you desire. You can also change up the presets to something new if you like. Make sure you plug in the Micro-USB cable if you want to change these settings.
Now that we have the technical information out of the way, let's talk about what we really want to know. How good is the sound quality? Well, I tell you what, I use my PC sound system for everything from gaming, to videos, to music, and I was very impressed with the overall usability of this system. As you can see in the above pictures, my standard EQ settings have the bass only boosted a little bit, and if I add more, it is simply too much (and I love bass!) for my tastes. From Christmas music to pop music, the speakers sounded really good.
When it came to gaming, I had to get used to sitting in the center of the speakers. Once centered, it was pretty nice playing Overwatch and Battlefield 1. The explosions in Battlefield were far beyond the sound quality of my gaming headset, and overall, Battlefield 1 was a dream to play with these speakers. Overwatch was pretty good, as long as I wasn't playing competitively. I preferred to play without my headset and use these speakers when just dropping in to play a game of Battlefield or a casual game of Overwatch.
I had to tweak a few settings to get these speakers to play nice with my usual headset, which plugs in via USB. I had to set my default communications device to my headset (since it did not plug into the speakers) and set the headset to be the default communications device. Switching back and forth between them was easy; I just clicked on the volume control and selected which one I wanted to use. Once I figured that out, everything went very smoothly. Using another gaming headset that plugged into the control dial via a standard 3.5mm port worked great, and the sound quality from them was just as good as if plugged directly into my computer, so non-USB played very well with this system.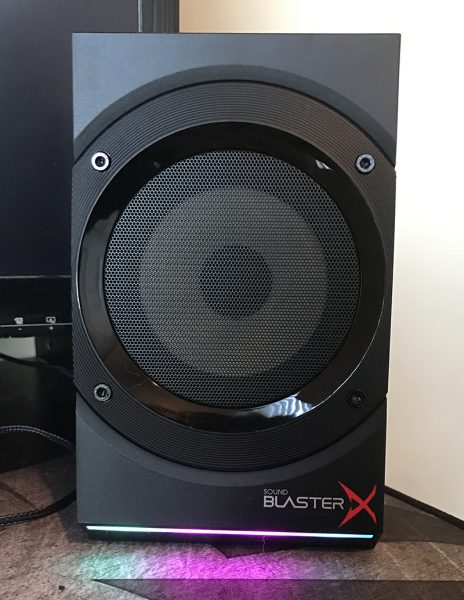 Overall, I really liked the Creative Sound BlasterX Kratos S5 gaming speakers. Other than the short connecting wire between the satellite speakers and the sub-woofer (which is a minor complaint!), I had no complaints about it whatsoever. I feel the product is worth the price and my system has been significantly upgraded to the point where I used my headset only when competitively gaming. If you are looking to upgrade your PC speakers, I would highly recommend taking a look at the Creative Kratos S5 gaming speakers. There are a lot of 2.1 speakers on the market, and these ones are definitely worth looking at.
Source: The sample for this review was provided by Creative. Please visit their site for more information and Amazon to order.

Product Information
Price:
$129.99
Manufacturer:
Creative
Pros:

- Great sound quality
- Customized lighting looks fantastic
- Good for everyday gaming

Cons: