We use affiliate links. If you buy something through the links on this page, we may earn a commission at no cost to you. Learn more.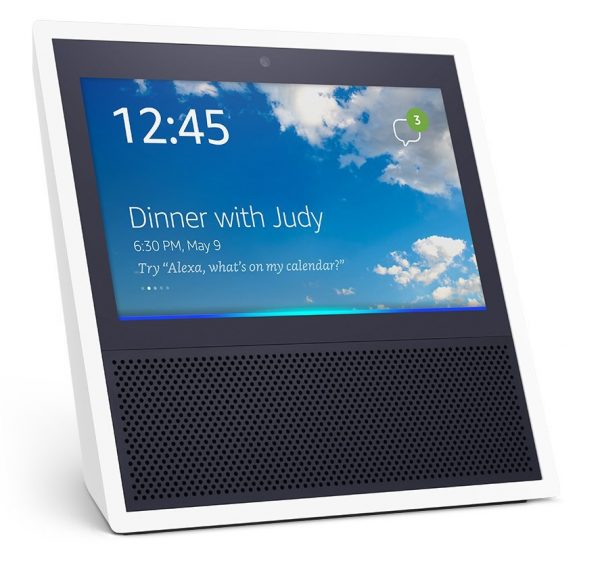 After a week of rumors and leaked images, Amazon today unveiled the Echo Show, the first Echo device with a screen.
The Echo Show is the latest entry to the Echo line of devices following right on the heels of the Echo Look style assistant. The Echo Snow is a fully enabled Echo device that also allows you to watch videos, make video calls, scroll music lyrics and monitor your baby.
The Echo Show has a 7″ touchscreen, a 5-megapixel front facing camera, dual 2-inch speakers and eight microphones. The device is powered by an Intel Atom x5-Z8350 processor.
The added functionality of a camera and touchscreen is coupled with some new features for the Amazon Alexa app. The most interesting new feature is the ability to call or message anyone with a supported Echo device or the Alexa App. The call and messaging features are free and you can also use an option called Drop In.
Drop In differs from video calls in that once it's enabled on a device, any approved Alexa user can "drop in" to the device. This is like a video call that is automatically accepted and is useful for monitoring a baby, checking on an elderly relative or making announcements to family members.
With the addition of a touchscreen, Amazon has opened up the uses for the Echo Show exponentially. From recipe viewing in the kitchen to bedside CNN videos to video calls in the living room, Amazon is making a strong case for having a number of Echo devices throughout your house. At the very least, it will be nice to have a display of the weather every morning as I listen to my favorite news station stream over the Show's speakers.
Along with the other Echo devices, the Show will be compatible with a number of smart home devices. Having the option to present information on a screen should add a lot of power to the Show's home control abilities.
The Echo Show can be preordered today for $229.99, it comes in black and white and will be shipped on June 28. Amazon is also currently offering a deal for $100 off the purchase of two Echo Shows with a code. Visit Amazon for more info.