We use affiliate links. If you buy something through the links on this page, we may earn a commission at no cost to you. Learn more.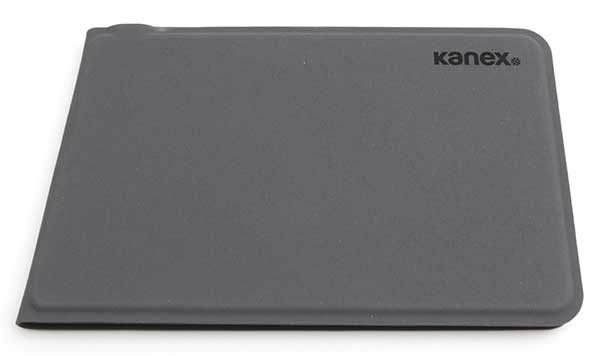 If you can touch type on your mobile device faster than you can tap type (I just made up that new term), then a Bluetooth keyboard is a useful productivity tool when you have a lot of text to enter. There are already eleventy billion different travel sized Bluetooth keyboards on the market, so let's look at another one. It's the MultiSync Foldable Travel Keyboard from Kanex. Let's take a look.
What is it?
The Kanex MultiSync Foldable Travel Keyboard is a universal folding travel sized keyboard that is compatible with iOS, Android, and Windows devices. It uses Bluetooth 3.0 to wirelessly connect to and switch between up to four devices.
Design and features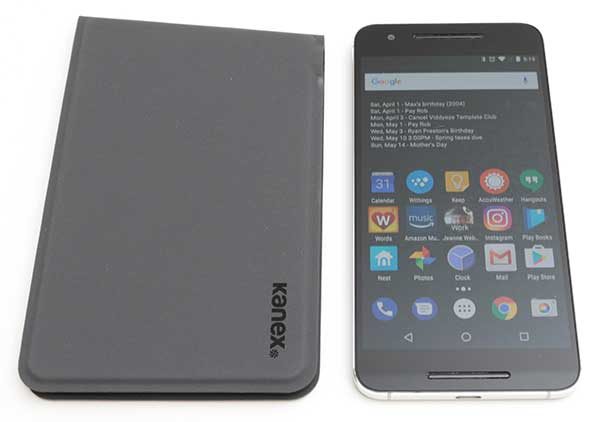 The Kanex keyboard is the perfect travel sized keyboard because it's only 4.0″ x 6.5 inches when folded. For scale, I show it in the image above next to a Nexus 6P.
It has a dark gray soft touch plastic cover that is a dust magnet. And speaking of magnets, the two halves of the keyboard are held closed with one.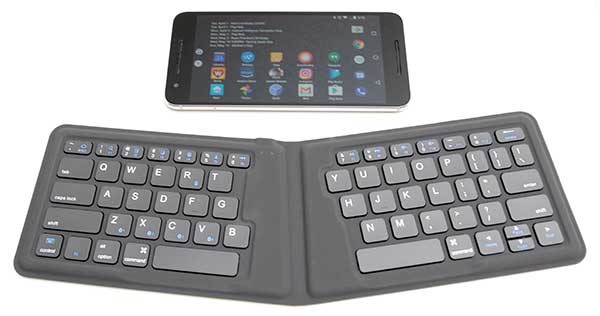 The keyboard opens into a unique V shape that's 4.0″ x 13.0″ inches. You might be wondering about the big gap between the two halves of the keyboard. Do touch typists have to stretch their fingers to type? No, they do not. The left-hand types the letters on the left side of the keyboard and the right-hand types the right keys. There is no obvious learning curve if you're already a touch typist other than just getting a feel for the key spacing. The gap in the center of the keys is actually kind of nice because it makes this keyboard feel roomy and comfortable unlike some cramped travel keyboards that I've tried in the past.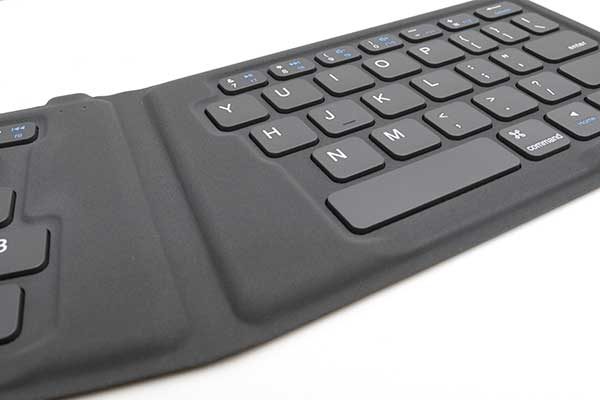 The keys are made of hard plastic and are slightly smaller than the keys on a full-sized keyboard like the Apple Wireless Keyboard. The keys are nicely spaced, have good travel and good tactile feedback.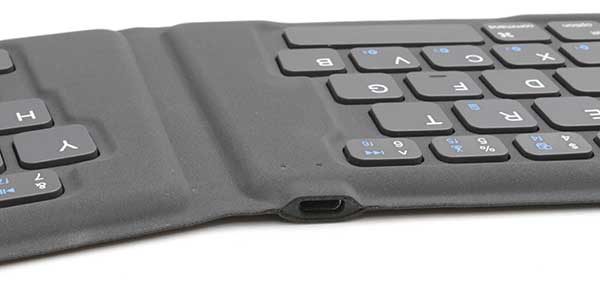 On the top edge above the 6 key are two status LEDs. One blinks blue during pairing and the other one will glow red while charging and green when charging is completed. The battery capacity can be checked at any time by holding down the FN and R keys. The right LED will then blink 1 to 4 times to signify if the battery is only 25%, 50%, 75% or 100% (4 flashes) full.
I could not find any information on Kanex's site about battery life but I've been using the keyboard on and off for a few weeks and it's still on the first charge.

You can click the image above for a larger view of the keyboard key layout.
I didn't have any issues with the layout. I could type without looking at the keys and didn't have problems pressing the wrong keys for characters like ;/@? etc.
Using the Kanex Multisync Foldable Travel Keyboard
The first thing you have to do before you can use this keyboard is to pair it with an iOS, Android, Windows, or macOS device. If you want to use this keyboard with more than one device, you're in luck as it can pair and switch between up to four devices. I tested it with a Nexus 6P and my MacBook Pro (I'm typing on the Kanex right now as I am writing this review).
When you pair a device you assign it to one of four keys (Z, X, C, or B) by holding the desired key with the Fn key. Then you just check for the keyboard in the device's Bluetooth settings to connect it. Pairing is easy and quick. But switching between multiple devices, which is done by pressing the Fn + the desired device key (Z, X, C, or V), is slower. It takes several seconds for the switched device to "wake up" when you press the Fn + the desired device key. At least I found this to be the case switching between my MacBook Pro and an Android phone. Switching to the MacBook is faster and only takes about 2 seconds for it to recognize a key press. With the Nexus 6P, it can take as long as 10 seconds for it to finally wake up.
Final thoughts
I like the Kanex Multisync Foldable Travel Keyboard because it has a nice form factor. It's small and flat, so it easily fits in my gear bag.
There is one small gotcha though. You have to use the keyboard on a flat surface because it's not designed to be used on your lap, which is a bummer. But this isn't a huge issue since most travel keyboards have this limitation.
At $49.95, the Kanex keyboard is a little spendy. But I noticed when I was searching Amazon for the price, that iClever offers a version of this keyboard for $20 less on Amazon as long as you don't need multiple device pairing capabilities and only plan to use it with one device.
If you need to be able to switch between four devices when you're on the go, then the Kanex Multisync Foldable Travel Keyboard will do that for you and you'll barely notice it in your gear bag.
Source: The sample for this review was provided by Kanex. Please visit their site for more info and Amazon to order one.