We use affiliate links. If you buy something through the links on this page, we may earn a commission at no cost to you. Learn more.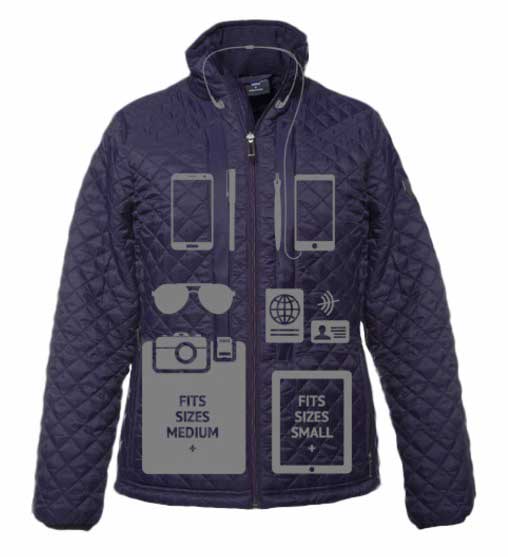 Clothing isn't a topic that normally comes to mind when you think about technology and gadgets, but one particular brand of clothing has made a name for itself in exactly that niche. SCOTTeVEST products have been well known for years for one main reason… pockets! Their jackets, vests, shirts, pants and other garments have been designed with pockets that hold all of your gear while you're on the go. The newest SeV product that I've had the opportunity to review is their women's OTG jacket. Let's take a look.
What is it?
The OTG ("Off the Grid") jacket is an insulated jacket that is available for both men and women. The men's version of the OTG jacket is available in black or midnight blue and in sizes S to XXXL. The women's version of the OTG is available in black and plum and in sizes XS up to XXL. Both jackets have 29 different pockets.
Design and features
I was sent the women's version of the OTG jacket in plum in size medium. The jacket is made of 100% ripstop nylon and features an attractive diamond quilted pattern with a flattering tapered fit.  The jacket is machine washable and has been treated for water and stain resistance.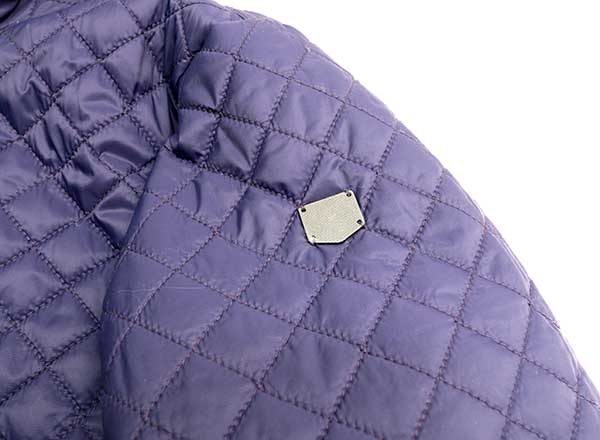 Unlike some of SCOTTeVESTs previous garments, the OTG's branding is not in your face. The branding is very subtle, with a SeV pocket logo embroidered on the back of the collar. There's also a small metal logo badge sewed to the left sleeve in the shoulder area and some labels on the inside of the jacket.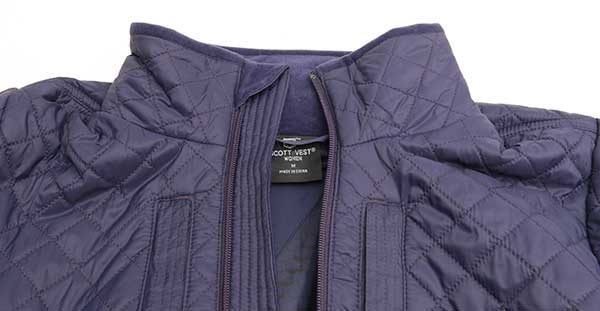 The OTG jacket has a 3.5-inch tall collar that has a microfiber-style soft lining.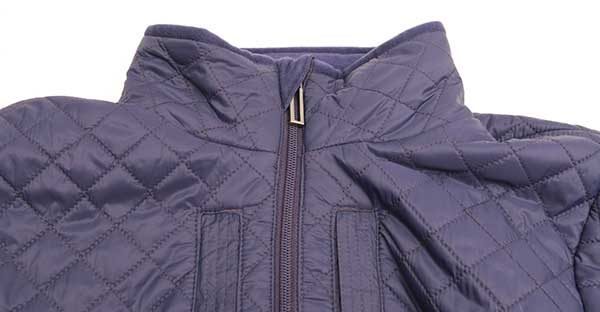 The collar can be zipped completely to the top and there's a "hood" that covers the edges for comfort.
So many pockets!
Pockets accessed from the exterior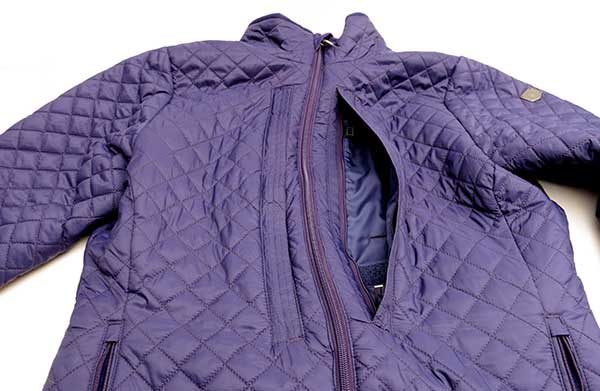 The OTG jacket has 29 pockets. Let's see if I can list them all.
There are two Rapid Access Panels on either side that are accessed through vertical zippers that have a 1.5-inch long metal zipper pulls.
Running pocket count: 2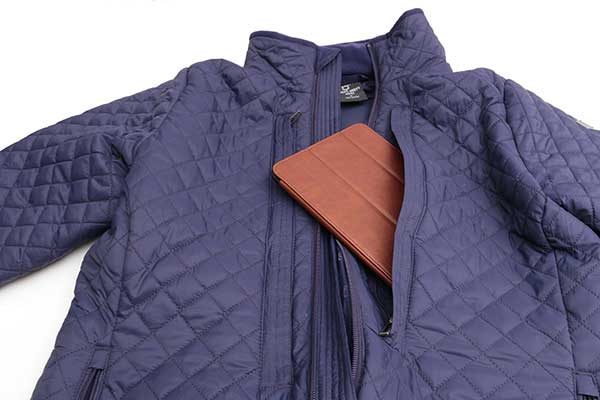 Inside each Rapid Access Panel is a second vertical zipper that opens into one large pocket that is big enough to hold a small laptop, tablet, a magazine, etc.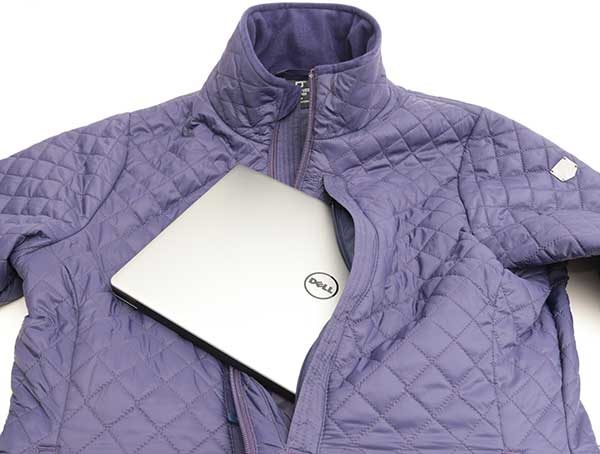 I tried to put my 13 inch MacBook Pro into the laptop pocket, but it was a little too large to fit. But my Dell XPS 13 fit just fine as well as tablets like the iPad mini and the Samsung Galaxy S Tab 10.5.
Running pocket count: 4
Inside the other section of the Rapid Access Panel on each side is a large open topped pocket with two smaller open topped pockets on top of it. The larger pocket is wide enough to hold an iPad mini and the two smaller pockets on top are large enough to each hold a Nexus 6P. The outside top edge of these three pockets
The outside top edge of the three pockets has a strip of Velcro (fuzzy) side and there's a large elastic band inside the right side Rapid Access Panel pocket that can be used to hold a water bottle.
Running pocket count: 10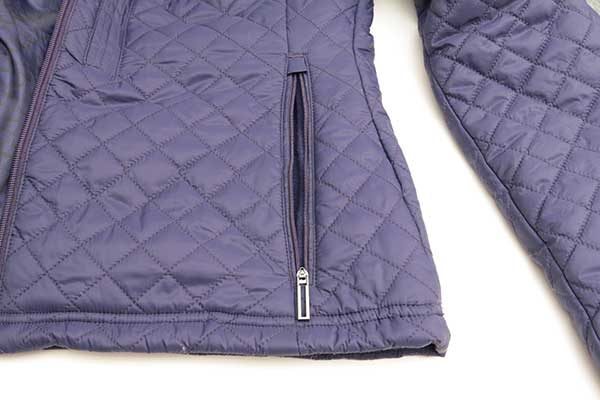 The OTG jacket has microfiber lined zippered hand warmer pockets on both sides. Inside these pockets is a small key-sized pocket that with a Velcro secured top.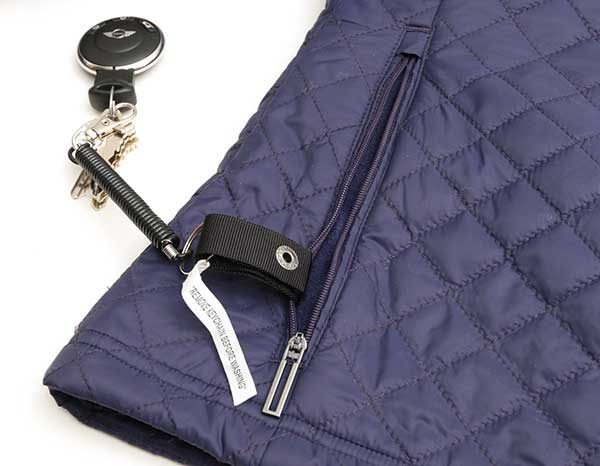 The right hand warmer pocket has a removable key clip on a coiled cord.
The microfiber lined pockets are warm, but I am not a fan of this type of lining because my hands get dry during the winter months and they snag on the lining when I insert my hands in the pockets. This doesn't hurt the lining, it just feels icky.
Running pocket count: 14
Pockets accessed from the interior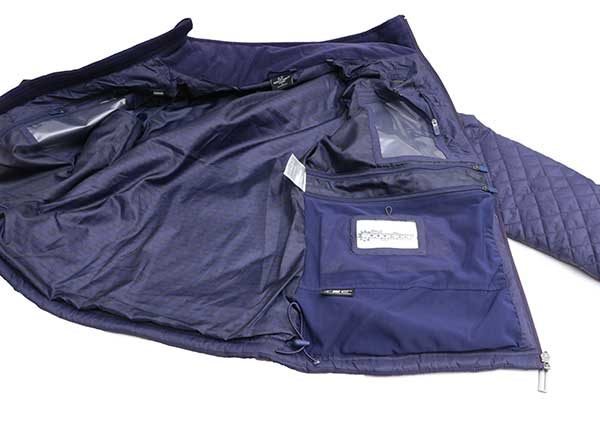 More pockets can be found when you unzip the jacket. Each side has a similar set of pockets that include a see-thru, touch-thru smartphone pocket that is large enough to comfortably hold a Nexus 6P.
Running pocket count: 16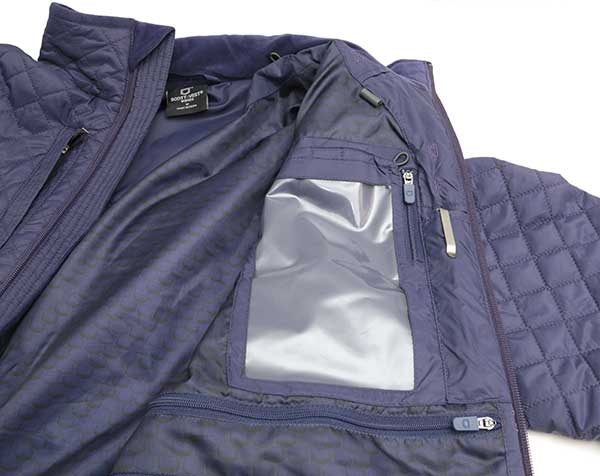 On the zippered edge of both sides is a pen pocket that is large enough to hold one to two pens each.
Running pocket count: 18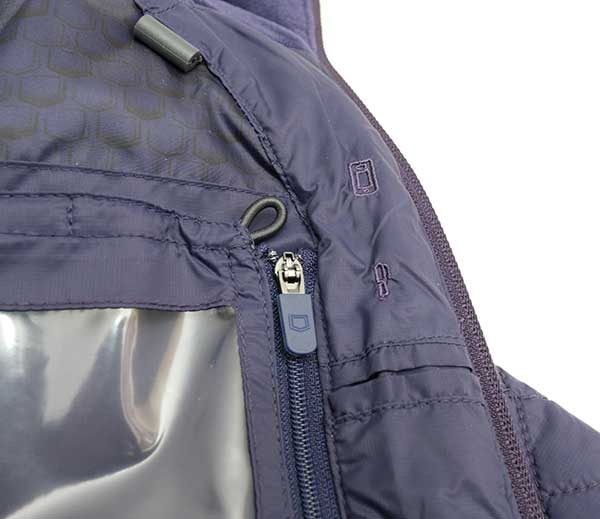 If you look closely, you'll see embroidered icons that tell you what each of the pockets has been designed to hold.
You will also notice the gray plastic clip in the image above. That's part of the jacket's PAN (Personal Area Network) system that allows you to wire headphone and power cables through specially-designed channels that prevent cables from tangling and looking sloppy.
There are also two small earbud holder pockets at neck level on both sides.
Running pocket count: 20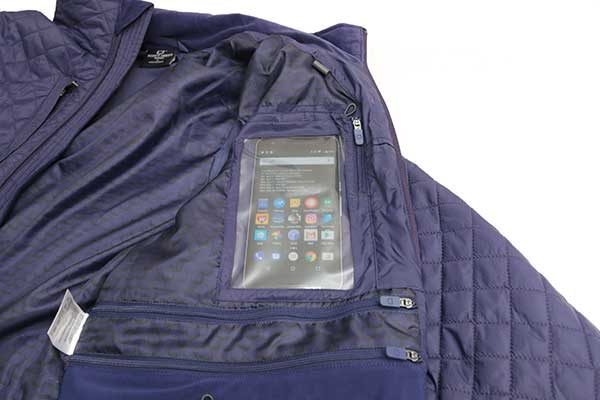 Below the see-thru, touch-thru pocket on the left side of the jacket are two horizontal zipped pockets. The top one is a large 10 x 10 inch sized pocket with a small lip balm sized vertical pocket with a Velcro closed top.
Running pocket count: 22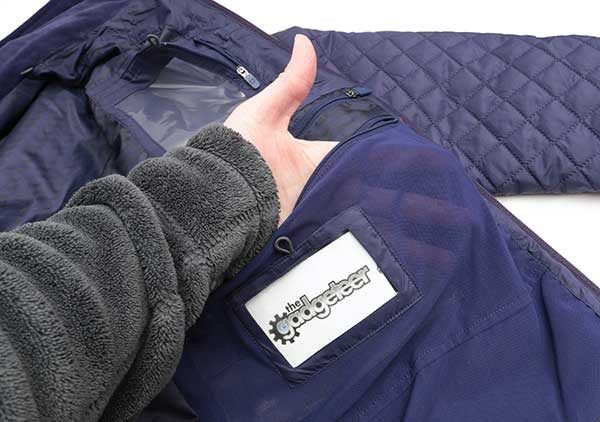 The zippered pocket below the 10 x 10 inch zippered pocket is a 10 x 6 inch mesh pocket with an ID pocket sewed to it.
Running pocket count: 24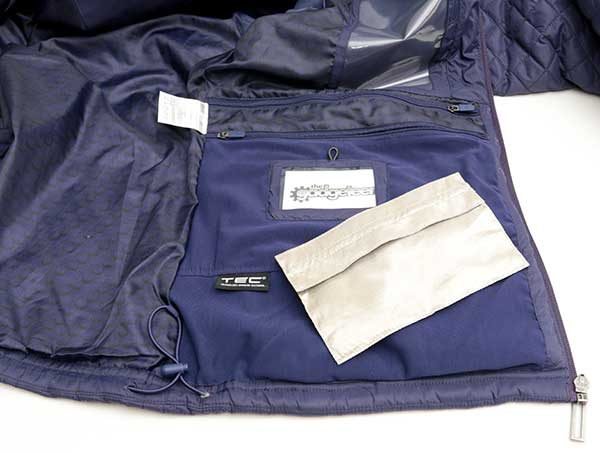 Inside the mesh pocket is a removable RFID blocking pocket with a Velcro flap.
Running pocket count: 25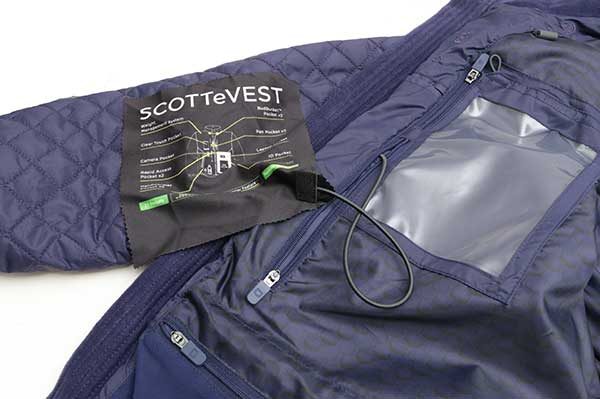 On the opposite side of the jacket is a vertically zippered pocket with a glass cleaning cloth attached to an elastic cord.
Below that is a horizontally zippered pocket that has two sections and another lip balm sized pocket inside it.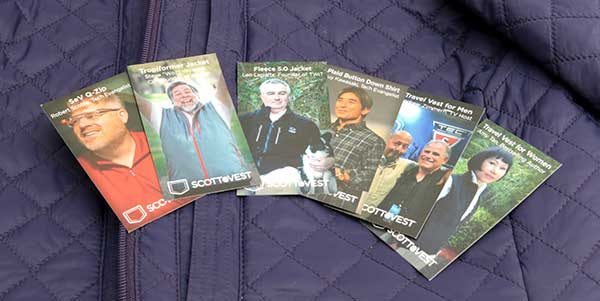 Another surprise I found in one of the pockets was a stack of SCOTTeVEST "trading cards" each featuring a geek hero like Steve Wozniak, Leo LaPorte and more.
Running pocket count: 29! I found all the pockets. Yay me!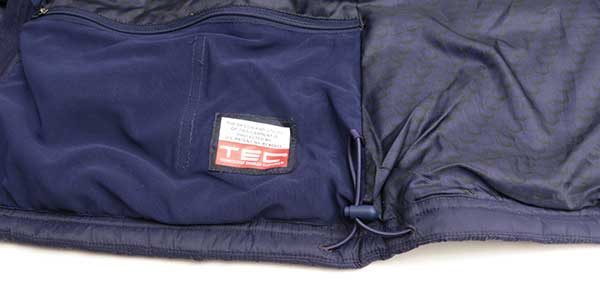 The SeV OTG jacket has a few other nice features like cinch waist adjusters.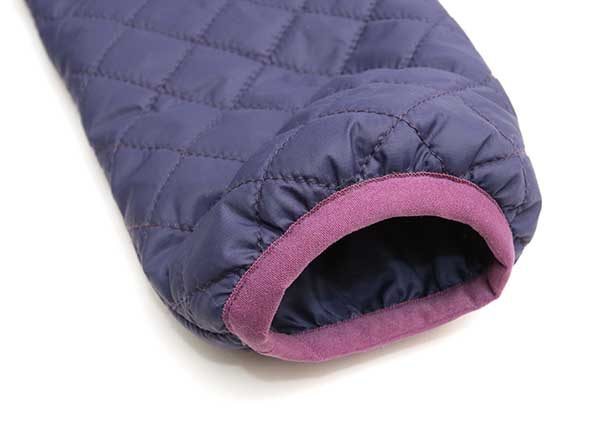 And elastic cuffs on the sleeves.
Here I am wearing the SCOTTeVEST OTG jacket sized medium. For reference, I'm 5'6″ and weigh 128 lbs. I could probably wear size small but I don't like jackets that are too tight because I like to wear sweaters in the colder months.
Speaking of cold weather, I've worn this jacket almost every day for the past month. This winter has been pretty mild, but we've still had plenty of sub 30F days. The OTG jacket has kept me warm enough during my walks into and out of my day job office building to and from the parking lot which is about a 2 block walk give or take.
The images above are without any gear in the jacket.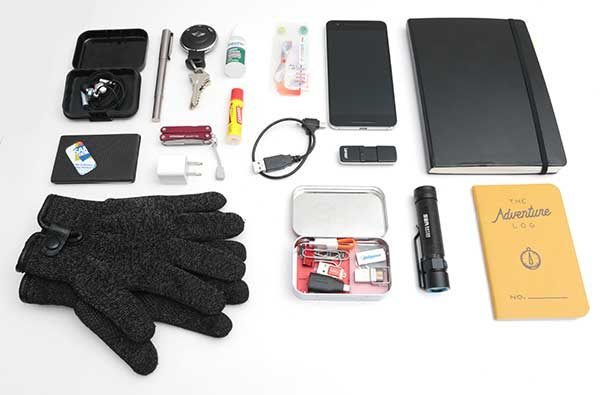 I decided to load up the OTG jacket with most of the items that I normally carry in my Peak Designs Everyday Messenger bag. If you want a full description of my EDC, check out my recent EDC Update post.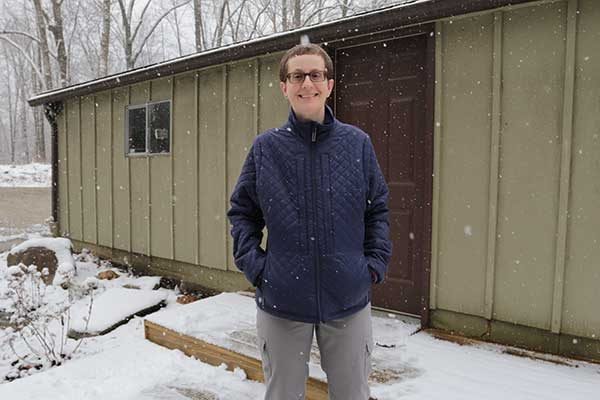 And here I am with all the gear stowed away in the jacket. Did it feel bulky carrying everything? Yes, a little. The Leuchtturm1917 A5 notebook was the most noticeable item and it made sitting down feel a little awkward with it in one of the Rapid Access Panel pockets. That said, it was liberating to ditch my everyday gear bag and just throw on the jacket. I don't see myself completely ditching a bag since I take my breakfast and lunch to work with me Monday through Friday and there's no room in the jacket for containers of oatmeal.
Final thoughts
SCOTTeVEST has another winning jacket with the OTG. It looks nice, well made, is comfortable to wear, and offers 29 pockets to carry your EDC without needing a separate bag.
I think this jacket is great for travel or equally nice for everyday use. Either way, the SeV OTG jacket might demote your favorite gear bag to the closet.
Source: The sample for this review was provided by SCOTTeVEST. Please visit their site for more info and you can find them on Amazon too.

Product Information
Price:
$215.00
Manufacturer:
SCOTTeVEST
Retailer:
Amazon
Pros:

Pockets, pockets, pockets!
Well made
Warm but lightweight

Cons:

Can get bulky if you take advantage of all the pockets to carry gear