We use affiliate links. If you buy something through the links on this page, we may earn a commission at no cost to you. Learn more.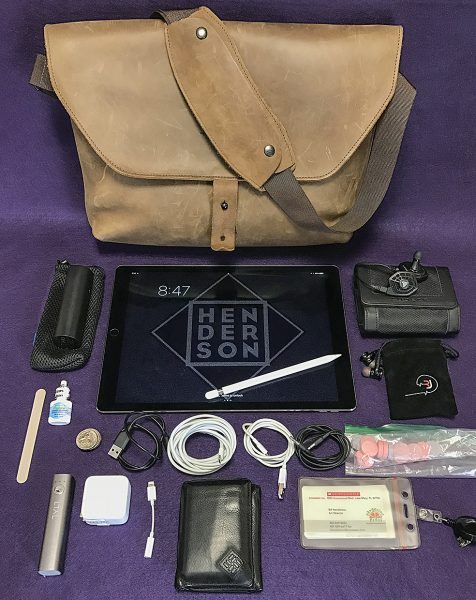 Once again, it's The Gadgeteer's version of "What's in your wallet?" or in this case, bag. This year, I've decided to reverse my trend of loading up a backpack by slimming down—my bag, at least.
I've put away my overly bulky, but wonderful Everki backpack and have moved to the svelte, leather Waterfield Maverick messenger bag (to be reviewed). Because of that, a bunch of stuff had to be put on a shelf, including three pairs of earphones, a trusted battery backup (I switched to a smaller and lighter one), and assorted wires. Do I really need to carry three mini plug AUX wires of different lengths along with countless charging cords? Heck, while digging through the backpack, I came upon an old Apple 30-pin connector—haven't used it in a couple of years.
After editing, my current messenger bag consists of:
Anker and TYLT battery backups: I had—and still use—the iBattz Mojo BattStation Optimus 20400, but it's a bit much for this bag.
Earphones/headphones: Whatever I'm reviewing. Currently, I have the Rock Jaw Resonate earphones with their customizable filters. The Resonate is the new flagship in the Rock Jaw line. I also have the Audeze iSine 10 planar magnetic earphones. They may look like something from a Spiderman movie, but audiophiles around the world are going nuts over these. These are going to be fun reviews.
iPad Pro and Apple Pencil: I recently upgraded my iPad Air 2 to a 12.9 in. iPad Pro mainly because I wanted the Apple Pencil. As an art director, I have many friends who are illustrators and EVERY one of them are ga-ga over the Apple Pencil. Now I know why, but man is this thing big! It barely fits into the Maverick bag.
Fingernail file: Wishful thinking on my part because I bite my nails.
Tums: Don't ask.
Other items: A wallet, company ID badge, various cords and other cra… stuff.
I've didn't include my iPhone 7 Plus in the photo because it's usually in my pocket. I did have the Maverick bag more loaded while on a NYC business trip, but that was temporary—this is my day-to-day use. As I become more accustomed to the bag, things may come and go to better fit my style.