The Gadgeteer is supported by readers like you! If you buy something through links on our site, we may earn an affiliate commission. Thank you! Learn more.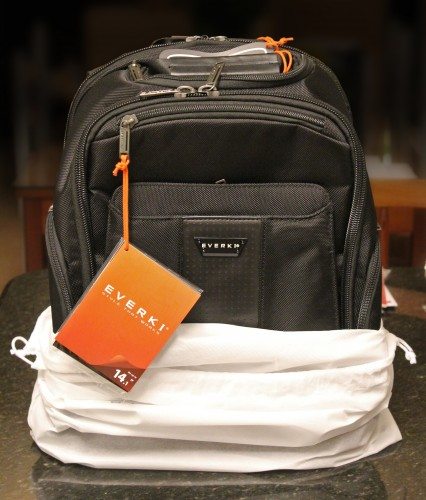 Because I am a doddering, forgetful fool, I finally realized that to avoid forgetting any item or its accessory, I need to carry everything with me. And I mean everything. iPhones, iPods, iPad, earphones and headphones (I AM a reviewer, after all) and all the junk that has to go with this stuff. It can become a commuting nightmare. Thankfully, there are bags and backpacks that can help organize it all, or at least make you feel better by keeping everything in one place – organized or not. For the last couple of months, I have been using the Everki Versa Premium Checkpoint Friendly Laptop Backpack… or just Versa.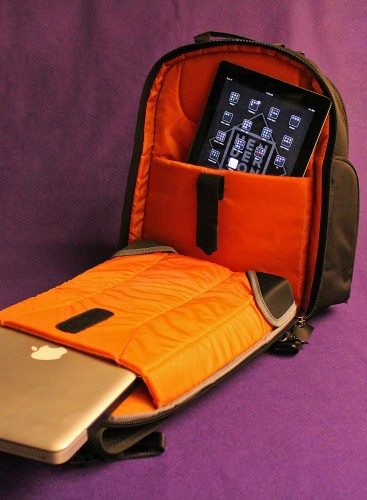 One of the drawbacks when switching backpacks is that no matter how quirky an older backpack was, at least I knew where everything was kept, even if it wasn't logical. When I moved all my gadgets and their peripherals to the Everki Versa, I had to relearn where everything went. I still sometimes have to think twice before I reach for something. I know this problem lies with me and not with the Versa, but it's still a pain getting used to it.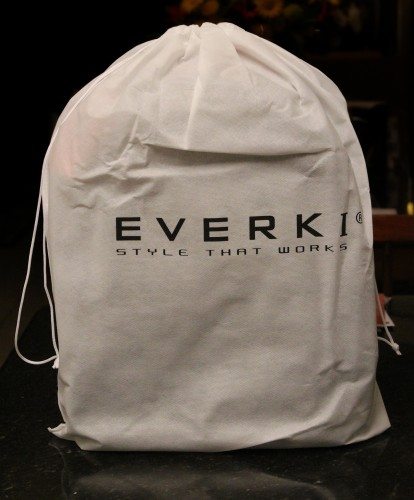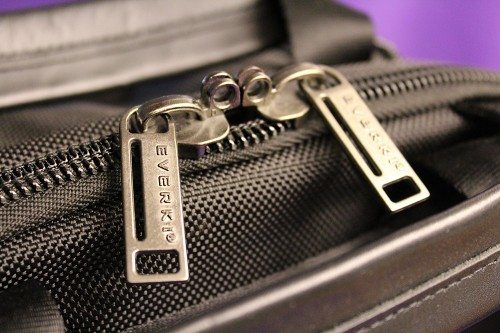 Right away, you know the Everki Versa is not an everyday backpack. It comes in a canvas drawstring bag that keeps it clean and dust-free until removed. Actually, the bag is somewhat unnecessary because the Versa is one tough-as-nails backpack. It don't need no sissy bag to protect it! It's extremely well-stitched. The zippers are heavy-duty, oversized for convenience and some zipper pulls can even be locked together. The ballistic-nylon outer shell is water resistant, so a rain shower won't affect the valuable gear stored inside. It also has a large open pocket on the back that serves as a trolley-style suitcase handle pass-through.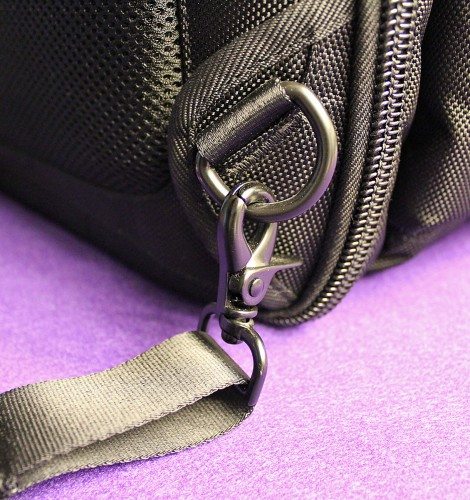 The shoulder straps are infinitely adjustable, well padded, and quite comfortable. For the record, I never use both shoulder straps; I use a backpack more like a shoulder bag slung over one shoulder. Go figure. If I went on a world tour, I might have to rethink that. But if you do use both straps, there is conveniently placed padding at the back for added comfort.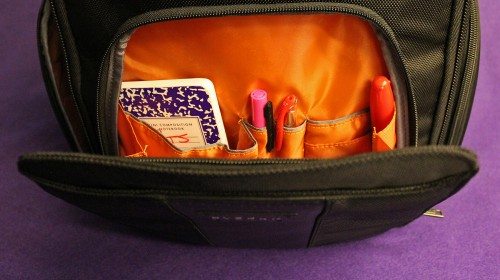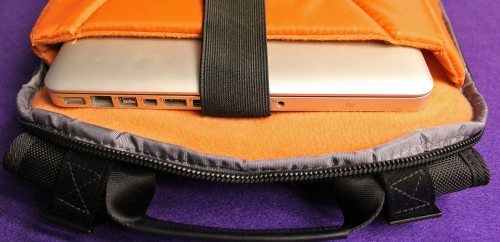 When the Versa is zipped up, its black exterior can be subtle, until it's opened. Inside is bright orange lining. Ordinarily, this brightness would be off-putting, but my non-orange gear contrasts nicely against the color, so everything is easy to find – even if I sometimes can't remember where I put it. There are two orange-colored materials used inside, nylon for general lining and a soft felt used for lining pockets that help keep laptops and iPads scratch-free. There are black Velcro straps to help hold things in place when opened. I wish these straps were removable, because I don't always need them and they can get in the way.
I won't attempt to describe each and every pocket in and on the Versa. I will let the photos do that. Plus, the Everki website does a much better job showing how versatile the interior can be.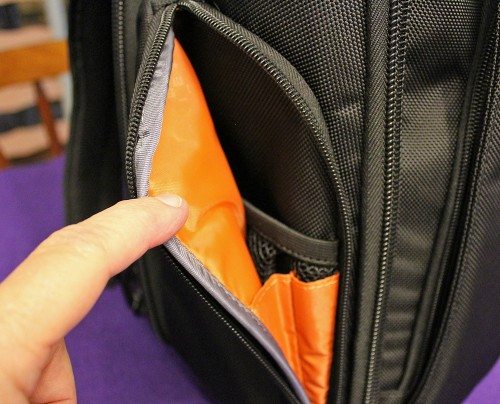 I will say that there are a lot of pockets; some with specific purposes and some for anything you can fit. Even a few earphones, headphones, wiring, iPad, MacBook Pro (up to 15″), three iPods, iPhone, chargers and other gadgets have not filled this Versa to capacity. However, with all that gear, it does weigh quite a bit! Even empty, the Versa is a hefty 4+ lbs. This is where the added padding helps.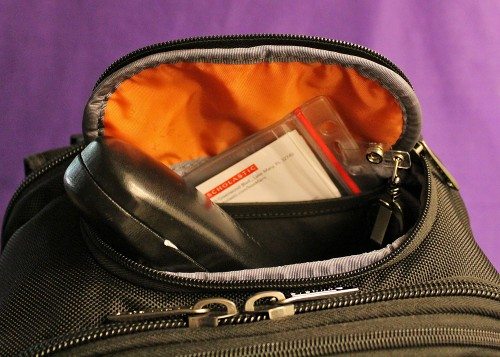 There are some unique features to the Versa. At the top is a nifty hard-shell built-in case for sunglasses (I use it for computer glasses and office security card). If I review another backpack, this is one feature I will miss. There are also patented corner-guard protectors, which help prevent damage to laptops if the backpack is dropped or manhandled. This impact absorbing feature is similar in concept to reinforced-toe work boots. Plus, if you don't need the added bulk or protection of corner-guards, they're removable.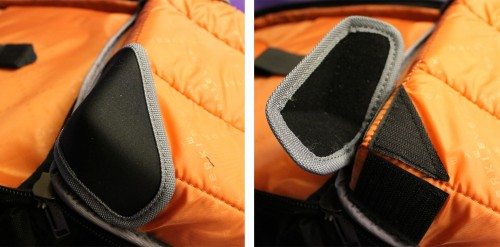 Another feature that is becoming common in many backpacks is the ability to unzip and lay completely flat for airport X-ray machines. This allows you to leave everything inside the Versa, which can help speed up those long security lines.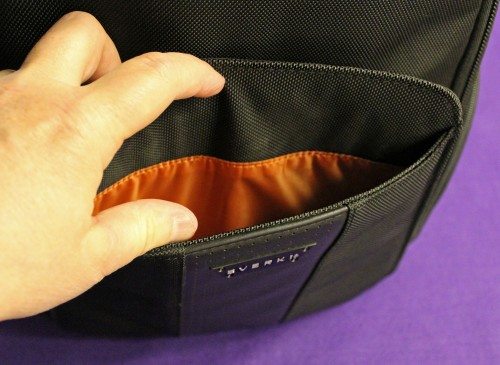 The front pocket allows for easy access to files or papers (8.5″ X 11″) without them being creased or wrinkled. I guess it's a good idea for executives, but to accomplish this, this front pocket has some awkward and stiff corners that constantly get snagged on things as I am carrying the Versa around. It's a useful feature, but it can be irritating when it snags.
There are numerous interior pockets – some with flaps, some zippered mesh and others open at the top for easy retrieval. As I said earlier, I use most of the pockets for cords, chargers, and other gadget accessories. The Versa is very adaptable to whatever I throw inside.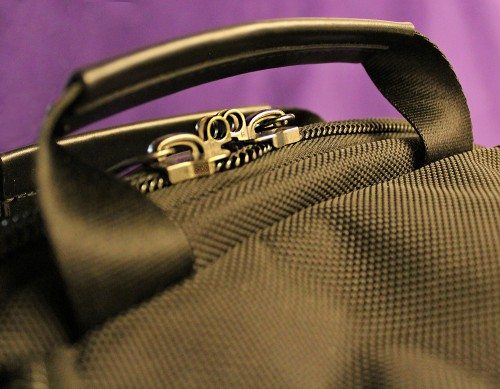 You can lift the Versa by either of two leather handles located on the top of the backpack. While these handles are tough and easy to grasp, they are flat and not as comfortable as a more rounded, tubular handle I've used on other backpacks. Visually, the flat handles look a bit cheap for a backpack this nice.
The Versa is not inexpensive, but it should last a long time simply because it is so tough. I can easily imagine a college freshman buying the Versa and still be using it daily by the time he or she graduates and still be passed down to future students. Whatever complaints I have with the Versa are small compared to the use I get out of it. Even with all my yet-to-be-reviewed gadgets plus their add-ons, I still have plenty of room for more as long as I can handle the extra weight. That's impressive.
Updates
Two years ago, I reviewed the Everki Versa Backpack. About 6 months ago, a side pocket ripped at the seams because I constantly stuffed a Waterfield bag into it that was probably too big for that purpose. I didn't blame Everki. The rest of the bag was bullet-proof. I decided to write Everki and ask if there was a way to repair the rip. Since my bag was a review copy, there was no warranty or receipt. I stated up front that I didn't want any favors—only if there was a fix I could perform myself. Everki insisted that they send me a replacement bag—no charge. When I asked for a return label to return the older bag, they said to keep it. How many companies stand behind their products like this? Kudos to Everki.
Source: The sample for this review was provided by Everki. Please visit their site for more info.
Support The Gadgeteer
:
The Gadgeteer is supported by readers like you! If you buy something through the links on our site, we may earn a small affiliate commission. Thank you! Learn more.
Product Information
Price:
$195 US
Manufacturer:
Everki
Retailer:
Everki
Pros:

Extremely tough
Water resistant
Padded in all the right places
Infinitely adjustable
Airport-security friendly features
Protected sunglass compartment

Cons:

Expensive
Carrying handles not as comfortable as tubular designs
Awkward corners on front can snag