We use affiliate links. If you buy something through the links on this page, we may earn a commission at no cost to you. Learn more.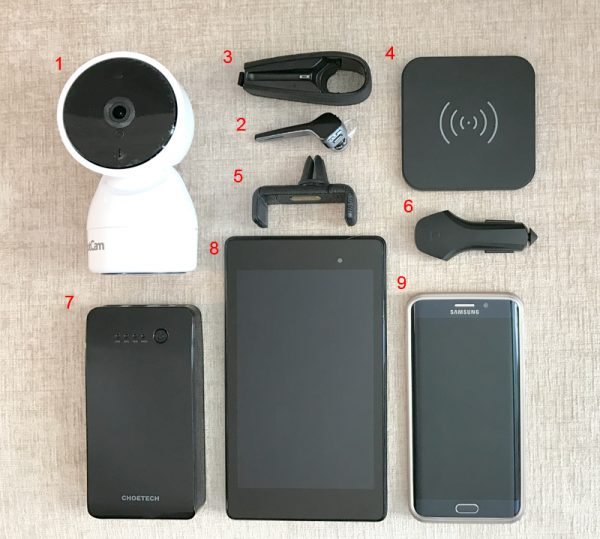 I use many gadgets on a daily basis, but these gadgets are the ones that I couldn't live without.  I use them literally every day and they are an important part of my life.  If I lost one of them (which has happened) I would be like a small child who drops their ice cream cone on the pavement.  It's not pretty, believe me. 
 SpotCam HD Eva security camera – The SpotCam is what gives me a piece of mind when I am away from home.  It has motion detection built-in, it allows me to transmit my audio so that people within earshot of the camera can hear me, and I can control it from my phone.  It also records 24-hrs of video in the cloud so I can go back to review the footage.
Plantronics Voyager Edge Bluetooth headset – Aside from my cell phone, the Voyager Edge Bluetooth headset is on my person 24 hrs a day.  I talk so much on my phone and need to use my hands at the same time that the idea of holding the phone to my head to talk is painful.  And because of its small size, I have accidentally left it many different places.  It announces in my ear who is calling and I can tell it to answer the call or push to voicemail.  And the portable charge enables me to get a quick charge when I need it.
Plantronics Voyager Edge headset charger – The portable charger is good for about 2-3 charges for the Voyager Edge.  It charges using a standard micro-USB cable.
Choetech Qi fast wireless charging pad – The Choetech sits beside my bed at home and I use it every night to charge my phone.  I also use it to grab a quick charge when I need to charge my phone up to go out for the evening, and it truly is a quick charge!  I love that it is small and it never gets hot like some of my other wireless charging gadgets.
Kenu Airframe+ leather edition – I have tried many cell phone mounts in my car over the years, but I stopped looking once I found the Kenu Airframe.  Easy to use, ultra-portable, and sturdy.  I will never use another mount in my car.
Nonda Zus USB car charger and smart car finder – I have gotten to the point in my life that when I go into a store or restaurant, I often forget where I parked when I come out of the store.  Don't judge.  The Nonda will not only guide you to your car using their smartphone app, it has a parking meter alert, car battery health meter, and built-in dual USB charging ports.  It stays plugged up in my car daily. I don't use the USB charging ports daily (see #7 below) but I use it to find my car all the time.  Unfortunately.
Choetech 15,600 mAh dual USB battery pack – If your car is like mine, your lighter charging port in your car just doesn't cut it.  I think the last time I tried it, my phone said it was going to take like 4 hours to charge my phone.  So I use the Choetech battery pack daily in my car because it charges my phone just as if it was plugged up to the wall.  I get probably 4 charges for my phone which is great.  It also has 2 USB ports so my wife can charge her phone at the same time.
Nexus 7 Android tablet – I am pretty pumped about the new Nexus 7 tablet supposedly coming out this year.  In the meantime, my Nexus 7 tablet that I got back in 2013 will have to suffice.  I use it daily.  I use it to read news and social media posts at night before falling asleep.  It is my alarm clock.  I check the weather first thing in the morning.  It tells me about the traffic in the morning and tells me when I need to leave for my first appointment.  Just like my cellphone, I couldn't live without my Nexus 7.  But it is showing age, so I can't wait for the new version to come out.
Samsung Galaxy S6 Edge+ – One of the worst names for a cell phone, but a great phone nonetheless!  I love the big screen, the camera is the best one I have ever seen, and it has built-in wireless charging and quick-charge.  The battery isn't the greatest, and I don't actually use the curved edges like I thought I would.  But it's fast and looks beautiful.  I might walk out of the house without shoes on, but I would never go anywhere without my Edge+.