We use affiliate links. If you buy something through the links on this page, we may earn a commission at no cost to you. Learn more.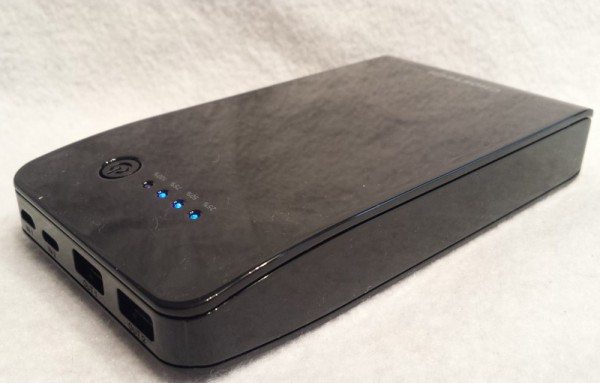 With all the portable battery packs out there it is getting harder and harder for manufacturers to stand out.  You can get these battery packs everywhere now, even in gas stations.  So what is it that makes the Choetech dual-USB battery pack stand out?  Well, for starters, it has a quick-charge USB port to enable the newest devices with Quick Charge technology to charge quicker, like my new Samsung Galaxy S6 Edge+.  Secondly it has 2 input charging ports, a micro-USB and a lightning port, so you can even use Apple cables to recharge it.  So are those things enough to justify buying this battery pack over others?  Let's find out.
The first thing you'll notice about the Choetech is the compact size.  This is a battery pack you can easily carry anywhere you want.  You'll also notice how you can't touch this thing without leaving finger prints.  And as you can tell from my pictures, taking pictures of it is challenging as well because you could check your contacts or put on your lipstick using the shiny mirror-like surface.  So forget about trying to use this thing while eating hot wings.
It also doesn't come with any kind of pouch or carrying case, so if you want to carry the included USB cable with you you'll have to resort to the age-old technology of a rubber band to keep the cable with the battery pack.  Carrying pouches have gone the way of the power adapter.  To save money, hardly anybody includes these things anymore, which is a shame.  Looking at the end of the Choetech you can see the 2 input ports, a Quick Charge micro-USB and a lightening port.  This is great if you have a family, like mine, that has both Android and Apple devices.  So when looking for a cable to recharge the Choetech, I can use anybody's cable.  On the end of the device you'll also see the 2 USB ports, a standard 1A port and a blue 2.4A port that also supports Quick Charge compatible devices.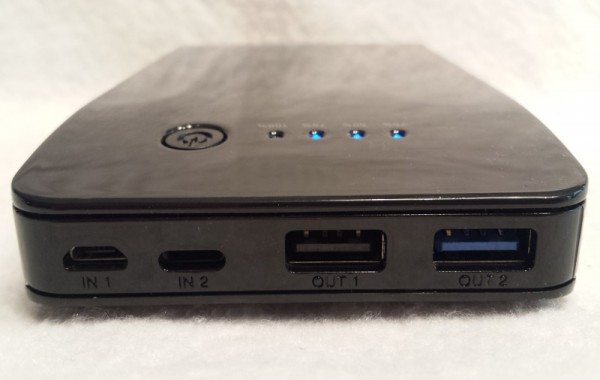 Before we move on, here are the manufacturer's specs:
Input:   5V/2.1A, 9V/1.5A
Input (lightning port):   5V/2.1A
Output (regular port):   5V/1A
Output (Quick Charge Port):   5V/2.4A, 9V/1.7A, 12V/1.3A.
Dimensions:   5.7 x 2.9 x 0.8 inches
Weight:   12.55oz
And since the Choetech has Quick Charge technology built-in, I should also provide you with the list from the manufacturer of the Quick Charge 2.0 Compatible device models:
Samsung Galaxy S6,S6 Edge, Note 4/Edge,
Google Nexus 6,
Sony Xperia Z4, Z4 Tablet, Z3, Z3 Compact, Z3 Tablet Compact, Z2 Tablet,
Motorola Droid Turbo, Moto X 2014
HTC One M9, HTC One (M8), One Remix (Verizon Mini 2), Desire EYE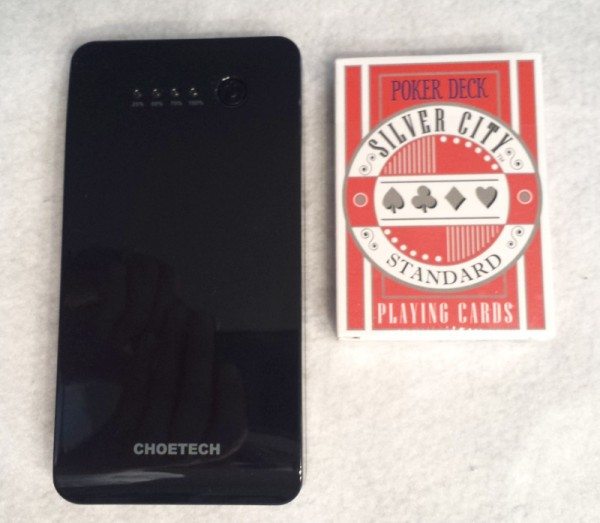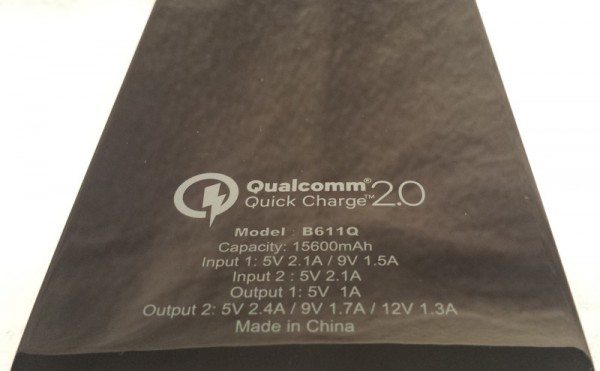 Performance
In my opinion, the feature that sets this battery pack apart from others is the Quick Charge feature.  Just like Apple, Samsung has abandoned the replaceable battery in their newest devices, like my Galaxy S6 Edge+.  So then it becomes critically important to be able to charge your device as quickly as possible so you aren't tethered to a wall outlet like those poor suckers sitting on the floor in airports huddled up next to the wall outlets.
Considering that, the Choetech doesn't disappoint.  It not only charges my Edge+ faster than I have ever charged a phone, if I use the Quick Charger adapter and cable that came with my Edge+ then the Choetech recharges faster than any other battery pack I have ever owned.  Choetech claims that it recharges 75% faster than other non-Quick Charge batteries, but I don't really think it charges 75% faster. In my experience it recharged about 40% faster, which is still pretty darn nice.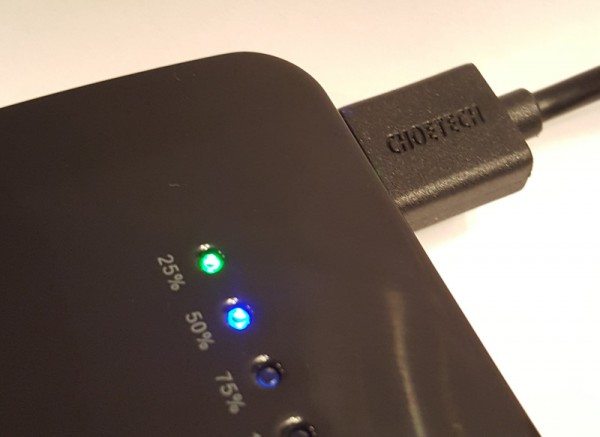 When I charged my old Samsung Galaxy S4 phone from 25% to 100%, it took about 2 hours with the Choetech.  When I charged my Galaxy S6 Edge+ with Quick Charge from 25% to 100%, it only took 80 minutes.  I am pretty darn impressed with that.  Maybe I can indeed make it just fine without a replaceable battery in my phone.
When you plug any device into the Choetech and press the power button to turn it on, the 4 LED lights on the front glow blue to show you how much charge is left in the Choetech.  However, when you plug a Quick Charge compatible device into the Choetech the first LED light on the front (the one for 25%) glows green to indicate that it is quick-charging. (see picture above)
Bottom line
The price of $39.99 for the Cheotech is an amazing price for what you get, and the 18-month warranty is a bit better than the standard 12-month.  The 15,600 mAh capacity provides me about 4-5 charges for my S6 Edge+, and since my phone has Quick Charge features I can quickly load up on power while driving in the car between meetings.  It would be icing on the cake if I had a carrying pouch or sleeve so I wouldn't have to keep using this rubber band to keep the USB cable with the battery, but I'll live with it.  I highly recommend this battery to everyone!
Update 04/05/16
The Choetech battery pack is still used daily in my car. I travel alot every day in my car, and the lighter socket in my car is a standard one which means it charges my phone as slow as molasses. So the Choetech with its rapid charging port is a must-have in the car. I wouldn't do without it!
Source: The sample for this review was provided by Choetech. Please visit their site for more info and Amazon to buy one.