We use affiliate links. If you buy something through the links on this page, we may earn a commission at no cost to you. Learn more.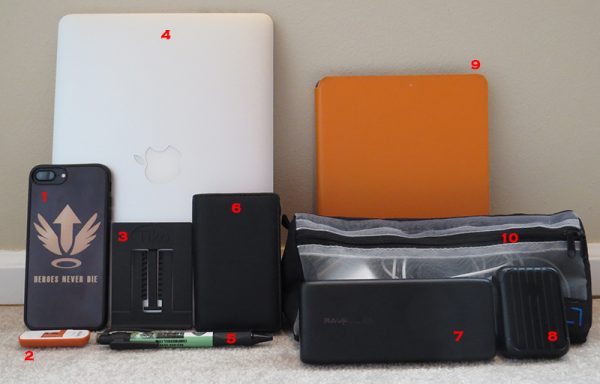 Since I don't have an EDC bag that I carry with me every day (unless you consider my purse one) I thought it would be nifty to show what I travel with on a plane. The only thing excluded from this is the backpack, which varies depending on what sort of plane I am on, purse, which just holds my wallet and receipts, and a blanket, which also varies based on the backpack I use and the length of my trip.
1. iPhone 7 Plus: This goes with me everywhere, and is the most necessary item on a trip. Since I can load videos and listen to music on it, I could theoretically go without the rest of my items, but on long trips, I get bored easily.
2. Flash Drive: I throw random movies on a flash drive at times, and I also use it to save or look at photos from my big camera when I go on trips. Since I am paranoid about forgetting to bring one, I just always have it in my backpack for travel.
3. Tiko foldable travel stand: This has been in my backpack for years, and is great when I watch videos on my iPhone. If I am really lazy, I will put my Kindle on it and tap the screen for easy reading. If I really wanted to, I could also put my iPad on it, but the case I use has a built in stand so it is unnecessary.
4. 13″ MacBook Pro: On trips, this is either for playing games/watching videos on the plane, transferring pictures off of my camera, or surfing the web for what we will do the next day. I never check my laptop, so even if I never use it on the plane, it is always with me.
5. Pen/Pencil: You know, I always keep these in my backpack, but I never have paper with me.
6. Bose iE2 headphones: Standard earbuds never work for me, they always come loose and sound bad, or just fall out. The StayHear tips that Bose provides has worked perfectly for me since 2012, and despite reviewing several pairs of headphones, I always default back to these. Since I have the iPhone 7 Plus, I keep the Lightning to 3.5 adapter connected to the Bose headphones at all times.
7. RAVPower Ace Series 22000mAh portable charger: I use this when I don't have enough plug-ins to charge my devices. It's got 3 USB ports, and a lot of juice. This usually is packed in my cord bag (#10) and goes with me regardless if I am on a plane or on a weekend jaunt.
Never miss one of our posts again. Sent MON, WED, and FRI with the latest gadget reviews and news!
8. Just Mobile Gum++ 6000 mAh portable charger: This is tossed in my purse to top up any electronics on the plane or when we are in a car during the trip. This thing has been tossed around and gone on countless trips with me since 2013, and it is so rugged that I have never feared that it would break.
9. iPad Air: I used to use this more often while on the plane, but slowly I've been phasing it out. If I really wanted to, I could watch videos on the MacBook or my Phone, and since it only has 32 GB of storage, I run out of space quick. However, with my TiVo/TiVo app, I can download movies/shows that I have recorded, and that is mainly what I use this for now.
10. TYLT accessory bag: This actually came with the Energi+ backpack I reviewed a few years ago. My husband uses the backpack for work, but I have used the accessory bag to stuff as many cords as I can into it. I don't even want to count how many unnecessary cords are in there, but you never know when you may need three Micro-USB cords! It's big enough to store the RAVPower charger, many many cords, and my MacBook charger, and squishes down nicely.