We use affiliate links. If you buy something through the links on this page, we may earn a commission at no cost to you. Learn more.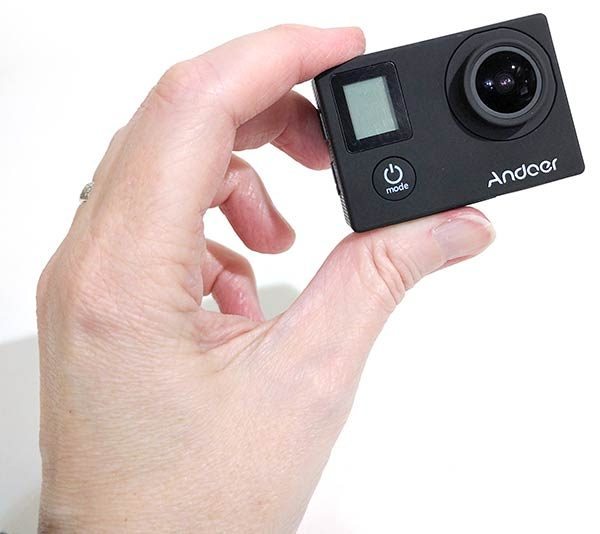 It's hard to believe, but I don't think I've reviewed an action camera in the almost 20 years that I've been reviewing products on The Gadgeteer. It's time to change that situation and I'll be doing it with the Andoer 4K action camera (D4186B) from Camfere.com. Ready, set, action!
What is the Andoer 4K action camera?
The Andoer D4186B 4K action camera is a small inexpensive GoPro style camera that can capture 16MP images and up to 4K resolution video.
Specifications
CPU: Adopt for Allwinner V3
Image Sensor: Adopt for Sony IMX179
Screen: Rear HD 2.0″ TFT, Front 0.66″ TN LCD
Lens: FNO2.4, FOV170 Wide-angle
Image Resolution: 16M / 12M / 8M / 5M/ 2M
Video Resolution: 4K/30fps(3840×2106) / 2.7K/30fps(2688*1520) / 1080P/60fps/30fps(1920*1080) / 720P/90fps/60fps/30fps(1280*720)
Shooting Modes: Timing Shot(3s/5s/10/20s)/ Auto Shot(3s/10s/15s/20s/30s)/ Drama Shot (3/5/10photos per second)
Video Recording Modes: Time Lapse(0.5s/1s/2s/5s/10s/30s/60s)/ Loop Recording(2min/3min/5min) / Stop-motion(1080P 60fps/ 720P 90fps)
Image Format: JPG
Video Format: MP4, H.264
Input/Output Interface: Micro USB 2.0 / HDMI
Light Frequency: Auto / 50HZ / 60HZ
EV Exposure: +-3
Audio Output: Speaker
Compatible Battery Type:3.33Wh 3.7V 900mAh Li-ion Battery
WiFi: Support
Waterproof Level: 30m underwater
Item Size: 5.9 * 3 * 4.1cm / 2.3 * 1.2 * 1.6in
Item Weight: 61.5g / 2.2oz (with battery)
What's in the box?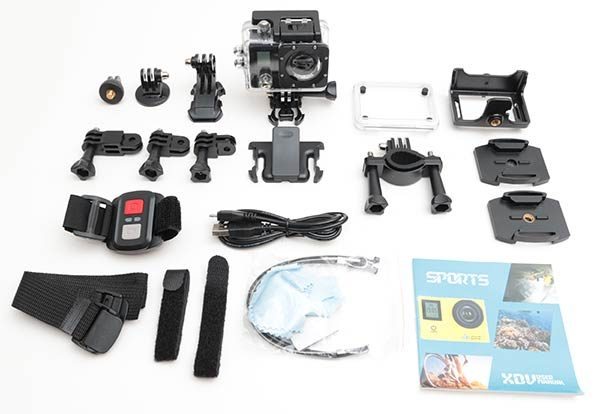 Andoer action camera
900mAh Li-ion Battery
Waterproof Case
Remote Control
Replaceable Waterproof Back
USB Cable
Mounts: Camera Bracket, Bicycle Mount, Clip, Helmet Mount, Fixed Base, J-shape Mount Base
Switch Support
Bandage
Cable Tie
Adhesive Tape
Wire Rope
Cleaning Cloth
User Manual(English)
Design and features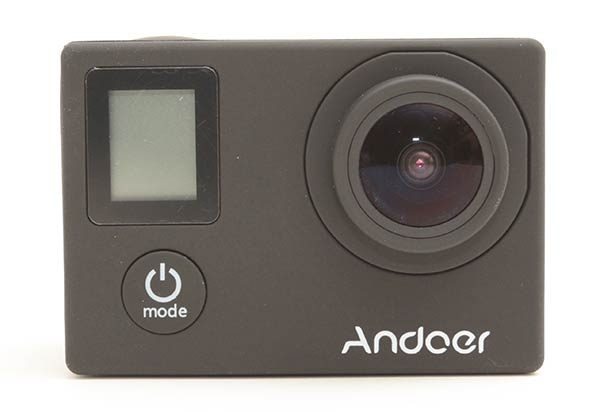 The camera is made of plastic and is small enough to fit in a pocket. It is available in different colors including the black version you see here.
The face of the camera has the 170-degree wide angle lens, a small LCD display that shows image or video recording status and a power / mode button.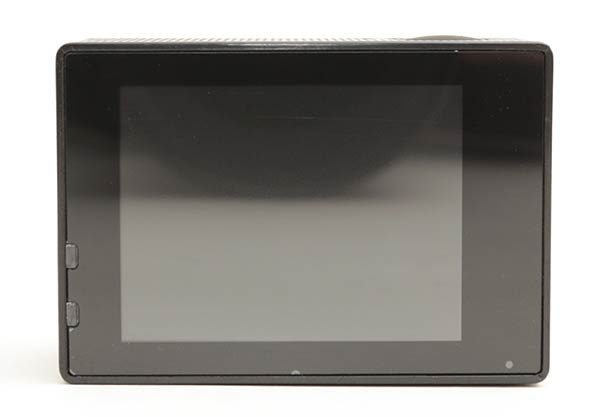 On the back of the camera is a 2-inch color display with two status LEDs in the lower left corner. The top LED blinks red while the camera's battery is charging and the LED below it lights up in blue with the camera is powered on and blinks blue while the camera is recording video.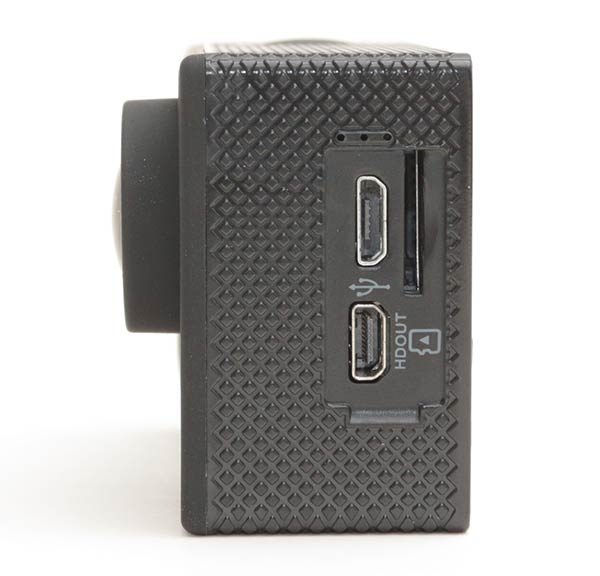 On the opposite side of the Andoer 4K action camera you'll find a micro SD card slot that can accommodate up to a 64GB memory card. There's also a micro USB connector that is used to charge the camera and an HD out connection. Note that the Andoer camera does not come with a micro HDMI cable. This side of the camera also has the built-in microphone.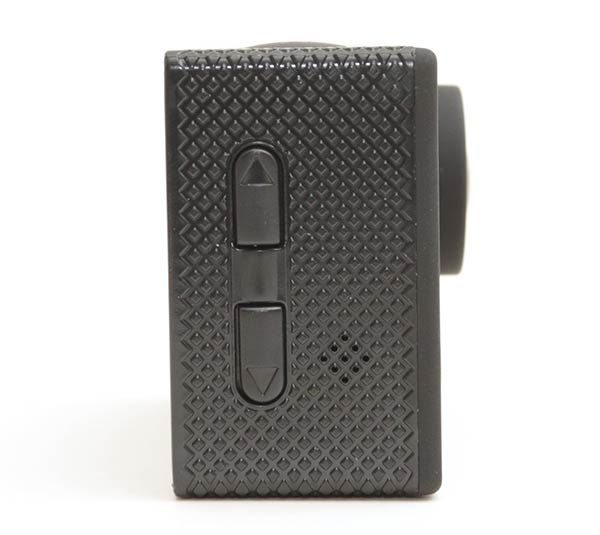 On one side of the camera, you'll find individual up / down buttons that are used to navigate through menus. On the same side is the built-in speaker.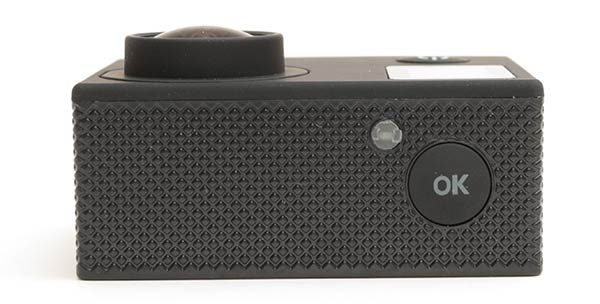 On the top side is an OK button that is used to select menu items. There's also what appears to be a 3rd LED but I've never seen it light up, so I don't really know what's used for.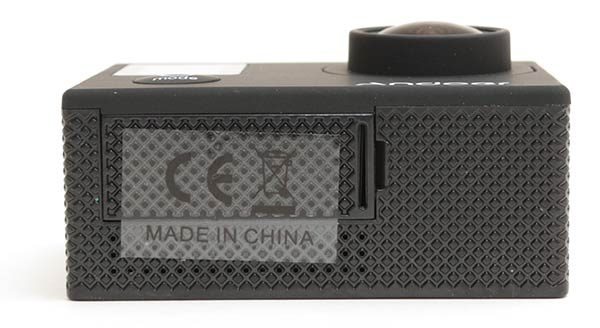 On the bottom of the camera is the battery storage slot. This camera has a replaceable 900mAh battery which is handy if you do a lot of video capture and have multiple batteries on hand.
The camera comes with a variety of mounting hardware that's suitable for attaching the camera to a tripod, handle bars of a bicycle or motorcycle, a helmet and more. There's also a waterproof housing included.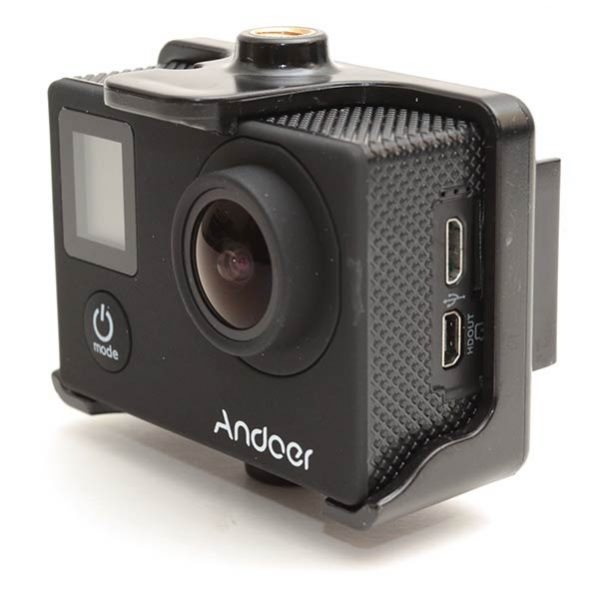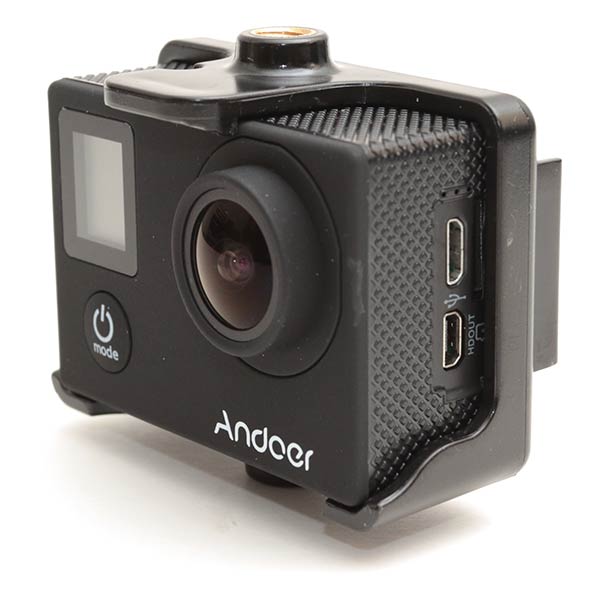 I mainly used the clip with a threaded tripod socket on the bottom (and top).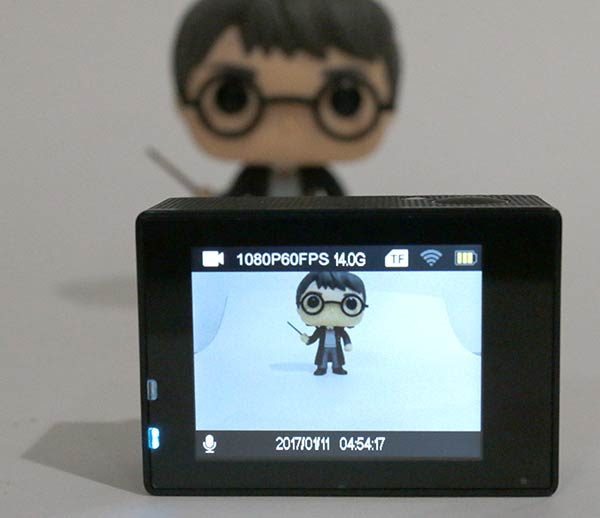 The camera's user interface is very basic. To start using it, you just hold down the power button on the front for a few seconds to turn it on. Boot time takes about 15 seconds so it's not a camera that you would use to capture a quick impromptu event.
The 2-inch display on the back of the camera is used as a view finder. It shows the mode, resolution, storage card space availability, as well as WiFi and charging status. You can charge and capture video at the same time.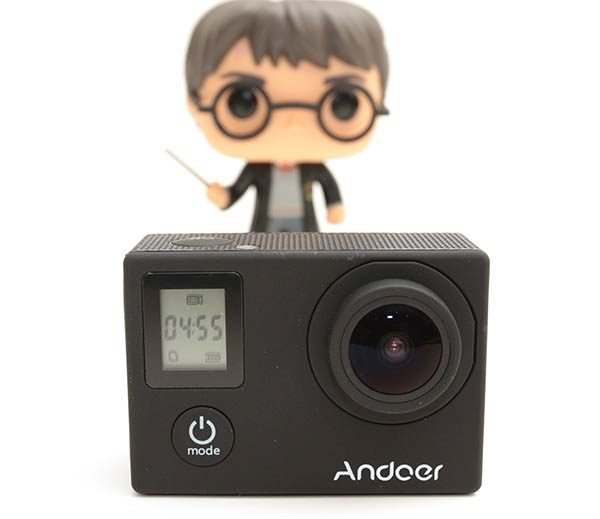 The camera's user interface is very basic. To start using it, you just hold down the power button on the front for a few seconds to turn it on. Boot time takes about 15 seconds so it's not a camera that you would use to capture a quick impromptu event.
When the camera powers up, it always defaults to video mode. To switch to the other modes, you just press the power button on the front which toggles it to image capture, slow motion video capture, playback and then settings mode. Although the camera does default to video capture, it does save the resolution setting between power on and power off action.
Regardless of the capture mode that you might be in, the ok button on the top of the camera will start the capture. If it's video mode, it will start recording and if in photo capture mode, it will snap an image. To stop recording you just press the ok button a second time.
Sample images
As you can see, the images are mediocre at best. This isn't a camera that you're going to use to take great shots. Images are grainy and suffer from fish-eye warp.
Sample video
Honestly, I wasn't impressed by the video quality of the Andoer camera. I felt like the 1080P resolution clips I captured looked better than the 4K or 2.7K resolution clips, which doesn't really make sense to me. I also didn't like the slight fish-eye look of the video which is noticeable when you look at vertical edges of the cabinets in my office.
Although my demo video above didn't include any low light samples, I can tell you that low light image and video capture is really bad. The more light you have, the better the results.
I also feel that audio sounds slightly muffled which should not be the case as nothing was covering or obstructing the built-in microphone on the side of the camera.
This camera is supposed to be able to work via WiFi with an app for Android or iOS. I tried using the required XDV app on my Nexus 6P but was unable to get it to work with the camera after several tries. From what I've read though, the application only works as a remote viewfinder and doesn't allow you to customize settings. I can't verify this though as I was unable to get it to work with my smartphone.
Another issue I ran into was when I needed to copy the video clips to my MacBook Pro. Connecting the camera to my MacBook Pro with a micro USB cable would not mount the camera as a flash drive. Instead, it would popup my Android HandShake app that pops up when I connect my Nexus 6P. This would be fine, but it didn't actually allow me to access the images and video. In order to access the video and images files, I had to pop out the micro SD card and use a USB card reader.
Final thoughts
The Andoer 4K action camera is easy to use and comes with a lot of mounting options and costs less than $60. So it's hard to have a lot of complaints about it. Having said that, I would recommend saving some more money and putting it towards a nicer model with better optics and audio.
Source: The sample for this review was provided by Camfere. Please visit their site for more info.

Product Information
Price:
$57.99
Manufacturer:
Andoer
Retailer:
Camfere
Pros:

Easy to use
User replaceable battery
4K resolution

Cons:

Video quality seems sub-par
Audio sounds muffled
Could not get WiFi feature to work with my Nexus 6P
Camera does not mount as a flash drive on a Mac