We use affiliate links. If you buy something through the links on this page, we may earn a commission at no cost to you. Learn more.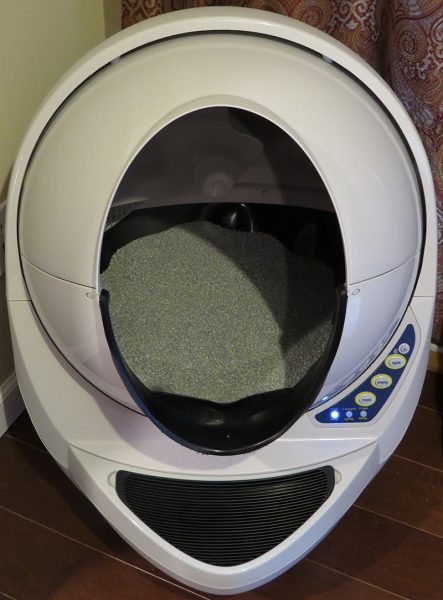 I love cats, and fellow Gadgeteer, Dave, has rolled his eyes over my cat stories more times than I can count. The one chore cats bring with them is cleaning the litter box. With two cats and a dog who is interested in what is in the litter box, we have to have the type of litter box that the dog can't get into. This meant most automatic litter boxes were ruled out right away. The Litter-Robot Open Air litter box seemed tall enough that he couldn't peek inside, and its unique design intrigued me. I had to try it out when given the chance.

In the box you'll find:
– The Litter-Robot Open Air littler box
– AC Adapter
– Instruction manual
– Three drawer liners
– Carbon Filter*
*Mine was missing the filter, but it is not required for use if you empty your tray regularly.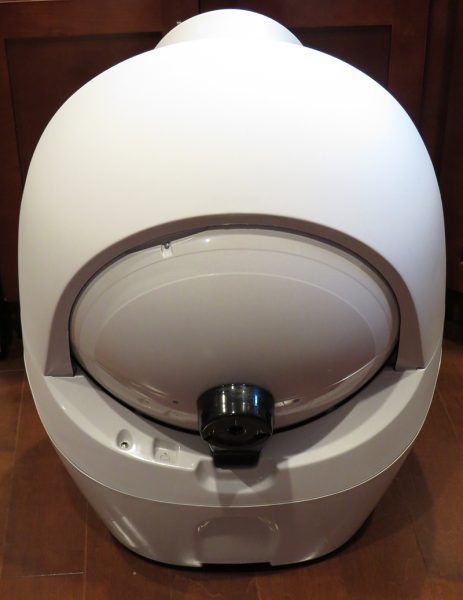 Setup was pretty easy. On the back of the unit you'll find the plug-in for the AC adapter, and you basically just plug it in, power it on, and you are on your way. I had to snap the black 'key' into place before I plugged it in. I was lucky and had an outlet next to my litter box area, so no extension cords were needed for me.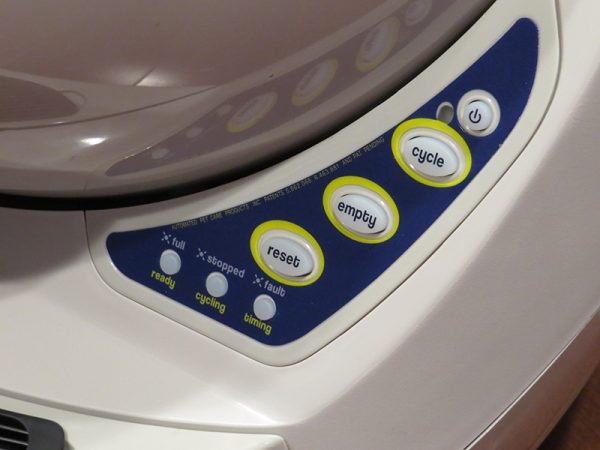 On the unit itself, you'll find four buttons. The top button is the power button, pressing it turns the power on and off while holding it down turns the night light on or off. The second button is the cycle button, which will manually start a cleaning cycle. Holding the button down will put the box into 'sleep mode' for 8 hours, and continue to repeat this mode at the same time every 24 hours. I set my sleep mode for overnight so it doesn't go off when we have company sleeping in the den. The third button is to empty the litter in the box completely while holding the button down will change the delay between your cat using the box and the box cycling after use. I left mine at 7 minutes but depending on how good your litter is, you can change it to 3 or 15 minutes. The last button is the reset button, and pressing it will pause a cycle or reset the cat sensor. Holding this will lock out the control panel, so your cat doesn't start pressing buttons on their own.
I definitely recommend keeping your instruction manual handy. I have referenced it countless times, wondering what each light meant. There are three indicator lights and depending on what the light is doing, it could mean an error, litter box ready to empty, tray full, etc. I'll go through each one here.
A blue solid light indicates the box is ready for use, while a blinking blue light means the tray is full. If the yellow light is solid, it means your box is cycling, while if it is flashing once per second, the cycle was interrupted, and twice per second means the anti-pinch safety feature was activated. A red light means that a cat has used the box and it is waiting to cycle, while a red flashing light means there is too much litter in the box, and/or something is triggering the weight sensor.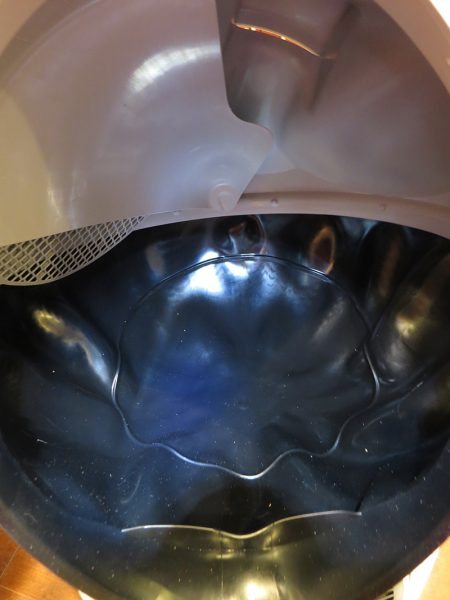 So, I replaced the old box with the new, poured litter to the fill line shown above, added a scoop of the old litter, and waited. Both cats were intrigued by the box, but my black cat, who can get a bit nervous, wouldn't go near it. My orange cat used it right away and didn't look back at the old box. In the instruction manual, they give tips on how to transition your cats, and my black one would have none of it. Sigh, well, this review is continuing with one cat using it then!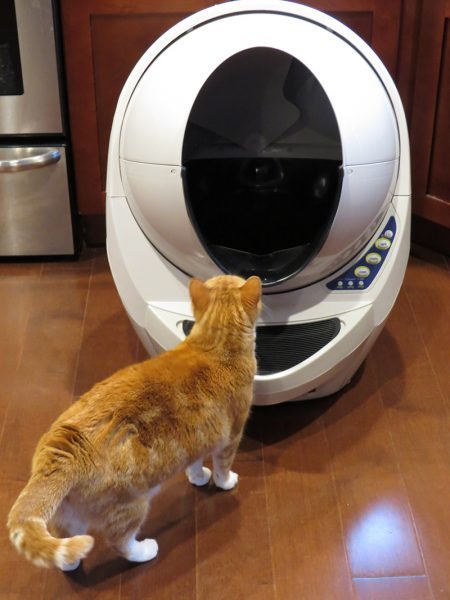 After turning it on, my orange cat was fascinated. She sat three feet away and watched it cycle, and continued to do this every time it cycled. At some point, I am pretty sure she tried to climb in during the process, and twice the box had stopped midway through a cycle. This worried me, as it did not reset back to normal after a few hours or more, as the second one happened overnight before I had put the timer on. It has worked just fine after those two interruptions, so my mind is at ease now.
I tried to ask my cats their opinion on the Litter-Robot Open Air, but they refused to talk about it. Viewed from a human's perspective, my orange cat really enjoys having a clean litter box nearly every time and has some new entertainment as well. I say nearly every time, as twice it failed to sense her inside, and I noticed she had used it without it cycling. It was caught on the next use, however, so I didn't mind.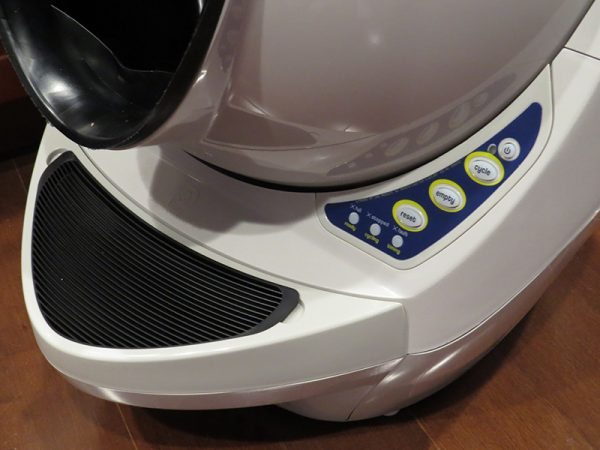 Usually, I emptied the drawer every few days, since there was only one cat using it. I tested the 'drawer full' sensor, and that took five days of use before it was triggered. To save a tree, I simply emptied the liner into the trash and reused it a few times before replacing it. I loved that you can use standard 8-13 gallon trash bags as well as the liners sold by Litter Robot. Even without a carbon filter, I did not pick up any smell from the litter box. It smelled a lot better than the old box that the black cat now has to herself. I imagine when I pick up a carbon filter, I won't smell anything at all.
Of course, with something automated like this, we have to have a demo video, right? As you can see above, the litter is sifted as it turns over, and any waste (or in the above video, extra litter since I had added too much) is dropped into the hole that leads to the drawer. After this, the litter did not get wasted, and it felt like I did not have to add litter as often as I would have before.
I will say, the Litter-Robot Open Air litter box looks like an alien spaceship has settled into a corner of my house. This being said, I do like the look, as it isn't so blatantly obvious that it is a litter box. It is very tall compared to the old boxes, so keep that in mind when buying, as it may not fit under places you had the old box. I didn't have this problem, but some people hide their boxes, so it is something to keep in mind if you do.
If I can get my black cat to use this at some point, I will celebrate as I get rid of the old litter box, this has made the chore of cleaning the litter box quick, sanitary, and easy. It is plenty big enough for most cats, and while the price tag is definitely steep, if you can afford it, I would definitely take a look at the Litter-Robot Open Air litter box.
You can win a Litter-Robot Open Air during the month of December 2016
These are the prizes that will be given away throughout the month. Enter contest at free.litter-robot.com
Total: $35,790 in prizes in 25 days! Enter contest at free.litter-robot.com
Source:  The sample for this review was provided by Auto-Pets. Please visit their website for more information.

Product Information
Price:
$449
Manufacturer:
Litter Robot
Retailer:
Auto-Pets
Pros:

- No smelly litter box
- Easy to empty
- Can use own litter and own trash bags

Cons: