We use affiliate links. If you buy something through the links on this page, we may earn a commission at no cost to you. Learn more.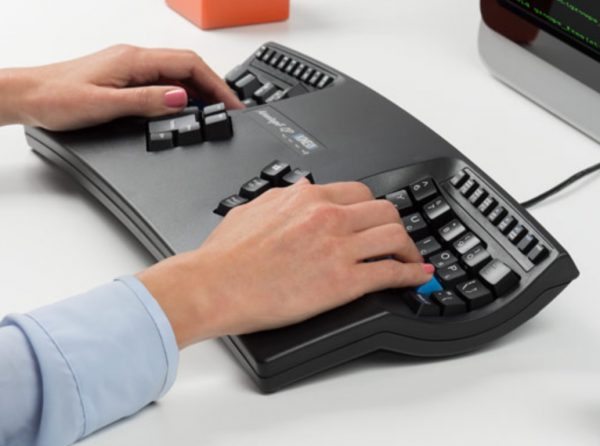 I knew a co-worker who swore by those misshapen "ergonomic" keyboards.  I never quite understood them until I saw the Kinesis Advantage keyboard about 10 years ago in person.  I was intrigued by the dual concave shape and layout.  I finally got to try the latest version, the Advantage2.

For those who are familiar with the Kinesis Advantage, this latest version features the same overall shape and layout, but with new function row keys with Cherry ML switches with hard keycaps, vs. the original mushy rubber keys.  The model featured here is the KB600 with Cherry MX brown switches, which don't feature an obvious audible "click" like some mechanical keyboards with Cherry MX blues.
The new Advantage2 has 2MB of memory vs. 2-4KB, and will support "100+ heavy-duty macros".  Dvorak layout fans can rejoice as well.  It's now natively supported, although you'll need different keycaps (sold separately).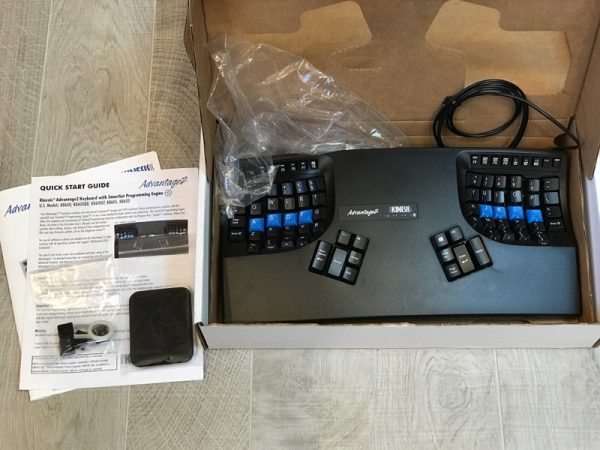 Width: 16.50 inches
Depth (front-to-back): 8 inches
Max height: 2.875 inches
Distance between F & J Keys: 9 inches
Weight: 2.20 lbs
Shipping weight: 4 lbs
USB cable length: 6 feet 3 inches; 6 feet 1 inch from back edge of keyboard
Warranty: 3 year limited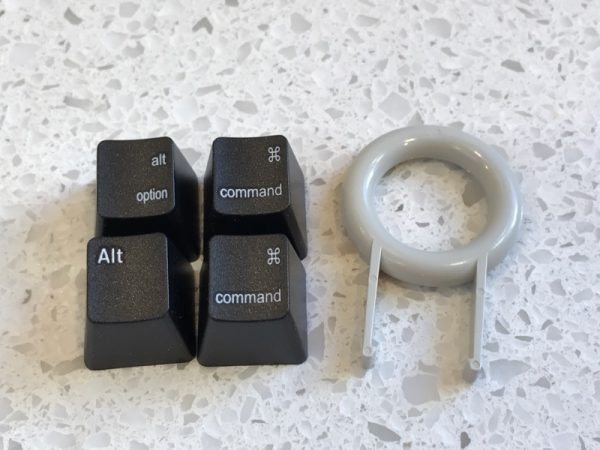 In the box you get the Advantage2 keyboard, adhesive wrist pads, and extra keycaps for Mac users.  Switching from Windows to Mac only requires a keystroke command on the keyboard itself.  No need to dig deep into your MacOS preferences (unless you want to).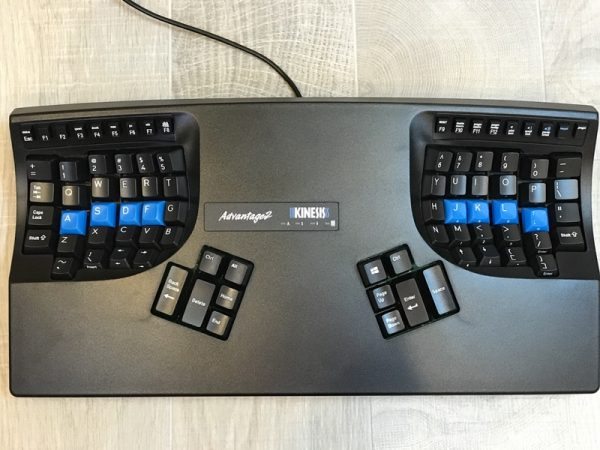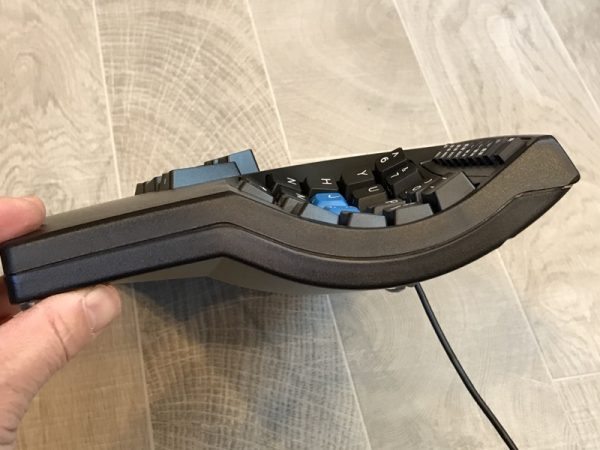 From the side you can really see the concave "bowl".  It's actually curved in both directions- it really IS bowl-like.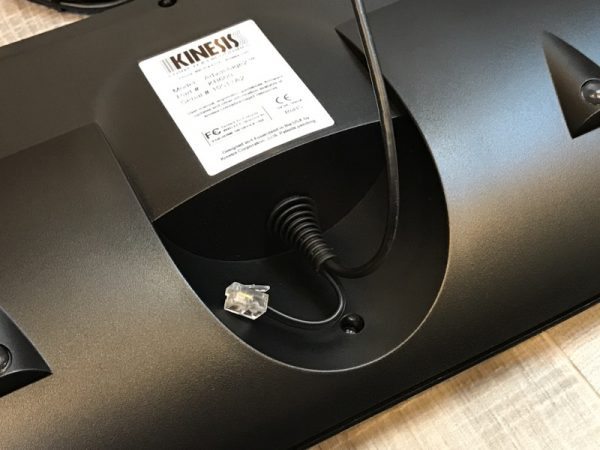 The back of the keyboard.  The RJ-style phone connector can be used for optional Kinesis footpedals.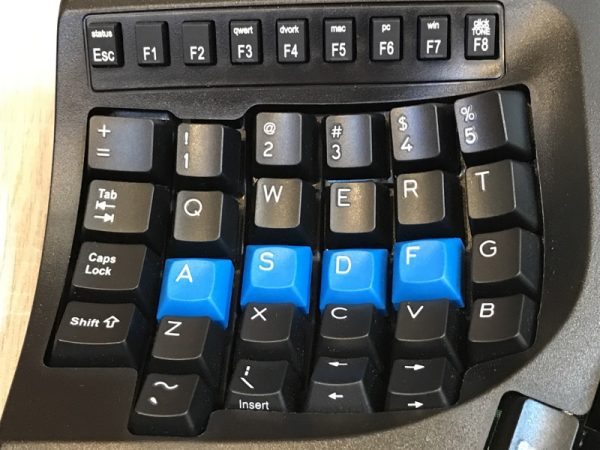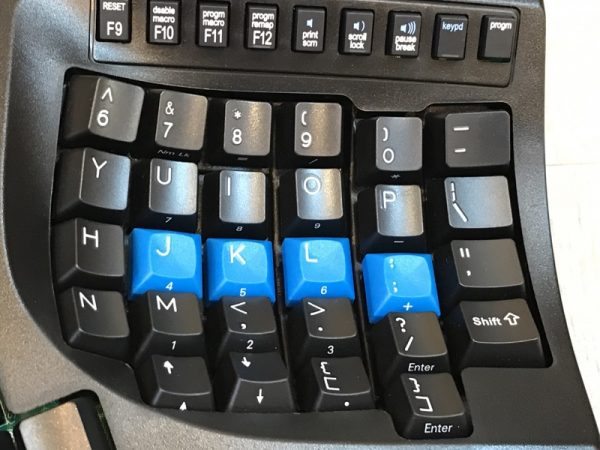 Here's a closeup of the left and right sides.  The middle row is now in what they're calling "Kinesis Blue".  I did kind of wish there was a tactile "dot" on the F and J keys, though.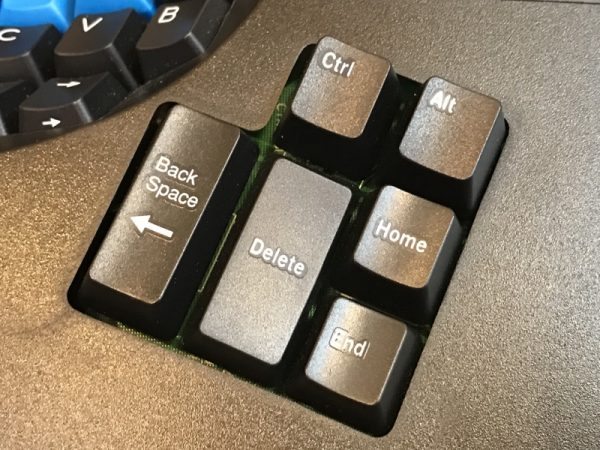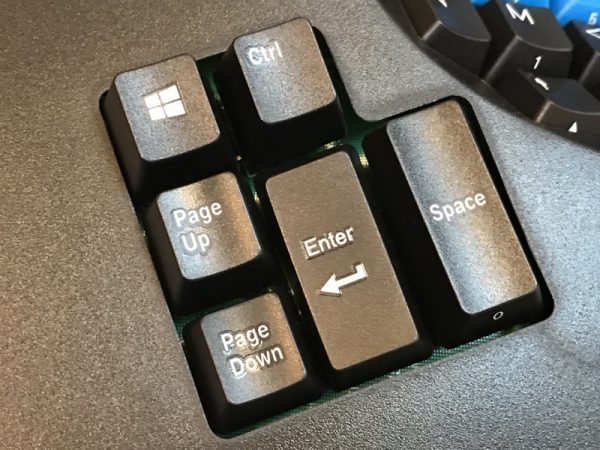 This is a closeup of the thumb keys.  It looks odd, but there's a certain logic to it:  To backspace, you press the left thumb.  Space is on the right side.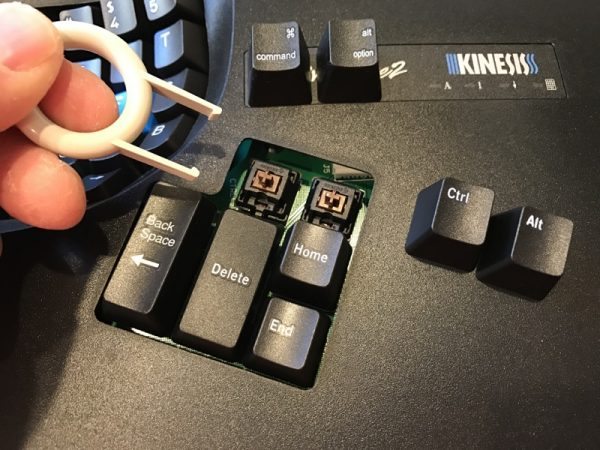 Remember those extra keycaps?  Here I am changing some of them for a Mac-friendly layout.  Note the Cherry MX Brown switches.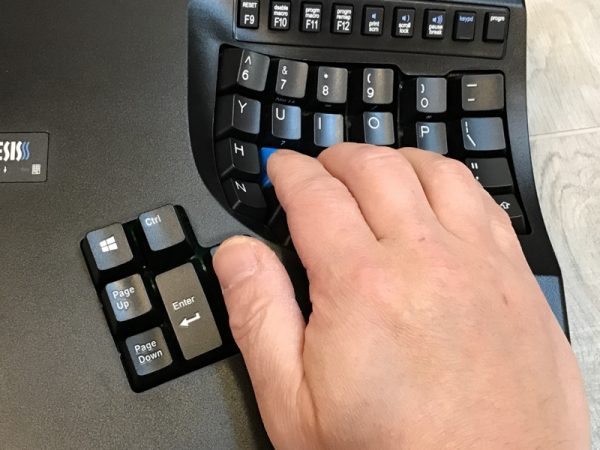 This is what my resting hand looks like on the right side of the keyboard.  My thumb is naturally resting on the space key.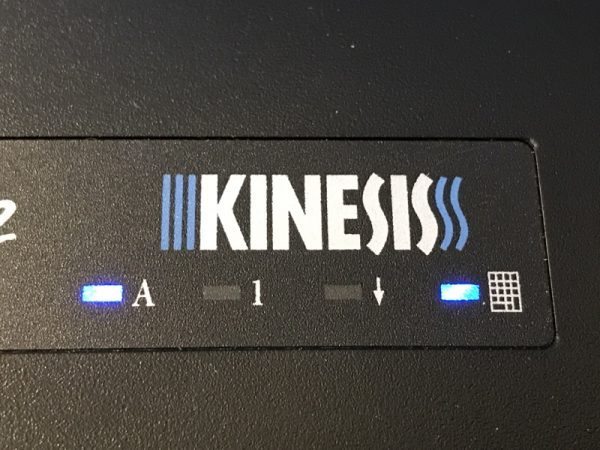 In the center you'll find LED indicators for Caps Lock and so forth.
It would be easy to plug in the keyboard and tell you about how the keys feel (great) and go on about the size (bulky), but I was encouraged by Kinesis to give the Advantage2 a fair shake for at least 2-4 weeks before drawing any conclusions.  Boy were they right.
On day one, I discovered that I could not type at all.  I was constantly looking down to see where on earth certain keys were hiding, and I was constantly missing the shift key.  For about a week, I got lazy and stopped capitalizing words when sending instant messages.
The keyboard beeps quietly to let you know you've made a keypress.  The idea is to train users not to mash down on keys, which requires more effort.  You can disable this feature.
To use the volume controls, you have to press the blue-lettered "keypd" button near the upper right, then the volume keys.
The lack of tactile "dots" on the home row was really frustrating to me.  I almost wanted to glue something on.
By the end of two weeks, I was still not completely proficient at the Advantage2 keyboard, but I did appreciate how comfortable it was.  The bulky shape provided excellent palm support, and the relatively narrow width meant I didn't have to reach far for my mouse.
By far, I believe the biggest obstacle to my proficiency with the Advantage2 was my own poor typing habits.  How?  I didn't realize that to type the letter "B", I've been using my right index finger.  Now go look at the Advantage2 layout, and you'll find it's on the LEFT side of the keyboard.  That's just one example.  I also use the spacebar interchangeably between thumbs, but the Advantage2's space key is under your right thumb.  I was astounded to discover how many "bad" typing habits I had.  Now I knew what Kinesis meant when they mentioned a 2-4 week learning curve.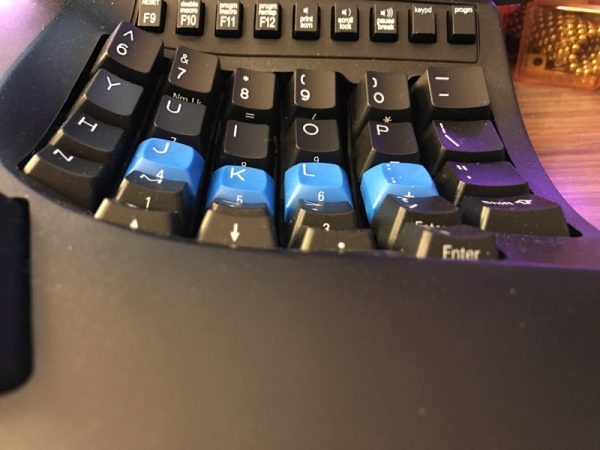 Then there's the issue of the arrow keys.  On most keyboards, the up/down/left/right are clustered in an inverted-T shape.  I can usually go by feel without looking down.  But on the Advantage, they're split.  The curved nature of the keyboard doesn't help, either.  In the photo above, the up/down key faces aren't visible from a seated position.  You can kind of see the print on the side of the keys, however.  This sort of thing would extend my learning curve.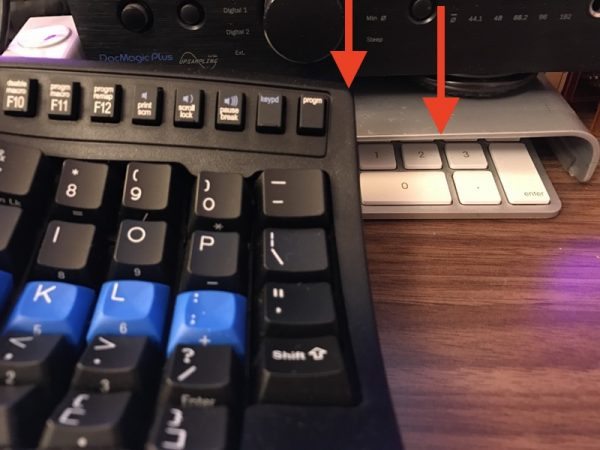 Finally, I didn't realize how bulky the Advantage2 was until I placed it on my desktop and discovered I couldn't tuck it away under my tray.  Granted, the standard Apple keyboard is supermodel-skinny (see above).  The Advantage2 measures 2.875 inches high.  I would need a taller keyboard tray.
The Kinesis Advantage2 keyboard is easily the most comfortable keyboard I've ever tried.  I loved the high-quality Cherry MX brown switches and the raised palm rests.  Just be aware that there is definitely a long learning curve to this keyboard, and any "bad" typing habits will be made painfully obvious.  At least your wrists won't be in pain.
Update: I have learned from Kinesis that the keys are reprogrammable so things like the arrow and space keys can be remapped.  I suppose this means I could create a left-handed space key as well.  That's good to know.
Source: The sample for this review was provided by Kinesis Corporation. Please visit their site for more info and Amazon to order.
Product Information
Price:
$349
Manufacturer:
Kinesis
Retailer:
Amazon
Requirements:

USB port
Windows 7, Windows 8 & Windows 10
Mac OS 8.6 and higher (Not compatible with non-US layouts)
Linux
Android

Pros:

100% Cherry Mechanical keyboard.
Excellent ergonomic layout.
MacOS keycaps included.

Cons:

Price.
Long learning curve.
Allow 2-4 weeks to get "used" to it.