The Gadgeteer is supported by readers like you! If you buy something through links on our site, we may earn an affiliate commission at no cost to you. Thank you! Learn more.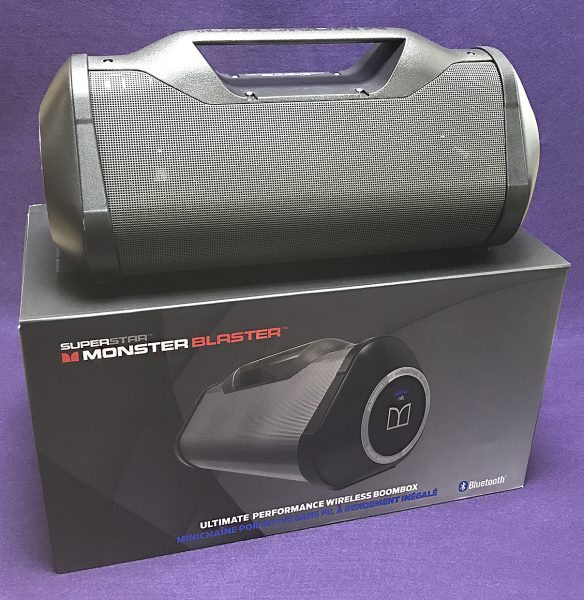 Monster got its start making expensive audio cables before teaming with Dr. Dre to make Beats headphones. When that relation soured, Monster and Beats went their separate ways and well, we know what happened—Beats were bought by Apple and Monster continued making headphones under their own name. Then, Monster entered the huge portable Bluetooth speaker market. It was a smart move, because Monster knows what customers want, even if snobby audiophile types deride them for their over-bassy sound. Such is not the case with the Monster Blaster Bluetooth Boombox—a speaker worthy of its Blaster name in both audio and volume.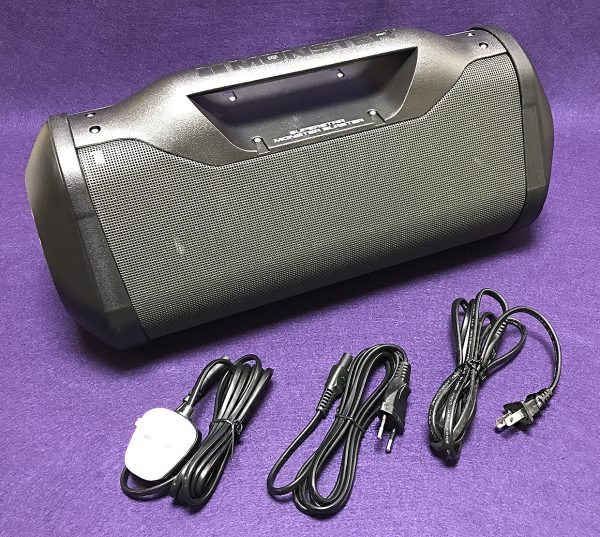 The Monster Blaster is a giant of a speaker. It is one of the largest and heaviest portable Bluetooth speakers you can buy. I use the word portable, but the thing is 8 in. x 18 in. x 8 in. and weighs over 16 lbs., so you don't want to carry it on a hike. Monster calls it a boombox paying homage to the old ghetto-blasters from the late 70s to 80s—those giant boxes that housed mega speakers, 2 cassette decks, radio and enough chrome to rival any disco-era Cadillac. The Blaster does this time-period proud. While it doesn't resemble what came before, it can certainly keep the music going in any block party.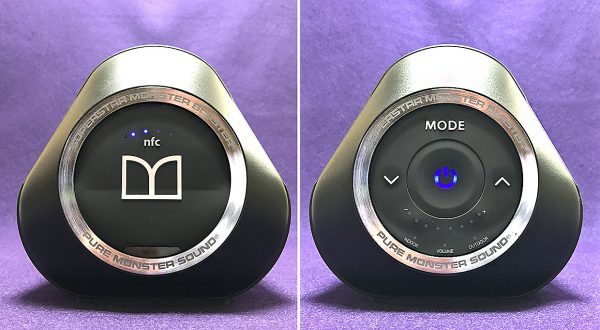 At first glance, the Monster Blaster resembles the Braven BRV-XXL. Although the BRV-XXL is even larger and heavier than the Blaster, both speakers place controls and ports at the ends of the enclosures. Both have down-firing sub-woofers with 4 speaker drivers—two per side. This provides 360° sound which is great for outdoor use. Speaking of outdoors, the Blaster—like the BRV-XXL—can be splashed and rained on. It's water resistant—not waterproof. Don't drop it into the pool. While the Braven BRV-XXL looks like it's made for a campfire, The Monster Blaster is designed to look like it belongs at an outdoor wine tasting event. It's much more sophisticated in appearance.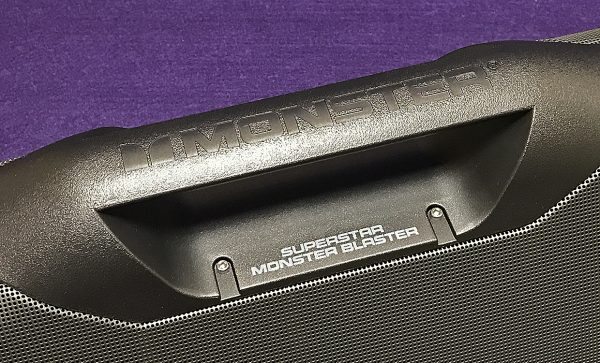 The Blaster has an integrated handle for carrying. It does not come with a strap, although the Blaster's weight would cause any strap to result in a sore shoulder after about 10 steps. As convenient as the handle is, I wish it was more rounded in shape. The bottom is flat resulting in hard edges on both sides that can dig into hands after a few minutes of carrying.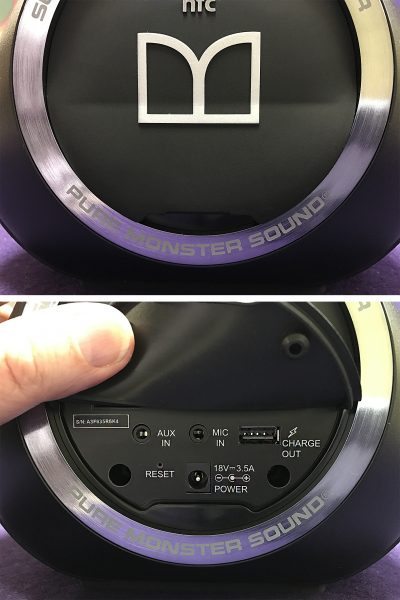 The Blaster comes with a 12-hour rechargeable battery with a dedicated charging cable. Available ports include AUX IN, USB for charging a smartphone or tablet and a MIC INPUT port making the Blaster a portable PA system. A mic can be used while music plays for all those embarrassing karaoke sessions. The mic is not included. These ports are protected by a waterproof rubber flap.
There are two easily accessible EQ settings—one for indoor and one for outdoor. The differences are more subtle than one might expect. Basically, outdoor mode pushes the middle and higher frequencies up a bit while leaving the bass alone. Mids and highs tend to drop off as the distance between speaker and listener increases. Indoor mode sounds more natural to my ears so I leave it on all the time.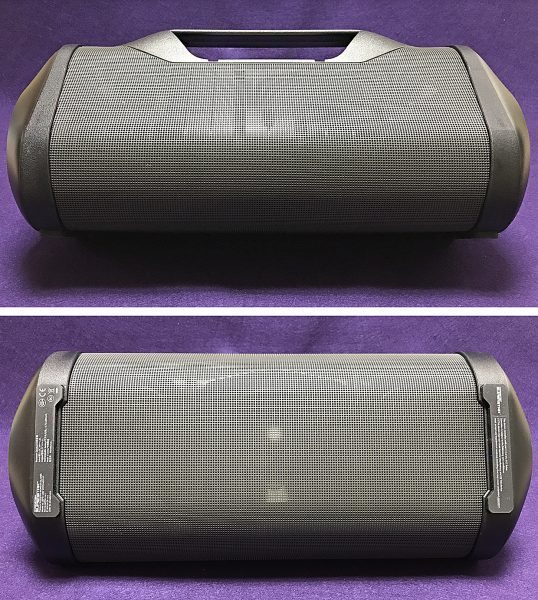 Pairing the Bluetooth was quick and painless. When first powered on, the Baster immediately tries to pair. For Android users, NFC is included for instant pairing—sorry, Apple fans. The Bluetooth signal remains strong throughout the entire advertised 33 ft range— better than the Braven BRV-XXL.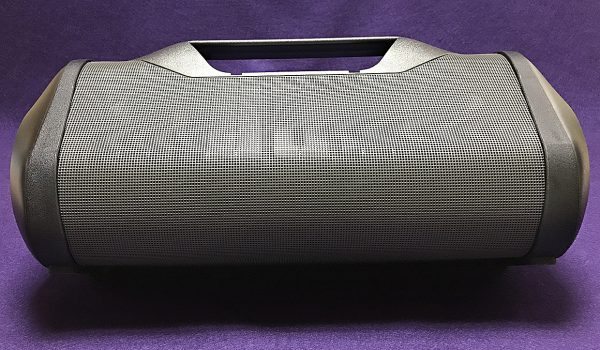 So how does the Monster Blaster sound? In a word: refined. Surprisingly refined. I'm not sure what I expected, but The Blaster sounded like an expensive speaker. Yeah I know, it is expensive. It just sounds like what it costs. The only distortion I noted was at full volume and trust me, you do not want to go to full volume—distortion or no distortion. Bass is what surprised me the most. I thought the Blaster would be a bass monster (pun intended) like the Beats headphones were. Not at all. The bass is most certainly there, but it's accurate. Music sounds like I thought it should, not how I thought it would. I like surprises.
I recently bought an Al Stewart Collection double CD. I'm a big fan and I wanted to hear his songs in high resolution. The acoustic guitar details in the songs, "Roads to Moscow" and "Nostradamus," is amazing. You can hear—and feel at higher volume— the emotion inherent in the lyrics and the passion of Stewarts playing. He treats the acoustic like a lead instrument rather than something to just strum. I could hear each individual string both separately and together. It's an unexpected amount of clarity for a Bluetooth speaker.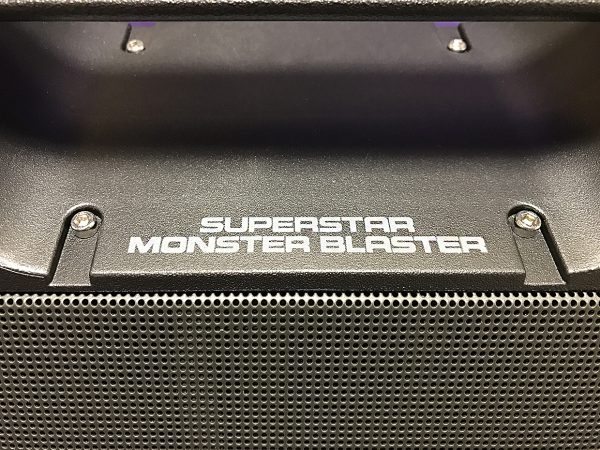 My high resolution versions of Steely Dan's music positively shines on the Blaster speaker. "Bodhisattva" begins with some drumming with an ever-so-slight echo that is coming from the recording studio. It ain't fake echo, that's for sure. It gives the song a live feel and sound. Not bad! Their mega-hit "Do It Again" isn't quite as bold as "Bodhisattva," but it has great shaker percussion that is plainly heard without being too pushed in the recording. It sound's like it should.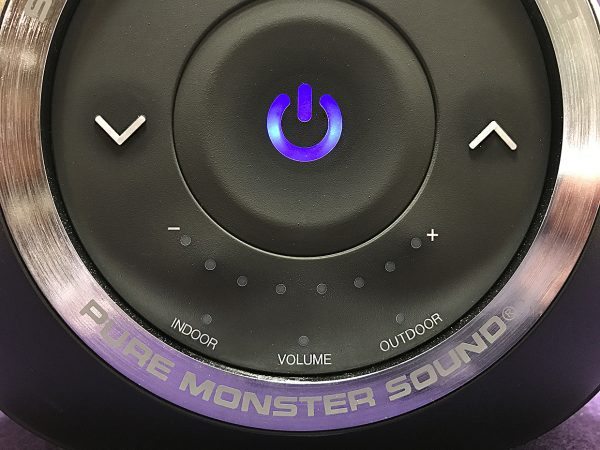 The vocals in the high-res version of Crosby, Stills & Nash's cover of the Jefferson Airplane classic "Wooden Ships" sound a bit recessed, but it's the recording, not the Blaster speaker. Even so, the detail in the song is such that you can hear the production techniques cleanly as well as appreciate David Crosby's wonderfully delicate guitar work bounced off Steven Still's blistering lead. Add to that CS&N's stellar harmonizing and the song becomes a classic in its own right. Keep in mind that a lot of this clarity will be lost when used outdoors. Oh well.
When bass is pushed to the max as in The Knife's "Silent Shout," the Blaster distorts a bit. The speaker much prefers bass accuracy over songs with enhanced bass. If you're a fan of hip-hop or modern electronica, you may want to look elsewhere. Note that switching to outdoor mode gets rid of the distortion, but at the expense of bass, like it's designed to do.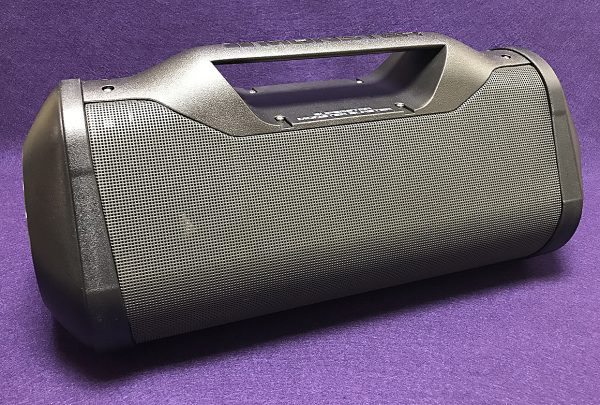 Monster has created a Bluetooth speaker that compares favorably with other speakers in its price range. The Monster Blaster is big; it's loud and it's designed and built well. Is it worth $399? I suggest giving it a try (if you can) before you decide. It's expensive, but if you buy it directly from Monster, they do provide a lifetime warranty plus a one time, no fault replacement if your Blaster has any issues (your fault or theirs). That's not a bad deal.
Source: The sample for this review was provided by Monster. Visit their site for info and purchasing. You can also check out Monster's selection of products on Amazon.
Product Information
Price:
$399.95 US
Manufacturer:
Monster
Pros:

Refined looks and sound
Not bass heavy
Plenty loud
Splash proof

Cons:

Not water proof
Expensive
Carrying handle could be better