We use affiliate links. If you buy something through the links on this page, we may earn a commission at no cost to you. Learn more.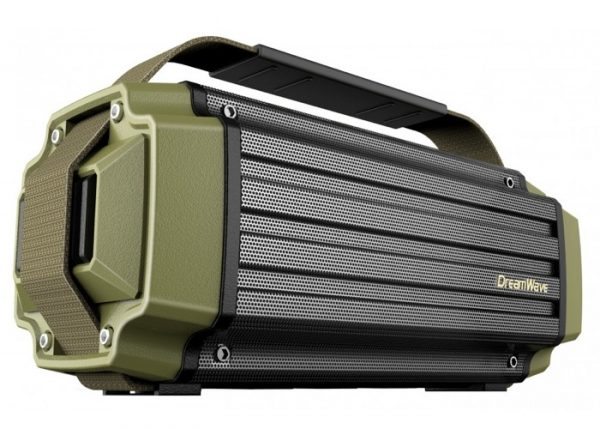 I was not prepared for this.  I thought I was going to review a rugged Bluetooth speaker.  I didn't expect to unpack something that looked AND felt this rugged.  This is the DreamWave Tremor- probably the only Bluetooth speaker I've tried that could double as a battering ram.
When you're a Gadgeteer, you see a fair share of Bluetooth speakers of all shapes and sizes.  None of them prepared me for this.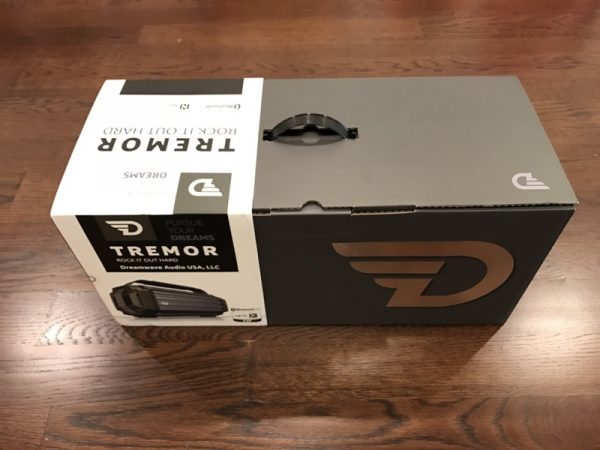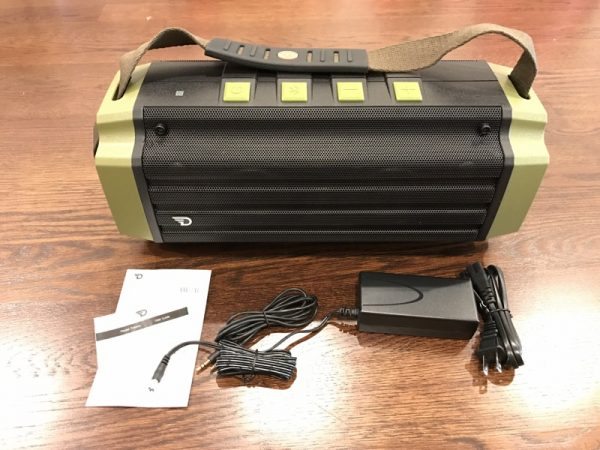 Specifications:
50W Premium Audiophile Performance Sound System
IPX5 Water/Dust/Sand/Snow Protection
Connect 2 Tremors Together At Once
Bluetooth CSR 4.0 + EDR, A2DP AVRCP, APTX
20,800mAh Rechargeable Battery (Power Bank)
Play time: Up to 20 Hours (8 Hours Max Volume, Full Bass Status)
Hands Free Calling and NFC Ready
USB 5V/1A Port for Charging Mobile Devices
Hi-Fi Sound and Anti-Distortion Circuity
I'll just add this:  It also measures 17 inches long and weighs 12.6 lbs.  More on that shortly.
At first glance, it looks like your ordinary "rugged" outdoor speaker:  water-resistant (but not waterproof), integrated USB battery pack for juicing up your gadgets, and the ability to link two Tremor speakers (not tested, since I only had one).
Never miss one of our posts again. Sent MON, WED, and FRI with the latest gadget reviews and news!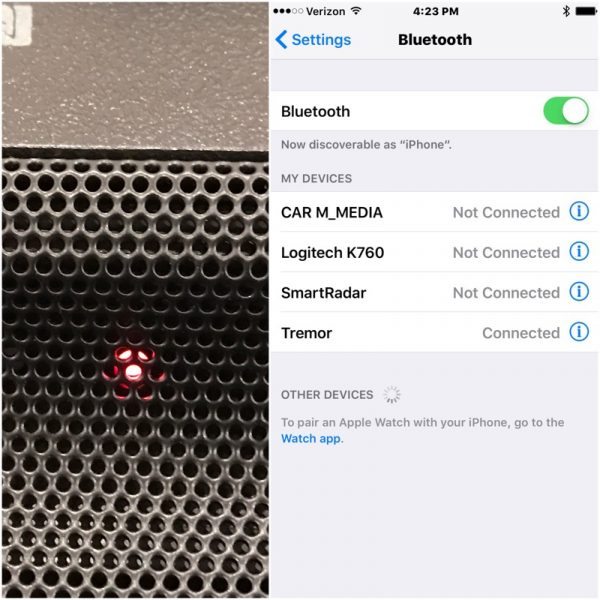 There are hidden LED lights behind the perforated mesh grille.  I'm happy to report that the Bluetooth name is in plain text ("Tremor").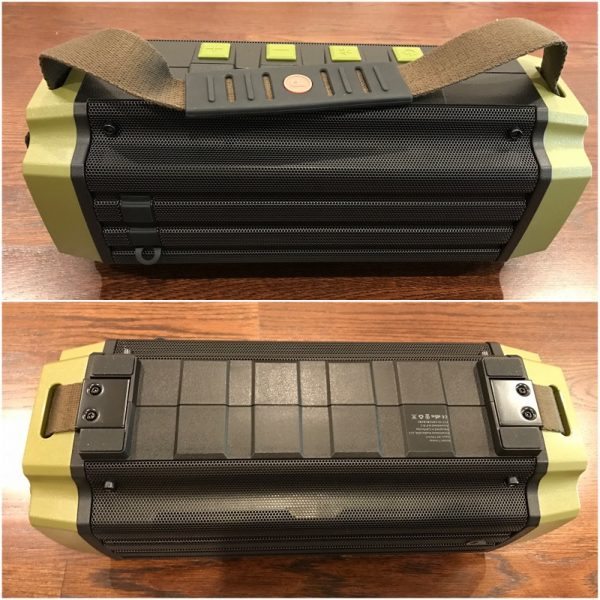 There's a unique canvas-style strap that's permanently attached to the speaker.  Flip it over and you'll see there's no practical way to adjust the length.  The screws at the bottom taunted me.  "Don't like the length?  Suck it up, buttercup!"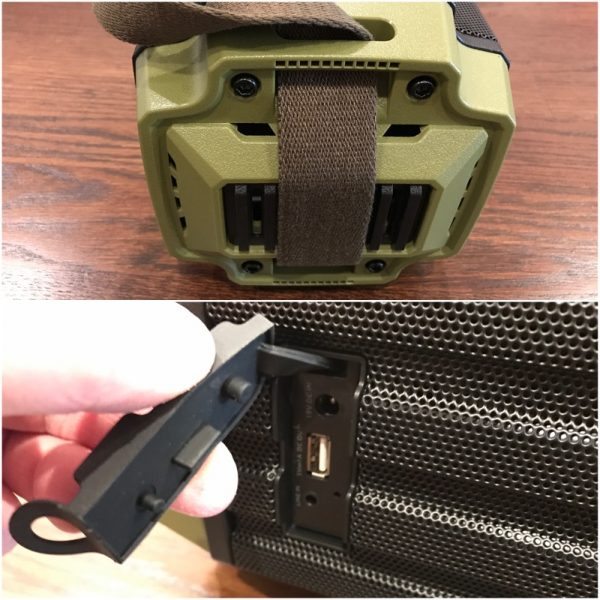 There's a rubber plug that covers the charging port, USB charge port, and aux input.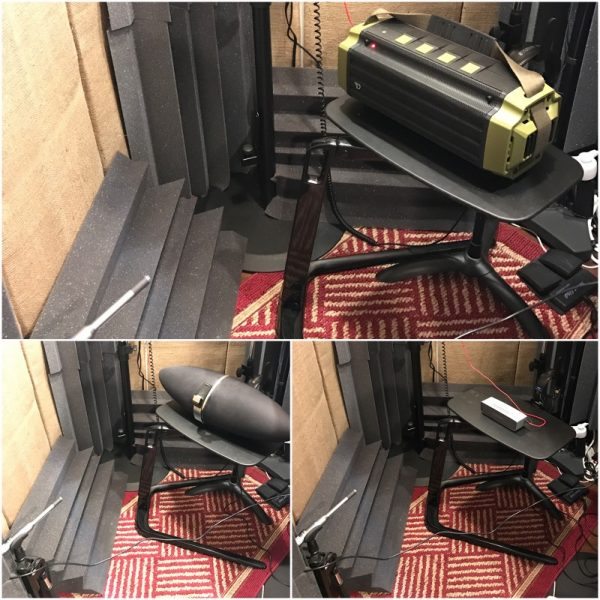 It was time to put the Tremor up against the two popular speakers in my household:  The Bowers & Wilkins Zeppelin (30-pin connector) and the Bose Soundlink Mini II.  Let's take a look: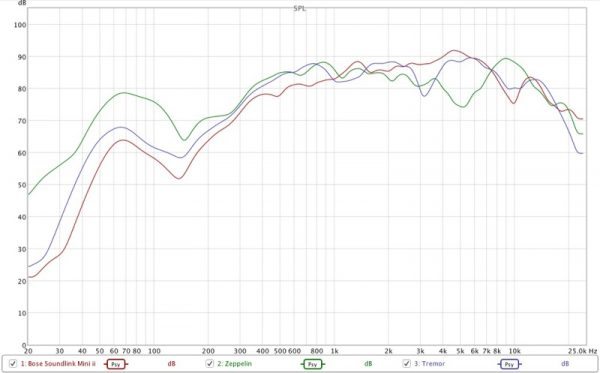 The non-portable Zeppelin (green trace, top) showed a much more pronounced low end, which isn't surprising, as it costs hundreds of dollars more than the Tremor or Bose.  The Tremor (blue trace) edged out the Bose Soundlink Mini II (red) by a bit for low-end oomph.
In actual listening, the Tremor didn't sound… special… at low volumes.  It wasn't until I decided to annoy the household by cranking the music from across the house.  The Tremor, rated at 50 watts, really shined at higher volumes.  In fact, someone across the house said "What was that?  It sounded really good."
At nearly 13 pounds of heft, there is no way I'm going to slip the DreamWave Tremor into my backpack on a bike ride, or toss into a cargo pant pocket. The non-adjustable strap is curiously limited in utility.  However, if you want a "luggable" splash-resistant speaker that was seemingly styled by a defense contractor and will crank out the tunes LOUD with good clarity, this may be the sound ordinance you're looking for, soldier!
Source: The sample for this review was provided by DreamWave. Please visit their site for more info and Amazon to order.