We use affiliate links. If you buy something through the links on this page, we may earn a commission at no cost to you. Learn more.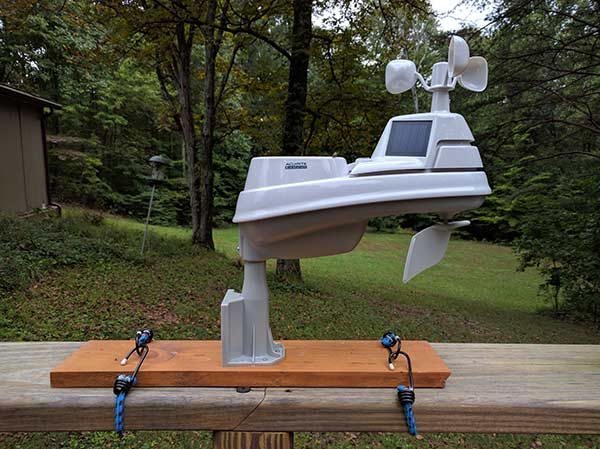 Several weeks ago I posted a review of the AcuRite smartHUB Weather Environment System which I'm still using. There were a few comments on the review asking about a wind speed sensor. AcuRite saw those comments and sent me the PRO+ 5-in-1 Weather Sensor which also works with the smartHUB. Let's take it for a spin.
What is it?
The PRO+ 5-in-1 Weather Sensor is one large-ish device that includes sensors that measure temperature, humidity, wind speed, wind direction and rain. This sensor can pair with AcuRite's smartHUB so that you can check the weather data through your AcuRite account on the web and / or through the AcuRite mobile app. You can also buy an indoor display to show the data at a glance.
What's in the box?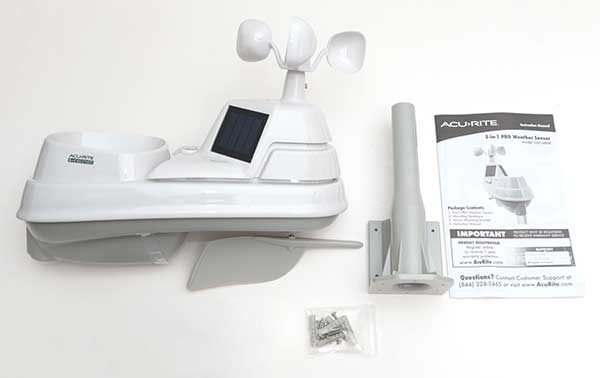 AcuRite PRO+ 5-in-1 Weather Sensor
Mounting bracket and hardware
Instruction manual
Design and features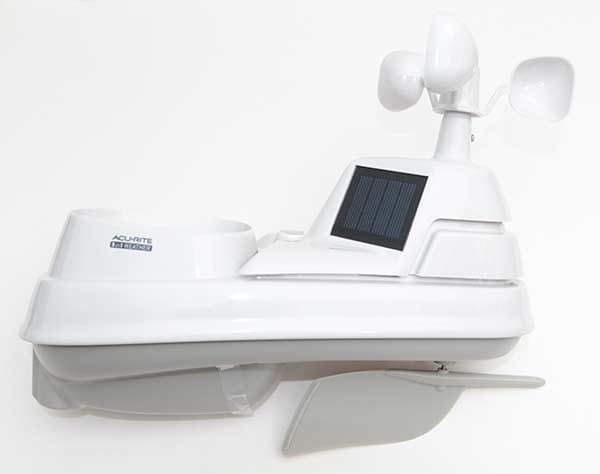 The PRO+ 5-in-1 Weather Sensor features a rain collector, wind speed anemometer and wind direction sensors and temperature / humidity sensors. It also has two solar panels that allow the sensor's internal fan to run frequently allowing airflow to cool the housing and keep the ambient temperature readings are more accurate.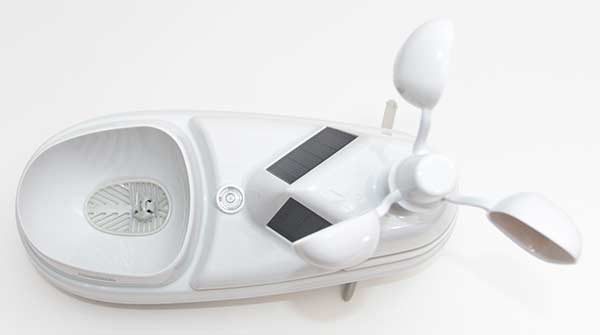 The rain collector has a debris filter to catch seeds, leaves and other dirt that might fall and there's a bubble level built into the top of the unit to help with installation.
The PRO+ transmits weather data every 18 to 36 seconds via a wireless connection to a smartHUB or a wireless display. The wireless range is supposed to be up to 330 feet, but that is wide open spaces. With my smartHUB in the basement and the PRO+ less than 20 feet away but through a few floors and walls, the signal strength sometimes says that it's week. Even so, it still sends / receives data just fine.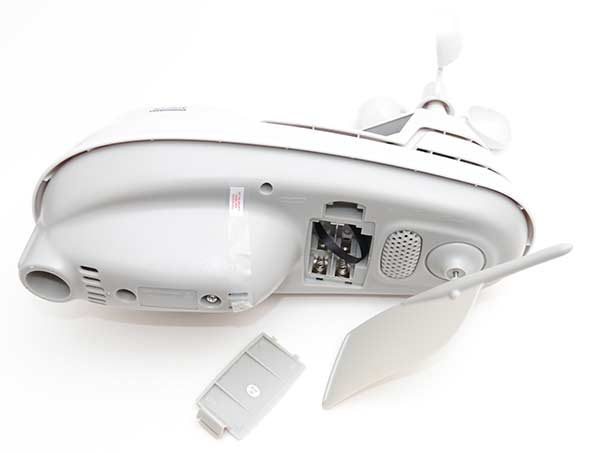 The PRO+ runs on 4 AA batteries that should last up to 2 years. The manual recommends lithium batteries, but I used alkaline batteries which probably won't last as long especially during the winter months.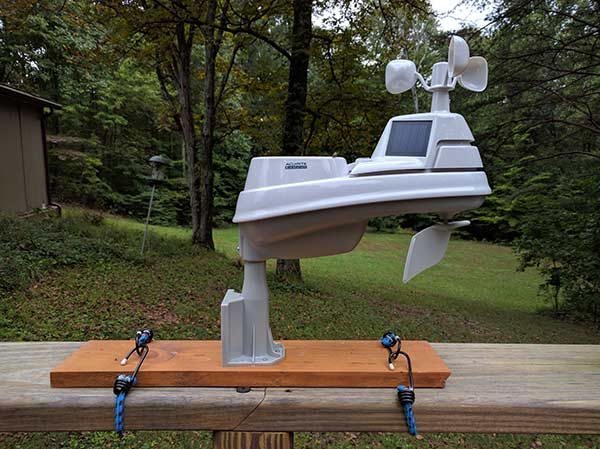 The sensor comes with a mounting bracket and hardware. It can be installed on a flat surface or a steel post. As you can see from the image above, I kind of cheated. I found a scrap board and screwed the mounting bracket to that and then bungee tied the board to a ledge on my deck. The PRO+ should be installed away from anything that could obstruct rain or wind. The higher you locate it the better.  Also, the solar panels should face south to properly orient the wind direction.
My pseudo installation is only about 6 feet off the ground. I plan to relocate it to a permanent location soon. But for review purposes, this setup worked fine.
Once the batteries were loaded and I placed the unit outside, I checked the devices page in my AcuRite account and noticed that it automatically detected a new device. I clicked the + sign to add the PRO+ 5-in-1 and it began showing data within minutes.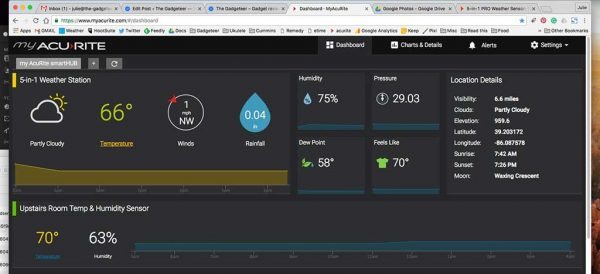 The dashboard view shows basic information for each sensor.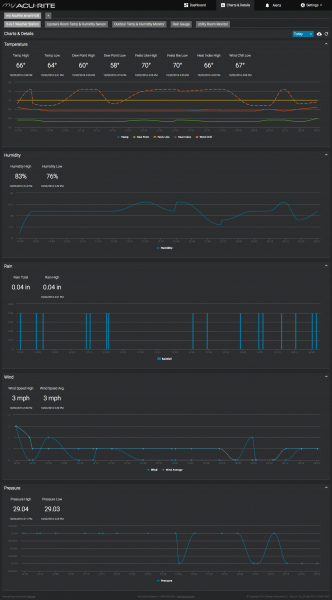 The detailed view of the web client will let you drill down into graphs that show daily, weekly, monthly, year and all time data measurements.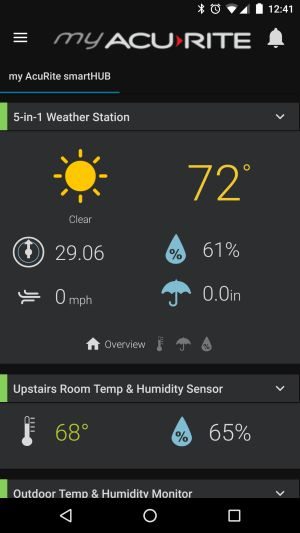 The mobile app shows the same data just in a smaller view.
Final thoughts
The AcuRite PRO+ 5-in-1 Weather Sensor is an easy to install weather station that includes sensors for all the necessary weather data that you'd want to collect, from rain and wind, to temperature and humidity. It syncs with AcuRite's smartHUB and the data can be shared as a community weather station through Weather Underground, which is a very cool feature. Now I have a full fledged weather station at my house. AcuRite weather gadgets get two thumbs up from me!
With the PRO+, I now have a full-fledged weather station at my house that I can access from anywhere using a computer or my phone. AcuRite weather gadgets get two thumbs up from me!
Source: The sample for this review was provided by AcuRite. Please visit their site for more info and Amazon to order.