We use affiliate links. If you buy something through the links on this page, we may earn a commission at no cost to you. Learn more.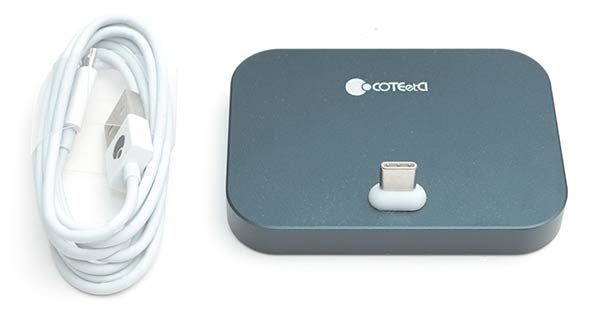 Since switching to the Nexus 6P last fall, I've gone from charging with the included Type-C cable, to charging wirelessly using a Qi wireless patch from Astore. The wireless patch worked fine and allowed me to use my existing Qi chargers, but left the Type-C port on the phone unusable and a little plastic bump sticking out from the phone. So after a couple months charging my Nexus 6P wirelessly, I decided to go back to the stone age and start plugging in again. But I wanted something a little more elegant that just a cable, so I went shopping for a dock. There aren't a lot of Type-C docks on the market, but I'm sure that's going to change very soon now that other phones are adopting that style port. I ended up purchasing the COTEetCI Type-C Smart Phone Charge Base. Let's see if it's Gadgeteer worthy.
What is it?
The COTEetCI Type-C Smart Phone Charge Base is a USB Type-C charging dock for devices that have a USB Type-C port like my Nexus 6P.
What's in the box?
Charging base
micro USB cable
Design and features
I like products that are designed with simplicity in mind. This dock follows that style. It's basically a solid block of aluminum with a USB Type-C connector sticking out of the top and a non-slip silicone base to keep it from sliding around on your desk.
The dock comes in various colors, but I chose the gun black version, which looks more blue than black and has a smooth matte finish.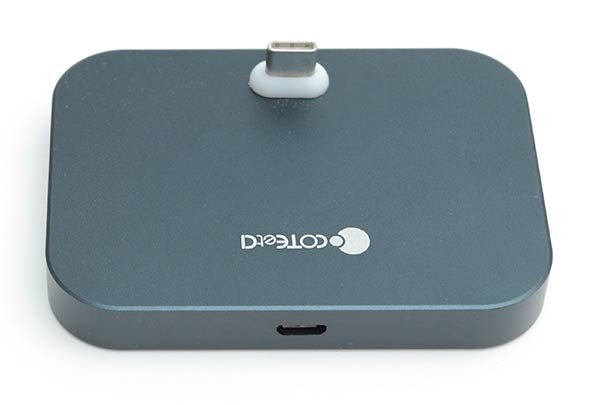 There is a micro USB connector on the back which is a little confusing since this is a Type-C charging dock. You can connect the included micro USB cable to an open USB port on your computer or you can plug the cable into a USB AC adapter. A AC adapter is not included with the dock. If you have a QC (quick charging) adapter, you can use that with this dock for faster charging. My only QC adapter is the Type-C adapter that came with my Nexus 6P, so I wasn't able to test this feature because it has a Type-C connector and not a USB A connector.
I love the very minimalist look of this dock as it takes up very little space on my desk. The Aluminium dock is heavy enough to stay in place on your desk, but it's not heavy enough to allow you to remove your phone with only one hand. I'm considering using a 3M Command strip or some other adhesive to attach the dock to my desk.
Inserting my Nexus 6p hasn't been a problem. The connector is raised enough so that you should be able to use this dock even if you use a thick case on your device.
Does it work as advertised?
I just received the dock last night, but so far it's working as I would expect it to work. My Nexus 6p charges normally, although slowly since I don't have a QC AC adapter. I need to buy one of them next.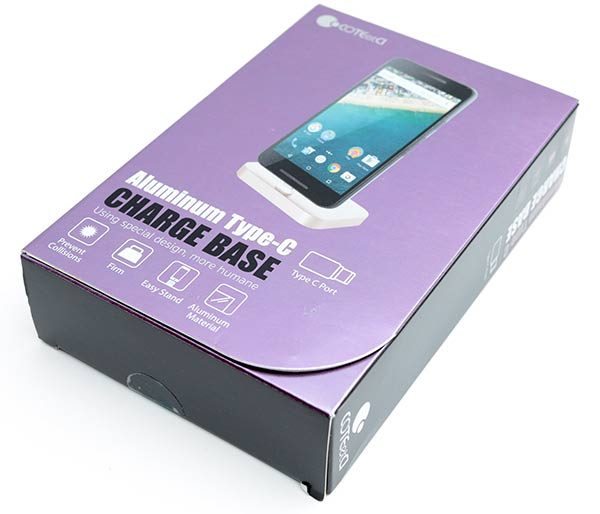 Just for laughs, I'm including an image of the charging base packaging.
Using special design, more humane, prevent collision, firm
I'm all for humane treatment of charging bases and I hope you are too. 🙂
Final thoughts
The COTEetCI Type-C Smart Phone Charge Base is a simple charging dock for devices that have a Type-C connector. It takes up very little space on my desk and has a minimalist design that really appeals to me. Other than the fact that the dock doesn't come with an AC adapter, I like it quite a bit and give it a thumbs up.
Updates 08/22/16
It's coming up on one month of using this charging dock and I'm ready to ditch it for a cable. The comments that were left below were right about the design putting stress on the Type-C connector in the phone. My phone hasn't been damaged, but the more I used this dock the more frustrating it became because I would need to use two hands to remove the phone from the dock. Using a cable is much easier. So this dock is actually a fail in my opinion…
Source: I purchased this item with my own funds. You can buy one on Amazon.
Product Information
Price:
$18.99 - $21.99
Manufacturer:
COTEetCI
Retailer:
Amazon
Requirements:

Device with a Type-C port

Pros:

Minimalist design
Can be used even if your phone has a thick case

Cons:

Doesn't come with an AC adapter
Have to use two hands to remove the phone