We use affiliate links. If you buy something through the links on this page, we may earn a commission at no cost to you. Learn more.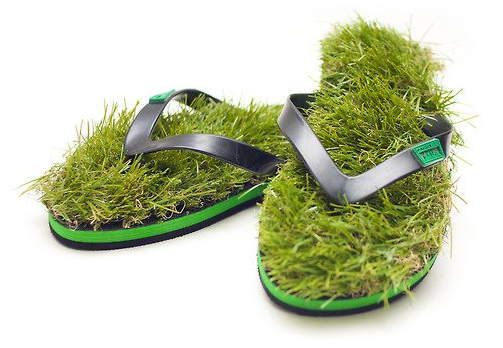 Can you remember what it felt like to run through the yard with no shoes and socks on your feet when you were a little kid? I thought I was the fastest runner in the world when I ran barefoot. Yeah, I wasn't… But feeling the cool grass between my toes made me feel different. Faster. Freer… Now that I'm an adult, the only running I've done recently was to the bathroom during my last colonoscopy prep. Too much info? Sorry 😉
When I happened to see these grass flip flops this morning, I had to check my calendar to make sure it wasn't April 1st. It's crazy, but there are several brands of these sandals that feature a fake grass footbed that is supposed to mimic the feel of soft refreshing grass between your toes. You get all the foot loving nature feels without all the lawn mowing effort.
The synthetic turf flip flops are available in sizes for children and adults and are priced from about $20 to $40 per pair. Check Amazon for more info.