We use affiliate links. If you buy something through the links on this page, we may earn a commission at no cost to you. Learn more.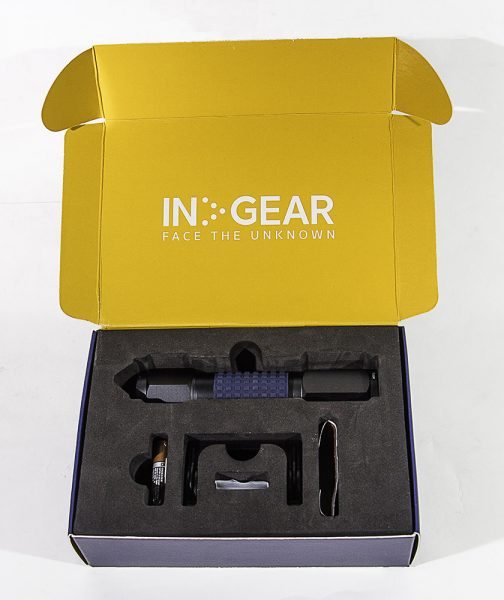 As a driver, it's your duty to be a safe one, and your job to avoid accidents. But what happens when you do get into an accident? Are you prepared for it? Can you make it out? No one wants to get into an accident, but they happen to the best of us.
Being prepared in an accident can be the difference between life and death. Or at least a trip to the hospital. The AutoXscape 1 from INGEAR is a small handy emergency escape tool for your car. From simple roadside emergencies like using the flashlight at night to more serious situations like being trapped in a disabled car after an accident, this is a handy tool to have. The Auto Xscape 1 is an automotive emergency escape tool that has features such as a glass window punch, a seatbelt cutter, and an LED flashlight. With these features, this is a great asset to have in your car in case of an emergency.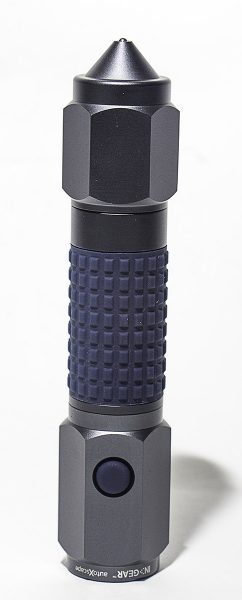 The body casing is made from Aerospace aluminum 6061 – T6 so its construction is impact resistant, waterproof and also has a Type 2 hard anodized CNC precision finish. It has a waterproof rating of IPX-7. According to the IPX-7 standard, it can be protected against water immersion for 30 minutes at a depth of one meter. So, using the AutoXscape 1 in the rain or dropping it in a puddle should be no problem. The INGEAR AutoXscape 1 is 6.2 x 1.2 inches in length and weighs just 5.9 ounces.
On one side of this escape tool is a certified IPX-7 waterproof Cree  XP-E2 LED flashlight with a 135 lumen light output. There are 3 light settings all together. Press the Power button and you get the first setting, which is the brightest of all the lights, and is your standard flashlight. Press the button again and you'll get a lower light setting of 50 lumens. Press a third time and you get a flashing S.O.S. strobe. InGear kept the highest lumen setting at only 135 so that you can get a long battery life out of the AutoXscape. However, I like bright flashlights. The brighter the better. So, maybe another model with a much higher lumen would be a cool addition. But at 135 lumens it is still bright enough for the average person.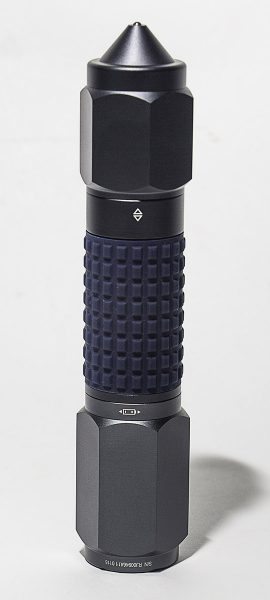 At 135 lumens you can get around 4 hours and 15 minutes of battery life and at 50 lumens you can get about 20 hours of battery life. With the S.O.S. feature, you can get about 28 hours of battery life.
The power button has a nice feel and click to it. To cycle through the lights was easy to the touch and I actually like the clicking sound it made. Weird I know, but not any weirder than the joy of popping bubble wrap I guess.
To turn off instantly in any mode just hold the power button down for 1 second.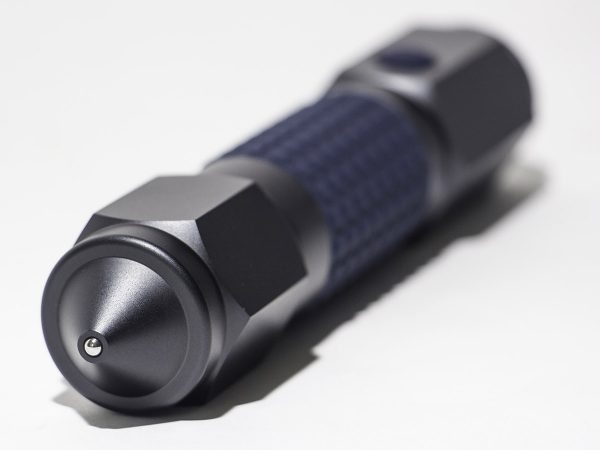 Opposite the flashlight is a hardened steel ball tip. This is used to shatter the car's windshield or any window, should you need it. According to the manual, the proper areas to shatter side or rear windows are in the corners.
With a simple pull of the rear cap, you will reveal a secondary hammer with a much stronger Tungsten steel ball tip.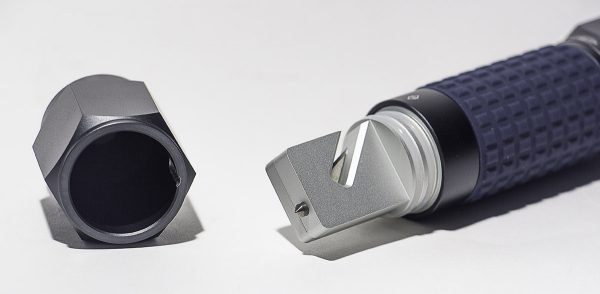 Directly under this Tungsten hammer tip is a SK2 high-carbon steel blade seat belt cutter. In times of an emergency where you can't get your seat belt off, this is the right tool to have with you. The steel blade can slice through the woven seatbelt material. Just slip the seatbelt cutter over a piece of the seatbelt, grip the seatbelt and pull the AutoXscape 1 at a diagonal to properly cut.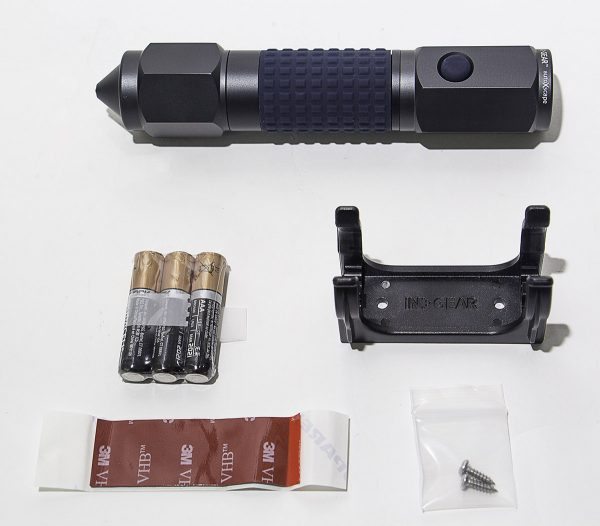 Included in the package is a mount to hold the AutoXscape 1, a 3M tape for the mount, 2 screws for the mount and three Triple-A batteries.
I like that InGear included the batteries necessary for the AutoXscape 1 one to power on. There's nothing more annoying than getting something home and then not being able to use it because you don't have the batteries for it. So, InGear basically allows you to start using the flashlight right away. And they don't throw in the cheap batteries either. InGear provides the name brand Duracell batteries for you.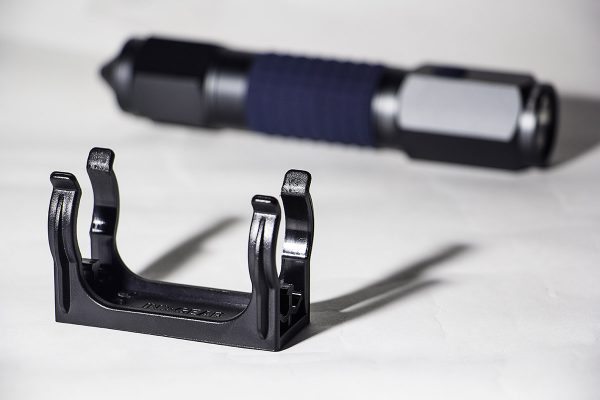 The mount clip is useful if you should want to keep the AutoXscape 1 within arm's reach while it's in your car. Apply the included 3M tape to the back of the mount and stick it anywhere in your car where you can reach it in case of an emergency. But if you don't want to stick it anywhere on the inside of your car, the glove box or the center console of your car is an ideal place to keep it. Wherever you decide to store it just make sure you can get to it easily and quickly.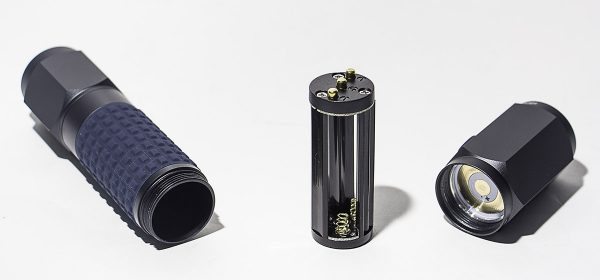 One thing that I really liked about the AutoXscape 1 is the compact size of it. Unlike some emergency window hammers that are bulky and shaped like an actual hammer, the AutoXscape 1 is small enough to be carried in your purse, small bag or backpack.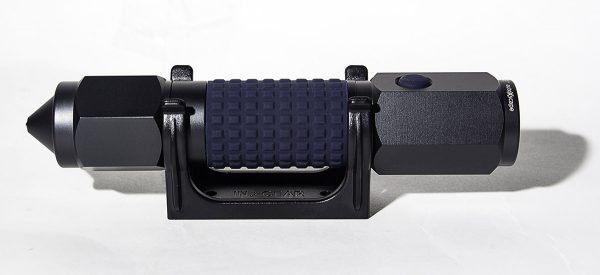 Let's hope you never get into a car accident and have to use the window hammers or seatbelt cutter of the INGEAR AutoXscape 1 emergency tool. However, it is a sense of security and peace of mind to have it in your car. Let's face it, accidents happen. It's not being prepared that can make a difference between life and death. And like the saying goes, "the life you save could be your own."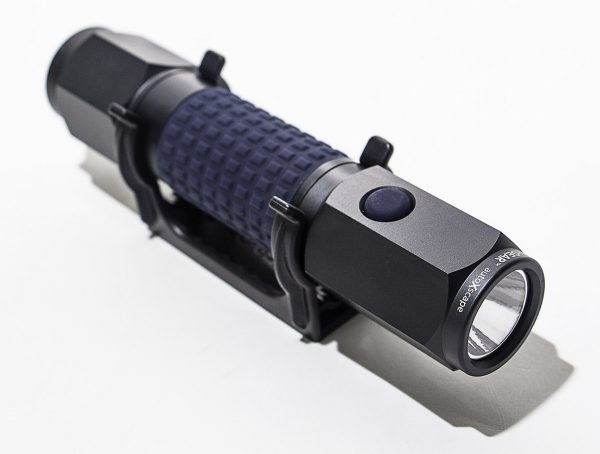 Source: The sample for this review was provided by INGEAR. Please visit their site for more info and Amazon to price check and order.