We use affiliate links. If you buy something through the links on this page, we may earn a commission at no cost to you. Learn more.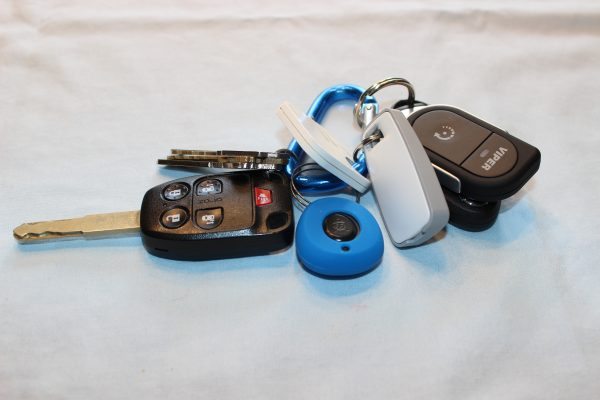 I'm a huge fan of home automation. Several of the lights in my house are programmed to turn on when a person walks in the room, turn off when there is no longer motion, or turn off at a specific time.
Although I love my setup, some of my lights can only be turned on or off through an app on my phone. While this usually isn't an issue, sometimes my phone is dead, in another room, or misplaced. On those occasions, I could use an easy way to turn my lights on and off.
Enter the Pebblebee stone, billed as a "Swiss Army Button", the Stone is a "Bluetooth-enabled device that let's you easily program shortcuts to everyday tasks through an easy to use app".
Will the Stone be the solution I've been hoping for?
The Stone is a small object with a single button on one side. Above the button is an LED light that illuminates when the Stone is pressed.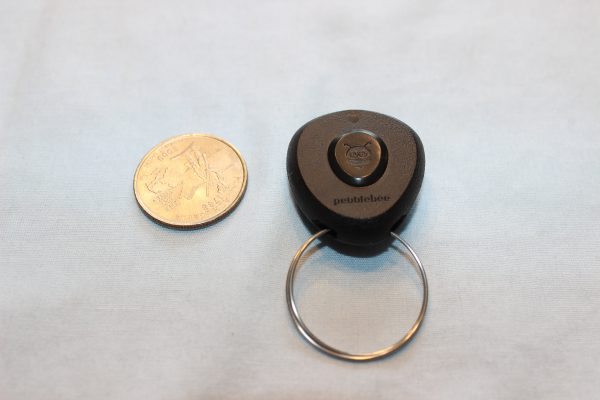 It is slightly larger than the diameter of a quarter.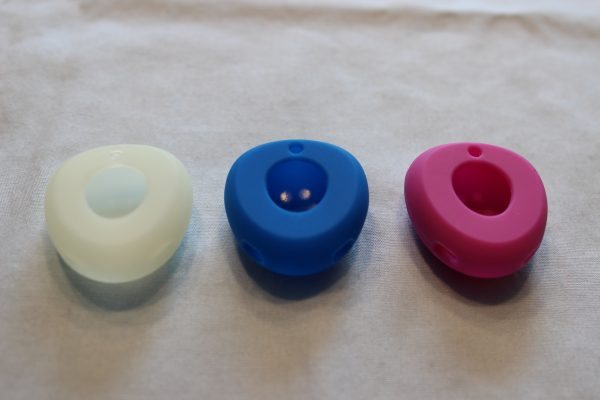 The Stone comes with three rubbery cases to help protect it.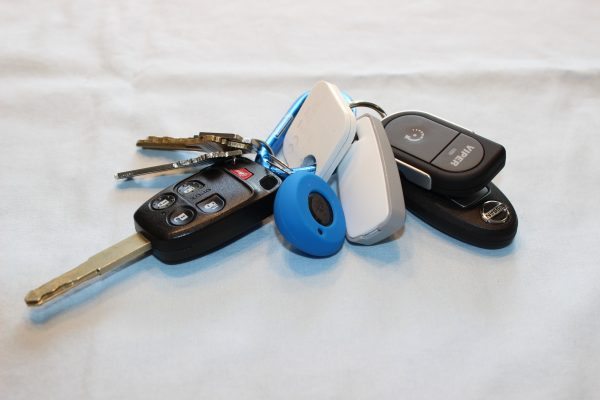 It fits in rather nicely with my already cluttered key chain, without adding additional bulk.
The basic premise of the Stone is that you can use the button to have your phone perform tasks like sending texts, making calls, locating your phone, etc.
The Stone uses Bluetooth to communicate with your phone; it is also equipped with a motion sensor and temperature gauge. It has a replaceable battery, but still remains water resistant.
To use the Stone, you download the Pebblebee app from the Google Play store or iOS App store.
After opening the app, you register a new account and then follow the instructions to pair the Stone with your phone. You can sign up by manually entering your information or you can sign in through Facebook.
I originally used Facebook to sign into the app, but it ended up causing an issue that I'll go into later; I then created an account manually.
Once you pair the Stone, you can select it within the app and adjust your preferences.
You can change your Stone's name, choose to have the app alert you when you're out of range/within range, set up temperature and motion alerts, and mark the Stone as lost.
Now that your preferences are set, it's time to create some tasks.
Tasks can be initiated two ways, by pressing the button or by a press-and-hold. Both ways have access to the same functions.
The basic functions you can do are: sending a text, making a call, taking a picture, sounding an alarm, and triggering a URL request.
Setting up the functions is easy, you click the one you want to use and it expands to reveal any options available.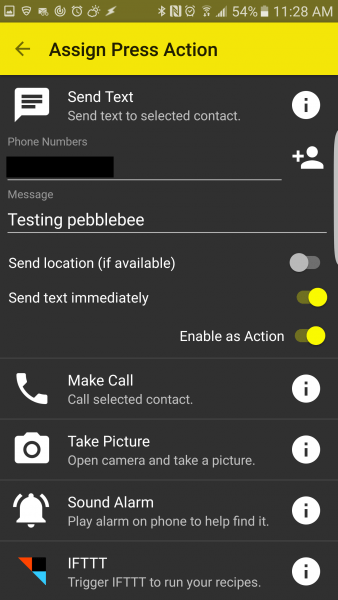 For example, clicking the "Send Text" function reveals an option to select the number you want to text and input a message. You also have the option to send your location along with the text and decide if you want the text sent immediately.
If you don't have the "Send text immediately" function checked, the app will open your messaging app to the correct contact and enter your message, but won't send the text.
Once everything is set properly, you click "enable as action" and your Stone is ready to go.
While all the above are potentially useful functions, what really makes the Stone exciting is its ability to work with IFTTT.
For those not familiar, IFTTT is a service that allows you to create "recipes" between hundreds of applications, including, Facebook, Gmail, SmartThings, Google Drive, and Philips Hue. The recipes are "if this than that" functions. One example IFTTT provides is "If Pebblebee Stone is pressed, mute Android phone."
To use the Stone with IFTTT you have to go to their website or download their app, and create an account.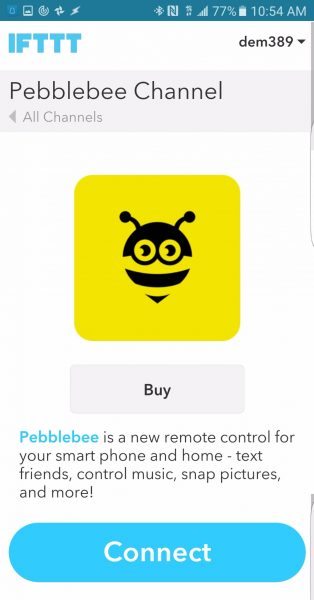 After you create an account and log in, you search for and select the Pebblebee channel from IFTTT.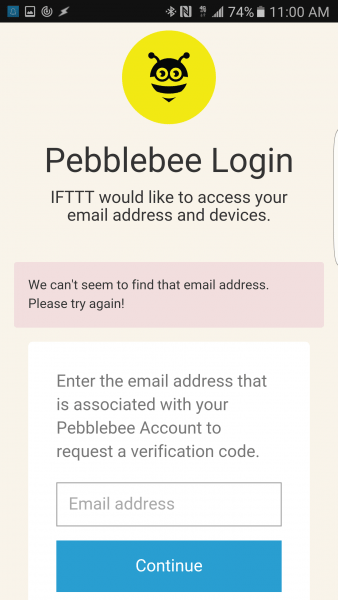 Next, you connect the two accounts by entering the address you used to sign up with Pebblebee. This is where I ran into a problem.
As I said earlier, I originally used Facebook to sign up with Pebblebee. I'm not sure if it was an issue with Facebook or Pebblebee, but when I tried to log into Pebblebee, IFTTT kept saying my email address wasn't valid. I had to log out of the Pebblebee app and create an account manually before I was able to connect the two accounts.
The next step is to create a recipe for the Stone to use; this is a simple process.
First, you select a trigger, this is the "if" part of the statement. In this case, we are selecting the Pebblebee channel for our trigger. The IFTTT app is then going to present a list of available actions that can serve as a trigger; in my case the only available action was a "Stone press". The app will then ask you what Pebblebee device you want to use and whether you want the trigger to be a single press or press-and-hold.
That's all there is to selecting a trigger.
Now you're going to want to select an action to perform.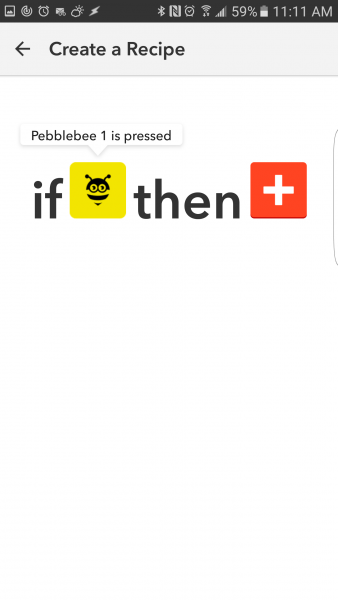 To do this click on the red plus sign. This is where the fun begins.
IFTTT has 318 channels available, a small handful of which are seen above. Now not all of the channels have "actions"; some like Amazon Alexis are only trigger channels, but there is a plethora of action channels available.
You can see all the available channels here.
I was excited to use the Stone because of IFTTT's integration with SmartThings, my smart home hub. I chose it as my "action" channel with the intent to have the Stone turn my family room light on and off.
To create that action, all I had to do was go to the SmartThings channel, select the action I want to perform, and choose the device I want to control.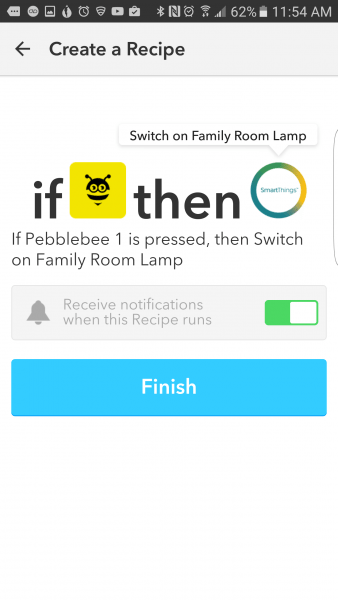 Once you've selected a trigger and action, you select whether you want to be notified by IFTTT when the recipe is ran and you're ready to go.
For my purpose, I set the quick press to turn on a light and the press-and-hold to turn off the light.
So the big question is how well does the Stone work? In my experience, the answer is….inconsistently.
When you quick press or press-and-hold, the LED on the Stone flashes to indicate it is communicating with your phone. When your phone receives a signal from the Stone, a toast notification pops up (on Android, I don't know about iOS) saying what function is being ran.
Every time I pressed the Stone, the LED would flash; however, it wouldn't always perform a task. Sometimes, I would press it and I would see the toast notification immediately, and the Stone would perform the selected task, but more often than not, it would take multiple presses.
In the video above, a quick press was set to send a text to my phone saying "Testing Pebblebee".  The first time it took two presses to send the text, the second time it took four attempts.
I ran another test on the Stone, this time it worked on the first press, but took seven attempts the second time.
This was the same with the press-and-hold trigger and with all the available functions, including IFTTT.
All the other functions with the Stone, the range finder, the motion sensor, the temperature sensors, all worked perfectly fine.
So my dilemma is whether to recommend the Stone or not. Normally, I would say stay away from anything that doesn't work as promised, but I really love the idea of the Stone. I'm a huge fan of IFTTT and am intrigued by the idea of being able to trigger recipes from my key-chain.
The Stone is only $30, it's one of the more affordable items I've reviewed. If you're as intrigued by the idea of the Stone as I am, I'd say go for it. Even though it sometimes takes several presses to trigger an action, it only takes a few seconds to make those presses; you could still use it to save yourself time and energy.
Source: The sample for this review was provided by Pebblebee. Please visit their site for more information and Amazon to order.