We use affiliate links. If you buy something through the links on this page, we may earn a commission at no cost to you. Learn more.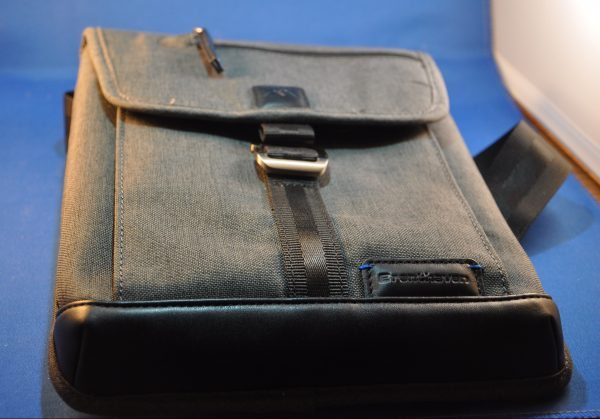 Hello, my name is Smythe, and I'm a bag-a-holic. I know I've come to the right group, because you all have far more bags than you can use in a month, don't you? Well, my current bag habit has brought me a bag from veteran bag makers Brenthaven, in their Collins line of messenger bags. I purchased this on a close-out for the normal iPad size (9.7″), and see that they have updated the line for the larger iPad Pro. I'm on the fence about getting a new one, but thought you folks would like a quick review of the product, nonetheless.
Note: Photos may be tapped or clicked for a larger image.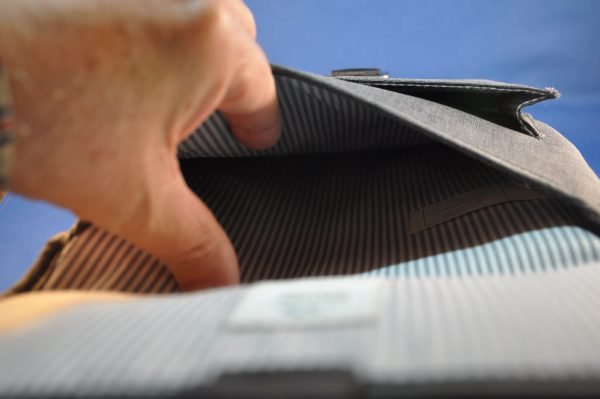 All Collins bags are made from a linen-textured fabric with leather accents. The webbing strap is 1.5″ black nylon, but rougher than seat-belt quality. At 11″ x 9″ x 1.25″, you're not going to fit a lot into this bag, but the contents are going to be well-protected. There are four compartments: a main compartment that will hold a standard-sized iPad in just about any case you'd like to put it in; a front velcro-sealed accessory pocket under the flap with a few pen loops and card slots; a rear slash pocket that is the size of a standard iPad with no padding at all; and a zippered flap pocket that is too small for a modern iPhone (6/6s or 6/6s plus). The 5/5s/5c/SE models will all fit without a problem.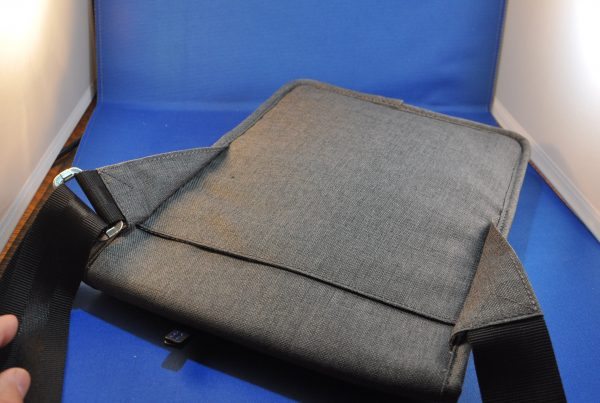 The strap is sewn in, but adjusts to a length of 57″, not counting the width of the bag. I'm a pretty large guy, and have over a foot of slack doubled up when I carry it cross body. The strap ends are sewn to angled tabs of fabric that make the satchel hold to your body tightly. When I carry it, it usually ends up on my back, right over my left rear pants pocket. It's very easy to pull around and get to whatever items I need.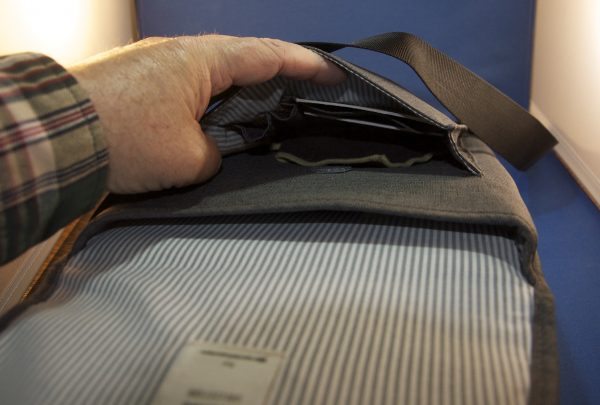 There is no haul loop, and no padding on any pocket except the main one, but that one is padded on all sides by thick layers of closed-cell foam. The bottom of the bag is also fully covered by a smooth leather to give more protection to your tablet.
Given the sizes of the pockets and the thinness of the bag, this is not something that you're going to use as your everyday carry bag that has your spare battery packs, every cable used in the last ten years, and all operating systems on two different media, along with a recent backup of your device data. This is going to carry your iPad/tablet, maybe a stand (I carry the TwelveSouth Compass original version, also purchased with personal funds), and a power supply/cable. With these items, you can take a flight and not need your jet-way-checked bags, or spend the afternoon working in a café. It's basically a way to get around without having to carry your iPad and stuff in your bare hands. If you're a minimalist, there is a certain Zen of only having this limited set of tools. It's like a golfer taking only a 5 iron, a 2 wood, and a putter on a round of golf – if you're good, and know your tools, you can get along pretty well with just the basics. Your shoulder will thank you.
Source: The sample for this review was purchased with my personal funds. Please visit Brenthaven for more info and Amazon to check prices / order.
Product Information
Price:
MSRP $60 - available now in larger size at same price
Manufacturer:
Brenthaven
Retailer:
Amazon
Requirements:

Thin tablet/notebook and accessories to carry

Pros:

Well-made of quality materials
Great design for a single-device bag
No extra pockets to fill with little things that just add weight

Cons:

Tight fit for more than an iPad in a case and a few cables
Strap doesn't remove, for clipping around chair or barstool
No haul loop