We use affiliate links. If you buy something through the links on this page, we may earn a commission at no cost to you. Learn more.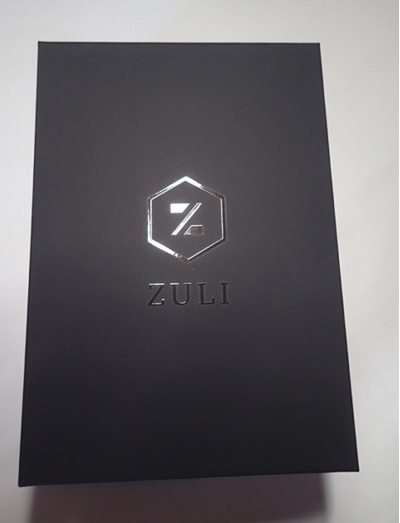 The Zuli Smartplug Presence 3 Pack brings a new feature to the smart plug genre; they call it "Presence". Simply put, after configuring the Zuli Smartplug, all it needs is your presence, or more accurately, your iPhone's or iPad's presence, to activate a light or appliance.  When you leave the room the Zuli Smartplug will toggle off after the selected 5, 10 or 20 minutes.   The Zuli Smartplug is even supposed to get smarter and adapt to your habits over time.
In addition to the Presence function, Zuli Smartplugs include timer, dimmer and energy monitoring functions.
The timer function allows each Zuli Smartplug to be set up for multiple on/off events during the day or night for any or all days of the week.   Devices plugged into the Zuli Smartplug are identified as an Electric Device (TV, toaster, heater, speaker, etc), a Non Dimmable Light or a Dimmable Light.  Dimmable lights can only be adjusted from the Zuli app.
The Zuli Smartplug Presence Pack is delivered beautifully packaged in a matte black box with the shiny logo and simple "ZULI" name.  Opening up the box displays the simplicity of the 3 clean-lined white smartplugs. It is all very elegant and Zen.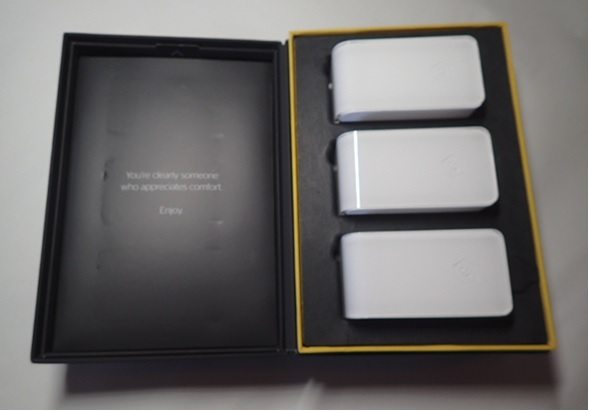 I thought one of the nicest aspects of the Zuli Smartplug is the lack of instructions. I try to avoid instructions anyway, so this allowed me to dive right in without guilt. The only instruction included in the Zuli Smartplug box is this: "Start by installing the Zuli App at zuli.io/download".  That's it. The App then walks you through the entire set up process.

It's hard to mess up. Zuli Smartplugs do not rely on WiFi so there is no router configuration to mess with.  The entire set up and proximity sensing is done through your iOS device.
During the set up process the Zuli icon on the Smartplug glows and blinks acknowledging communications with your iPhone.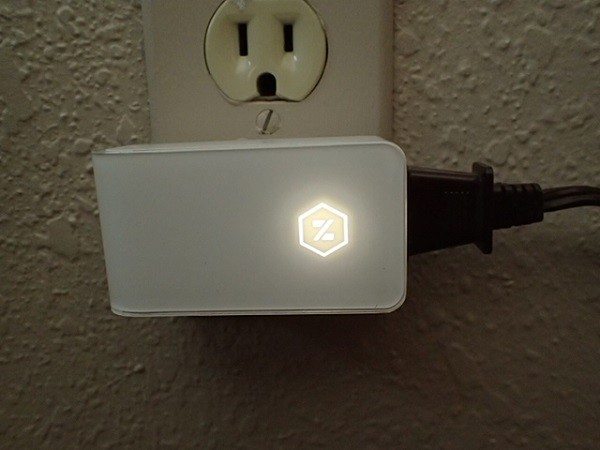 I've had my Zuli Smartplugs set up and running for 10 days now.  I can't tell if either they, or I, have gotten any smarter, but my lights come on and go off according to my timer schedule.  A drawback with the Zuli Smartplugs is that you have to be "In Range", for the app to control or to view the status, which, if I'm in range, it seems I could just as easily look at the light or appliance to tell if it's on or off.  When you are out of range, the status just shows as "Out of range" and you cannot open, configure or control the plug.  In my house, adjoining rooms were in-range, but a room or two over, my street-side mailbox and the back yard were all out of range. Viewing the status of the plug while away from home is not part of the design.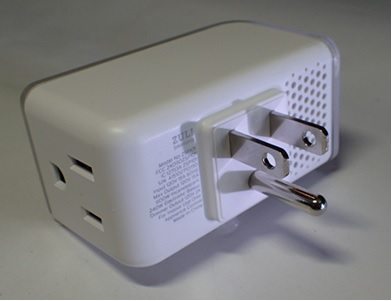 While the Presence feature is interesting, I'm not sure how useful it is in a home setting.  Zuli Smartplug Presence won't work unless you have your iPhone with you when you walk into and out of the room and I don't generally carry my phone with me room-to-room while at home.  Plus, if my phone is in a pocket, it's just as likely to be day as night and I don't want my lights to go on in the daytime. Possibly in an office setting where some rooms have no windows it might make more sense.  Another drawback I found was setting up the Zuli app on multiple devices.  Changing the Zuli plug device name, IE; "Desk Lamp" or "Spotlight", would change it only on the one device. A secondary device retained the name it was originally set up with.  This could be seen as inconsistent or as allowing personalization, it just depends on your viewpoint. The Presence function must be set up for each iOS device. The timer function, set up once, is automatically available to view or change on other iOS devices.
For the Zuli Presence feature to work, your iPhone Location Services for the Zuli app must be set to "ALWAYS on".  Location Services allows apps and websites to use cellular, WiFi, GPS and Bluetooth information to determine your approximate location. While testing the Zuli Smartplugs, I kept my iPhone "Location Services" for the Zuli app on for the day.  Toward the end of the day, the Zuli app had the highest battery percent usage by far more than double the next highest app.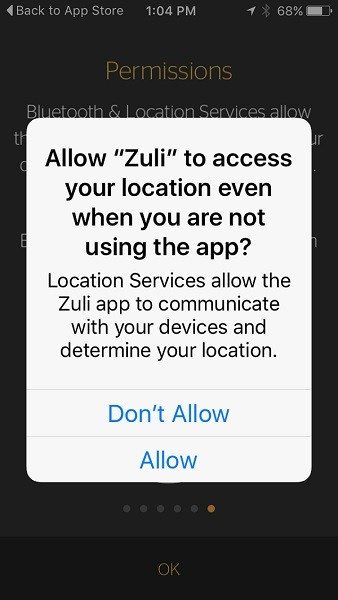 If you don't have your iPhone with you and want to turn the light on manually, there is a small button on the left side of the plug that will turn on the power.  However, if your Zuli Smartplug happens to be behind a sofa that may not be convenient, especially in the dark.
Another feature of the Zuli Smartplug is the ability to monitor the energy usage, estimated monthly cost, estimated active time and carbon footprint of the device plugged into it. Since almost every light in my house has been changed to LED, the usage, cost, and footprint of any individual light is negligible.  Though, this could be a useful feature if a garage refrigerator was plugged into it.  I might try it on mine. I've been feeling guilty about  that fridge, so it'd be nice to know if my guilt is warranted.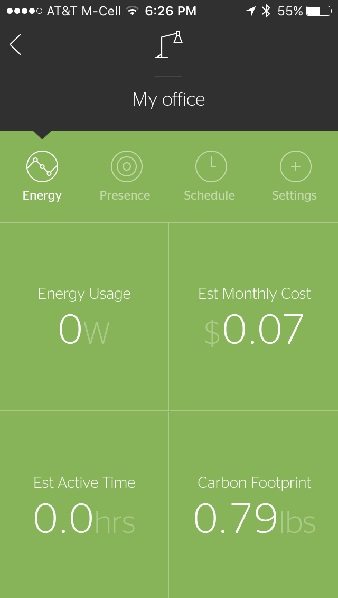 According to the Zuli website, the Zuli app will work with the Nest thermostat (a Google product) and Hue LED lights (Philips).  I don't have either, so I couldn't test that.  As more home automation products become available, Zuli may be able to update their app to be compatible.
In conclusion, the Zuli Smartplug stands out from the crowd with its "Presence" feature and its energy monitoring.  If these are things are import to you and that fit your needs and lifestyle, then this would be a good choice. For me, the timer feature is important and that works well. I want my lights on when it's dark and to stay off when it's light, whether I'm there to do it or not. Zuli does a good job with that.
Updates 05/02/16
Zuli Smartplug announced an update on April 19, 2016, that specifically addressed the concerns I had in my April 3, 2016 review. That was quick! Or was it coincidental? In any case, they listen to their customers!
The problem of excessive battery use has been fixed. It still shows on my battery usage screen, so I know it's working, but in range with my other low usage apps. Whatever they did to fix it, they nailed it.
The other problem that bothered me was Zuli Presence would switch my lights on during the day. Zuli Presence is designed to detect your iPhone's entry to the room and automatically switch the light on. I don't want my lights on when the sun is shining. The app has been updated to include an option they call "Presence Evenings". This allows me to choose to have the lights come on when I enter a room only after sunset and before sunrise.
For the new features to work the Zuli Smartplug app update must be downloaded and the Presence feature must be recalibrated for each room. But that's easy and absolutely worth the few minutes.
I'm always impressed when a company is so responsive
Source: The sample for this review was provided by Zuli. Please visit their site for more info and Amazon to order.

Product Information
Price:
$159.99 Presence 3 Pack on Amazon ($139.99 Amazon Prime)
Manufacturer:
Zuli
Retailer:
Amazon.com
Requirements:

Standard 120V North American outlet
Internet access for setup
Zuli app from App Store
iPhone 4s or later and iOS 7.1 or later (app not available for Android)
Zuli Presence requires a minimum of 3 Zuli Smartplugs

Pros:

Easy Bluetooth connection setup
The outlet is easily accessible on the side
No instructions to read, the app walks you through set up
The Zuli Smartplug units are sleek and attractive
Multiple timing events are easy to set up
Energy monitoring function
Easy manual override, if the plug is accessible

Cons:

Must have at least 3 Zuli Smartplugs for the presence feature to work
"Presence" will turn lights on in the daytime
No remote access
Location Services must be "Always On" for the Presence function to work. This will affect battery usage.
Android devices are not supported