We use affiliate links. If you buy something through the links on this page, we may earn a commission at no cost to you. Learn more.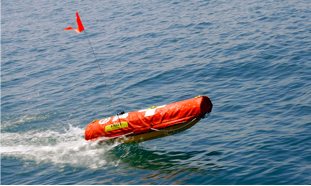 Have you or someone you know ever been caught in a rip current while swimming on the beach? If so, you know that it can carry you out toward deep waters surprisingly fast. To get out of the rip current you are supposed to swim parallel to the shore then swim toward the shore; but if you are not a very good swimmer and need additional help you might find yourself being aided by Emily, an Emergency Integrated Lifesaving Lanyard.
Emily is a
4-ft long remote controlled buoy [that] can cruise through rip-currents and swift water at speeds up to 22 mph to reach distressed swimmers faster than human lifeguards… Designed to race through heavy surf, EMILY has proper balance for quick self-righting performance. The deep, 22 degree hull is designed to track straight during wave breaching. Highly durable, EMILY will survive impact at full speed or in surf with rocks, reef, or pilings. Use EMILY to provide flotation until a rescuer arrives, deliver life jackets, or pull a recovery rescue line up to 800 yards through strong currents and large surf."
It is a useful device for rescue personnel on pier or dock locations, safety on cruise ships, and rescue teams in flooding situations. Emily can be dropped from helicopters as well to rescue those stranded out at sea. Since it is remote controlled, it also helps to minimize the risks taken by rescue teams. Emily is made of a Kevlar reinforced hull, has a "jet pump with inlet grate, no propeller or rudder to harm the victim or catch on rocks or sand", and is 50″ long with one kilowatt of power.
Emily is currently being used around the world and has even recently provided life-saving assistance to refugees from Afghanistan in the Mediterranean (according to NPR). To find out more information about this wonderfully innovative device, please visit the Emily website. If you are interested in purchasing one, you will have to fill out a form to obtain the current pricing.