We use affiliate links. If you buy something through the links on this page, we may earn a commission at no cost to you. Learn more.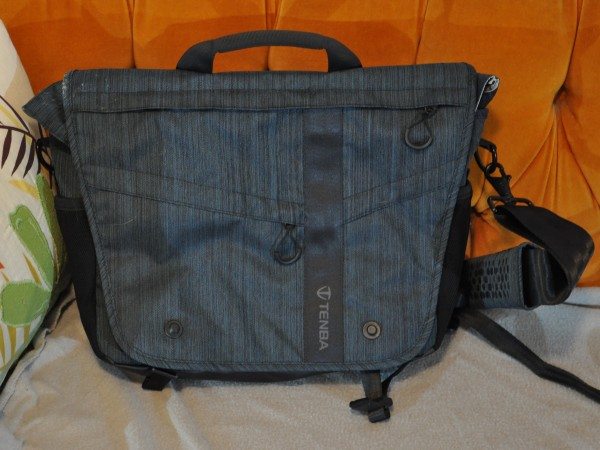 Photography tools have changed considerably over the past fifteen years. Used to be, you had to have a large camera body, many varied lenses, and dozens of filters, flashes, and meters to capture the perfect photo. True photogs shot on film, so there needed to be a place to hold unexposed rolls and exposed rolls. While this is still true for a small percentage of the photographing population (minus the film holders for those not just being nostalgic or artistic), for many of us, we're moving towards smaller mirrorless cameras, a few good lenses, rather than a huge assortment of them, and usually a laptop or tablet for photo editing/distribution or post-production work. Tenba, a long-time producer of photography-centric baggage, has created a great bag that can operate as a pro camera bag for a moderate kit, or an overnight bag for those who need a bit of bulkiness and a laptop or tablet digital workstation. They call it the DNA 13 bag, and I was sent the Cobalt color to test.
Note: Photos may be tapped or clicked for a larger image.
YOU'LL ASLO LIKE: Peak Design Everyday Messenger bag review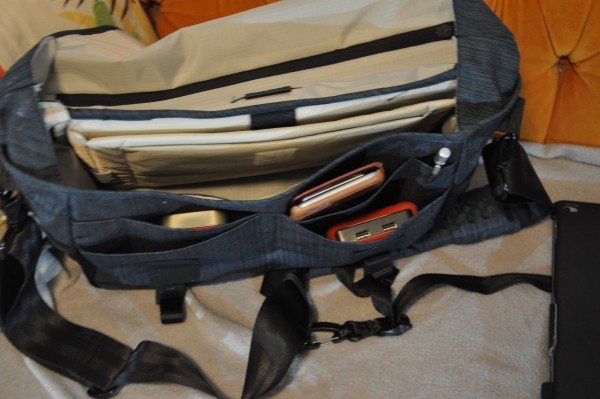 On first glance, this messenger-style bag is just that: a messenger bag with a padded strap, an attachable stabilizer band, and weatherproofing on all entry points. Typical bike messenger gear. But, open the flap, and you'll find an adjustable maze of padded, velcro-secured dividers that enable a photographer to carry a mirrorless system with 3-4 lenses, or a full-sized dSLR system with 2-3 lenses and flash attachments, as well as a tablet or laptop up to 13″. If you'd rather have more flexible space, you can easily remove the foam interior structure to have an open messenger bag with a few side pockets for your laptop and/or tablet. Let's start from the outside and work our way inwards.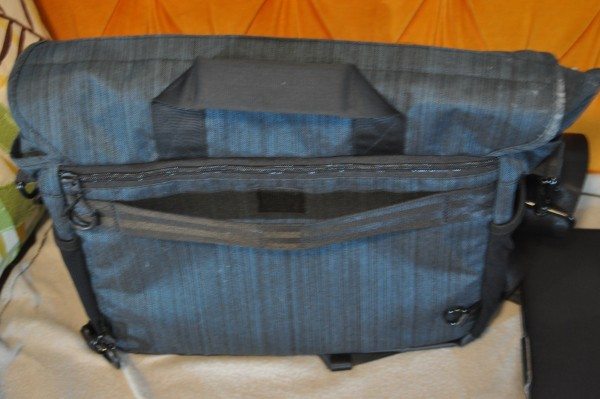 The outer shell is a 600 Denier water repellant fabric, with a fully waterproof bottom. The bottom is a Tenba signature, made from body armor material.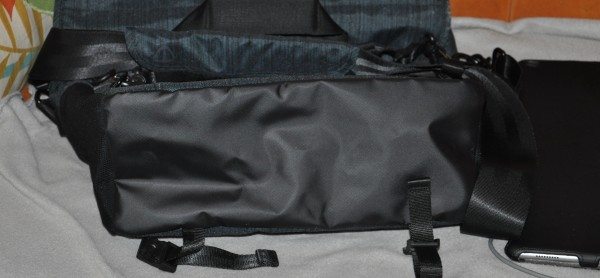 A slash pocket on the front flap will hold most smaller phones, with a zipper pocket on the other side to hold larger phones, access passes, or a tin of mints. The front flap is held closed by two swatches of "stealth velcro", as well as a side-sliding button and tab closure. The stealth feature of the velcro makes opening the bag almost silent. You pull down before lifting the flap away from the body of the bag, and the hooks release the pile fabric completely. It's a nice way to not announce your presence to that herd of rhinos you're stalking, or the snipers above the street where you're covering urban fighting. (Works in quiet offices and lecture halls as well, but doesn't quite make the same ad-copy impact.) In addition, there are Fidlock magnetic snaps that secure the flap quickly and are adjustable.
There is a rear zippered pocket on the back that holds documents, pens, or flat items over most of the rear of the bag. A "trolley band" allows for sliding the bag over the upright of roll-aboard luggage handles. A padded grab handle sewn in above the rear pocket prevents the front from flapping open, in case you failed to fully close it. There's even a front full-length covered zipper to allow access to the inside without having to open the flap. Great for grabbing your camera or a different lens while on the move, or if you don't want everyone to see into your kit.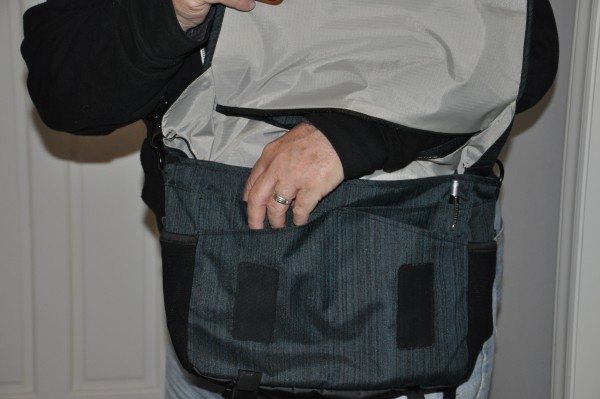 On each side under the strap attachment D-Ring, is a net pocket with an elastic top band, sized for a water bottle.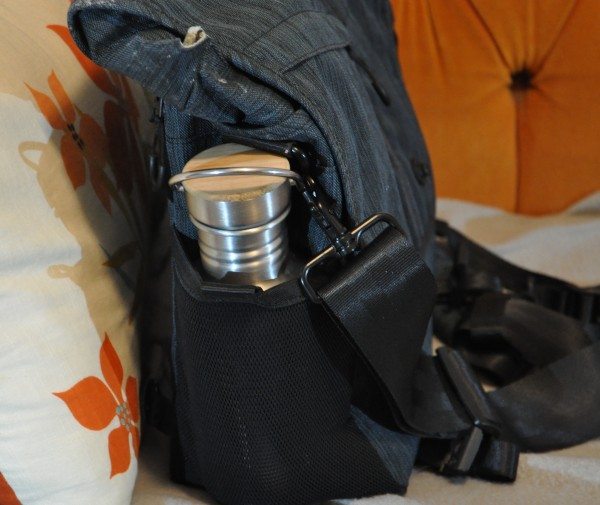 Inside, without the fully self-contained foam insert, there is a front zippered pocket that is only sewn into the top edge seam. It's the same size as the front of the bag, but by not being attached, can hold thicker things. Below this zipper, there are a few organizing slots for cards, pens, jump drives, etc. On the opposite long side, there is a foam slot for a laptop or tablet. I can fit in my wife's MacBook Air 13″, or my iPad Pro, but not a MacBook 15″. In front of that is sewn a less-padded sleeve for a standard iPad-sized tablet. If your standard sized iPad has a thick case, however, it will not fit. My wife's iPad mini fits, even with her thick case. In the photo below, my iPad Pro is in the rear laptop slot, and my iPad Air 2 is in the tablet slot, with an Inateck Keyboard Cover. (That's a full-sized set of over-the-ear headphones in the remaining space.)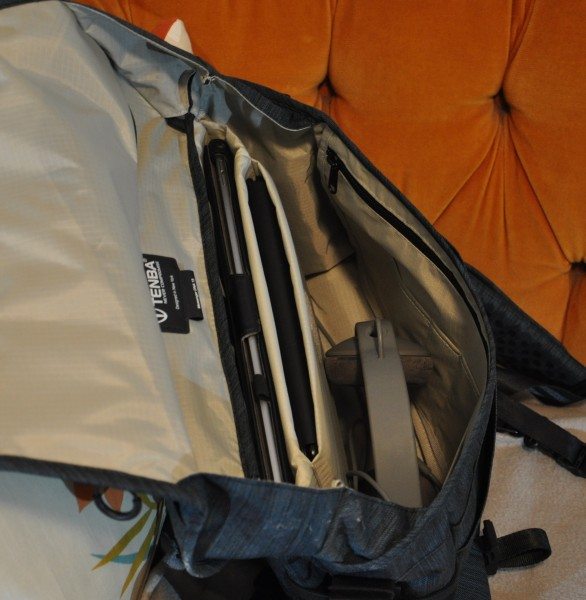 In addition to the body armor base, the waterproof materials and zippers, the flap is designed to stick out over the interior on the sides to prevent water or dust from entering the inner sanctum. There are even sewn gussets under these "shoulders" that give yet another level of protection from the elements. (They are shown at the bottom and top of the photo above.)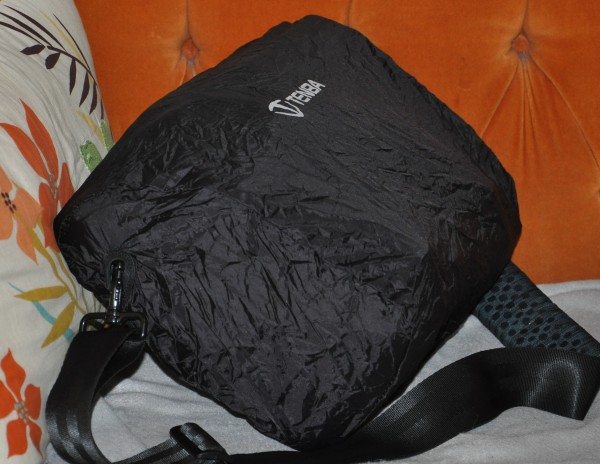 If that's not enough, there is also a full WeatherWrap™ waterproof covering that is silver reflective material on one side, and black stealth-mode on the other.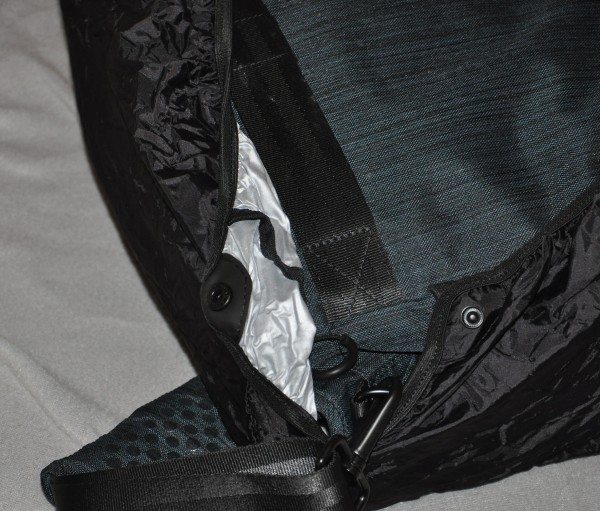 It's in a self-enfolding pocket with a loop of material on the outside identifying it as the cover for the Messenger DNA 13.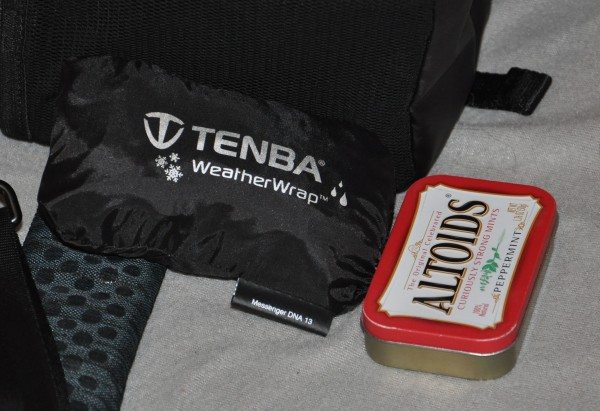 The seatbelt-webbing strap is clipped onto the bag via large, welded D-rings, which are sewn in with webbing and box-stitched into the bag. The D-Rings and strap clips are black coated metal, very light, but solid. The clips are on metal swivels, and securely lock onto those rings.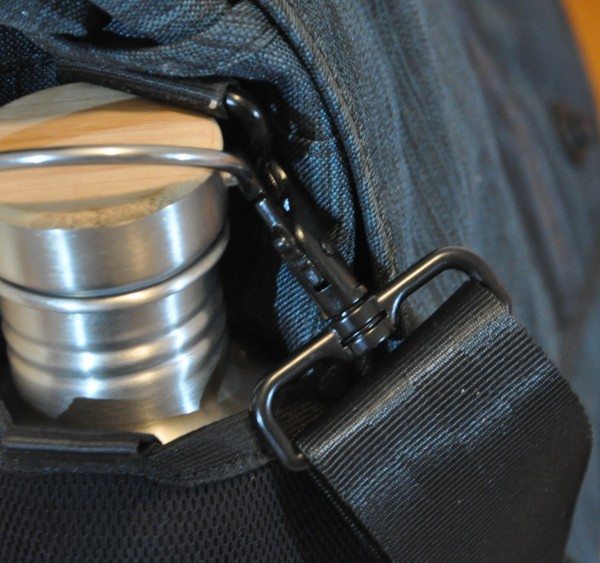 Each side of the strap has a plastic slider adjustment point, and there's a removable padded shoulder protector Velcro-ed around the center section. On the rear of the bag, near the bottom on each seam, is a smaller D-Ring that can be used with the included body-strap, to keep the bag in place during active times. It has a velcroed collar that goes around the main strap, and can attach to either of the smaller rings on the bag to give you three-point attachment, should you be running with a team of Rangers while embedded on the front lines, or hopping into a snow-cat to follow a team documenting climate change in Iceland or the Arctic tundra. Or cycling home from your office.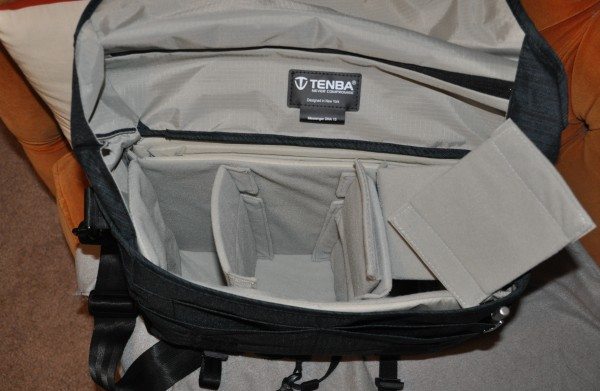 The padded insert, while obviously intended for photographers, is infinitely adjustable for use inside or out of the bag. It can give you six cube-shaped compartments for lenses, light meters, or flash attachments. There are 2 flat pockets on the front that can hold CDs, notebooks, or any other flat items. The smaller interior dividers can be removed, giving you three large silos that can hold 1.5-liter bottles of wine, 2-liter sodas, or a roll of paper towels. Since it is heavily stitched and the seams are covered with heavy-duty bias tape, it's going to stand up to life outside the bag, and still slip back inside when you need it. It's protected on 5 sides with .25″ closed-cell foam, as are the inserts, so fragile items can be immobilized easily by moving the dividers around. There are two full-height dividers and three square width-sized dividers, all covered in velour and padded, with a full piece of Velcro tape on each end.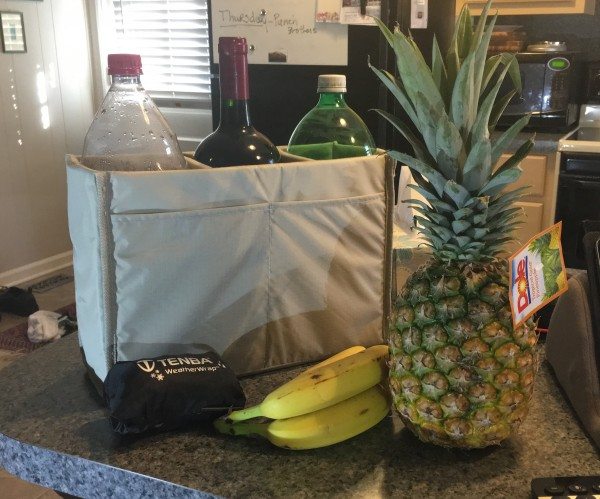 As an amateur photographer, I have a nice pro-sumer model dSLR with removable lenses (Nikon D90), and a few extra lenses, battery chargers and such, but not nearly enough to fill every cube of the inner insert as it comes set up, but the flexibility of those spaces allows me to decide on what else I may pack in there. I will definitely be taking this on my next vacation. I envision having the insert as my "mobile office" for pulling out and leaving at the B&B, while we're out on the town biking or walking or whatever. We tend to pick a place and settle for a time, rather than stay in a different place every night, but I can see this also helping on one of those If it's Tuesday, this must be Belgium-type trips. Either way, the Tenba Messenger DNA 13 is sure to perform its role in protecting my gear from the elements and from prying eyes, while keeping it organized for easy access.
Source: The sample for this review was provided by Tenba. Please visit their site for more info and Amazon to order.

Product Information
Price:
$160
Manufacturer:
Tenba
Retailer:
Amazon
Requirements:
Pros:

Flexible organization throughout.
Quality materials and workmanship.
Water-resistant with all-weather cover protects gear.
Sized for both laptops and/or any tablet on the market.

Cons:

Tablet pocket is tight with a protective case on.