We use affiliate links. If you buy something through the links on this page, we may earn a commission at no cost to you. Learn more.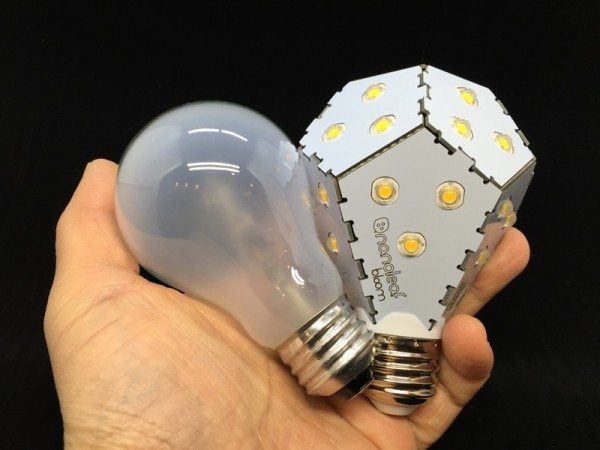 "Want to dim your lights but don't have a dimmer switch installed? Too bad! Until now."  That's the tagline of the Nanoleaf Bloom, an odd-looking LED bulb that you can dim just by flicking a switch.  How does this work?  Let's find out.
DON'T MISS: LOFTEK Outdoor/Indoor Rechargeable LED Light review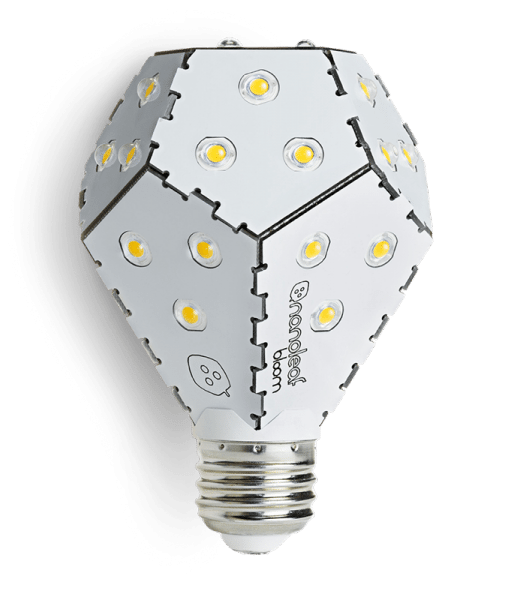 Yes, it's shaped like a dodecahedron.  How on earth does this manage to dim without any physical controls on the bulb?
POWER:  10 W
EQUIVALENT:  75 W
LUMENS:  1200 Lm
EFFICIENCY:  120 Lm/W
COLOUR TEMPERATURE:  3000K, 5000k, 6000k
POWER FACTOR > 0.9
DUV:  -0.0001
VOLTAGE:  100 – 240 Volts
CRI > 80
BULB BASE:  E26, E27, B22
COLOURS:  Arctic White, Charcoal Black, Arctic Leaf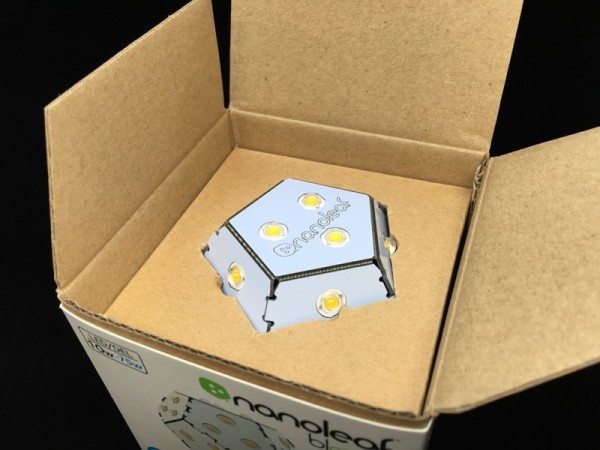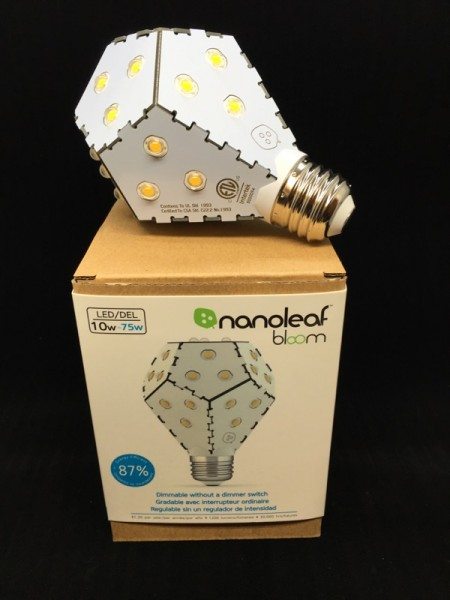 When I opened the box for the first time, I knew this was for real:  An angular bulb.  This was definitely different.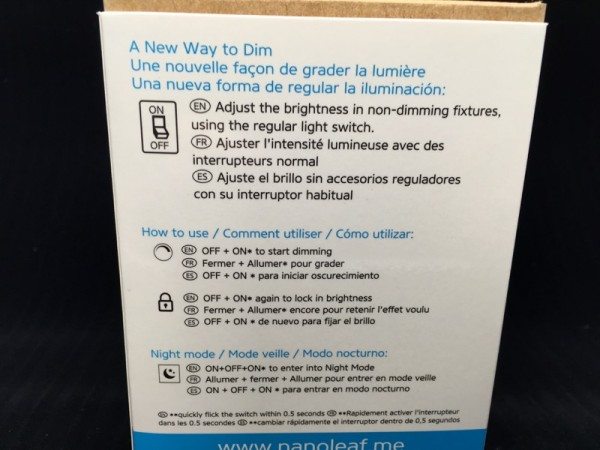 The side of the box offers a glimpse of how the dimming works.  Make sense?  No?  Well, I found it was easiest to just plug it in and try…  Or watch this video from Nanoleaf.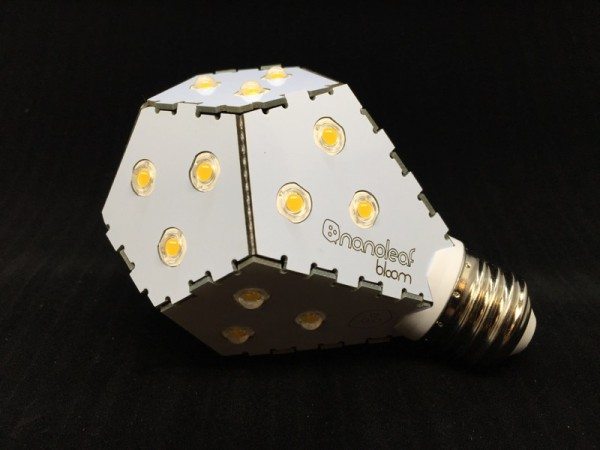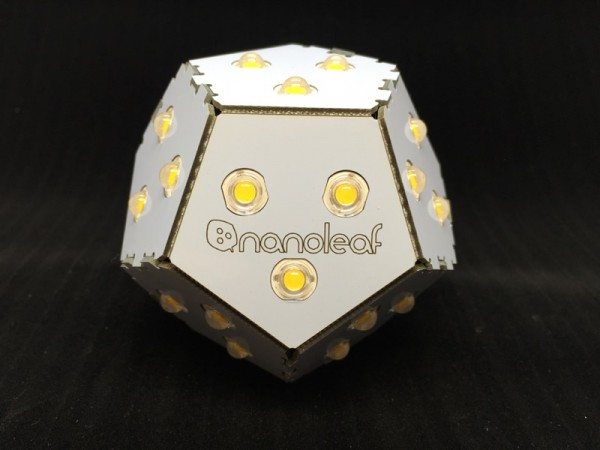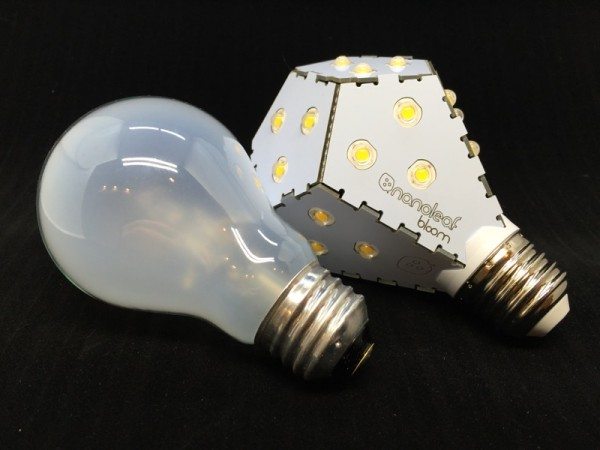 The Nanoleaf Bloom has three LEDs on each "face" and manages to maintain the rough size of a traditional incandescent bulb… maybe a little wider.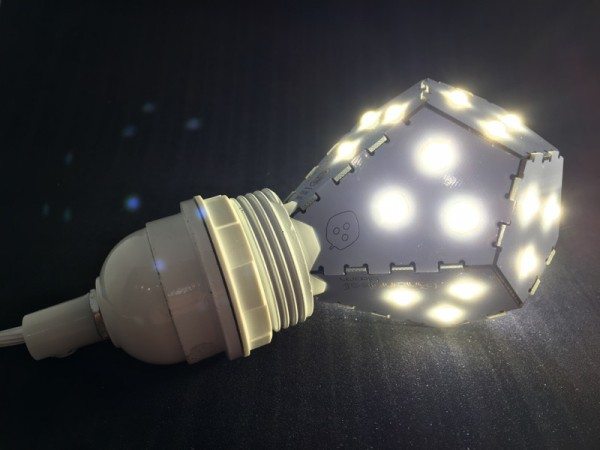 When you turn the light switch on, it starts low and ramps up to full brightness.  If you wish, you can also flick the switch on-off-on to "lock in" the brightness you want.
But how does it look?  To test this, I placed a standard "43W" incandescent bulb (it's all I could find on hand) along side the Nanoleaf Bloom.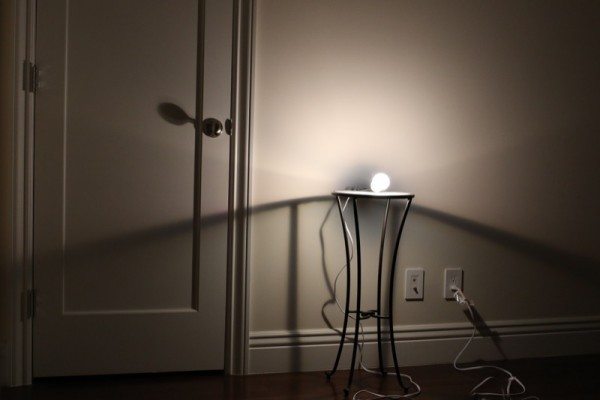 First, the 43W incandescent bulb, above.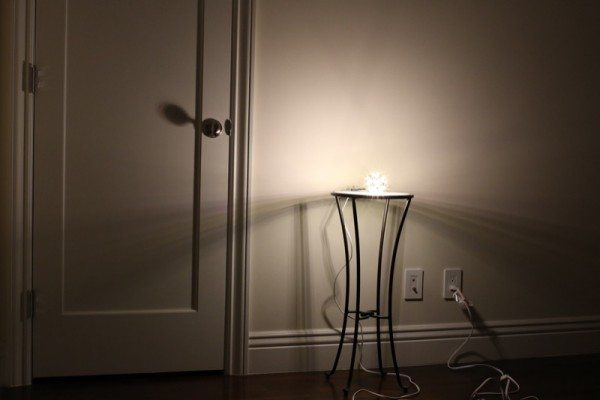 Next, the Nanoleaf Bloom at full brightness.  The camera was set to the same shutter speeds in all photos.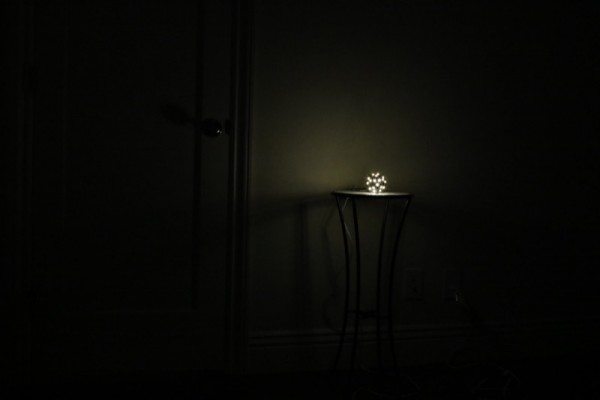 Finally, the Nanoleaf Bloom at the lowest setting.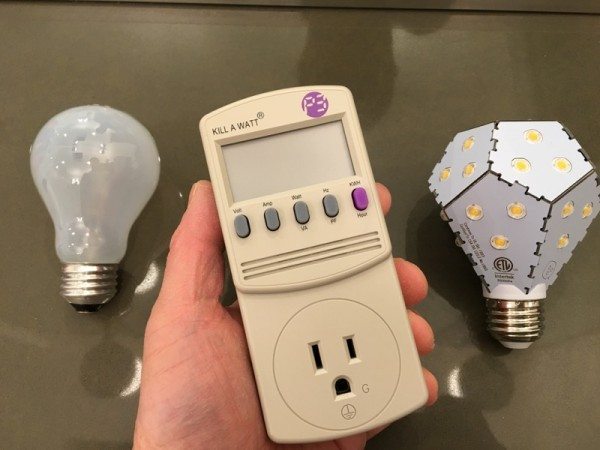 Finally, I decided to try out my Kill A Watt gadget to see what the power consumption was like:
Incandescent Bulb:
Listed at:  43W
Measured: 42.4W
Nanoleaf Bloom ("75W equivalent")
Listed at:  10W
Measured:  10.3W (full brightness)
As a bonus, I measured the Nanoleaf Bloom at its dimmest state:  It drew a mere 0.3W.
In actual use, I found the Nanoleaf Bloom's color to be pleasantly warm and flicker-free.  However, the control scheme took some getting used to.  I felt a little silly flicking the light switch over and over again, just to lock in the right, dimmed level.  Letting the bulb go to full brightness is easy (just turn it on) but then it kind of defeats the Nanoleaf Bloom's party trick.
Also:  The bulbe does not remember the last setting.  You can't have it all when your only control is a light switch!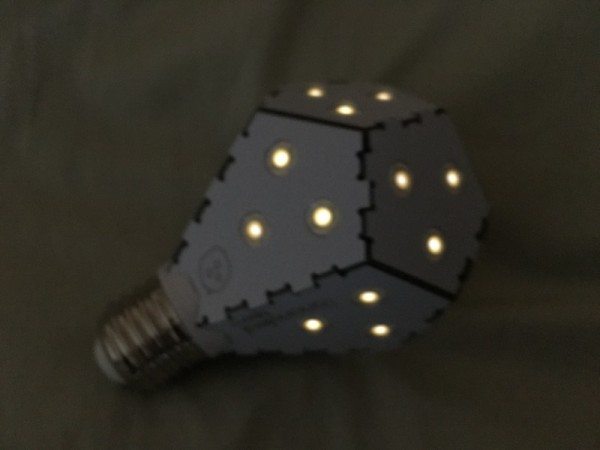 I also discovered that the Nanoleaf Bloom's LEDs will maintain a very, very faint glow for several minutes after you turn it off.  It starts off bright, then fades.  If you're one of those types that demand total darkness when your bulbs are off, take note.
However, if you want an LED bulb that you can dim without resorting to changing out the switch to a dimmable one, the Nanoleaf Bloom just might be the ticket.
Source: The sample for this review was provided by Nanoleaf. Please visit their site for more info and Amazon to order.

Product Information
Price:
$39.99
Manufacturer:
Nanoleaf
Retailer:
Amazon
Requirements:

110-220VAC, standard light switch (no dimmers)

Pros:

Dimmable without a dedicated dimming switch
Energy efficient (draws 10W)

Cons:

Dimming scheme (flicking switch on/off) may not be for the impatient
Individual LEDs maintain a slight glow that fades after a few minutes once powered off
More expensive than installing a dimmer switch
No setting "memory"