We use affiliate links. If you buy something through the links on this page, we may earn a commission at no cost to you. Learn more.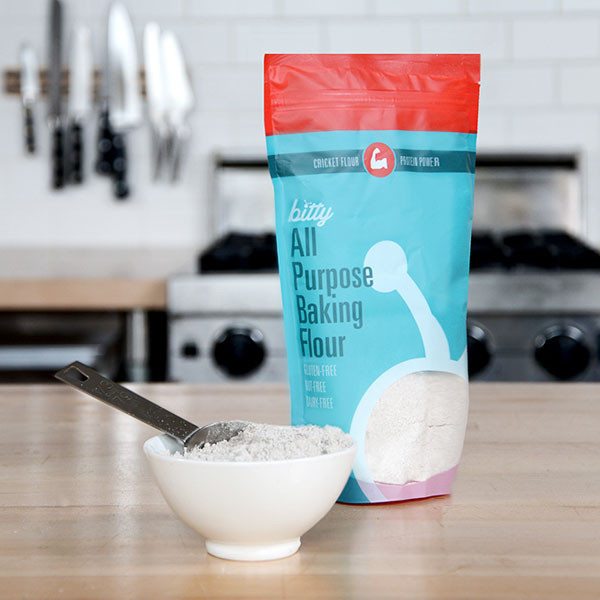 For those of you who enjoyed the news posts on the insect rearing gadgets that you can use in your home to raise your own insect food (Farm 432: Farming insects for food to feed the future and The Hive: Farming insects to feed the future part 2), but were not quite ready to make the leap into this arena, because seriously, how's it gonna taste? Well, now you can give insects a try by incorporating cricket flour into your cookies, muffins, cakes, pancakes, pasta or bread using High Protein Baking Flour from Bitty Foods (a company based in the U.S.). This grain-free flour contains a mixture of  "Cassava flour, cricket flour [Gryllus assimilis, Acheta domesticus], coconut flour, tapioca starch, [and] xanthan gum".  Where do they get their crickets?
We source our crickets exclusively from farms in the U.S. and Canada that exceed USDA requirements and supply their insects with high quality feed… [we] freeze the crickets before processing them, essentially putting them to sleep… They are then boiled to remove away any bacteria… dry roasted and milled into a fine powder, and then this powder is blended with cassava and coconut to create our grain-free baking flour.
The flour is free of nuts, dairy, and gluten but is not certified as gluten free. It is also important to note that people who have an allergy to crustacean shellfish may have a reaction to this flour so you will want to talk to your doctor before trying this product. The High Protein Baking Flour is available from Bitty Foods for $19.99 + shipping. Or if you would rather taste one of Bitty Foods creations, you may purchase one of their six-ounce cookie mixes that make 12 cookies (Coco Chai Cookie, Chocolate Chip Cookies, or Orange Ginger Cookies) for $9.99 + shipping. Who knows, after trying this out, you may want to give one of the insect farms a try!