We use affiliate links. If you buy something through the links on this page, we may earn a commission at no cost to you. Learn more.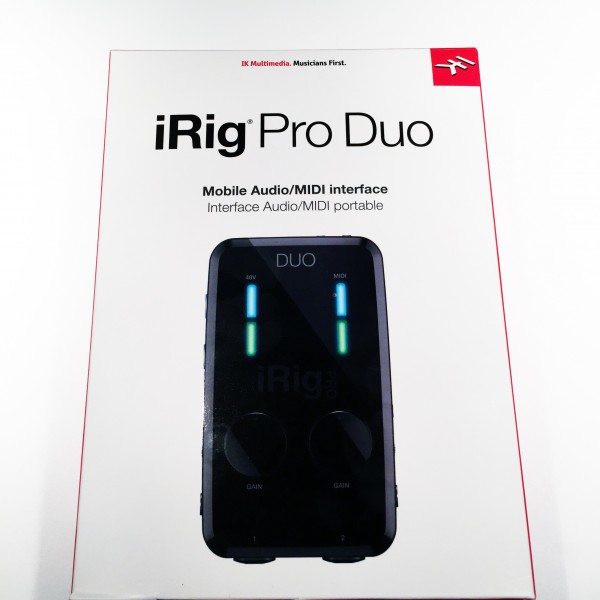 As a musician who is better in my mind than in person, I love gadgets that help make me sound better than I am.  Plugging my acoustic-electric guitar in is one way I can do that, and the IK Multimedia iRig Pro DUO is an excellent choice for doing this.  The unit is small, light, battery powered, and connects up to two instruments to your computer, iPad, iPhone, or Android device.  Used in conjunction with IK Multimedia's extensive collection of amplifier and effects modeling applications, the IK Multimedia iRig Pro DUO is a portable solution that is perfect for on-the-go practice and recording that fits easily in your gig bag.
Let's start with the basics.  The IK Multimedia iRig Pro DUO is a dual instrument audio interface that works on all platforms, but really shines with your mobile devices (i.e., iPhone, iPad, Android).  The device has two ¼"/XLR guitar, mic & line inputs, two balanced ¼" out jacks, MIDI input/outputs, 48v phantom power, multicolor LEDs (Gain, MIDI, Phantom), headphone out with direct monitor, and two hi-quality preamps with gain control.  The device can be powered by 9VDC (optional, not included), or battery powered (two AA batteries included).  The device comes with Lightning, USB & USB OTG cables for connecting to your computer, or your IOS and/or Android tablets or smartphones.  Also included is access to over $450 worth of software and apps that give you a full suite of amplifier modeling and effects programs for downloading to your computer and your favorite mobile device.
Here are the specifications:
Truly mobile dual input audio interface for iPhone, iPad, Android, Mac and PC
Simultaneous dual track recording interface for all instruments
Ultra-compact housing for extreme portability
Dual identical XLR/TRS combo input jacks
Dual ultra-low noise studio-quality IK preamps
Individual input gain controls
48V phantom power
Self-powered (2 AA batteries), device powered or DC power adapter (not included)
24-bit AD-DA converters
Dual 1/4" switchable TRS balanced outs
1/8" 3.5mm Headphone out w/ level control
MIDI IN/OUT jacks
Ultra-compact housing fits in the palm of your hand
Includes Lightning, OTG and USB cables (optional 30 pin cable available for older IOS devices)
Comes with mini-DIN to Lighting, Micro USB OTG and standard USB cables
Designed and made in Italy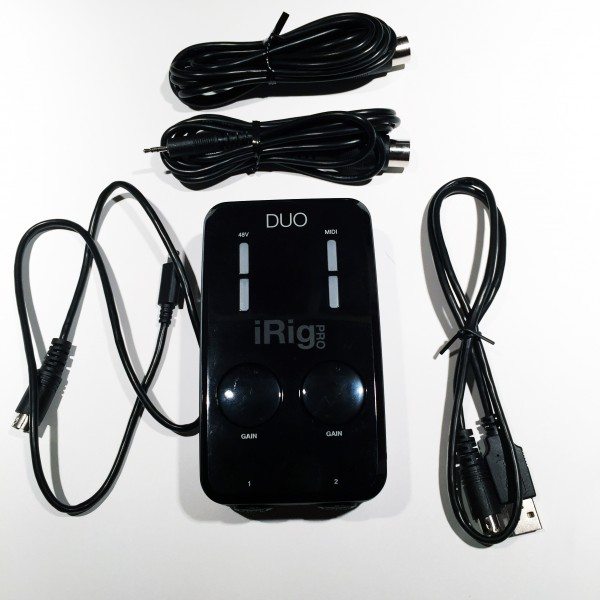 Never miss one of our posts again. Sent MON, WED, and FRI with the latest gadget reviews and news!
Before we get too far into the review, I want to describe my studio setup.  My main computer is a 2013 MacBook Pro 13.3", and I have it connected to a pair of Alesis monitor speakers, another display monitor, and various keyboards (including an IK Multimedia iRig keyboard), and 4 acoustic-electric guitars and one electric guitar, a Blue Yeti USB microphone, a Fender amplifier, a Yamaha powered PA speaker, a BOSS Pedalboard and a BOSS drum machine.  Additionally, I have a Samson Go-Mic and a BOSS Micro BR-80 portable studio recorder.  I also have an iRig guitar interface and an Apogee 96K guitar interface.
With all of this gear, I have to say, that lately I have been primarily using my iPad Air and my Audio-Technica studio headphones, or my previously reviewed ONANOFF iPad Sound Cover Bluetooth speaker, with my Apogee 96K guitar interface.  I do a lot of my practicing at night so using the headphones and my iPad Air have become my go-to setup.  My most used guitar now is a 2014 Taylor GS-eMini, which is a "parlor" style, very light and portable acoustic-electric guitar, with the pickup system factory installed. I have other more expensive guitars, but I have been extremely happy with the playability and lightweight of this guitar (much appreciated after all of my back surgeries).  While I have been a loyal customer of IK Multimedia for years, and love their apps and software for amplifier and effect modeling for electric guitars, with the recent release of their iRig Acoustic Pickup, they also released an acoustic version of their modeling application that finally gives acoustic guitar players the respect they deserve.
So, now that you have an idea of what I'm working with, let's get back to the iRig Pro DUO.  I have a confession to make. I love gadgets that are small, multi-functional, and let me take my guitar and my music anywhere.  While all my microphones are USB powered, having the extra input on the iRig Pro DUO is great for when I go visit friends who play and can plug into it and jam along with me.  I have also used it to connect my drum machine to my MacBook, along with my guitar. I have not used it to connect my keyboards because I have an interface that connects my MIDI keyboard directly to my computer via USB.  The iRig Pro DUO is one terrific piece of musical gear.  It fits in the palm of your hand, can operate off the grid with only two AA batteries, and can handle a guitar and mic, a guitar and keyboard, guitar and bass guitar, two guitars, two microphones, or whatever combination you need.  With separate individual gain controls and easy to understand multicolor LEDs, each input's recording level can be tweaked to personal taste.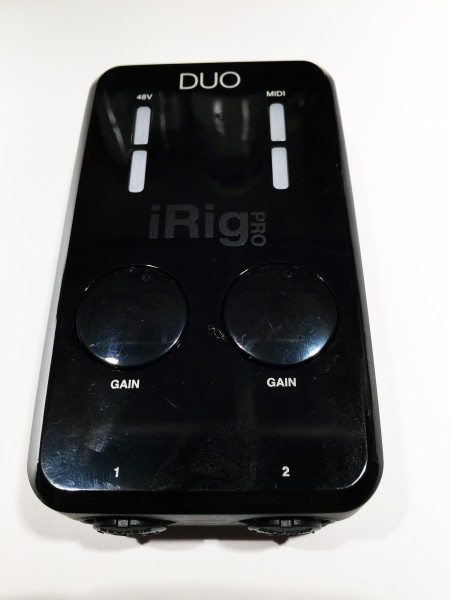 Using the iRig Pro DUO is as simple as it gets. You just plug your ¼" plug into one of the inputs and the other into your music source (guitar, microphone, keyboard, drum machine, or bass guitar, etc.).  Then, you plug the device into your mobile device or computer and then open up your favorite DAW (Digital Audio Workstation) application (i.e., GarageBand, iRig Amplitude, Logic Pro), or any of the other software that comes with the device.  There is no power button for the iRig Pro DUO.  The device is powered by either two AA batteries or an optional AC Adapter and turns on automatically when connected to your mobile device.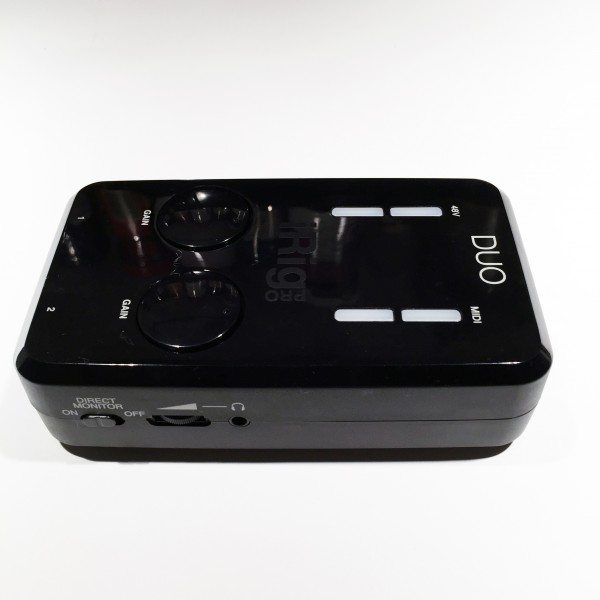 One of the really great features of the iRig Pro DUO interface, is that it comes with 48v of Phantom Power.  This is necessary if you are using a studio grade XLR microphone.  I have not personally found this lacking feature a deal breaker for my other portable interfaces (i.e., my Apogee 96k and my original iRig interface), because I have been able to get by with some very good USB microphones.  However, now that I am playing with other people more and with people who sing much better than I, having that functionality in the iRig Pro DUO is very useful.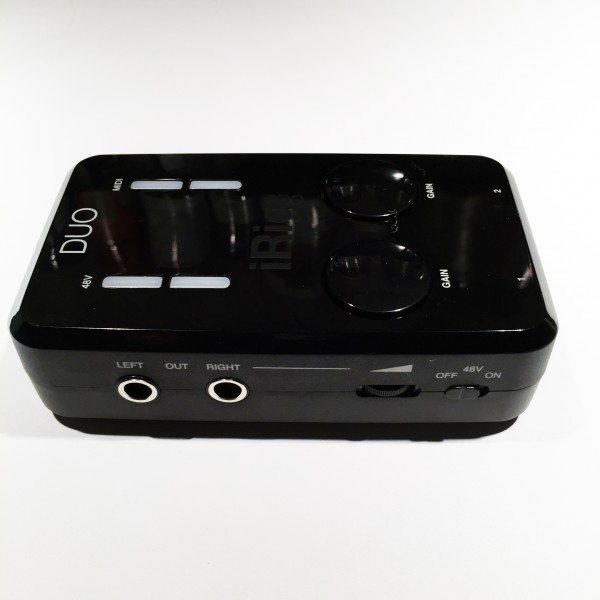 The sound quality of the iRig Pro DUO is excellent and is a huge improvement over their original iRig interface, and is comparable to my Apogee 96k (which is a brand that has an outstanding reputation among musicians).  Each of iRig Pro DUO's two channels passes through an ultra-low noise high-headroom pro-quality preamp that then runs through a 24bit AD-DA converter, giving you amazing clarity and pristine studio-quality sound.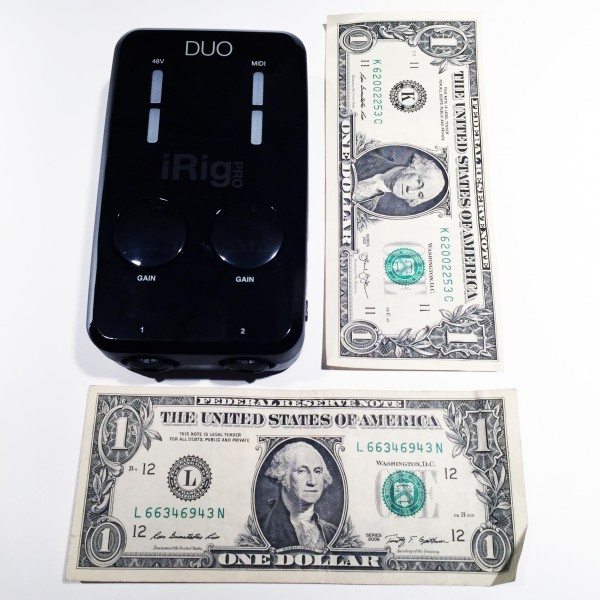 IK Multimedia is well known for their amp modeling and sampling software and buyers of the iRig Pro DUO are not going to be disappointed with the free software that comes with their purchase.  Besides getting many mobile applications, including AmpliTude, VocalLive, iRig Recorder, SampleTank, and IGrand Piano, they also provide a number of Mac/PC applications as well.  These include AmpliTude Metal, TRackS Classic, Sample Tank 3 SE (with 6.5 GB of samples in every instrument category).  As an aside, their iRig Acoustic Amplitude app has a free limited version and a full version available for $9.99, which includes a 12 string emulator, body modeling, graphic and parametric equalizer and a compressor.  If you play an amplified acoustic guitar or a regular acoustic guitar with a after-market pickup (like the iRig Acoustic), it is a must-have.
Now, finally, let's talk about the price.  At $199.99, the iRig Pro DUO is fairly expensive, considering the fact that there are many desktop audio interfaces that are portable, and many other mobile interfaces that cost anywhere from $80.00-$100.00 less than the iRig Pro DUO.  You CAN buy this at Amazon.com for $136.27 though, which makes it even more palatable.  However, I still would give it a thumbs up for several reasons:
The device is small and light;
The device is easy to use;
The included software is worth the price alone;
The sound quality is excellent; and
The feature set makes this a complete desktop and mobile interface solution
I wish the device had a more rugged casing.  The device is made of a shiny plastic material that seems relatively tough, but I would prefer a rubberized casing or at least an included padded case.  I also think that for the retail price, the device should come with an AC Adapter.  Otherwise, the iRig Pro DUO is, in my humble opinion, a must-have tool for musicians of all types.
UPDATE:  I should point out that reviewers on Amazon give it a 2 star average, complaining about short battery life and short cables.  I have an AC Adapter already, and I would suggest using rechargeable batteries.
Source: The sample for this review was provided by IK Multimedia. Visit their site for more info and Amazon to order one.
Product Information
| | |
| --- | --- |
| Price: | $199.99 |
| Manufacturer: | IK Multimedia |
| Retailer: | Amazon.com |
| Requirements: | |
| Pros: | Light,small, dual inputs, 48v Phantom Power, great sound, multi-platform |
| Cons: | Short battery life, short cables, no AC Adapter included, needs rubberized housing or padded case |