We use affiliate links. If you buy something through the links on this page, we may earn a commission at no cost to you. Learn more.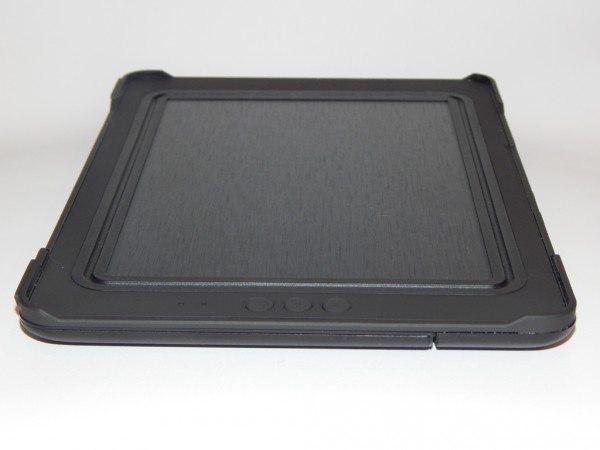 I was excited to receive this sample to review from ONANOFF. Being a music aficionado and an avid iPad Air 1 user, I was stoked when I read the company's description and claim that this flat panel speaker/case, would improve the sound of my iPad Air by 400%. As you can imagine, I was a bit skeptical of the 400% claim.  The device comes with a manual power button along with volume control buttons, as shown in the above image.  After listening to this with all kinds of music, and using the teleconference feature with the included microphone. I must say, this one surprised me. The sound was incredible and impressive, given the size and configuration.
One of things that I really liked about this speaker, was how easy it was to set up. You open it up, (which happily opens a very stable kickstand), and it automatically turns on and connects to your iPad Air (or any other Bluetooth-equipped sound source).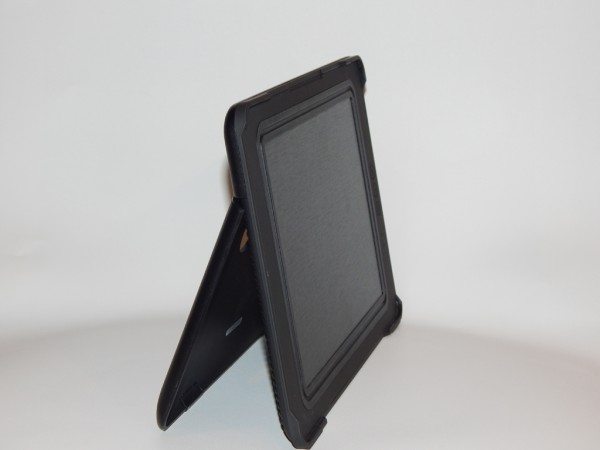 Once you are connected to the speaker, the fun begins.  I tested this with the volume quite high and found little distortion.  Since the speaker is actually separate from the sound source (iPad, iPhone, Android phone, etc.), you are able to charge the unit and your source device while playing.  The manufacturer quotes a 15 hour battery life, and although I didn't test it for that long, I did play it for several hours at a time on multiple days, and found no problems with the battery life.  I would like to have seen bass and treble controls as well, but, I don't see these on Bluetooth speakers anyway, so I shouldn't be surprised.  Just use your device's sound control applications.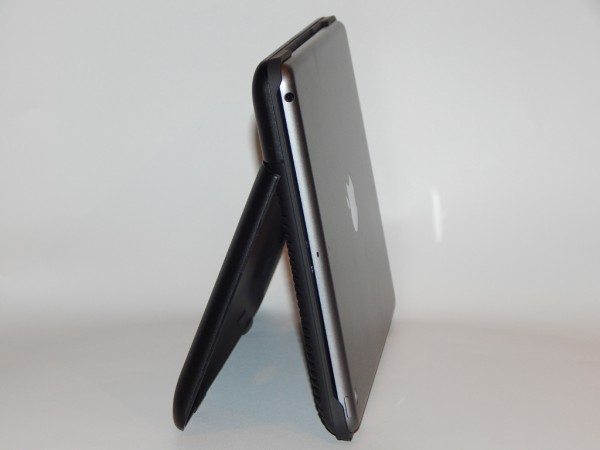 The manufacturer markets this as an iPad Air speaker/case, however, if you clip your iPad Air in, you are leaving the back of your iPad Air uncovered as shown in the image above, so calling it an iPad case is not entirely accurate. The unit comes with a linen pouch, but that offers little protection, I would suggest carrying the speaker alone in the pouch to be a better idea and keep your precious iPad in your preferred case.
The Sound Cover by ONANOFF is quite thin and in the image below, you will see the speaker connected to my iPad Air 1 (note that this case is only for the iPad Air 1 and iPad Air 2).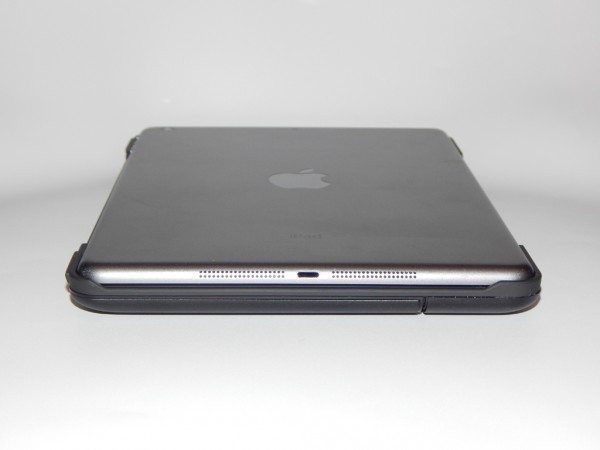 The below image shows the Sound Cover with the included linen pouch.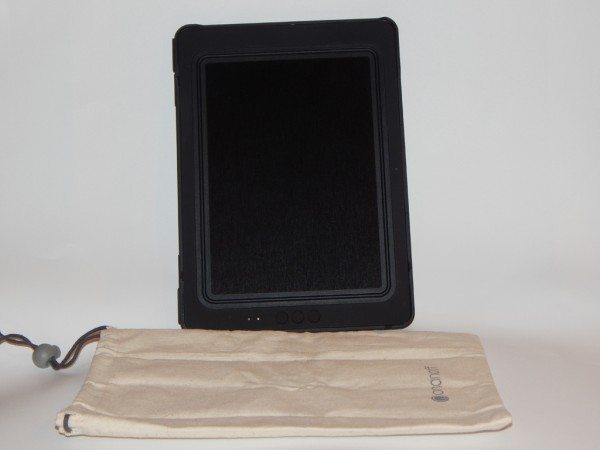 ONANOFF lists the specifications as follows:
Increasing volume by up to 400%
Bluetooth Connectivity
High quality sound, perfect for music, video games or movies
Boosting the bass and the clarity levels.
3300mAh Lithium Polymer Battery, Battery life (over 15 hours)
Solid and stylish protection
Ultra-thin, lightweight and modern design, suitable for multiple occasions.
Automatic Sleep | Wake function
Ultra-thin, 14mm
Lightweight 570gr.
Fits the iPad Air 1 & 2
Back to the unit itself. It comes with both a micro USB to USB charging cable and an 3′ aux cable to connect to a music source that is not Bluetooth enabled. The speaker is a flat panel configuration. The sound is great, no doubt, but is it worth $199.00? That is the question. When you eliminate the using the speaker as an iPad case as a reason to buy it, it is one of hundreds of Bluetooth speakers on the market. Granted, the form factor is great. The unit is slim, and lightweight, and can be easily thrown in your laptop bag, shoulder bag, or carry on luggage. The question is, are there other Bluetooth speakers out there that give you more bang for your buck? I don't have a lot of other Bluetooth speakers to compare this one to, but I did compare it to my Harmon/Kardon Onyx speaker, and my JBL micro speaker. Obviously, my JBL micro speaker is no comparison (although for its size, it is amazing). My Harmon/Kardon speaker's sound was comparable to the ONANDOFF Sound Cover speaker, but you cannot compare the form factor.  The image below shows the back of the unit.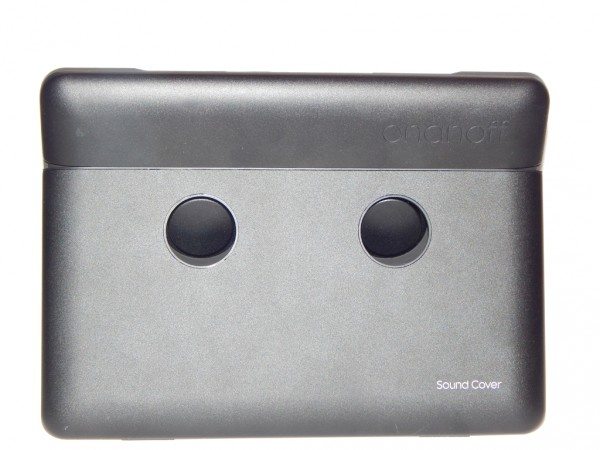 The ONANDOFF Sound Cover speaker sounds impressive, is easy to setup and connect, and is a breeze to carry with you and always have a party in your bag.  It is on the expensive side, but you would be hard pressed to find another Bluetooth speaker on the market today that matches the Sound Cover's sound, form factor, and portability for the money. The Sound Cover is available in Gold, Silver and Black.
Source:  Sample provided by ONANOFF. Please see their Web site for additional information.
Product Information
Price:
$199.00 USD
Manufacturer:
ONANOFF
Retailer:
ONANOFF
Requirements:

This case only works with the iPad Air 1 and iPad Air 2. However, the speaker can work with any Bluetooth enabled device such as other tablets or smartphones.

Pros:

Great sound
Long lasting battery life
Easy to connect
Form factor makes it a snap to take with you anywhere
Built-in microphone for conference calls
Lightweight

Cons:

Expensive
Not a substitute for a good iPad case for protection
Linen pouch that comes with device is insufficient
No separate bass and treble controls