We use affiliate links. If you buy something through the links on this page, we may earn a commission at no cost to you. Learn more.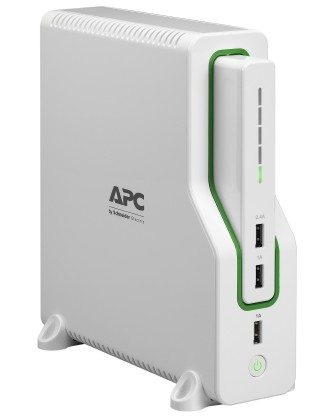 Many of us depend on the internet for doing so many things in our homes.  We do research, pay bills, get entertainment, and keep in touch with our family and friends.  This can be frustrating if we lose electricity due to a storm or other circumstances.  APC has created a battery backup that also includes a mobile power pack, which is perfect for when you have an unexpected power outage and need to charge up a mobile device.
Note: Images can be clicked on to view a larger size.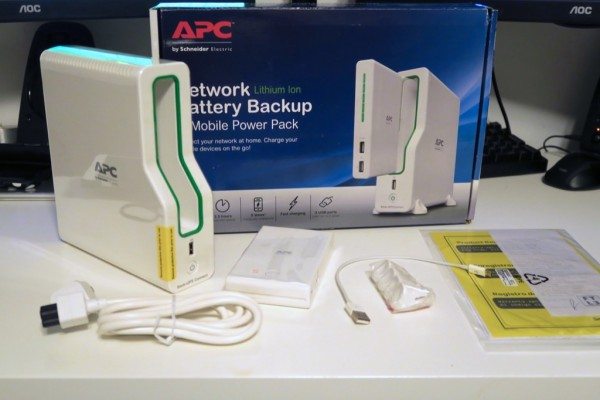 The APC Back-UPS Connect (BGE50ML) is the industry's first combination UPS and Lithium-Ion mobile power pack. It's designed to power wireless during storms and blackouts. The APC Back-UPS also has a mobile power pack which can be removed to charge tablets and smartphones on the go.
The Mobile Power Pack provides approximately 5 full charges to a smart phone without needing to be recharged. When the mobile power pack is docked, the APC Back-UPS (50 watts capacity) provides two and a half hours of backup power to a home or small business network.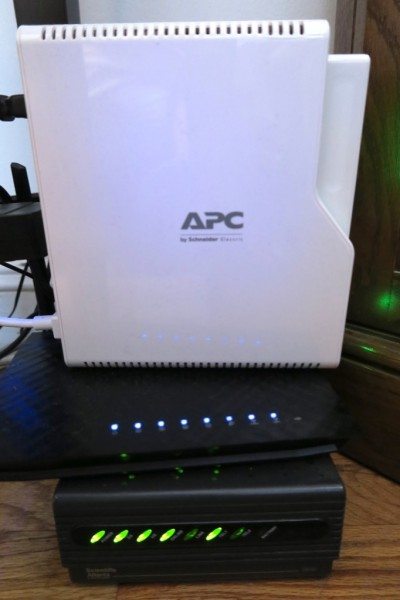 Since the APC Back-UPS has only a load capacity for 50W, (meant for network devices) I connected my cable modem and wireless router to it.
Never miss one of our posts again. Sent MON, WED, and FRI with the latest gadget reviews and news!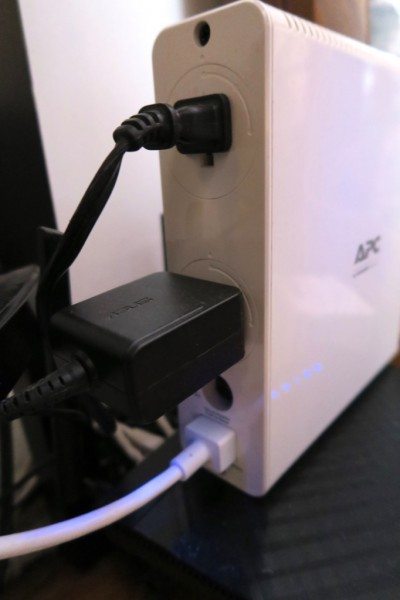 In the back of the UPS, you have two NEMA 5-15R receptacles (standard US outlets), which can rotate in any direction to fit your plug.  Included as well are four small plastic feet, so you can mount theAPC Back-UPS on a wall, or stand it up steadily next to your modem or router.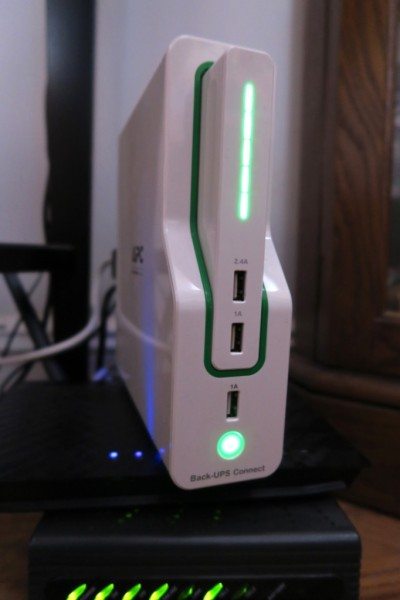 The dimensions of the UPS in total is about 2.1 in x 7.7 in by 7 inches, so it fits in the same space as my modem and router. The mobile power pack sits inside the charging station of the UPS, and it shows that it's fully charged with five green LED strips in the front. As it charges, the charging LED blinks until full, at which point the light goes steady green.
On the bottom of the UPS and above the power button is a 1A USB port that is always available to charge a device.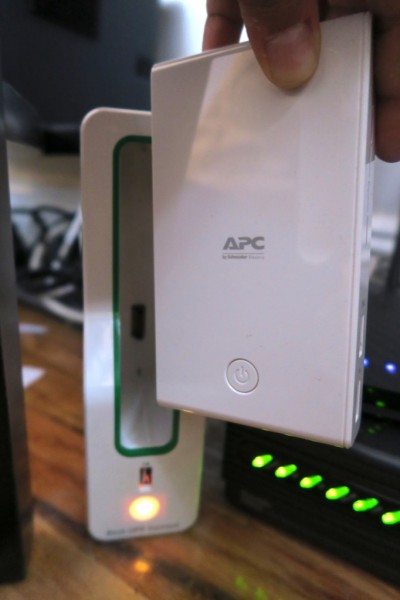 When I pulled out the mobile power pack, the UPS's front LED turns orange to notify you it's removed, and the pack becomes ready to take with you.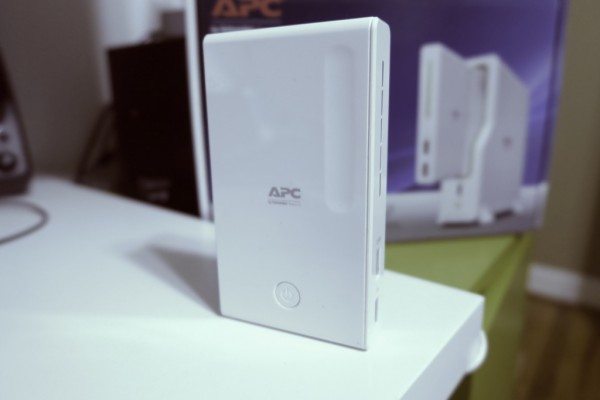 The mobile battery pack is light, about half a pound, and measures approximately 5 x 3 x 1 inches.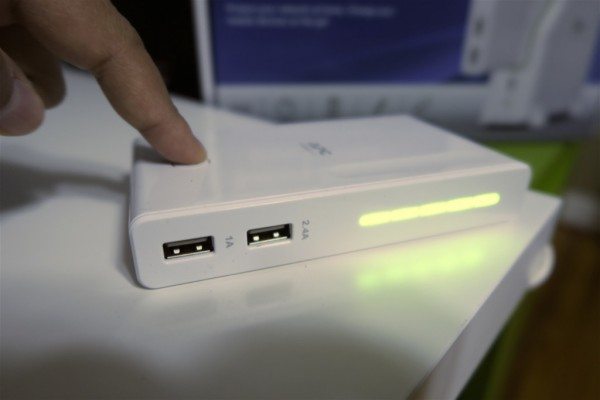 Pressing the power button of the mobile power pack turns on the green LEDs to charge your device. There is one 2.4A and 1A USB ports in the front of the power back, and a microUSB port in the back of the pack.  You can connect the (included) micro USB cable to the pack in case you need to recharge it when you are away from home.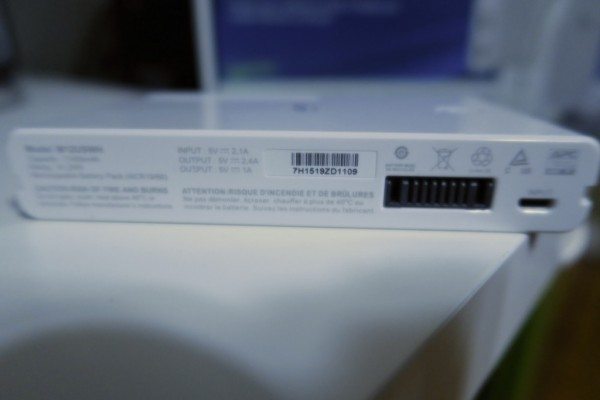 In order to test the APC Back-UPS (with mobile power pack attached), I unplugged the device from the wall for a couple of hours to see how long the battery would hold.  I found it did hold up for a little over two hours.  One day last week we actually had a power outage, so this UPS came in handy for the twenty minutes that we lost electricity. I didn't even realize we lost power since I was on my laptop and didn't lose wireless internet connectivity.
I took the mobile power pack with me a few days to see how much I could recharge my iPhone 6 Plus.  I found that I was only able to charge it almost four times, due to the bigger internal battery of the 6 Plus, and this mobile power back is rated at 11,400mAh.  You will get more charges with a smaller mobile phone, and less charges with a bigger device such as an iPad.
Overall, I really like the APC Back-UPS Connect network backup battery with mobile phone pack.  It's not a must-have gadget, but is useful if you have frequent blackouts and also need to run a small business or home network, and can't lose connectivity for more than a couple of hours.  You might want to consider a separate UPS and power bank if you need a longer runtime or charge time for your equipment.
Source: The sample for this review was provided by Provantage. Please visit their site or APC for more info.
Product Information
Price:
$140
Manufacturer:
APC by Schneider Electric
Retailer:
Provantage
Requirements:

Electric device not more than 50W load

Pros:

Slim profile
Mobile pack and UPS in one

Cons: