We use affiliate links. If you buy something through the links on this page, we may earn a commission at no cost to you. Learn more.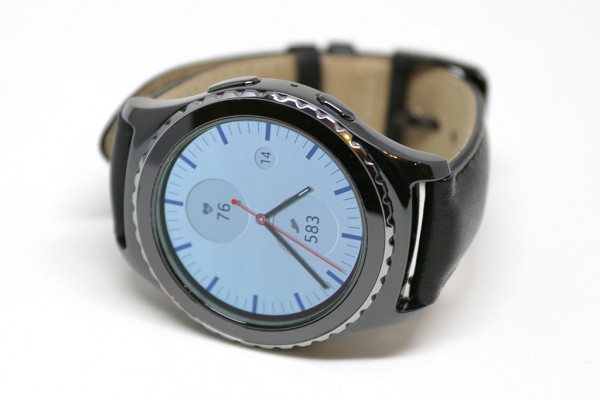 The Samsung Gear S2 smartwatch is an Android-compatible smartwatch that does not use the Android Wear operating system like the majority of the Android smartwatches that are currently on the market. Samsung marches to the beat of their own drum and has opted to use the Tizen OS to power their watches. Let's take a look.

Note: Images can be clicked to view a larger size.
Hardware specifications
Processor: Dual core 1.0 GHz
Operating system: Tizen based wearable platform
Display: 1.2 " 360 x 360, 302ppi
Memory: 4GB Internal Memory / RAM 512MB
Battery: 250mAh Li-ion
Connectivity: 802.11 b/g/n 2.4 GHZ, Bluetooth v4.1, A2DP, AVRCP, NFC
IP68 Certified Dust and Water Resistant
Case size: 39.9mm x 43.6mm x 11.4mm
Wristband: Large: 130mm x 70mm, Small: 100mm x 70mm

The Samsung Gear S2 watch comes in two versions. There is the Classic version like you see here, with a glossy black case, leather wristband, a rotating bezel and a stainless steel case that is both dust and water resistant. The S2 is also available in a more modern version with a plastic wristband and a smooth edged rotating bezel.

I like the look of the S2 Classic watch because of the leather band which can be removed and customized with any standard 20mm watch band. I also like that the bezel has notches around the edge that make it easier to turn.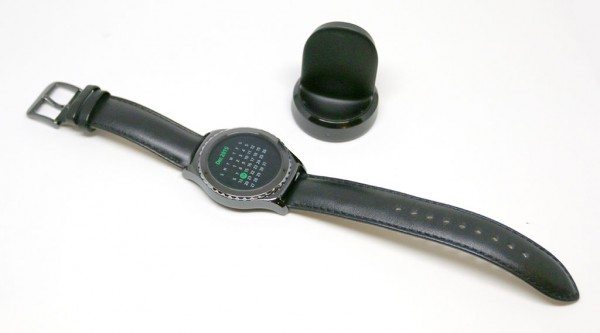 An inductive charging dock is included with the watch that allows you to easily charge the S2's battery without requiring that you plug a cable into the watch itself.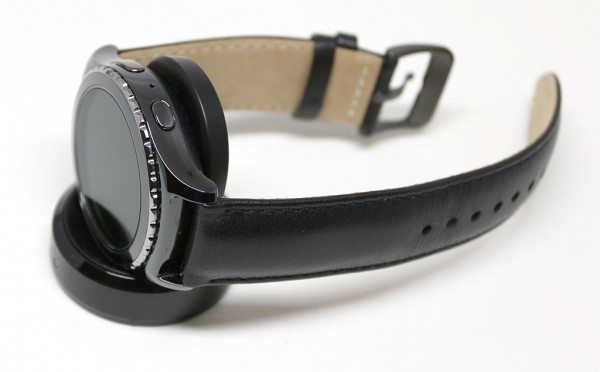 The dock uses a micro USB cable and comes with a USB AC adapter. It's very easy to dock the watch because the charging base is magnetic. There's also an LED on the front of the dock that glows red while the watch is charging and turns green when charging is completed. During my testing, I've found that a full charge will power the watch for 2-3 days.
The watch's circular Gorilla glass display is bright and easy to read. You can change watch faces directly through the interface on the watch, or you can use the Samsung Gear app on your Android phone.
It's important to know that you don't have to have a Samsung phone in order to use this watch. It will work with any Android device as long as it is running Android OS version 4.4 or newer and that you install the Samsung Gear app which pairs the watch with your smartphone so that it can receive notifications of messages and incoming calls.
The user interface is easier to use than what I remember with the last Android Wear watch that I reviewed almost a year ago. You can use your finger to swipe left or right through the screens, but the rotating bezel is easier to navigate through the menus. Turning the bezel to the left will let you see the last notification and turning it to the right will scroll through your apps. There are also two buttons on the right side of the watch. The button on the top acts as a back button and the one on the bottom is the home button. Pressing the home button will bring up the clock face and pressing it again will let you scroll through your apps. You can also customize the home button to launch the app of your choice when you double press it and to send an emergency text message to specified contacts with your location when you triple press it.
There are quite a few apps pre-installed on the watch, include a calendar, weather app, timer, calculator, maps, voice memo, CNN, Bloomberg and more. You can use the Samsung Gear app on your phone to find and install other apps. Most are free, but there are some premium apps that you have to buy. App selection is weak, but the watch is still new. Apps like CNN will let you read news story snippets and will let you send the full article to the app on your phone for easier reading.
If you receive a text message or other notification on your phone, the watch will vibrate to alert you. You can then read the message on your watch and respond back by selecting a short response from a preset list. This list can be modified by using the Samsung Gear app. There are even emoticons that you can use in your replies. You can also use the microphone on the watch to speak your message, which will be translated to text, and if you have infinite patience, you can use the bezel to select letters from an onscreen T9 style keyboard.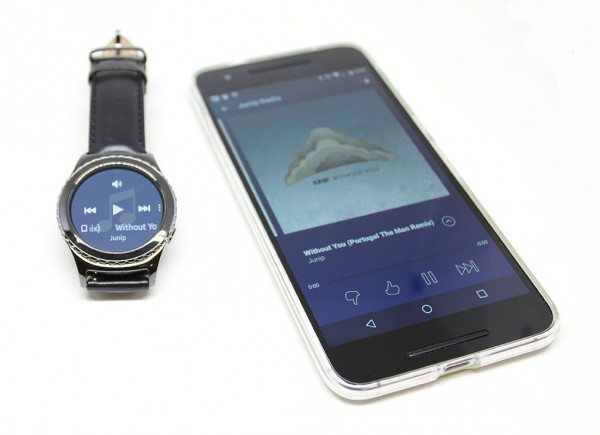 The Samsung Gear S2 watch has 4GB of memory which you can use to transfer photos and music to the watch. These file transfers are done using the Samsung Gear app on your phone. Once the files are transferred, you can play the music using the watch and a connected Bluetooth speaker or pair of Bluetooth headphones. You don't need to have your phone with you to listen to music. The only downside is that you have to re-navigate to the music app on the watch every time the watch goes idle and you want to switch tracks, pause, etc. That is the experience I had when I paired it with a Bluetooth speaker. Bluetooth earbuds with an inline controller might get around this issue, but I didn't have any to test that theory.
As far as calls, you can use the watch to make a call by looking up your contact through the watch. Once the call is initiated, you have to use your phone to talk to the person on the other end. The same goes with answering calls. The watch will notify you that there's an incoming call. You can answer it or reject it using one of the preset messages. If you answer it, you'll need to use your phone to talk. Although I am not the type of person who would want to talk to someone through my watch, it's a little disappointing that the S2 does not have a speaker phone feature when it does have a built-in microphone. Note that there is a 3G capable version of this watch that can be purchased through some carriers.
Other interesting watch features include a built-in heart rate sensor on the back of the watch and sensors that track your steps and activity using the S Health app.
What's missing? As of this writing, the Samsung Gear S2 watches do not have Samsung Pay or Android Pay and it's probably safe to guess that Samsung Pay will probably not work with non-Samsung Phones. Also, at this point in time, unlike Android Wear watches, the S2 watches are not compatible with the iPhone.
All in all, I've enjoyed reviewing the Samsung Gear S2 Classic smartwatch. I like the traditional classic watch look and feel because it isn't overly bulky and geeky looking.  I also like the tactile rotating bezel which makes navigation quick and easy. The jury is still out about Samsung's decision to go with a different operating system than Google's Android Wear. Third party apps are available for the S2, but the selection is not nearly as robust as with Android Wear apps. At least not yet. If you're looking for a classy watch that might be a little easier to use than Android Wear, the Samsung Gear S2 watches are definitely worth a look.
Source: The sample for this review was provided by Macy's. Please visit their site for more info and to order the Samsung Gear S2 Classic or the Samsung Gear S2 (affiliate links).

Product Information
Price:
$249.99 - $299.99
Manufacturer:
Samsung
Retailer:
Macy's
Requirements:

Android phone with Android v4.4 or newer

Pros:

Traditional watch style with interchangeable bands
Rounds watch face
Built in heart rate sensor for activity tracking
Notifications
Can play music directly from the watch

Cons:

At the time of this writing, the S2 is not compatible with the iPhone
At the time of this writing, Samsung Pay and Android Pay not yet available