We use affiliate links. If you buy something through the links on this page, we may earn a commission at no cost to you. Learn more.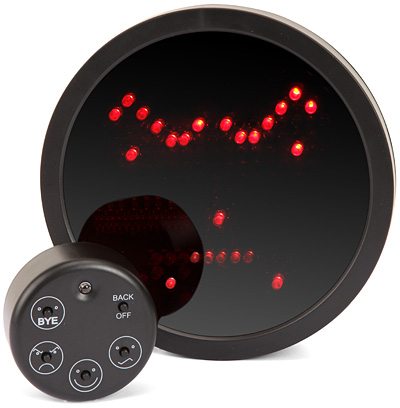 How many of you have wished that you could tell the driver behind you how you feel? Yeah, me too (hey, it could be a nice feeling too you know!). ThinkGeek has a gadget to do just that! The Drivemocion LED Car Sign is a 6.5″ diameter circular car sign that hangs from your rear window using a suction cup while you use the remote control which is affixed to your windshield with a suction cup. To tell the driver behind you just how you feel, press the button one, two, or three times for the message you want to display.
Want to apologize for cutting someone off accidentally? Press a button and the sign says: SORRY. Want to get a tailgating fool off your backside? Press a button and the sign says: BACK OFF. Want to tell the person behind you that you find them attractive and may possibly rear end the person in front of you because you keep staring at your rearview mirror? Press a button and get a smiley face with hearts for eyes.
There are 16 messages and facial expressions available. There's even one for "Help" when you are in trouble. The sign requires four AA batteries (not included – lasts about 50-100 hours) and the remote requires a CR2032 battery (included, lasts about 190 days). The Drivemocion LED Car Sign is available from ThinkGeek for $39.99. NOTE: This sign may not be legal in all states so check your local laws before purchasing!