We use affiliate links. If you buy something through the links on this page, we may earn a commission at no cost to you. Learn more.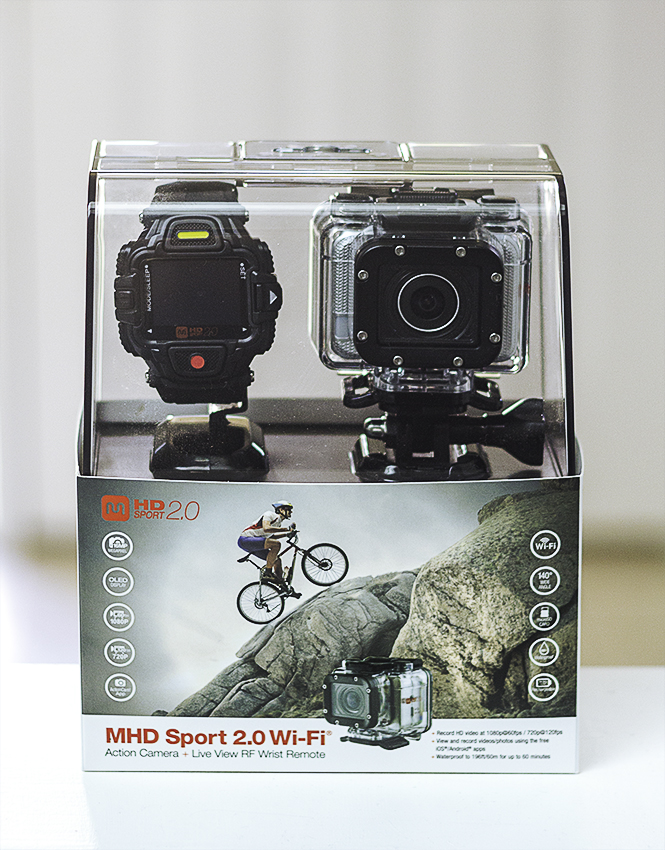 The Monoprice MHD Sports 2.0 Wi-Fi Action Camera is another action camera out in the market today so let's take a look at what this camera has to offer.
First off, let me say that the packaging for this camera is top notch. Monoprice has done a fantastic job of packaging this product. It looks like the product should be seen on a display at an estate or at an exhibition. Maybe even go as far as seen in a museum. Since I work in the marketing field I always appreciate when companies take the effort to design the packaging of a product. It's like a fine painting with an extraordinary frame. You wouldn't want the painting to have a dull and lackluster frame. In this case, the  frame complements the painting.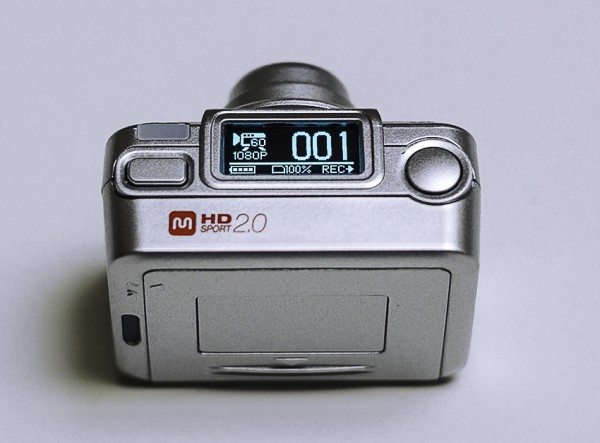 At first glance at this 16MP camera, the specs appear impressive. It has a LED screen, remote wrist watch, built-in Wi-Fi, external mic plug, and more. The camera body is your typical rectangle shaped mold. It is 1.7 inch x 2.3 inches x 1.7 inch. It has a field of view of 140° degrees  and 142° degrees in photo mode. Although not as wide as other cameras that have  a 170° field of view, the Monoprice can still fit a lot into its field of view.  The aperture is 2.8 and the lens is 3.4 millimeters it has several standard video resolutions such as 1080 P, (60 / 30), 720p (120 / 60), and 640VGA(240), Although I don't know anyone who has recorded in the VGA mode I guess it doesn't hurt to have it.
The Monoprice records to a MP4, H.264 codec which seems the norm of most action cameras. However, the bit rate on this camera is only 15 Mbps as compared to higher end cameras like the GoPro Black camera which can vary between 25 and 60 Mbps. The photo resolution on the mono price is 16MP, 12MP, & 5MP. It has a burst mode feature of 7 photos per second and there is also a time-lapse feature in case you want to record scenes with slow moving objects over a span of time such as clouds moving across the sky, a flower opening, or anything you can think of involving the lapse of time. The file format for the photo mode is a EXIF 2.2 JPEG.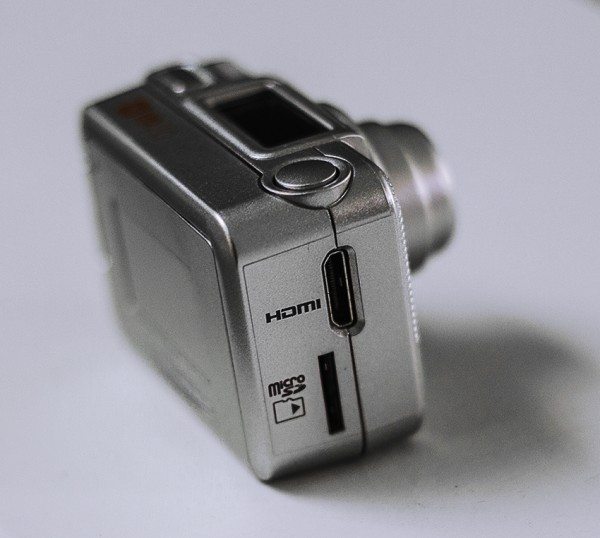 The Monoprice MHD Sport 2.0 has a mini HDMI to connect to a HDTV, a microUSB port for charging and power, and a plug for an external microphone. I was psyched to know about the external mic plug because having an option for an external mic on a small action camera is not very common. Typically the higher and professional GoPros like the Black Edition have the external mic jack. Most of the time audio isn't such a factor with that camera since we are only capturing the action anyways. But there were several times when I've been using an action cameras, like the SJCAM SJ4000, Zeblaze, and BlackVue, I would have liked to have attached an external mic for the project I was using them for.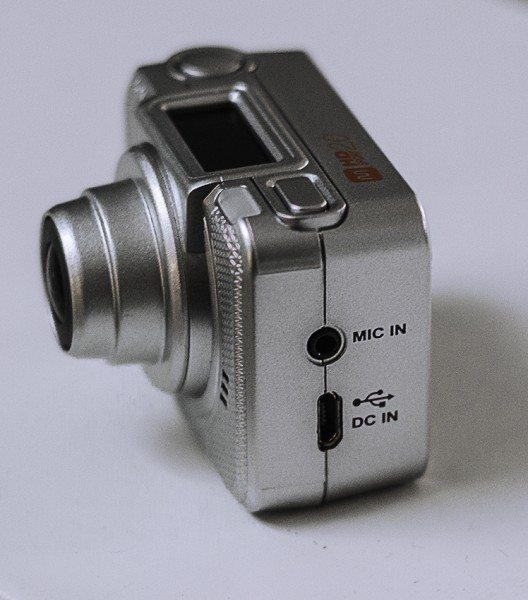 Now before you go and get all excited about the external mic jack too, keep in mind that it is not the standard 3.5 mm jack but a 2.5 TRS audio jack so you will need to invest in a 2.5 millimeter to 3.5 millimeter adapter. It would have been great to just take the external shotgun mics I have and just plug it into the side but instead I have to search through my box of various cables and plugs and see if I have the correct adapter. Unfortunately, I did not have one so I couldn't plug my shotgun mic into the Monoprice MHD camera to test it out.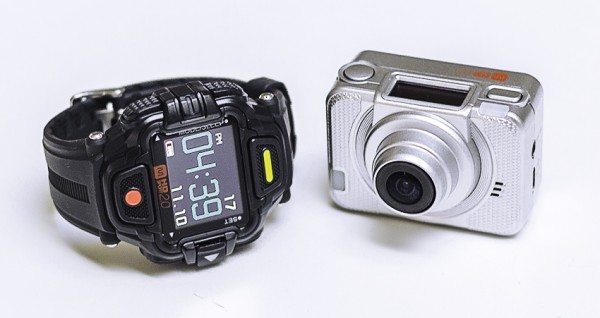 The camera comes with a wrist remote that doubles as a watch. I like the idea of a remote so that I can start and stop recording the camera from a distance. This is so helpful in many ways. For example, like when the camera is mounted just out of reach, there is no need to retrieve the camera to press record or to stop recording. You can do that from a distance. Keep in mind that the manual claims the RF range is only 10 feet (3 meters) but I was able to use it at a much more greater distance than that. I think the range should be improved by 20 feet, or at least another 10 feet to be really beneficial. 10 feet seems rather short for a remote control.
You have to use the watch's 1.29 inch OLED screen as a live view monitor to frame your shots since there is no LCD screen on the back of the camera. On the front bottom part of the watch remote is the button to record videos and at the top front of the watch is a button to take pictures. A great feature about the watch remote is that it can control up to 6 other cameras so there is no need for more remotes to view and control the other cameras.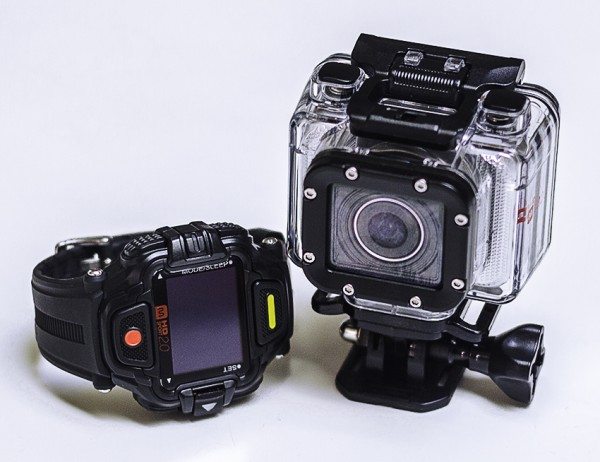 However, one thing to note about the watch remote is that it only has a 8 frames per second frame rate so when you are viewing it as a LiveView monitor the scene will look choppy. There is an app that you can install on your smartphone or iPhone which allows you to control the camera, trim your videos and view your pictures. Unfortunately, I could not use the app on my LG G4 since the app is not compatible with Android 5.0. And as of this writing the app has not been updated to support 5.0 so I didn't have a chance to try it out. That's too bad because I really wanted to try out the app.
The response of the remote was accurate and always work with every push of the record button or the photo button. Aside from being a remote for the camera, it functions as a regular digital watch, too. However, I found that a couple of the side buttons needed to be pressed really hard for it to work, and I mean hard. At first I thought the buttons were broken and not working but I figured I needed to squeeze harder on them so that they actually worked.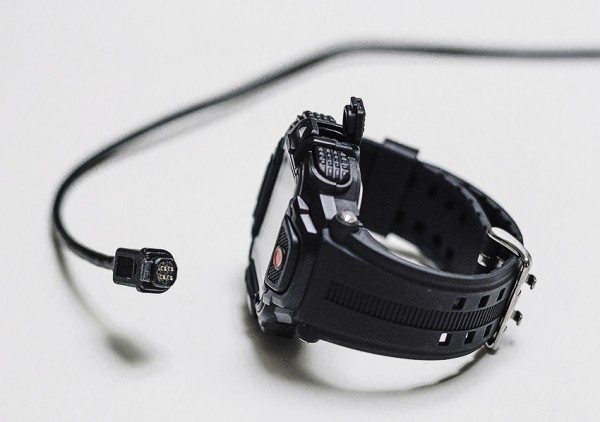 The battery life on the wrist remote lasted a long time. You have to press to pull up the time so the battery life gets preserved. Because of a few buttons lack of response I couldn't get into any Menus to change the display duration to see how long the battery can last with different settings. But the settings that were already set lasted for days. That was nice so I didn't have to charge the batteries for a while. The is a small door on the right side of the watch that has the port to plug the charging cable  into. The charging plug is kind of tricky to insert the first time you try it, but once you see how it connects then it should be no problem after that. Speaking of batteries, the battery life on the Monoprice camera is rated at an hour and a half. I got just under that when I tested it out, but anything over an hour for an action camera is pretty darn good, so kudos to the Monoprice's battery life.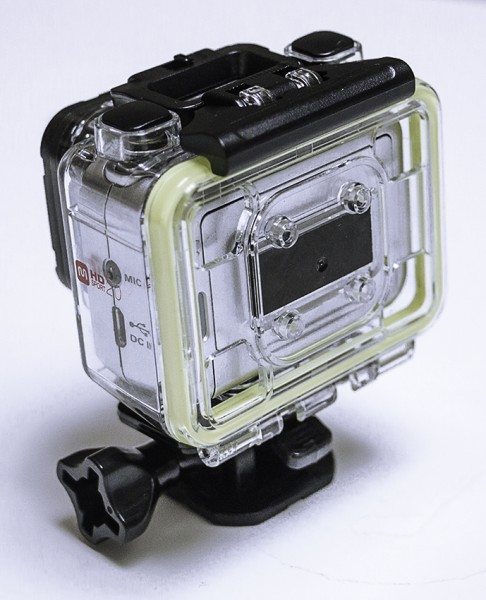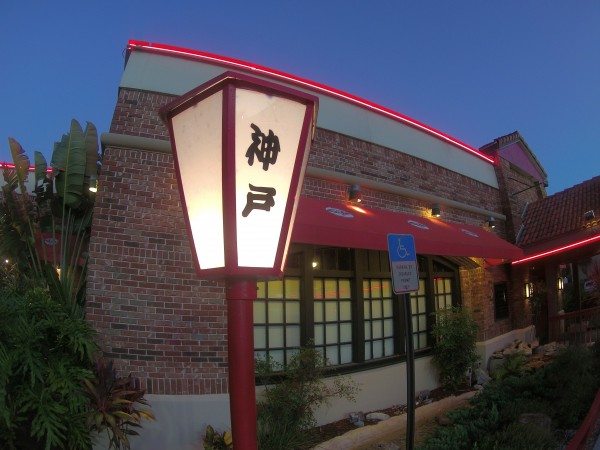 The quality of the HD video footage is nice. I was pleasantly surprised with the video footage as well as the photo image. The video footage had nice sharpness and contrast and decent exposure. Although I wish it had more manual controls such as ISO, brightness, and white balance. That would have been nice to have more manual control over the picture quality. I was extremely impressed with the quality of the photo images it took. With one of the photo images on my computer, I zoomed in and could really tell the crispness of the photo. Usually when  I've zoomed in on a photo from an action camera it tends to be very soft but the picture the Monoprice took had impressive detail in it. The Monoprice also has the capability of time lapse photo and Burst Mode with 7 rapid shots.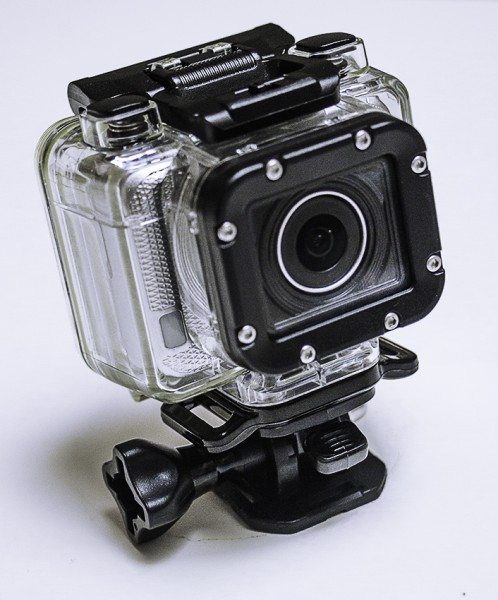 There are only two buttons on the Monoprice MHD Sport and they are located on the top of the camera. These are simple and straightforward buttons. One is the Power button, which also allows you to toggle between the Menu selection. And the other button is the Start/Stop/Photo button, as well as it being the OK button for menu selections. I really like how easy the buttons were to press while in the waterproof housing. Some other action cameras I have used while in their waterproof housing didn't respond when I pressed the buttons making it difficult to properly operate and use the cameras because I had to press so hard for it to work, after awhile it becomes very annoying and discouraging. The buttons on the Monoprice waterproof housing were easy to press and made it easy to use.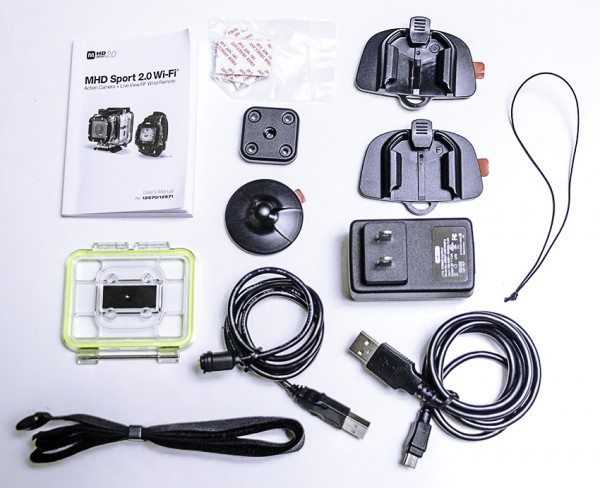 And speaking of the waterproof housings, the MHD Sport comes with several mounts and accessories as well. Keep in mind that if you want to  use a tripod, or have a mount with a 1/4″ inch screw thread, then you are going to have to switch out the proprietary mount that already came attached to the waterproof case. Not a big deal, but know that you will need a really small Philips screwdriver to take out the screws.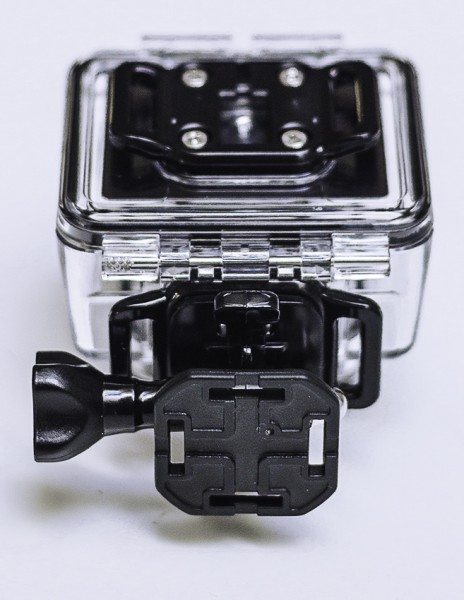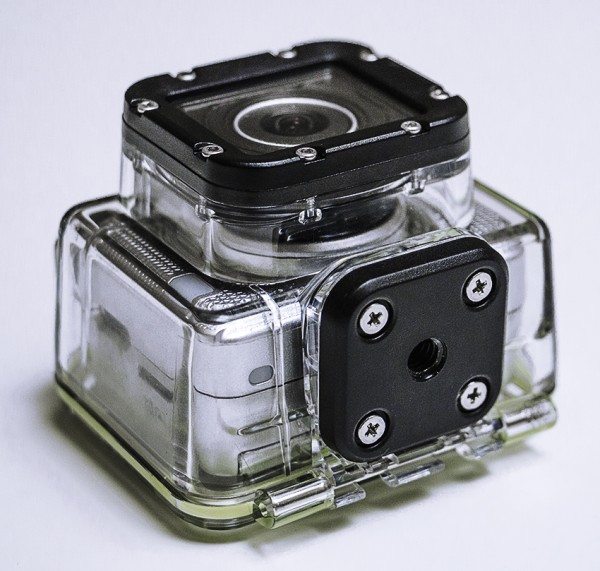 If you have mounts from your other action cameras that you want to swap and use with the Monoprice then keep in mind that your other stems may not be compatible with the mounts from the Monoprice MHD Sport.  I have successfully swapped out the stems on the waterproof housings of the SJ4000, Zeblaze, GoPro and with the BlackVue cameras with no problem. I basically mixed and matched their mounts when I wanted to. However, with the Monoprice, the slots don't seem to line up with the tabs on the other mounts allowing that mixing and matching. So, if you plan to use any of your other existing mounts for this camera then you may be out of luck.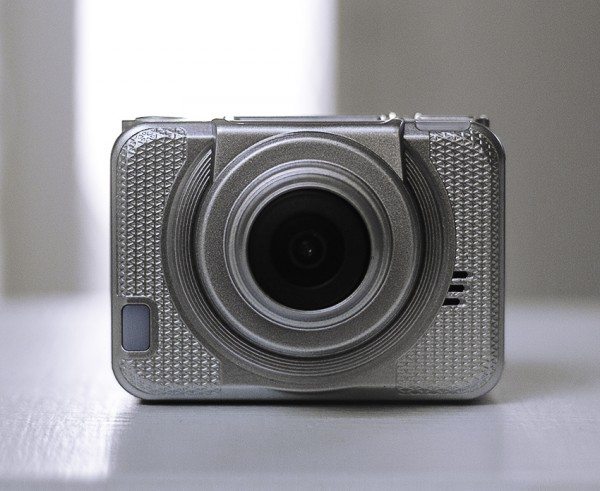 On the camera there are four areas that blink when the camera is recording. This is a nice feature so that you can basically see at any angle that the camera is recording. No need to keep looking for that one blinking red light that usually ends up being in front or the top of the camera. You will be able to see the blinking red light from any angle which could be helpful in any recording situation.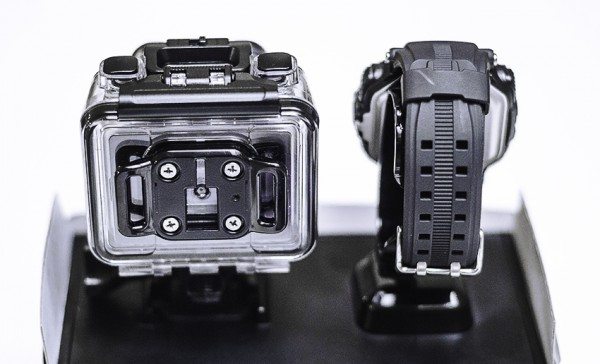 All-in-all, the Monoprice MHD Sport 2.0 is a great action camera for its price. The wrist remote makes for a perfect feature and almost a necessity for all action cameras. I mean, how convenient is a remote? For me, it's a time saver. With the addition of its great photo taking abilities, Wi-Fi and the external microphone plug, this could be a camera to have around as an alternative to higher priced action cameras.
Below are some detailed specs of the Monoprice MHD Sport 2.0 Action Camera:
Camera Specifications
Lens
3.4mm, ƒ=2.8
Focus Range
2.6 ft. ~ ì (0.8m ~ ì)
Field of View
Video: 75 ~ 140°, Photo: 73 ~ 142°
Video Resolutions and Frame Rates (FOV)
1080p (16:9): 60fps (126°), 30fps (126°), 30fps (102°), 30fps (75°)
960p (4:3): 60fps (140°), 30fps (140°)
720p (16:9): 120fps (102°), 60fps (126°)
WVGA (16:9): 240fps (140°)
Video File Format/Codec
mp4, H.264
Video Bitrate
Up to 15Mbps
Looping Video
Yes, 1080p30 (126°)
Photo Resolutions (FOV)
16 MP (142°), 12 MP (118°), 8 MP (93°), 5 MP (73°)
Burst Mode
7 photos per second
Self-Timer Delay
2 or 10 seconds
Time Lapse Modes
Video or Photo
Time Lapse Intervals
1, 3, 5, 10, 30, or 60 seconds
Photo File Format
JPEG (exif 2.2), DCF
White Balance
Auto
Built-in Wi-Fi
Yes
RF Remote
Included
OLED Display
0.83″ (21mm)
Inputs
Micro USB, 2.5mm TRS (external microphone)
Outputs
HDMI Mini Connector
Battery Type
SLB-10A (1130mAh Lithium-ion)
Battery Duration
Video (1080p60): about 90 minutes
Photo (16 MP): about 250 photos
Auto Power Off
1, 3, 5, 10, 30, or 60 minutes
Dimensions (HxWxD)
1.7″ x 2.3″ x 1.7″ (42.7 x 59.2 x 43.8 mm)
Weight (without battery)
2.6 ±0.1 oz. (74 ±3 g)
RF Wrist Remote
Display
1.29″ OLED
Aspect Ratio
4:3
Stream Format
MJPEG, 128 x 96 pixels, 8 fps
RF Frequency
2.4GHz
RF Range
Up to 9.8 ft. (3m)
Auto Sleep Mode
Never or 5, 10, 30, or 60 seconds
Battery Capacity
370mAh
Battery Charging Time
About 2 hours
Battery Duration
Live View: 1.5 hrs.
Continuous Time Display Only: 6 hrs.
Standby/Sleep Mode: up to 6 months
Source: The sample for this review was provided by Monoprice. Please visit their site for more info.

Product Information
Price:
$149.00
Manufacturer:
Monoprice
Pros:

Clear HD video.
Wrist Remote.
Wi-Fi.
External microphone plug.
HDMI port.
Clear and sharp photos.
4 Recording Lights.
Simple and easy to use buttons.
Nice packaging.

Cons:

No rear monitor screen.
External microphone plug is 2.5mm instead of 3.5mm.
Had to press hard on watch button to work.
Mounts not swapable with other mount stems on the market.
No manual controls.