We use affiliate links. If you buy something through the links on this page, we may earn a commission at no cost to you. Learn more.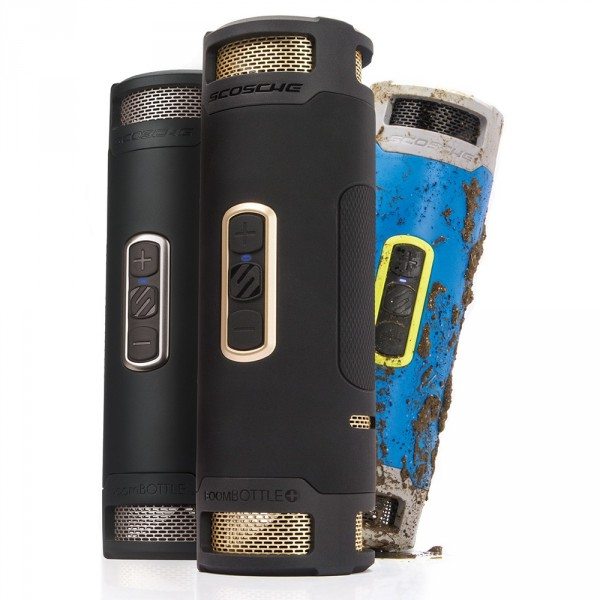 I've done a couple of Bluetooth speaker reviews in my short time with The Gadgeteer and have had the good fortune to review some really nice speakers. Despite that, I keep volunteering to review speakers because I really love listening to music. Reviewing these speakers gives me an excuse to blast some music and get some work done around the house.
Up for review today is the boomBOTTLE+, a waterproof, dust proof, Bluetooth speaker by Scosche. Will it reign supreme over my growing Bluetooth speaker collection or end up in the scrap heap aka my closet?
 In the box
boomBOTTLE+ speaker
MicroUSB charging cord
12W USB wall adapter
Carabiner and leash
Specifications
Bluetooth – 4.0, AVRCP, A2DP
Range – 33 feet
Speakers – 2 x 50mm speakers, passive subwoofer
Audio output – 12W x 2
Dimensions – 218mm (H) X 72mm (D)
Weight – 1.5 lbs
6000 mAh rechargeable battery
Ingress Protection – IP67 (dust and waterproof)
Design
The boomBOTTLE+ is 8.5 inches long, 2.8 inches in diameter, and weighs 1.5 lbs. Despite its size, the boomBOTTLE+ can be used on the go.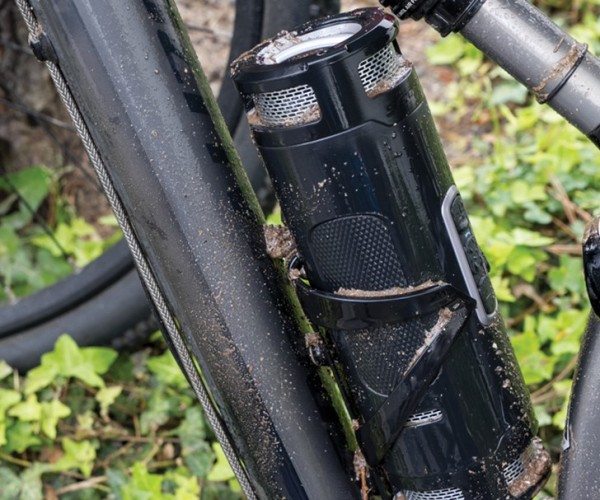 In fact, it was designed to fit into a bike's water bottle cage. I don't own a bike to test this claim so I'm just assuming it's true.
The boomBOTTLE+ has a shock absorbing TPU exterior that gives it a rugged feel. It's available in three different colors: Black/Gold, Black/Space Gray, and Sport Blue.
In figure A, you can see the Boom Bottle's volume up and down buttons and a multi-function button. There is also a LED notification light in the same area as the buttons. Figure B shows a waterproof cover that protects the Boom Bottle's various ports and switches. Figure C shows the ports and switches when not being concealed. Figure D shows a closeup of the ports and switches available: charging input and output, an equalizer switch, a charging indicator, a speaker channel switch, and a 3.5mm audio input port.
The bottom of the boomBOTTLE+ contains a 1/4 threaded mount that can be used to attach a tripod. The top of the speaker contains a small bar that can be used to attach an included leash and carabiner.
Never miss one of our posts again. Sent MON, WED, and FRI with the latest gadget reviews and news!
I was really pleased with the design of the boomBOTTLE+. It's a good sized speaker, but remains portable. Also, this speaker feels sturdy; it's going to survive just about any drop that may accidentally occur.
Performance
The first step to using the boomBOTTLE+ is to pair it with your device. This is a simple process. First, you power the boomBOTTLE+ up. Next, you hold down the multi-function button for 3 seconds to enter pairing mode. The boomBOTTLE's LED will now flash blue and red to indicate it's in pairing mode. From here, you enter your device's Bluetooth menu and select BOOMBOTTLE+. You should now be paired. Like most speakers I review, the boomBOTTLE+ can only be paired to once device at a time.
Once the boomBOTTLE+ is paired, you can stream audio; however, the boomBOTTLE+ does not act as a speakerphone for your smartphone. This isn't an issue for me, but it's something you should know if you are considering purchasing this speaker.
While streaming audio, you can press the multi-function button once to play and pause music, twice to skip to the next track, or three times to go back to the previous track. The volume buttons can be held down to quickly raise and lower volume or be repeatedly pressed to adjust volume in increments.
When streaming audio, you have the option to switch the equalizer from indoor to outdoor mode. I played with it a bit and found that outdoor mode makes the audio seem louder, but otherwise didn't notice a difference. That being said, I'm far from an audio expert and don't really pick up on subtle differences in EQ settings.
I've said before I've given up on trying to find exact battery life, but the 6000 mAh battery should last several hours. I used the speaker on a single charge for several hours over the course of several days while putting together furniture, raking leaves, and working around the house.
Ingress protection
For those of the you who aren't familiar, ingress protection is a rating system used to indicate a device's ability to withstand dust and water. It's a two digit code preceded by the letters "IP". The Boom Bottle+ has a rating of IP67.
The first digit, 6, indicates the level of protection against solids aka dust. A rating of 6 indicates the boomBOTTLE+ is   "Dust tight – No ingress of dust; complete protection against contact" or dust proof.
The second digit, 7, indicates the level of protection against liquids. A rating of 7 indicates the boomBOTTLE+ is protected from "immersion up to 1 m – ingress of water in harmful quantity shall not be possible when the enclosure is immersed in water under defined conditions of pressure and time (up to 1 m of submersion)". It's a really technical way of saying the Boom Bottle+ can be temporarily placed in a meter of water and still work.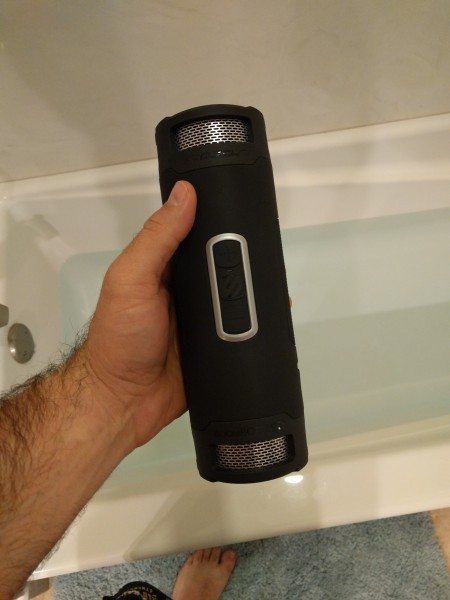 Of course I had to test this, so I filled my bathtub up with water and submersed the speaker.
With the boomBOTTLE+ on and streaming music, I held it under water for about a minute. You can see the LED illuminated while the speaker is underwater in the picture on the right.
After a minute, I removed the boomBOTTLE+ from the tub and it was still streaming music. You can see in the pictures above, the boomBOTTLE+ is dripping wet.
Sound quality
Streaming audio at normal volumes was crystal clear; there was no distortion or static at all. I raised the volume to max and found sound quality was still very good; there was a slight bit of distortion, but otherwise it was fine.
What's really interesting is when the boomBOTTLE+ was underwater I could still hear it blaring music. Even underwater the sound quality is really good.
The speaker has good volume range too. The boomBOTTLE+ could be used to play music at small gatherings or BBQs and have the music heard above the crowd.
Extras
The boomBOTTLE+ also has several interesting features that most Bluetooth speakers don't have.
First, you can pair the boomBOTTLE+ with a second boomBOTTLE+ for true stereo sound. This is a really nice feature to have. If you are having a large party and can afford two boomBOTTLEs, this would make them more than loud enough to be heard over the crowd.
Second, the boomBOTTLE+ can work as an emergency portable power bank. You can plug your device's cord into the boomBOTTLE's USB output and recharge your device. This is a very interesting feature, one that I've never seen on a Bluetooth speaker before. Considering how rugged the boomBOTTLE+ is and the environment it could be used in, having the ability to recharge your phone with the speaker could definitely pay off.
Finally, the boomBOTTLE+ includes a leash and carabiner. Again, this is a very useful feature. One wet morning I was raking my leaves and was able to use the carabiner to keep the speaker off the ground. It would be very useful for walking, hiking etc.
Conclusion
Of all the speakers I have reviewed, the boomBOTTLE+ is by far my favorite. It is the perfect combination of size and portability and has really good sound quality. The boomBOTTLE's sturdy exterior combined with its dust and waterproofing means it can be used in any environment.
Generally, I stay away from recommending high-priced speakers because it is easy to find cheap, quality Bluetooth speaker, but in this case I'm going to make an exception. At $179.99 the boomBOTTLE+ is pricey, but it has so many great features. In my opinion, it's a speaker you can purchase and expect to last.
Source: The sample for this review was provided by Scosche. Please visit their site for more information and Amazon to order one.