We use affiliate links. If you buy something through the links on this page, we may earn a commission at no cost to you. Learn more.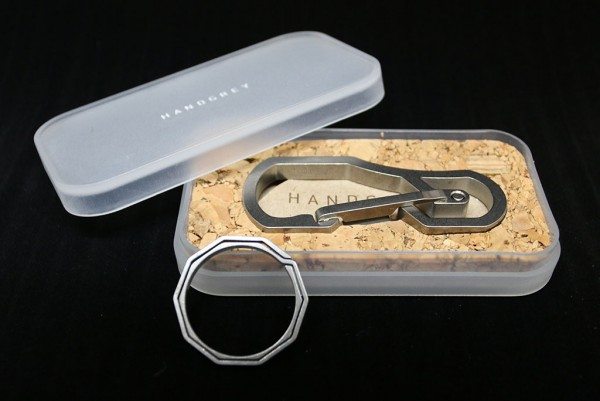 Have you given much thought about split keyrings? No? Ok, me neither. But let's do that now. The split keyring has remained virtually unchanged in decades. That is until now. The HANDGREY KNOX is the keyring reinvented. HANDGREY is currently running a crowdfunding campaign on Kickstarter and sent me one of their KNOX keyrings to try along with one of their H3 Titanium carabiners. Let's check them out.
Note: Images can be clicked to view a larger size.
HANDGREY KNOX Titanium keyring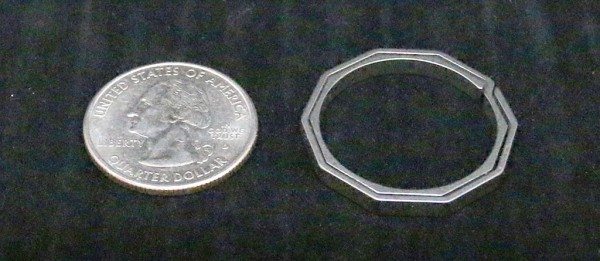 The KNOX keyring is made of Grade 5 ( Ti-6AL-4V) Titanium and has a stone-tumbled finish. The inside diameter of the keyring allows a US quarter to fit inside it perfectly. You'll notice that the outside edge of the keyring is not round like a traditional split keyring. It has 10 sides. From outside edge to outside edge, the KNOX is 1.10 inches across and is 0.12 inches thick.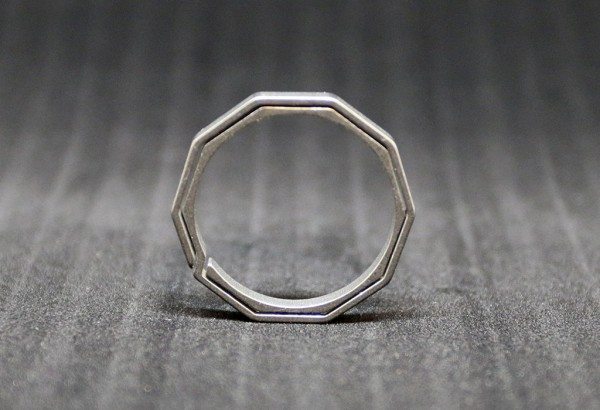 This keyring still has a split design, it's just not split like the cheap keyrings we all use every day. You know the ones I'm talking about, the ones that break your nails and can be tough to use.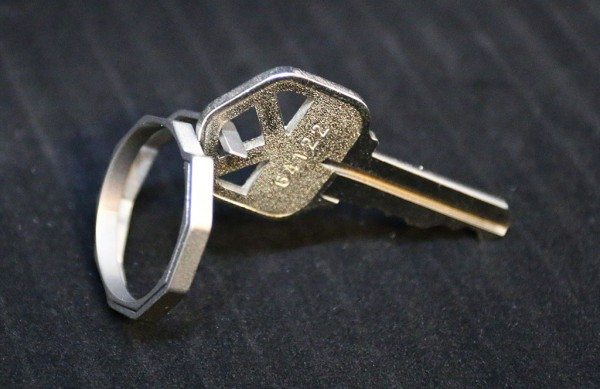 Instead of being split on the horizontal edge, the KNOX is split around the ring itself. To slide a key on the keyring, you can slide the end of the ring on the top edge sideways so you can hook the key.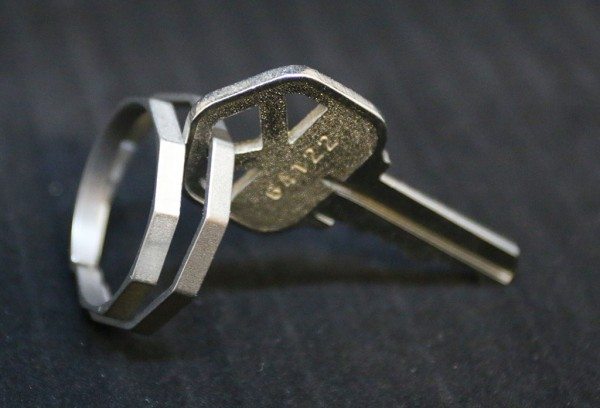 You can also lift up the top edge of the ring and slide on the key. Using either method, I wouldn't say that it's any easier to use get keys on and off the KNOX keyring than an ordinary split keyring.
From HANDGREY:
The advantage the KNOX does have over traditional keyrings is that you can shift to open the rings….so people with arthritis who can not bend their fingers can eve use them….or even when you wear gloves.  So no prying in this case.
The KNOX keyring does look more unique than a traditional split keyring, but it's also significantly more expensive. This is true due to the materials and method used to make them.
These key rings are produced via PRECISION EDM Wire Cutting, often reserved for prototyping & precision tool making. It takes around 30 minutes to cut each one, followed by another half a day of Stone Tumbling. The material and the process makes the price much higher than the traditional key rings. Keep in mind, that regular split key rings take around 10 seconds to make, and are automated for mass production, which is why they are a few cents a piece.
Is one HANDGREY KNOX keyring worth $15 when you can buy 100's of split keyrings for the same price? No way. Even HANDGREY alludes to this on their Kickstarter page:
This design is not, by any means, intended to replace the traditional keyring. Production cost is high, and more importantly, it can't be mass produced cheaply, the way traditional key rings can, without extreme compromises.
The HANDGREY KNOX Titanium keyring is admittedly cool and unique, but I'll stick with my cheap old split keyrings for now.
Price: $15
Buy on Kickstarter
HANDGREY H3 Titanium carabiner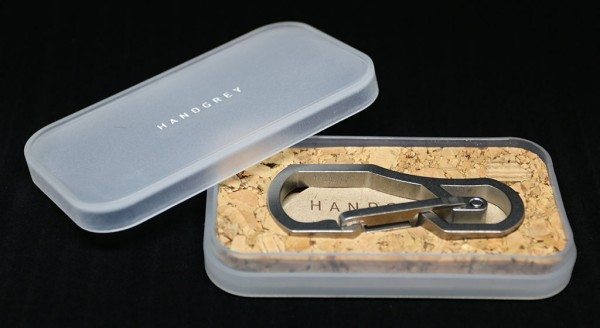 If you decided to pre-order a KNOX keyring, HANDGREY also makes several quick release carabiners that you can use with your KNOX or traditional keyrings.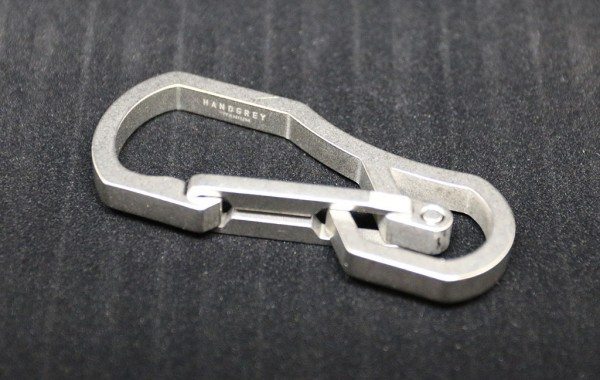 The H3 is made of grade 5 Titanium that has been EDM wire cut for perfect precision. The carabiner has a tumbled finish which I really like. It's gorgeous. The only marking on the carabiner is the HANDGREY name which is edged on the inside edge of the main loop.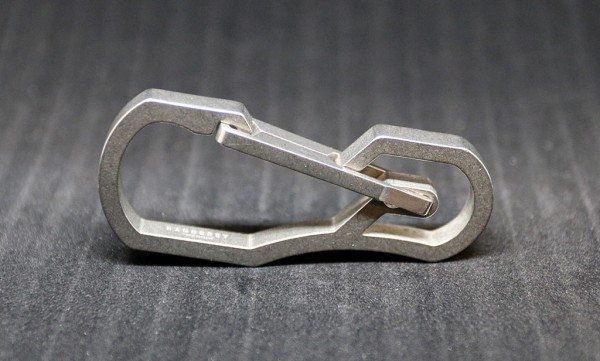 The H3 is about 2.60 inches long and 1.06 inches thick. It's the prefect size to clip on your belt or a gear bag.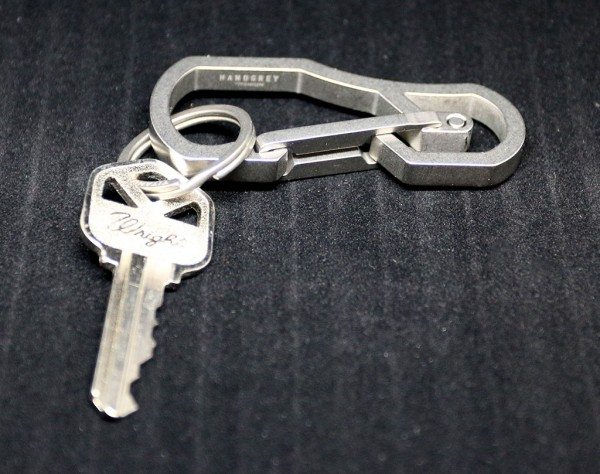 The patent-pending quick release design of the H3 allows for two areas to hold key rings. There's the obvious main loop area which is immediately accessible when you open the spring loaded gate.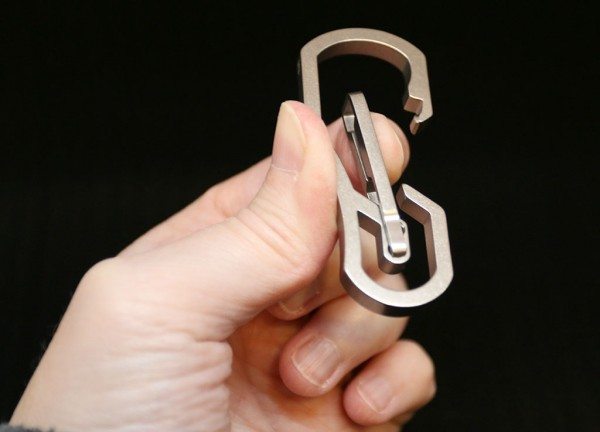 Then there's the lower area which is not so obvious to access. To use the lower loop you have to open the gate further as shown above.  The gate itself is strong. There is no way it will open by accident on it's own.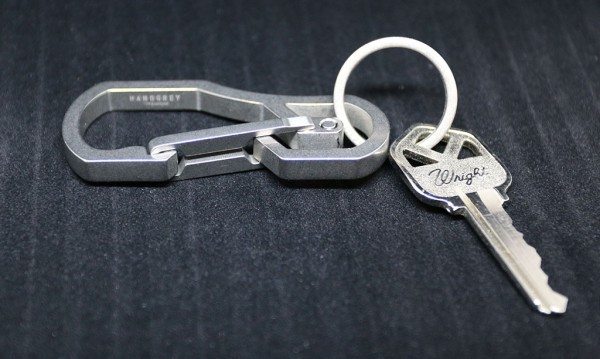 If you regularly need to remove keyrings from the carabiner, using the top loop is more convenient and quicker. The bottom loop is more suited for the keys that you always keep with you. Pretty slick.
HANDGREY offers several carabiners with this quick release feature that are all priced at $85 – $90. As with the KNOX keyring, you can easily find and buy much lower quality and cheaper carabiners, but for someone who appreciates a great design and Titanium, the H3 is a thing of beauty. It's also made to last – forever.
Price: $85 – $90
Buy at HANDGREY
Source: The sample for this review was provided by HANDGREY. Please visit their site for more info.

Product Information
Price:
$15 (KNOX), $85 (H3)
Manufacturer:
HANDGREY
Retailer:
Kickstarter
Pros:

KNOX: Interesting design
H3: Well made, gorgeous design, two areas to hold keyrings

Cons:

KNOX: Expensive, isn't any easier to use than a split keyring
H3: None