We use affiliate links. If you buy something through the links on this page, we may earn a commission at no cost to you. Learn more.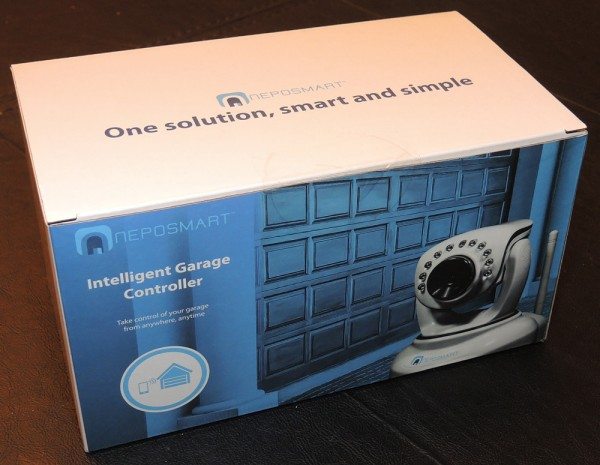 When fellow Gadgeteer, Dave Rees, came to me and asked me to review a garage door controller, I was unsure, since I had no experience messing with garage door openers. Since it came with free installation, I agreed. A garage door controller and monitor is quite a bit outside of the box for me, but webcam surveillance was not. So, when Dave came over with the Neposmart Intelligent Garage Controller / Security Camera, I was confused to see the big webcam for a garage door controller! With that, I was much more eager to try it out, as I love items with multiple uses.
Neposmart IP Camera
AC Adapter
Warranty Card
Mounting Bracket and Screws
Ethernet Cable
Bell Wire (Intelligent Garage)
Magnetic Switch (Intelligent Garage)
Instructions
Wifi enabled
3.5 MM in/out
IEEE 802.11b/g/n 150Mbps
1.3MP 1/4" CMOS Sensor
Resolution: 720p HD: 1280 x 720, 640 x 360, 320 x 180
Lens: f=3.6mm, F=2.0
10pc IR LED, 19 feet radius in complete darkness
Supports Four Area Detection
30 FPS frame rate
Real time alerts
FTP, SD, Dropbox, and local storage available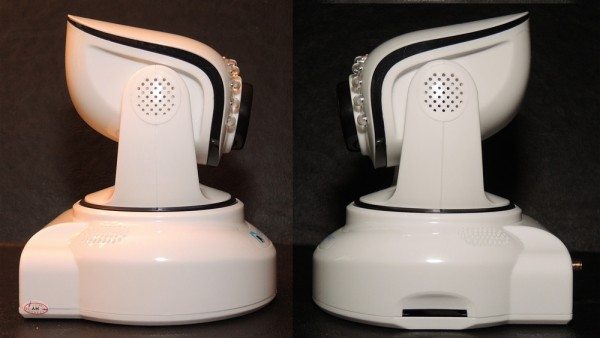 My first impression when unboxing was, "This looks very similar to my pan and tilt IP camera!" In fact, it's nearly the same size as the one I have, and the back is nearly identical. This camera actually pans and tilts much better than my other one, and has the capability to transmit and receive sounds.
Upon attempting to set up the garage door portion of the unit, we discovered the length of the bell wire was too short for my needs. While Dave procured some more wire, I used this as a spycam for a vacation we had planned that week. I set it up in my living room and it made an excellent surveillance camera for spying on my cats and sister.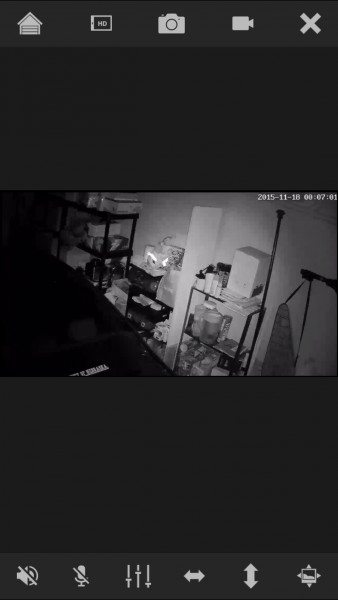 Viewing the camera from the app was very smooth. With the app, I was able to communicate with my sister back and forth, adjust the camera, change some video settings, take a video or photo, add presets, open my garage, and modify the device settings. I would highly suggest using the presets, because it's really slow at moving when swiping on the app. Communicating back and forth didn't work as smoothly as I thought it would, since it had a lot of echo and reverberations that ended up making me have to mute it. You can also view videos and picture that you have taken both on the SD card and stored locally.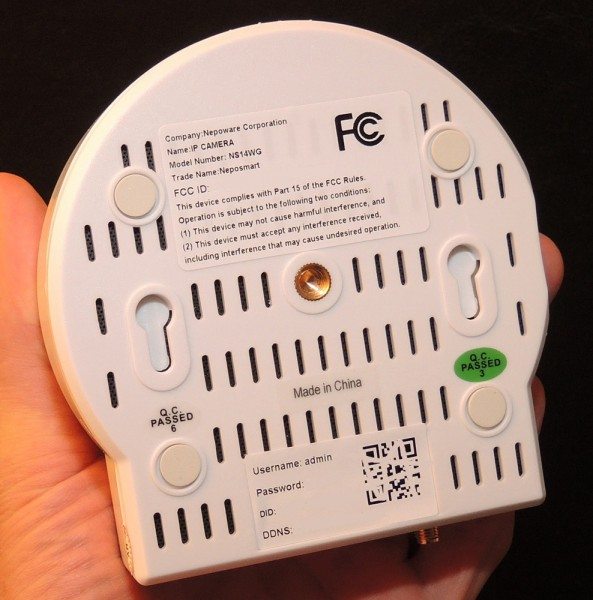 The default username, password, and ID of the camera is located on the bottom of the camera unit. There is also a QR code that can be scanned by the app to sync it to your device. You will just need the username and password for that, and the ID if you set it up manually. Everything is case sensitive, in case you find yourself unable to login.
When connecting the device to my Wifi network, I was unable to do so unless I plugged the Ethernet cord into my router. I read that the lack of a WPS enabled router is what caused this. It was no big deal though, as it was very easy to set up with the Ethernet cord.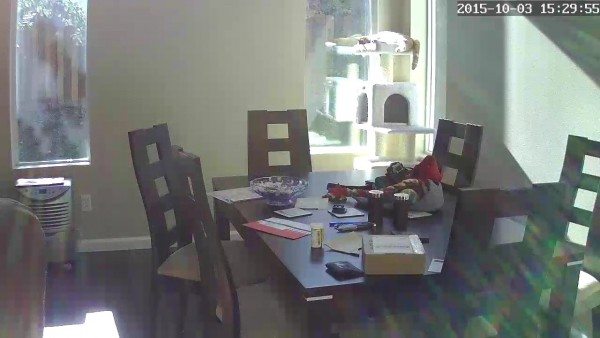 So, the week went by and I really enjoyed the camera for checking in on my cats and home. The night vision on this camera was good when viewing from the app, and the quality during the daytime was good as well. You can adjust on the app whether to view your camera in HD, medium, or low quality, which is a nice for when you are stuck without a decent connection. One thing I noticed was the glare during certain hours of the day when the sun shone into my living/dining room. With the other webcam I had placed there, there was no glare, but this one had it. It only affected it for about an hour, but it was pretty 'glaring' if you get my pun. My husband also commented that the two lights on the front, especially the blue light that blinks when connected, is very very bright.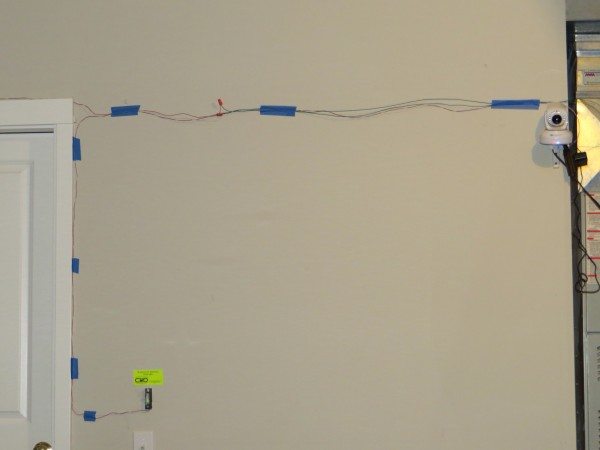 I made it back from my trip, and Dave came over to install the rest of the wiring. Since I didn't want to tear up the drywall on a product I didn't know if I would like, we left the wiring visible. It also made it easier to show how it is set up. If you are wondering by now why Dave didn't review this himself, it is because his garage door opener is too fancy for this. It needs a simple, two wire setup like my own. My single button opener is the definition of simple.
The first thing we did was connect the wiring to the garage door button. This simply required unscrewing a few screws, attaching the wire in two spots, and screwing it back in. I could have easily done it myself and I know little of these things. Next we figured out where to attach the camera with the mounting hardware. High up seemed the best option, with it somewhere in the middle to view both cars in the garage. Next, we took the wire from the garage door button and plugged it into the back of the camera.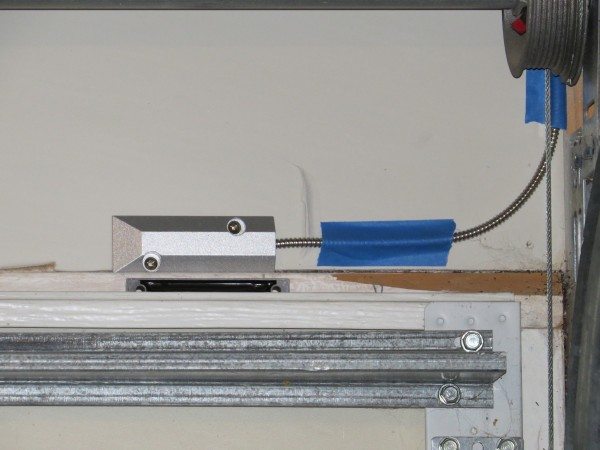 Step three was installing the sensor bar on the garage door. You can choose to use the adhesive on the sensor bar or screws to attach it to your garage. We used the adhesive and lined up the two pieces. One went on top of the garage door, the other against the wall adjacent to the other, with only a small distance spanning them.  Lastly, we took the wire connecting this and strung it back across the garage (seen coming out from the doorway in the pic prior to the one above) and plugged it into the camera.  After crossing our fingers for a minute, waiting for it to calibrate, we had video!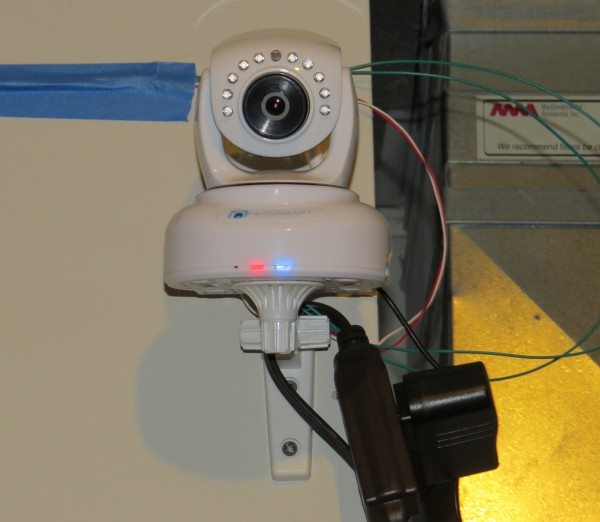 Never miss one of our posts again. Sent MON, WED, and FRI with the latest gadget reviews and news!
Plugging the camera in, however, is some pretty ugly business. Since you need to have the camera up high to really see the garage, you need a long plug-in. Of course, a standard length cord was included, so out came a trusty extension cord. They do sell a 14 ft extension cord specifically for this for 12 dollars, but my outlets are too far away even for that. If I planned to keep this here for the long run, I'd debate finding a way to install an outlet nearby as to not have cords all over.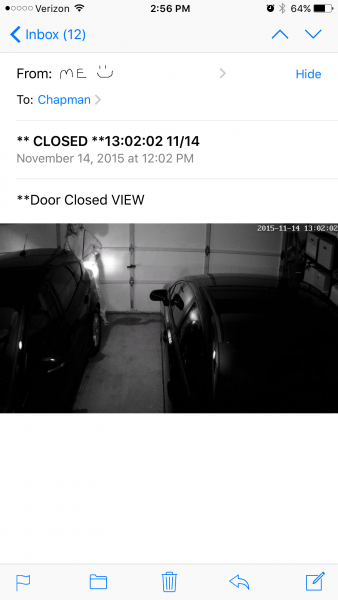 I set up the app to notify me when my garage door opens, closes, and is open for longer than ten minutes. Through the app, I also set up email alerts, so when the garage door is open and closed, I get emailed a picture of each event. It's kind of annoying, but it is amusing when I catch myself getting out of my car in my email. I will say, the pictures you get wouldn't be terribly useful if someone broke in, as it seems they are taken right when the garage door opens (you see a crack at the bottom of the door and that's it and when it is completely closed. You can also have pictures and video saved to the SD card, sent via FTP, or sync to Dropbox. If needed, I can use the app to close the garage door remotely. Since I have yet to get my sister a garage door opener, she actually uses the app to control the garage door and it works quite well for her.
So, after a few weeks of using this in both ways, I've become more fond of it as each day passes. I really don't think I will keep it in the garage for too much longer since it seems much more useful as a single unit to be watching the house rather than the garage. I think it would work best if you had multiple cameras since one in the garage would make much more sense. Or, if there was a special garage unit that was smaller and less visible, that would be even better. Once I got the camera into position in the garage, I haven't changed its viewing angle at all, so having pan and tilt isn't as useful as having a smaller, wide angle unit. Inside the house, however, it has been great to have pan and tilt to look around my home.
The price is a little steep though it does come with garage door sensor and camera. There is no extra cost to pay to Neopsmart once you buy the device since they have no subscriptions or monthly fees. You supply your own Dropbox, SD card, or FTP server. I haven't taken full advantage of all of these yet, but I plan to set up the Dropbox sync when I find out where I want to place the camera for surveillance.
Overall, I grew to like the Neposmart camera and garage door controller. For my own use, it works best inside the home, but in the weeks I've had it in the garage, it has yet to fail. I would have to say it is quite reliable, has a pretty good iOS app with a user-friendly interface, and has good image quality in both day and night vision. At the price point it is at, it would be quite expensive to have a few of these, so I would recommend selling a version without the garage door sensor for those who already have the base unit at a lesser price so people can use these both in the garage and in their home without breaking the bank.
Source: The sample for this review was provided by Neposmart. Please visit their site for more information.
Product Information
Price:
$199
Manufacturer:
Neposmart
Pros:

- Dropbox sync
- Good video quality for both night and day vision
- User friendly app
- Very reliable
- Pan and tilt to 340% left and right / 90% up and down is awesome to have

Cons:

- Pricey
- May not be compatible with fancy garage door openers
- Needs more bell wire included
- Audio has a lot of reverberation when talking through the camera