We use affiliate links. If you buy something through the links on this page, we may earn a commission at no cost to you. Learn more.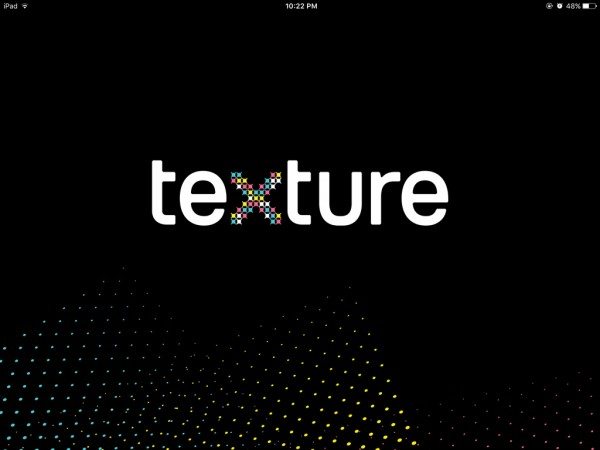 Back in the summer of 2012, I reviewed the Next Issue magazine app for the iPad.  I had been waiting (not so) patiently for the iOS version since I wrote about the Android version of the app in the spring of that same year.  Next Issue gave you access to digital versions of dozens of magazines for one low monthly price.  You could read the current issue or back issues of the included magazines for as long as your monthly subscription remained active. When I first subscribed, Next Issue had about 40 magazines available and included a nice selection of magazines that I enjoyed reading.  The $15 monthly Premium subscription was certainly cheaper than purchasing just a month's worth of People magazines – all the other included magazines were "free", so to speak, so the Next Issue app and subscription delivered a lot of bang for the buck.  Why am I telling you all of this when this review is for the Texture Magazine app and service?  Well, because Texture Magazine is the newest incarnation of the Next Issue app.  Let's see what's changed.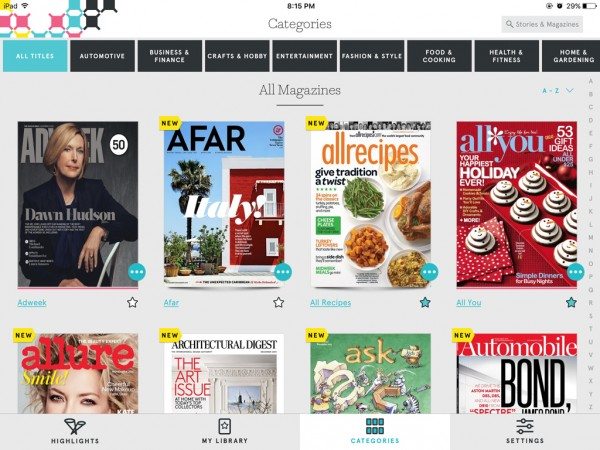 One thing that hasn't changed is the ease with which you can access current and back issues of magazines.  The reading and navigating magazines features are still so very similar to the previous version of the app that I suggest you read my earlier review of Next Issue for those functions.
The monthly subscription prices haven't changed, either.  It's still $9.99 a month for the Basic subscription for monthly magazines.  The Premium level adds weekly magazines to the offerings; it's still just $14.99 a month.  However, what has changed is the number of magazines included in your subscription.  At the time of writing, I counted 168 different magazines (current and back issues) available to me each month with my Premium subscription.  That's an astounding number of magazines for the relatively tiny subscription fee.
You can "favorite" magazines you want easy access to each month, so you don't have to dig through all the listings to find the new issue of Popular Science, for example.  In the preceding image, you can see a list of all the magazines currently available to Texture subscribers – or at least those that fit on the iPad screen – by selecting the Categories tab at the bottom of the app's screen.  You can scroll through a list of all the magazines, or you can filter magazines by categories for easier selection of your favorites.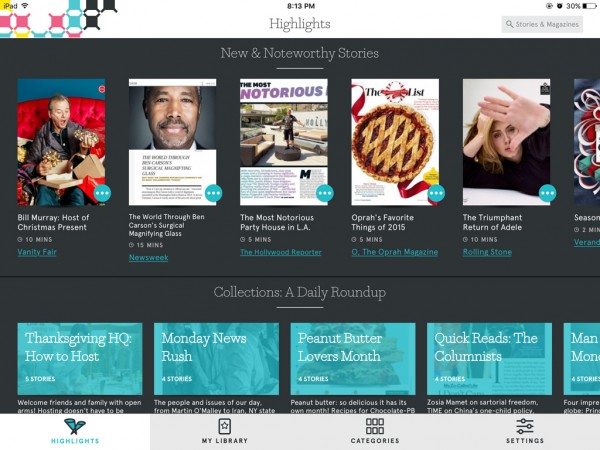 When you open up the Texture app now, you'll see the Highlights screen.  At the top of this screen, you see a list of New & Noteworthy articles from all magazines, not just your favorites, that might be of interest to you.  For example, I can see a list of articles covering subjects as diverse as Ben Carson, Adele, Oprah's favorite things for this year, gift guides, and more.  You can easily access these articles by just touching the thumbnail.  Just that article downloads, so it's faster than downloading the entire issue – which is nice if you aren't really interested in reading the rest of that magazine right now.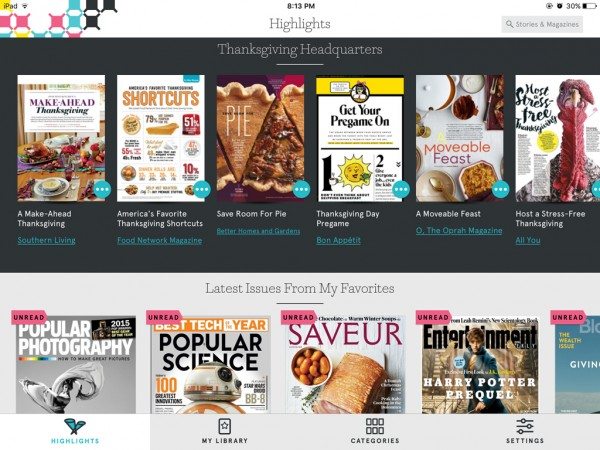 Scrolling down the Highlights screen shows you more: a list of the new issues from my favorite magazines; timely Thanksgiving-related articles, which might be useful in planning our non-traditional meal for later this month; and Collections.  Texture curates a selection of articles related to a specific topic into each Collection.  The Highlights page has a huge number of Collections of timely topics, such as "It's Diabetes Month", "It's Sandwich Day", "Politics in America", and many more.  You'll have easy access to informative articles about topics of interest without having to hunt through all these magazines yourself.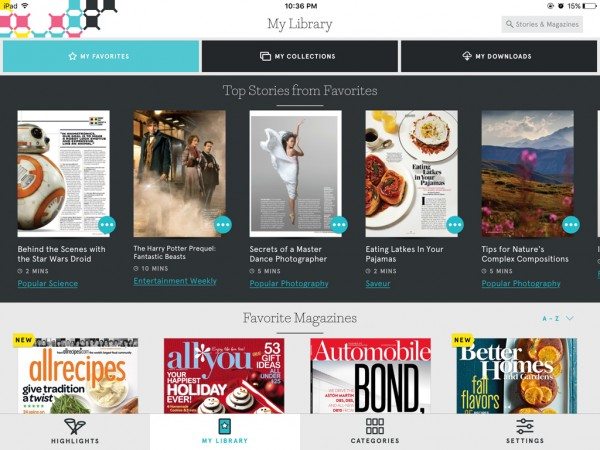 At the bottom of the screen, you'll see other tabs.  The My Library tab is where you'll find the filtered list of your favorited magazines.  There's also a list of Top Stories from your favorite magazines, so you can easily access the article before downloading a complete issue.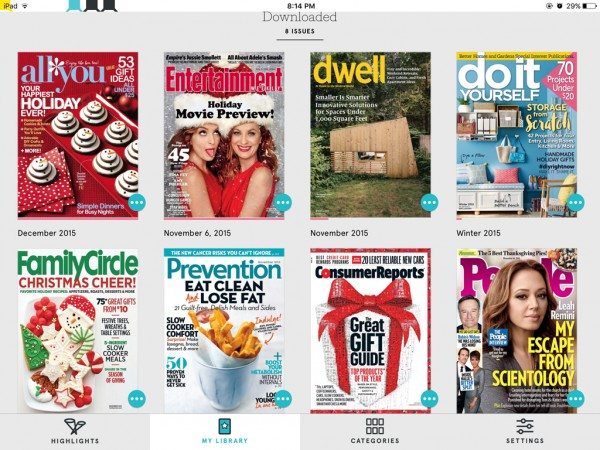 Just like before, you download issues to your device for reading.  Unlike before, it's now much easier to see what issues of what magazines you have on your device.  Downloaded issues are accessed from the My Downloads tab seen at the top of the My Library page.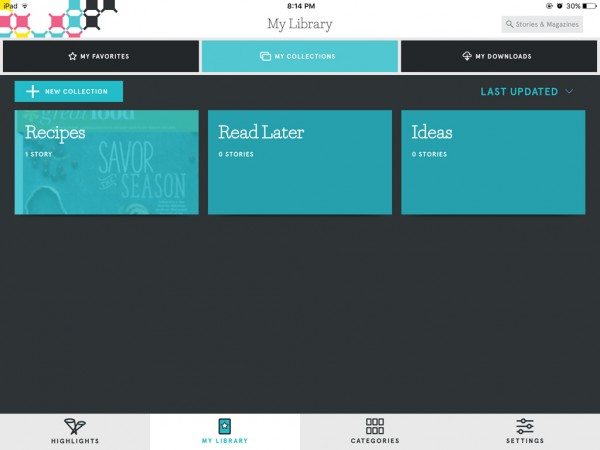 In addition to the curated Collections created by Texture, you can create your own collections and access them in the My Collections tab from the My Library page.  Here you can create a new collection or access your current collections.  You can save recipes, articles for reading later, or you can save articles with a how-to you want to try later, articles with photos you want to keep, or anything you would clip from a paper magazine to save.  Think of this as your collection of ripped-out magazine pages – only in organized digital form without all the clutter.  You add to your collections by tapping the plus sign at the top menu while reading a magazine and selecting the collection to add it to.  It's a bit like having your own personal Pinterest, populated with articles from your Texture app magazines.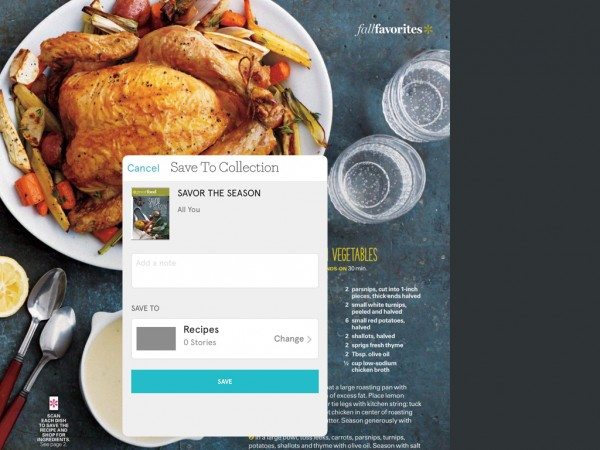 Here's a recipe I added to my Recipes collection.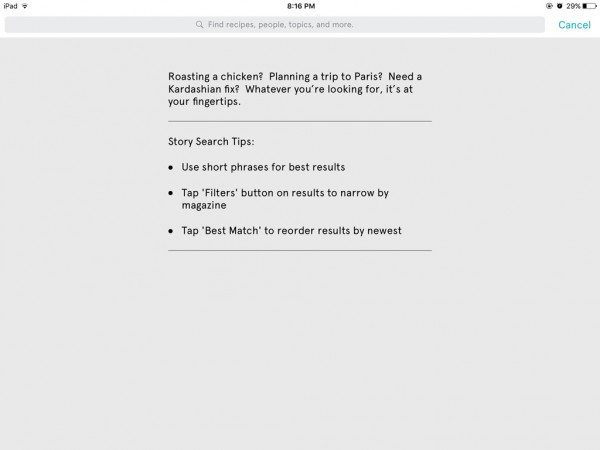 Searching for articles of interest is very easy now with Texture's Search function.  You'll find the search sidebar at the upper right of most screens in Texture.  Tap there, and you'll be able to enter a keyword or phrase.  Texture will search through all the issues (current and back) off all the magazines in its library to find articles of interest to you.  Tap on a match for instant access to that article.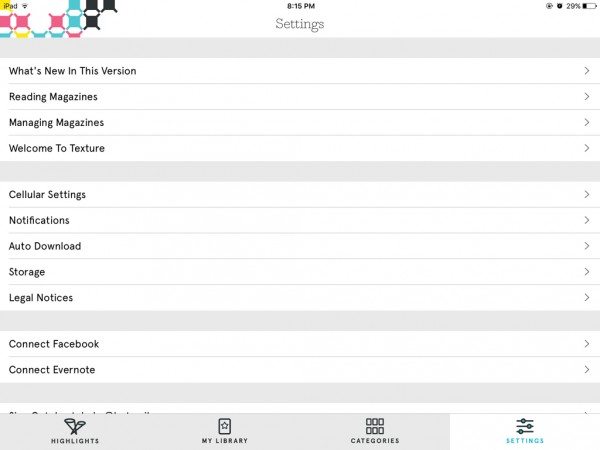 The Settings function lets you control how Texture downloads and notifies you of new issues.  You'll also find help there, and you can connect Texture to Facebook and Evernote.
Next Issue was a marvelous app.  It was my favorite way to consume magazines; I only purchased a handful of paper magazines in the years since I started my subscription to Next Issue.  (Because they still haven't added Atomic Ranch to their offerings, darn it!)  I loved how inexpensive magazines were through Next Issue.  Texture Magazine by Next Issue has kept all the things that I've loved all along, but they've made it easier to quickly access issues and articles.  Their Collections and featured articles can guide you to things you never knew you wanted to know about, and they've made it easy to "clip" and organize articles for later reference without leaving you buried under piles of papers.
Next Issue and now Texture are a magazine lover's dream.  Access to dozens and dozens of magazines for everyone in your family (including young kids), an easy way to find articles, and a clutter-free way to save articles at an unbelievably low price.  What else could you ask for?
Source: An extension of my subscription period was provided for this review.  Please visit the Texture website for more information about the app and subscriptions.
Product Information
Price:
App is free, but a subscription for content is required. ($9.99 a month for Basic; $14.99 a month for Premium.)
Manufacturer:
Texture Magazine
Retailer:
iTunes app store
Pros:

Same great magazine reader with new features
Easy to determine what issues have been downloaded to your device
Easy to "clip and save" articles that interest you
Collections of articles makes it easy to find timely topics
Easy to search through Texture's entire library

Cons: