We use affiliate links. If you buy something through the links on this page, we may earn a commission at no cost to you. Learn more.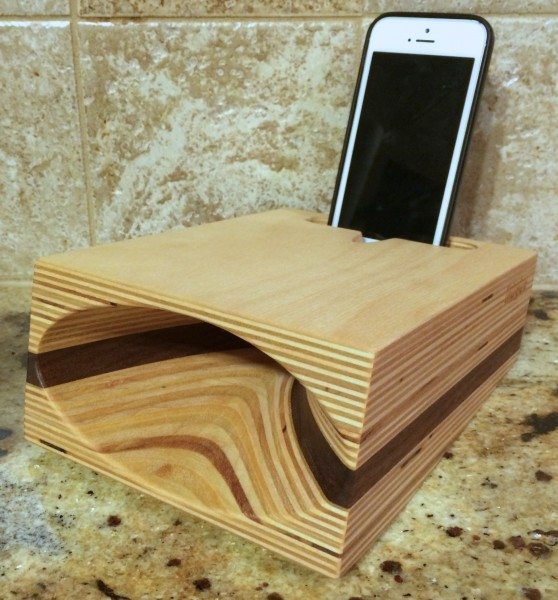 It's no great secret that even at the highest volume, the sound level on a phone is rather lacking.  A Bluetooth or wired speaker system is a necessity if you are using your phone to stream music at home.  The trade offs with those solutions though are the inconvenience of portability as well as having yet another device to keep charged or powered.
The Timbrefone is a passive speaker system made entirely of wood.  That's it.  There are no wires, batteries, or adapters needed.  There's no need to pair a device or connect to a home network.  Simply rest the phone in the built-in cradle then sit back and listen.  Due to the unique construction and carving of the wood, sound is concentrated through an opening at the bottom of the cradle and then is pushed out of the cone-shaped amplifier.
The resulting sound is actually surprisingly good at first listen.  However, how does it hold up during extended use and testing?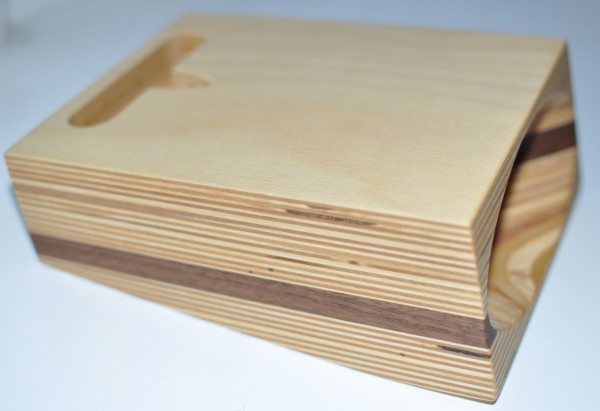 The Timbrefone is predominantly constructed from Baltic Birch plywood and finished with Danish oil.  Depending upon the model, a contrasting band of wood (currently Walnut or Mahogany) can be added or the Birch can receive a whitewash finish.
I was sent the Walnut model for review.  The darker wood definitely pops against the lighter Birch and the band wraps fully around and inside the speaker.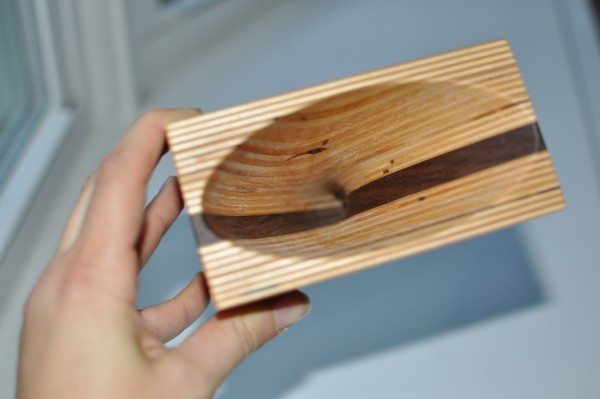 Design-wise, it's a very simple block of wood with a carved out phone cradle along the top and a phonograph-esque center amplifier.  It measures roughly 7.5″ x 5.5″ x 3″and is just under two pounds of solid wood; smaller than a hardback book, but thicker and heavier.  Due to the amplifier "cone", there is a slight incline along the top when it's sitting flat.
At the bottom of the cradle is a small hole.  Installation is just a matter of lining up the phone's speaker to rest just over that opening.  Sound will travel down through that opening, and will then be projected out the center amplifier cone.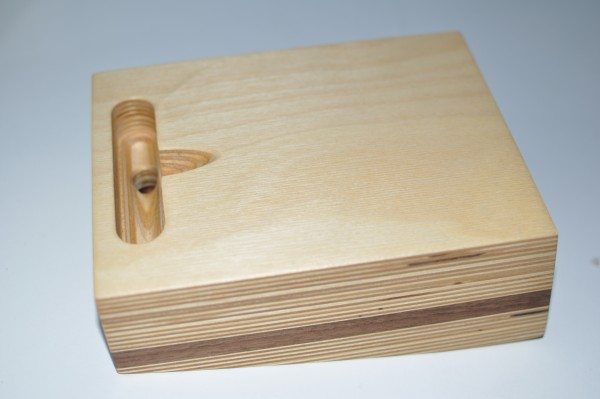 The phone cradle is large enough to accommodate a phone with most cases.  An Otterbox case probably will not fit, but my iPhone in its case as well as my wife's in the standard Apple silicone case fit with more than enough room to spare both in width and depth.
Now I should say that the predominant phone touted for this speaker on the manufacturer's site is an iPhone, however it's compatible with other phones, as long as they have a bottom speaker.  My brother-in-law's Samsung Galaxy fit and worked just fine as well.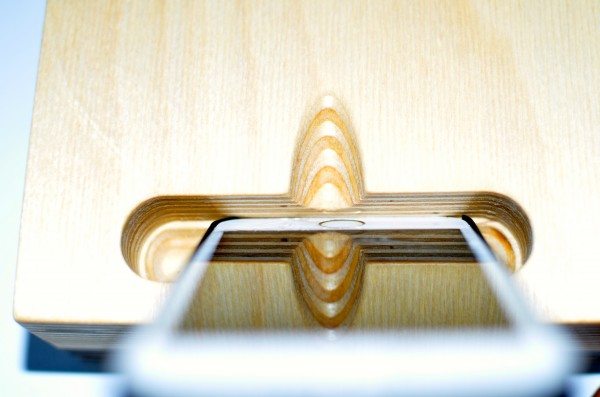 The Timbrefone definitely works well to amplify sound.  However, it comes no where close to matching the quality of an electronic speaker–or even a set of decent earbuds.  There are no moving (or any) parts inside the speaker; it's just making the phone louder.  Say what you want about the wood enriching the sound, but what comes out is still phone-sounding.  Music is missing the low and high tones and almost sounds conical, like I'm listening through a funnel or tube.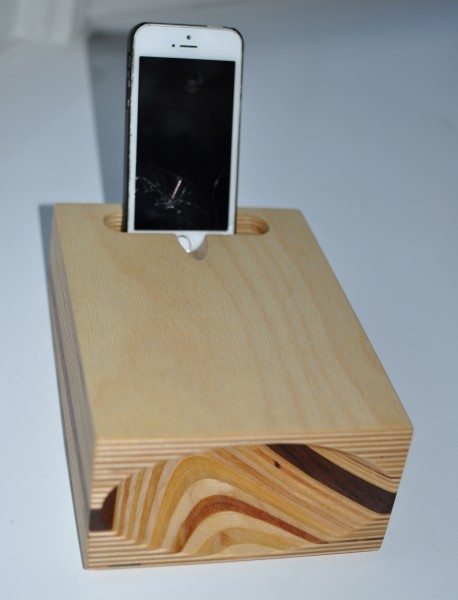 On the other hand, conversations over speakerphone and amplified by Timbrefone were actually quite good.  Voices lent themselves quite well to that mid-range and I found that "funnel" sound much less noticeable when listening to my caller.
The manufacturer claims that your own voice quality gets improved and focused back to the microphone, but I didn't notice this to be the case.  I'm not even sure how that could logically work, unless I was right up next to the speaker and talking directly into it.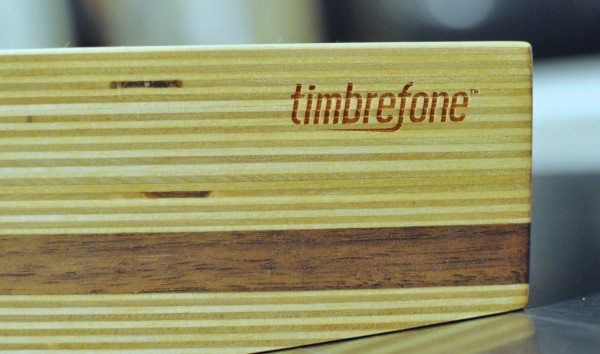 All of this said, I think Timbrefone is a great little device under the right conditions.  I wouldn't use it for all of my home-streaming speaker needs, but when traveling or even camping it's easy to pack and thankfully is one less thing to worry about charging.  I also highly recommend it for voice calls–or even Skype/Facetime if planning on sitting still.
I would have loved to have had this during Hurricane Sandy!
When not in use, it is attractive enough to store out on a living room shelf.  I have mine on a bookshelf and weirdly enough it's become a bit of a conversation piece when people do see it.
The Timbrefone passive speaker is priced from $99-$129 depending upon your choice of wood and finish.
Source: The sample for this review was provided by Timbrefone. Please visit their site for more info.
Product Information
Price:
$99-$129
Manufacturer:
Artificer Wood Works
Requirements:

iPhone (or almost any phone with speaker along bottom of phone)

Pros:

Amplifies sound
Beautiful design
Portable
Great for phone calls

Cons:

A little pricey
Sound quality