We use affiliate links. If you buy something through the links on this page, we may earn a commission at no cost to you. Learn more.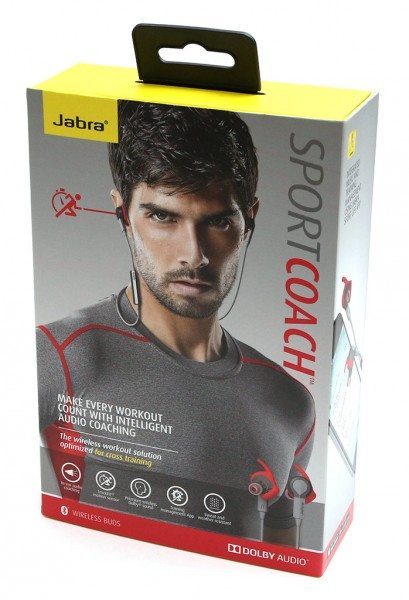 Most people will agree that working out isn't exactly fun, but add some music and it becomes more bearable. Add a pair of Jabra Sport Coach sweat-proof wireless earbuds and a virtual coach who talks in your ear and you might just start looking forward to your next workout session. Let's find out.
Note: Images can be clicked to view a larger size.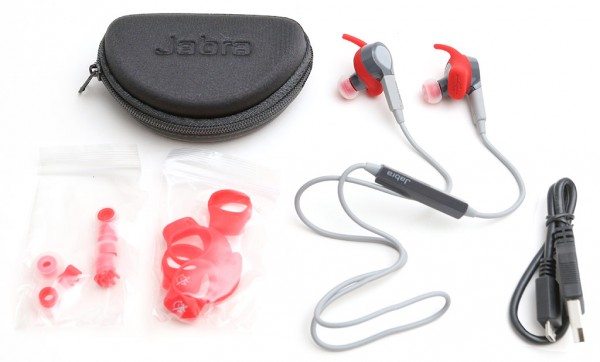 What's in the box?
Jabra SPORT COACH Wireless Earbuds
3 sets of EarWings
4 sets of EarGels
2 FitClips
Protective pouch
USB cable
Quick start guide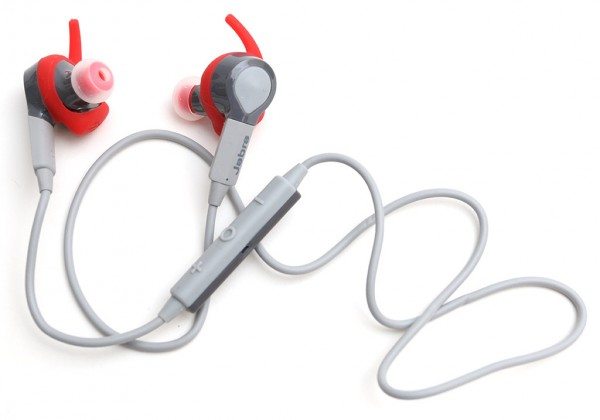 Physical design
The Jabra Sport Coach earbuds which are available in red, blue and yellow, use Bluetooth to connect to your favorite mobile device and feature a behind the neck cord and in-ear design. These earbuds are rain, shock, sand and dust resistant (Military standard IP55 rated), so they are perfect for both indoor and outdoor workouts.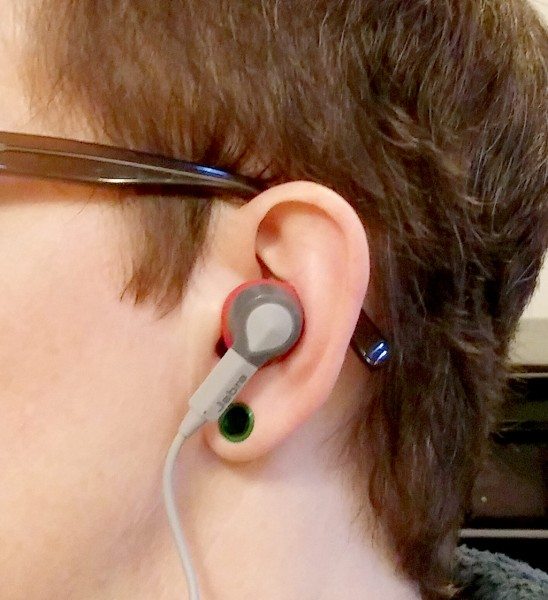 The package comes with several sizes of earwings and eargels to let you customize the earbud fit for your ears. I found the Jabra earbuds to be comfortable even for extended wear. They never fell out of my ears with fast paced walking, hiking, and cross training exercising. Fit and feel for earbuds is very subjective though. What is comfortable for me might not be for others, so your mileage will vary.
The left earbud has a sport button (the grey tear drop shape in the image above) that is used to launch and interact with the Jabra Sports Life app. The right side has an in-line controller with raised buttons that are used to adjust volume, power the earbuds on and off, answer calls, etc. The in-line controller also has a built-in NFC tag that you can use to easily pair the earbuds to your NFC-enabled mobile device. You can also pair the "old fashioned" way by going into the Bluetooth settings on your device and search for nearby Bluetooth devices.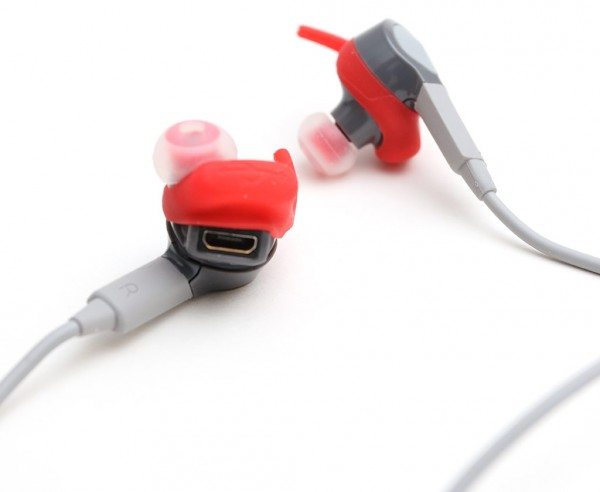 The right earbud hides a micro USB connector under the earwing. This connector is used to charge the earbuds.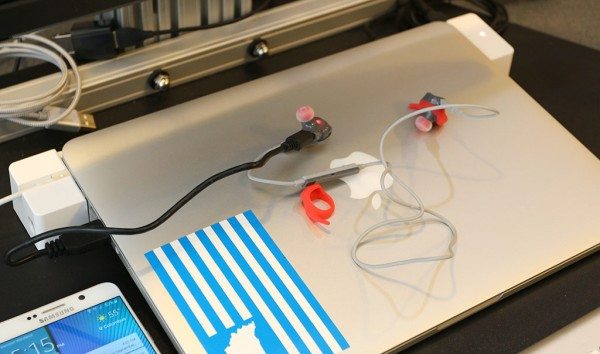 A small LED glows red while the earbuds are charging and turns off once charging is completed. The same LED will blink blue when in pairing mode. It takes about 2.5 hours to fully charge the Jabra Sport Coach earbuds. A full charge should provide up to 5 hours of continuous use which won't get you through a full work day of just listening to music.
Using the Jabra Sport Coach earbuds for music listening
If your only interest for the Jabra Sport Coach earbuds is for listening to music, you're all set once you pair with your device. Even with Dolby sound enhancement,  I thought the audio quality listening to streaming music sounded middle of the road with decent highs and ok bass. If you're a bass head, you won't be very impressed with these earbuds and if you have a pair of really good earbuds like the DUNU TITAN 1's, listening to music with the Jabra buds will sound pretty mediocre as they lack a lot of warmth and detail. They do have good volume though.
Using the Jabra Sport Coach earbuds for phone calls
No issues here. Both sides of the conversation was on par with other Bluetooth headsets I've tried. No real complaints or accolades.
Using the Jabra Sport Coach earbuds while working out
Of course, the selling point for these earbuds is the workout coach feature. To take advantage of this feature, you will need to install the iOS or Android Jabra Sports Life app. The app is optimized for cross-training workouts, but it also works for running, walking, cycling and other workout activities. And just to be clear, you can listen to music AND use the Jabra Sports Life app at the same time.
The Jabra Sports Life app offers several pre-made guided cross-training routines that you can choose from, but you can also create your own workout from 40 different exercises, with your own number of repetitions and time limits. You can click on the different exercises and it will give you a brief description of how to do each one and you can then build your own workout from a combination of exercises. I tried a couple of the built in cross-training workout sessions and found the in-ear coaching to be helpful. A British female voice tells you which exercise to do, how many repetitions and for how long. When there only 5 seconds left in a set, she will tell you what the next exercise is and when to start. I liked having the timed count down for different types of exercises like planks. It kept me motivated not to give up with only 5 seconds left in a set. I was disappointed that the built in motion sensor did not automatically track repetitions of of exercises like swats, crunches etc.
I also tested the earbuds with a half mile hike in my woods. The in-ear coach with the help of the Track Fit motion sensor kept me up to date with my distance, pace and cadence info at different intervals while I was walking and also reported my progress when I pressed the sport button on the side of the left earbud. After I stopped the workout, I could view a map of my route and see graphs of my performance. Note that the Jabra Sport Coach earbuds are compatible with other apps like Endomondo, RunKeeper, Strava, MapMyFitness and Runtastic.
What I don't like about the Jabra Sport Coach earbuds
The Jabra Sport Coach earbuds do not have a heart rate monitor like Jabra's more expensive Sport Pulse earbuds. Without the pulse feature, the in-ear coaching feature is the main thing that make these earbuds better than other wireless earbuds. But at $149.99, I'm not sure that feature is worth it when you can just use your phone and various workout apps to check your progress during runs, etc.
What I like about the Jabra Sport Coach earbuds
I do like the dirt, sweat, water and dust proof design, comfortable fit, large easy to feel buttons on the in-line controller. Easy pairing with NFC and the sport button that launches the Sport Life app. The in-ear coaching does help keep you motivated while doing cross training workouts and allows you to put your phone away and just concentrate on getting fit.
Final thoughts
If you're looking for a pair of wireless earbuds to mainly use for listening to music, I'd skip the Jabra Sport Coach earbuds unless you also need sweat, dirt and dust protection. If you're looking for some extra motivation while working out along with music, the Jabra Sport Coach earbuds will give you that, but you'll have to decide if you're willing to spend $150 for that feature.
Source: The sample for this review was provided by Jabra. Please visit their site for more info and Amazon to order.