We use affiliate links. If you buy something through the links on this page, we may earn a commission at no cost to you. Learn more.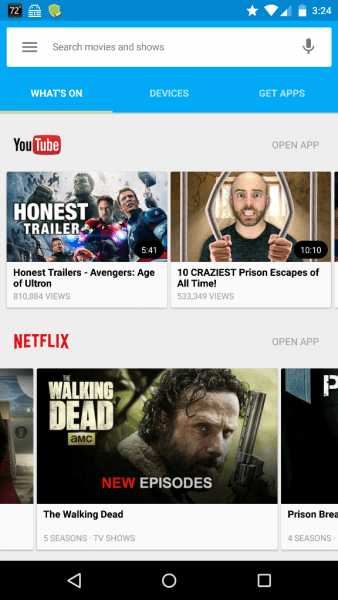 The Chromecast app is completely redesigned and is now available in Google Play and iTunes. It works with the latest Chromecast and the first generation Chromecast as well. It allows the user to browse through the content on all the Chromecast enabled apps on your phone (under the What's On tab); use playback controls like Pause/Play, Volume controls, etc. which turn your phone into a remote control for each of your Chromecast devices (under the Devices tab), and discover new apps that are Chromecast enabled (under the Get Apps tab). The Chromecast app also allows you to search for content like a TV show across all cast enabled apps. After performing the search for a TV show or movie, it will list which apps on your phone have that TV show/movie and also provide a link to those apps that you can download to access that show/movie. While casting, you are able to search for other things on your phone without interrupting the streaming of your content.
In addition, app developers are also now able to take advantage of a new capability of Chromecast called Fast Play. Using Netflix as an example, this allows the app to detect your Chromecast and start prefetching the Netflix app content the minute that you open the app. Thus when you open Netflix then select the cast icon, Netflix loads immediately to Chromecast. In addition, Netflix can use content caching algorithms to cache a portion of the content of the next show in a TV series that you may want to watch so that it loads faster when you are ready to watch it via Chromecast (according to the Google Nexus 2015 Live Event). I dabbled with the app a bit using my first generation Chromecast and I absolutely love it!! It truly makes searching for TV shows/movies a breeze. If you don't already have the app or haven't yet downloaded the update, it is available through Google Play and iTunes.