We use affiliate links. If you buy something through the links on this page, we may earn a commission at no cost to you. Learn more.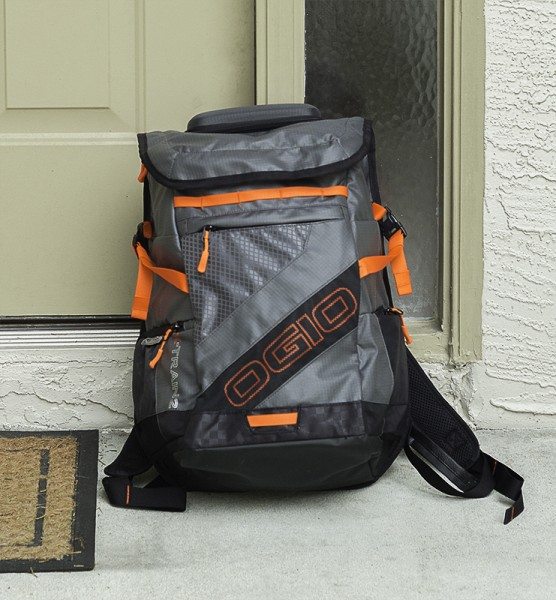 Whether you are a seasoned athlete or a weekend warrior, chances are that you use something to carry your gear around. And that means everything from a school backpack to a duffle bag, to yes, I've seen it, a grocery bag. But I'm not going to criticize how you carry your stuff, to each their own, but when you are serious about your activity then you are serious about the way you carry your gear.
If you are familiar with Ogio then you will know that they are a manufacturer of a variety of bags made for different lifestyles from bike messenger to corporate manager. But in-between is the hyper active individual who craves activity and exercise. So with these characteristics in mind Ogio has come out with the X-Train 2. This bag is the second generation of their previous X-Train backpack models.
The X-Train 2 is geared for active individuals to carry their belongings pre and post activity. That is to say that you don't have to be a sponsored athlete with a yearly contract to own or use this backpack. After checking it out, it really is geared towards anyone that needs a backpack with complimenting features. Although, from the stylish looks of this bag it looks like a high-end product that companies give out to their sponsored athletes. But I guess it could also be the way you carry it…
According to Ogio's website, it is made from 420D Cross Dobby Polyester and 420D Triple Coated Double Ripstop Nylon fabrics. The dimensions of the bag are 19.5″h x 13.5″w x 7.5″d (49.53 x 34.29 x 19.05 in centimeters) and 1700 Cubic Inches (27.8 L) with an abrasion resistant tarpaulin base. After inspecting the X-Train 2 bag I can see it is well constructed and pieced together nicely. Everything from the buckles, to the stitching, and all the way to its unique pockets and storage. The bag's lightweight material looks and feels water resistant so I wouldn't feel nervous if I got caught in the rain with this bag. I just wouldn't wouldn't want to drop it in a swimming pool and let if sink to the bottom.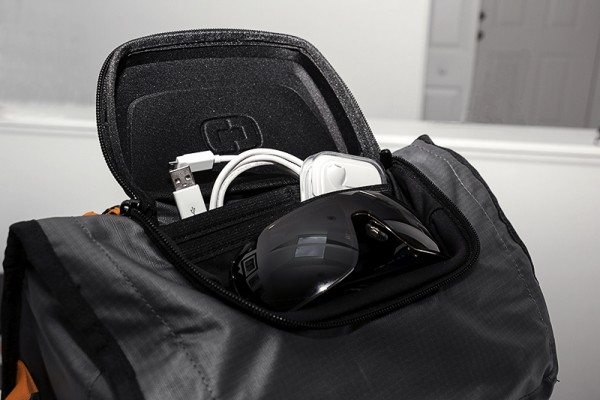 First off, there is a compartment at the top of the bag, or a valuables pocket, for small things like your sunglasses, cellphone, music device, etc. This compartment has a seemingly crush-proof lid which reminded me of an eyeglasses case and appeared to be just as strong and protective. However, do keep in mind that under the lid, and inside the bag itself, is just fabric without the crush-proof material as the lid. So if you are carrying anything inside the bag that is hard, or may have hard edges, that it could potentially knock into the fabric bottom and bang around your glasses or other valuables.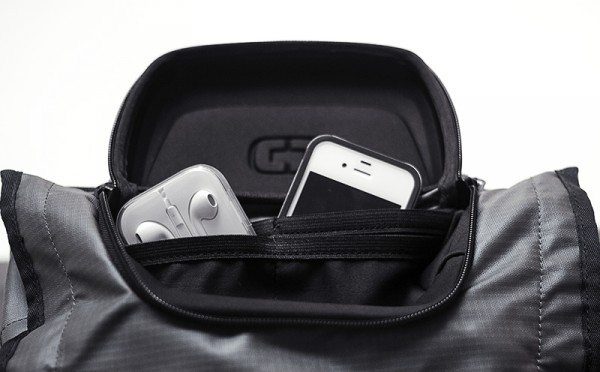 But if storing sunglasses in the valuables compartment is not your thing then it has an ability to store other things since there are several sleeves and pockets on the inside where you can store various items such as a charging cable, keys, SD cards, business cards, snacks, and more. I do like that Ogio included these sleeves since I am a huge fan of small pockets and small compartments.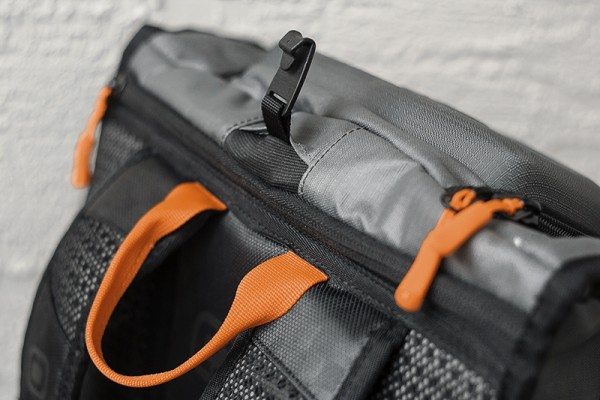 Just behind the valuables compartment is a slot that seems to have multiple functions. You can thread your headphone cord through it, or even a hydration tube can fit through this opening. Plus, on the inside of the bag is a hook that you can slip through the slot and it then can become an internal hangar to suspend the bag if you ever need to hang it.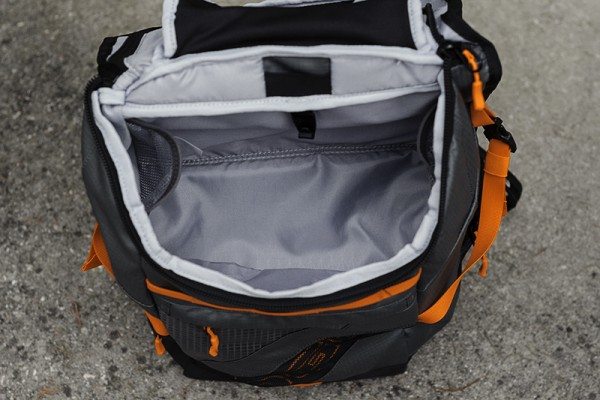 The main compartment runs the whole length of the bag, however, there is a flap that attaches by Velcro on the inside that will create a separate partition so you can have a top half and bottom half.  It allows you to have separated compartments or have just one large compartment. There is also a zippered pocket located on the front of the bag as well.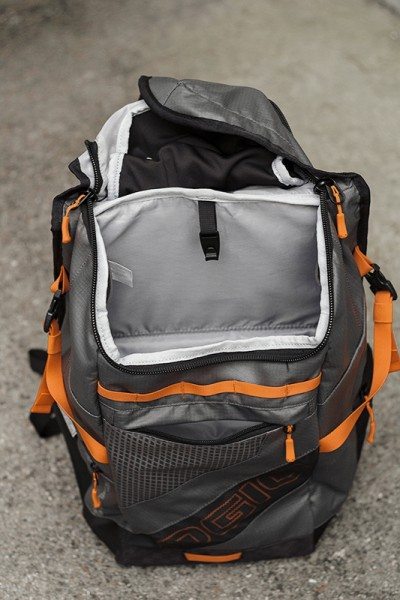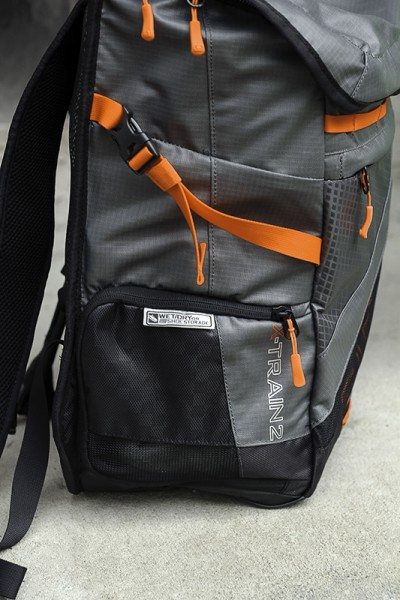 One of the main features of the X-Train 2 is the Wet/Dry Compartment. This handy compartment can store your sweaty clothes from the gym, or perhaps your swimsuit from surfing a day at the beach, but I think a more popular use for this compartment is to store your sneakers or shoes. This comes in handy so you don't have to shove your sweaty, dirty, or wet shoes in the same compartment area as your clean clothes or anything else that you wouldn't want touching said shoes. This compartment helps keep the dirt separate from your valuables.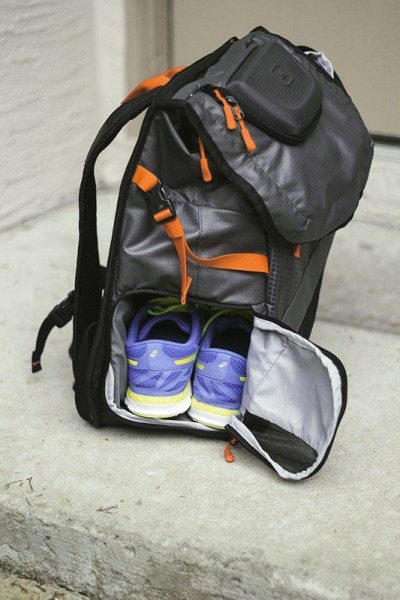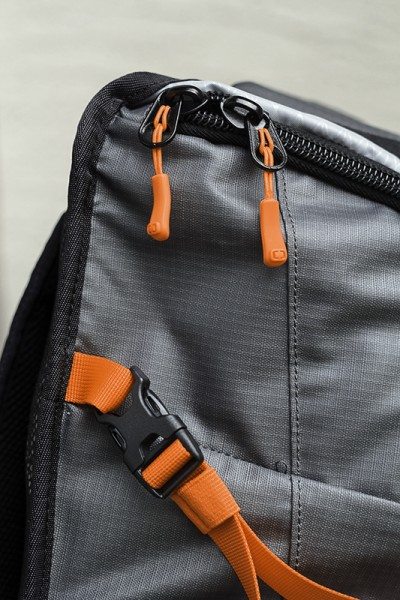 The buckles on the X-Train 2 look to be made of premium plastic material that felt like a hefty and durable molded plastic and didn't feel cheap or flimsy. The same goes for the zipper pulls on the bag. Also, there are straps along the bag that can be cinched and adjusted to accommodate the backpack itself.  Included in the bevy of straps is a more beefed up dedicated helmet strap to carry or store your bike helmet. From the looks of the helmet strap, it looks like it can support a helmet heavier than a bike helmet due to the material it is constructed from. It has a pleather look and feel to it.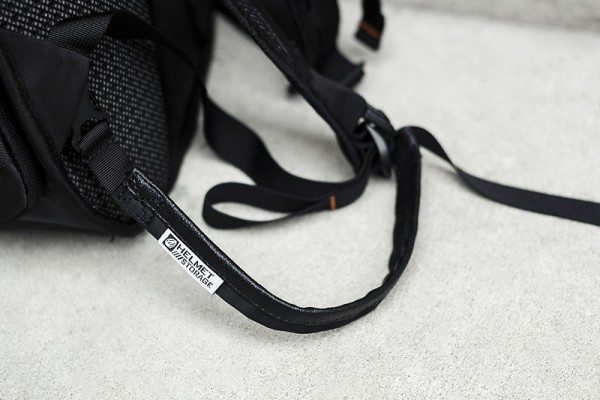 I really like Ogio's version of a helmet strap since I have normally seen other bags with a so-called helmet strap or storage but in actuality it is just a thin bungee cord that you wrap over your helmet. The bungee cords just seems to be flimsy for me and a cheap method to hold your helmet especially if the helmet is going to be carried outside of the bag. But, keep in mind I have mainly seen the bungee cord straps on inexpensive skateboard and rollerblade bags so maybe I may have not seen this type of helmet strap like the one on the Ogio out there yet. The helmet strap on the Ogio bag seems fairly simple and effective for carrying your helmet with little or no chance of it slipping off the bag.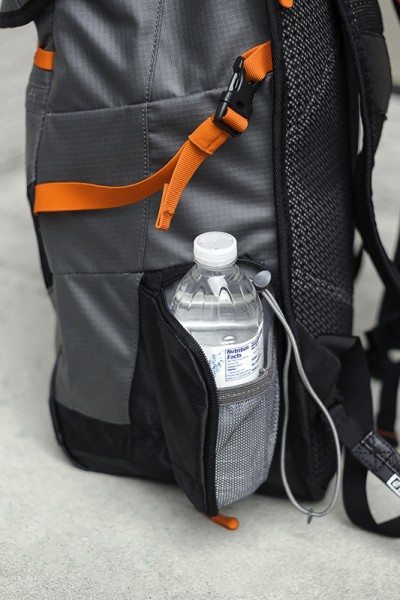 And speaking of bungee cords, the X-Train 2 has a zippered side pocket that has a bungee cord on the inside. Ogio states that it is a compartment for you to carry a yoga mat or something similar. Perhaps someone who does yoga regularly would benefit to carrying a mat in this pocket, but I'm okay with just putting in a bottled water. It even seems roomy enough to carry a 20 ounce bottle of water or a large water bottle.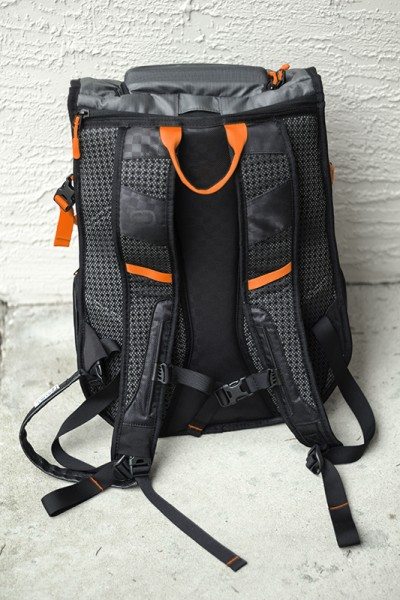 Not unlike many other backpacks, the X-Train 2 has a sternum strap that clasps together across your chest to alleviate and stabilize the weight of the backpack while helping to distribute the weight as well. However, as common as sternum straps may be, Ogio added a clever feature with their strap giving you the ability adjust the height of the buckle of the strap by sliding the buckles up or down. This allows for a more customized and comfortable fit of the straps. I found this to be a refreshing little feature that made the bag feel more fit and contoured to my body when I strapped it on. So, by sliding the buckles on the sternum strap, it should adjust and accommodate to other individual body types making the bag more comfortable to the wearer.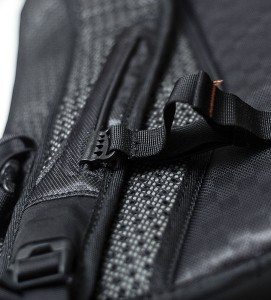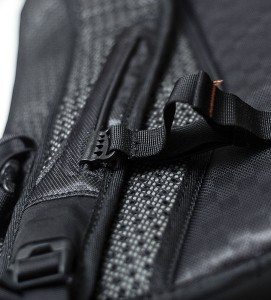 Along with the various pockets and compartments, there is another compartment that is worth pointing out on a sports backpack such as this one and that is the padded laptop compartment located directly on the back panel of the bag .  It fits a laptop up to 15″ inches  (38.1 cm). This feature is definitely a big plus for me since I do like the option to bring along a laptop or at least my Samsung Galaxy Note 10″ tablet. And if I don't use that compartment for a laptop, well, it's just an extra over-sized compartment I can use to store more stuff.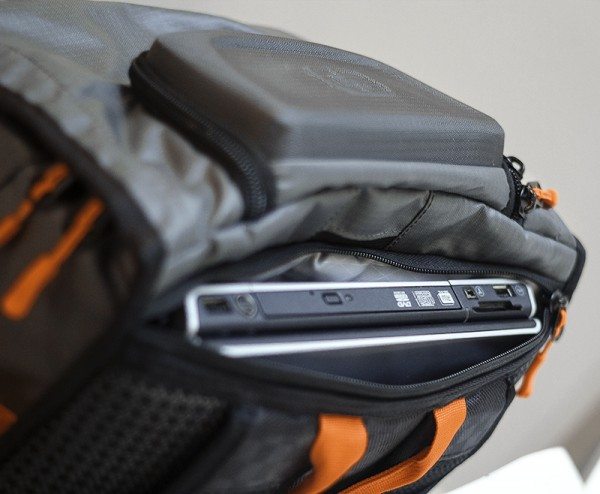 I found the X-Train 2 from Ogio to have many features in a backpack that I could certainly use for the gym, the beach, traveling or, just about anything that would require me to want to use this bag. It's stylish looking too so it could be a bag that would be in style for the following few years without looking like an outdated high school duffle bag. However, I only saw one other color combination, black and silver,  on Ogio's website. I think a few more splashes of colors would have been a nice option for someone who is looking to buy this bag. Either way you want to use it, it is suited for any active or non-active individuals, even without the sponsorship.
Source: The sample for this review was provided by Ogio. Please visit their site for more info or order one now from Amazon.
Product Information
Price:
$80.00
Manufacturer:
Ogio
Retailer:
Amazon
Pros:

Wet/Dry compartment
Lightweight breathable fabric
Integrated Helmet Strap
Laptop compartment
Adjustable Sternum Strap
Crush-proof valuables compartment

Cons:

Valuables compartment not padded on bottom
Lack of various color combinations